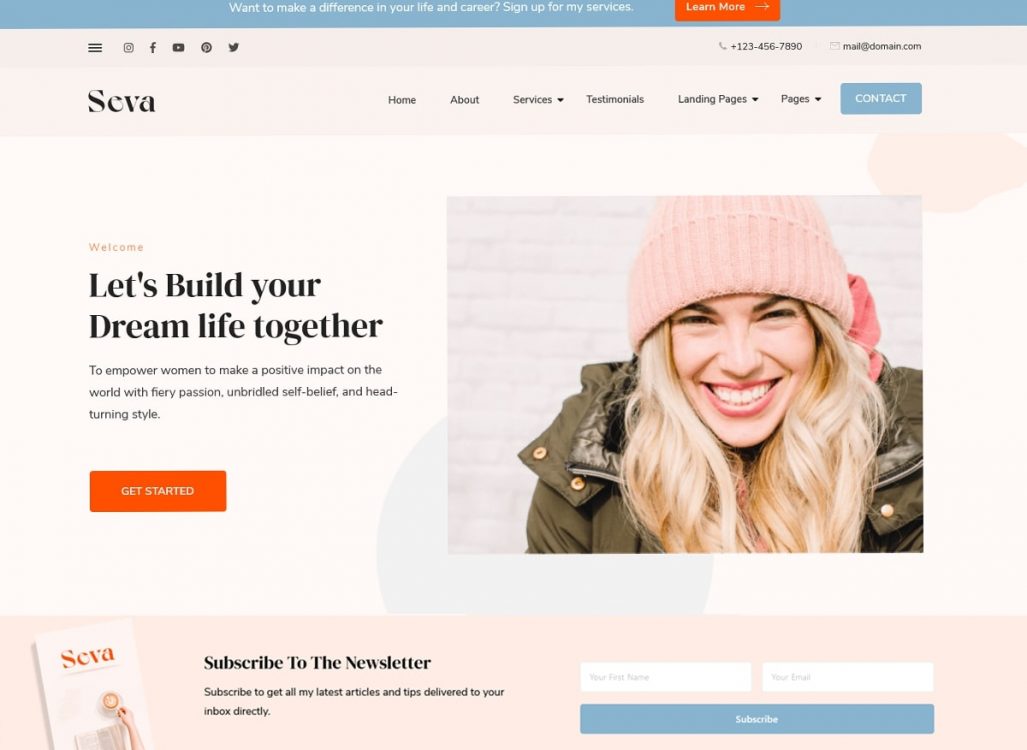 Are you ready to take your service business to the next level?
Seva is a full-fledged WordPress theme built for coaches, entrepreneurs, therapists, and consultants to skyrocket their business. It has everything you need to get your business off the ground — landing page, courses, services, events, podcasts and portfolio.
Seva is mobile-friendly and provides a smooth user experience to all your visitors across all screen size devices. In addition, it is SEO and speed optimized. This gives you a head start in your search engine visibility and user experience.
It comes with strategically placed newsletter sections which can help you generate leads. It also comes with several ready-made landing pages to boost lead generation, launch marketing campaigns and increase conversion rate.
Seva has unlimited colors and 1000+ Google fonts. You can easily customize the look and feel of your website with just a click.
It is compatible with popular LMS plugins like LearnDash and Tutor LMS. You can easily create courses and sell them to your readers to generate income.
Seva is also multilingual so that you can translate it into multiple languages.
Seva is for you if:
You want a full-fledged website to boost your coaching or service business.
You want to avoid the hassle of hiring a developer.
You want gorgeous landing pages to sell and showcase your products/services.
You want a website that can be easily customized to match your brand.
You want a mobile-friendly website that provides a great user experience on all devices.
You want to sell coaching programs and courses through your website.
You need compelling lead-generation features to raise your bottom line.
You want an SEO-friendly website that can easily rank higher on search engines.
You require prompt technical support to solve issues.
Features of Seva
Seva comes with several top-notch features and customisations options. It eases your process of creating an elegant, easy to use and high performing website. Let's take a look at all the features of the Seva theme.
Pre-made Multiple Unique Layouts
Seva offers you several layout options to customize your website. You can choose different layouts and easily combine them to craft the best user audience for your visitors.
6 Header Layouts
This theme comes with 6 different header layouts. You can choose the one that complements your brand logo and highlights valuable header elements, such as phone number, email, social media links, etc.
6 Static Banner CTA Layouts
Seva comes with 6 static banner layouts. You can display an image and text with Call-to-Action buttons to encourage your visitors to take an action.
4 Single Post Layouts
Blogging is essential to market your business. With the Seva theme, you can display your posts in 4 different layouts to present them in the perfect light. You can select a unique layout for each of your posts.
2 Slider Layouts
With Seva, you can also place a slider in the banner section. Choose between 2 different slider layouts to instantly change the look of your homepage.
3 Blog Page Layouts
A good blog page layout is necessary for giving your visitors an easy reading experience. So, Seva comes with 3 blog page layouts too.
4 Pagination Styles
This theme also comes with 4 different pagination styles for quick navigation. The pagination options include Next/Previous, Numbered (1, 2, 3), Load More button, or Auto Infinite Scroll.
4 Customizable Banner Options
The banner section is the first thing visitors see when they visit your website. Seva comes with four different banner options that allow you to utilize this section and generate leads.
Static Image/Video with Call-to-Action (CTA)
You can place a Call-to-Action (CTA) button in the banner section. The CTA button allows you to draw visitors to key areas of your website, such as your pricing page or your services page.
Static Image/Video with Newsletter
Seva also allows you to place a large newsletter subscription form in the banner section of your website, along with a catchy image or video background.
Static Image/Video with Appointment
You can place an appointment form in the banner section, which acts as a fast track to convert new visitors directly to clients. Your visitors can quickly schedule an appointment with you.
Smooth and Attractive Banners as Slider with Advanced Controls
Seva also allows you to set up a slider as the banner. This option is great if you want to highlight multiple pages or blog posts from your website. You get advanced controls to create a seamless slider to meet your needs.
Gorgeous Responsive/ Mobile Friendly Design
With a fully responsive/mobile-friendly design, Seva automatically adjusts your website with correct dimensions on all screen sizes. This way, your audience can get a smooth user experience from various digital display devices.
Since the Mobile-Index first approach has been implemented by Google, we have given special emphasis to ensure it is fully responsive and passes the Google Mobile-Friendly test. This helps your website to rank better on search engines.
One-Click Demo Import
With Seva, you can create your desired site effortlessly. It lets you import the pre-made demo content with a single click. No need to start from scratch. You can make your site quickly by editing the demo content.
Easy-to-use Theme Settings Panel with Live Preview
Seva also comes with an easy-to-use Theme Settings Panel with detailed options. So, you can easily configure your website by going through the options. You can also get a live preview of any visual changes you make to your site and you can make it live only after approving all the changes.
Easily Change Theme Color
This theme gives you unlimited color options to change the look of your website. You can choose color that matches your brand by choosing your primary color, secondary color, font color and background color.
Choose from 1000+ Google Fonts
The theme comes with a collection of 1000+ Google fonts to instantly change the look and feel of your website. The font collection is updated periodically, so you get new choices over time if you want to revamp the look of your website.
Typography Control
There are detailed typography controls to help you configure the right combination of fonts and typography styles. Choose a specific font and style for each text type, including the body and headings (H1, H2, H3, H4, H5, and H6).
Custom Site Logo with Size Control
You can easily change the size of your display logo with this theme. A simple slider control is provided that allows you to change the size of your logo to match your desired header layout.
Sell Courses with LearnDash and Tutor LMS
Seva is compatible with two popular Learning Management System (LMS) plugins, LearnDash and Tutor LMS. So, you can use this theme to sell and launch courses through your website and generate income.
18 Landing Page Templates (Elementor)
You also get a collection of 18 inner page templates to develop your website further. These page templates are a powerful resource for lead generation and showcasing your various products and services.
The templates are compatible with the Elementor page builder plugin, so you can easily customize them with Elementor's drag and drop functionality.
About Page Template
The about page template allows you to introduce yourself to your visitors with attractive text and image sections. It includes sections, such as Testimonials, Team, Video, Podcasts, and more. These sections can help you gain your visitors' trust and establish your expertise.
Service Page Template
This template has a gorgeous design and allows you to elaborate upon your services in an eye-catching, easy-to-read way. Apart from services that you provide, you can also include your process and testimonial.
Testimonial Page Template
Seva also comes with a dedicated page template to showcase your client testimonials. This will help you to build trust about you and your services to your visitors.
Newsletter Template
You also get a ready-made page template for a newsletter landing page. So, you won't have to find a new landing page design while doing newsletter campaigns.
Event Page Template
You can list out all your upcoming events using the event page template. This template has an elegant, minimal list layout highlighting all the key information, such as event dates, locations, and time along with a short description.
Courses Page Template
The Courses page template allows you to display all of your courses in one place. This template has eye-catching typography that aids readability. You can highlight the key features of courses and avoid crowding.
Each course section also includes a Call-to-Action (CTA) button that leads visitors to the course-specific page.
Freebies Page Template
The freebies page template is just what you need to generate leads and build goodwill. Use this page to give out free resources to your visitors.
Podcast Page Template
Since podcasts are a popular content marketing choice for coaches, Seva also gives you a podcast page template to show podcasts on your website and increase podcast listeners.
Press/Media Page Template
This template allows you to display all your media appearances and coverage in one place. It comes with multiple sections to showcase different types of links and media where you have been featured in.
Consulting Landing Page
Having a separate landing page for consulting business can boost your sales. So, we have created a consulting landing page. You will find it helpful if you run any marketing campaign or sell consulting services.
eBook Landing Template
Seva also includes an ebook landing template to share your lead magnet item. Lead magnets are attractive rewards, typically ebooks, that are used to gain new subscribers. Use the ebook landing template to hand over the ebook to visitors after they have subscribed to your newsletter.
Pricing Page Template
The pricing page template includes a pricing table alongside an FAQ section and a featured section.
Contact Page Template
The contact page template has a section to display your relevant contact information and a large contact form where visitors can drop their inquiries.
Gutenberg Compatible
Seva is compatible with the Gutenberg Block Editor. This popular new page builder allows you to freely customize your website using Gutenberg blocks, individual theme elements that can be placed, arranged, and removed according to your needs.
Elementor Compatible
The theme also supports the Elementor page builder plugin. This plugin gives you even more freedom to customize the layouts of your pages with simple drag-and-drop motions.
Optimized for Speed and Performance
A fast-loading website is essential for reducing traffic retention. Seva is a speed-optimized WordPress theme that can help you gain optimum loading speeds. It also helps you to rank your website better on search engines like Google, Yahoo, Bing, etc.
Search Engine Optimized (SEO)
Seva theme implements the best SEO practises to improve your website ranking on search engines. The theme is well optimized for all major search engines to easily crawl and rank your website.
Notification Bar to Grab Your Visitors' Attention
The notification bar is an effective way to draw the visitors' attention to certain information or links. You can include a Call to Action at the top or a newsletter to grow your mailing list. It encourages your visitors to instantly take action.
Strategically Placed Newsletter Section
The theme comes with a strategically placed newsletter section to increase user engagement. You can increase your newsletter subscription rate with this feature.
About Section to Display Your Bio
You can display a short introduction to yourself and your brand in the About section of the homepage. This section can help you to introduce you and share your story.
Client Logo Section
Displaying your affiliations with known and established brands and companies is a great way to boost your credibility. The client logo section displays the logos of companies you have worked with in the past.
Services Section
You can display all the services you provide in the services section with a featured image and short description. This section also includes a Call-to-Action button to take you to the services page, where you can further elaborate on each service.
Call-to-Action (CTA) Section
A dedication Call-to-Action section is included on the homepage to engage the visitors and draw them to other areas of your website, such as the services page or the appointments page.
Testimonials Section
Testimonials are an essential feature in all business websites that allow you to gain the visitors' trust. Seva has a dedicated testimonials section for this.
Process Section
Your consultation process is a big point of curiosity for potential clients who visit your website. You can clear up their confusion with the process section. This section features a smooth slider and a tab bar to the side, giving visitors an easy user experience.
Blog Section
You can highlight some of your top blog posts on the homepage using the blog section. All your latest posts are automatically displayed in this section.
Resources Section
Showcase some of the resources you have for visitors to download. You can display ebooks, meal plans, checklists, and similar content to attract visitors and keep them on your website.
Contact Section
The contact section of the homepage features a large contact form and displays your contact information such as location, email and link to your social media profiles. It makes it easier for your visitors to get in touch with you.
Display Your Instagram Feed
Seva allows you to display your Instagram posts directly onto your website with an Instagram feed. You can place a full-width display of all your Instagram posts alongside a catchy Follow Me button that instantly allows visitors to follow your Instagram.
Sort Home Page Sections
You can reorganize the order of the homepage sections according to your needs. Highlight the essential sections by placing them closer to the top of the homepage. You can also remove sections that you do not need.
One Page Navigation
Don't need an elaborate website? Seva has a one-page mode that displays all your key information on a one-page website. You can keep the website simple and keep the visitors engaged with Seva's elegant design.
Portfolio Page Template
You can also display your business portfolio in a separate portfolio page template. The portfolio page template displays all your portfolio items in a grid layout. You can build dedicated project pages for each portfolio item to further elaborate upon them.
Footer Menu
You can choose to display the website menu in the website footer as well. This greatly improves navigation across your website and avoids the need to scroll up after reading through a page.
Customizer Search
Looking for a particular theme option in the settings panel? The customizer search allows you to find the right options by putting in the keywords.
Author Bio on Sidebar
The author bio widget displays your bio in the sidebar of most pages. You can fully personalize this widget with a custom image, social media links, and your signature.
Highlight Author Comment
Seva allows you to highlight the author's comments in blog posts. This handy feature makes it easier for readers to find additional responses you may have made to reader queries.
Add Your Custom Signature
You can easily display your signature underneath the blog posts to personalize them. The signature adds flair to your blog posts and helps with your branding.
Smart Images Loading for SEO
The theme comes with a lazy loading feature, which loads images only when you scroll to it. This reduces load time on your server, boosts page load speed dramatically, and improves the user experience.
Enable/Disable Automatic Image Crop
You can also enable automatic crop for all images that are uploaded to your site. If displaying the full image is important to you, you can disable this feature at any time.
Footer Copyright Editor
Seva has a straightforward and effective footer copyright editor to update the copyright information on your website. You also get the dynamic year feature which automatically keeps the copyright year updated.
Built-in Google Analytics Settings
The theme includes an easy integration with Google Analytics. You can add the code within the theme to start tracking your website statistics without the need for any other external plugins.
Social Media Integration
You can integrate your social media profiles from most social platforms like Facebook, Twitter, Instagram, and Tumblr. Seva also supports Chinese and Russian social media sites such as VK, QQ, and Zong.
Social Shares for Your Posts
The built-in social share feature allows your readers to share your blog posts on their social media profiles easily.
Built-in SEO Settings
You can toggle features such as breadcrumbs and last updated post date, which are known SEO factors that can improve your search engine performance.
Lightbox for Images
The theme also comes with the lightbox feature for viewing images without distractions. This feature allows images to view in a floating view with the background dimmed.
Sticky/Floating Menu
You can further improve navigation for your viewers by enabling the floating or sticky menu. This feature keeps the website menu on the screen at all times.
Sticky Widget
You can also make the last widget on the sidebar sticky. This simple feature can be quite effective for lead generation. Place a newsletter form or CTA button as the sticky widget to increase your leads.
Post Excerpt
Post excerpts allow visitors to gain a better idea of a blog post through the preview box. The Seva theme will enable you to display excerpts of up to 100 words.
Related Posts of the Category or Tags
You can also suggest related posts on the single post page to increase traffic retention. This feature suggests posts from the same category or tags, making it more likely that the readers will be interested in those topics and click through.
Comment Section Toggle
Depending on your needs, you can alter the position of the comments section on your blog posts. This simple feature makes your readers to easily comment and share their thoughts on your posts.
Drop Cap
The drop cap is a classic typographic technique that makes your content more interesting. This feature automatically makes the very first character of any post or page very large, drawing attention to the first line.
Back-to-Top button
The back-to-top button improves user navigation on your website. Seva includes this feature that allows your audience to scroll up to the header area quickly. It saves time that would be required to scroll manually.
Widget Ready
Seva is a widget-ready theme with tons of widgetized areas to add new widgets. You can add any external widgets to this theme to increase the functionality of your coaching website.
22 Customizable Widgets
Seva comes with a collection of 22 customizable widgets. These widgets put a good deal of features at your disposal. Here are each of them:
Blossom: Advertisement
Blossom: Author Bio
Blossom: Call To Action
Blossom: Client Logo Widget
Blossom: Contact Widget
Blossom: Custom Categories
Blossom: Email Newsletter Widget
Blossom: Facebook Page
Blossom: Featured Page Widget
Blossom: Icon Text
Blossom: Image Text
Blossom: Pinterest
Blossom: Popular Post
Blossom: Pricing Table
Blossom: Posts Category Slider
Blossom: Recent Post
Blossom: Snapchat
Blossom: Social Media
Blossom: Stat Counter Widget
Blossom: Team Member
Blossom: Testimonial
Blossom: Twitter Feed
Unlimited Sidebar Options
The sidebar of the Seva theme supports unlimited widgets. You can add as many items here as you need to create the desired user experience.
Unlimited Background Options
You can also set up this theme with any background. This includes any solid color, pattern, or custom image.
Performance Settings
The theme gives you discrete control over several performance features. You can easily find them in the theme settings panel to enable or disable individually. These features include:
Lazy loading of featured images
Lazy loading of content images
Lazy loading of gravatar images
Dever Javascript to improve page speed
Remove ver parameters
Host Google Fonts Locally
You can enable or disable these performance features according to your technical needs. If fast loading is your main priority, enable all of them for full performance benefits.
Easily Reset Customizer Settings
Did you make unwanted changes to the theme settings and cannot trace your way back? No worries, as Seva allows you to reset the customizer settings to their original condition. This way, you can start over without worrying about ruining your website.
Cross-Browser Compatible
Seva has been tested extensively with all the popular web browsers to ensure full compatibility. This theme is tested on the latest versions of Google Chrome, Safari, Mozilla Firefox, and Microsoft Edge. Your visitors will be able to experience your website without bugs on any browser.
Easy Legibility
The visual elements of this theme have been carefully designed to ensure excellent readability. A perfect combination of fonts, typography styles, spacing, and page layouts ensures that your website is a joy to explore.
Schema Friendly
Seva is built with Schema.org integration which is a valuable SEO feature. Schema.org integration allows search engines to understand the contents of your website better. This results in ranking for more relevant keywords and allows search engines to display your website in more exciting, eye-catching ways in search engine results.
RTL Scripts Ready
The theme supports Right-to-Left scripts like Arabic and Hebrew without any changes necessary.
Translation Ready
You can also localize this theme to your relevant language by translating the theme.
Polylang Compatible (Multi-language)
Do you want to create a multilingual coaching website? Seva supports a multi-language WordPress plugin called Polylang. This extension lets you translate posts, pages, media, categories, and other website elements to unlimited languages.
WPML Compatible (Multi-language)
Another multilingual extension that this translation ready theme supports is WPML. This plugin helps you target diverse language speaking communities in the world. You can also optimize your site for SEO in multiple languages.
Regular Updates with Feature Enhancements
We update all our themes regularly with the latest security patches and WordPress features. Using Seva ensures that your WordPress website is future-proof and stays compatible with upcoming versions of WordPress.
Clean Codes
Our themes are also developer-friendly. We rely on the best WordPress coding practices to write clean and well-commented codes. You will easily find your way around the code to make any customizations from the ground up.
Extensive and Beginner Friendly Documentation
Seva comes with detailed documentation that walks you through each step of the theme installation process. So, you can use this theme without any prior experience with WordPress.
Top-notch Quick and Friendly Support
You can reach out to us any time with queries and confusion. Our expert support team will promptly get in touch with you to solve any issues you may be facing.