Let's face it: The internet is the new market. There's not much to argue there.
With the increasing number of online businesses, customers are now constantly searching online for places where they can get their job done. So, having a website expands the reach of your business to a global scale.
WordPress themes can help you build a professional and functional website and enhance your network and reputation online. Themes are super easy to install, and the best part is that there are plenty of themes available for free.
Since there are thousands of themes available, you might find it hard to pick a perfect one for your website. For that purpose, we suggest you read the guide which describes how to choose a WordPress theme.
Also, if you want to write regular content on your website, it's best to create a blog on a particular niche. Check out the article where you can find step-by-step procedure on how to start a WordPress blog.
Now, it's time to unveil the primary purpose of this blog. Here, we have provided a list of 40+ free WordPress themes to create a business site.
What to look for in a Free Business Theme?
Wordpress is a growing community of developers and users. The wide variety of options that WordPress themes provide is unimaginable when it comes to themes and plugins. So, it's essential to know your purpose and the specific functions that a particular theme offers.
For a business theme, here's a list of features you need to look for.
Design and Simplicity
The first and foremost thing you see is the design of a website. As they say, the first impression is the last. A good design needs to be simple and elegant. It should enhance users' experience. Opt for a theme that provides multiple options for layouts.
Customization
Not all free themes provide you the option of customizing the layout, color, fonts, and such. So, keep an eye out for the ones that do. Thus, you can create a dynamic website while using a free theme.
Responsiveness
The responsiveness of a website ensures that the display is appropriate on all screen sizes. So, make sure your website is responsive. Whether a user visits the website from a phone, desktop, or tablet, your website has to adjust dynamically and display the content beautifully.
Plugin support
Plugins are the beauty of WordPress. A plugin provides you with essential features that a modern-day website requires. Thankfully, there are thousands of plugins available for free. These can add unique features to your website. All you need to do is make sure that the theme supports all popular plugins and is compatible with them.
SEO friendly
As the name suggests, Search Engine Optimization is a process of optimizing your website so that it ranks high on search engines. With the ever-increasing competition to rank on the first page of the search results page, your site must be SEO optimized. Poorly coded themes cannot give you the desired result.
Social media integration
Social media integration is a modern-day feature to increase your presence across multiple social platforms. Most of the sites these days have their social media profiles integrated through links or feeds. So, it allows for a wholesome social presence by making your business reach out to a larger number of audience.
Support
Support is equally important while choosing a WordPress theme for your business. You may encounter multiple problems while using a theme. In that case, if there's no technical support from the developers, your website might not function well.
Support from developers can be useful for tackling problems of compatibility and integration. Most of the themes provide extended support for a year with enough documentation. Check out our recently published article on ' 30+ Free Job Board WordPress Themes'.
List of Free Business WordPress Themes
Here, we have listed out the top 40+ free business WordPress themes in 2023 based on the features mentioned above. Keep reading and find out more.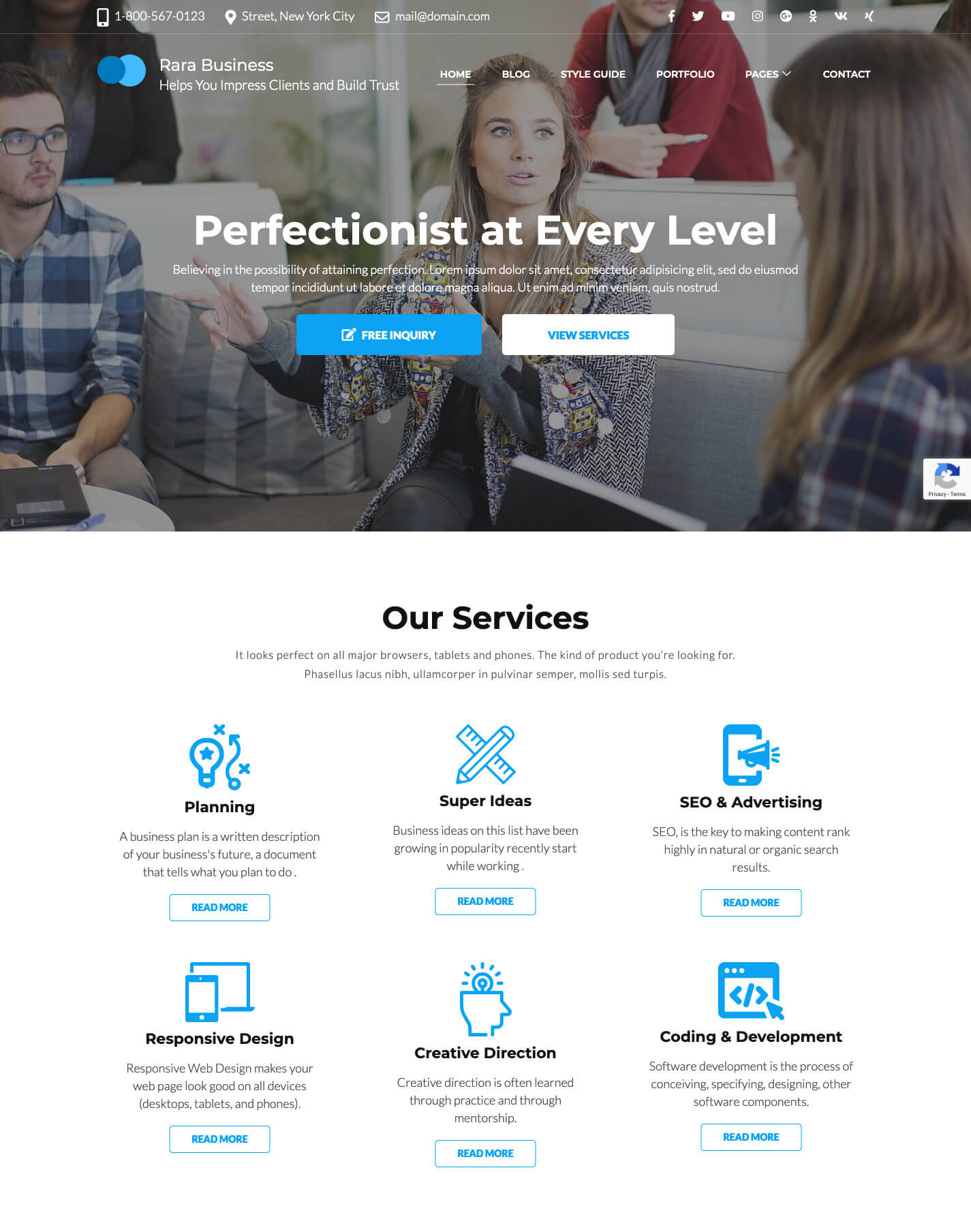 While talking about the best business WordPress themes, the first theme that comes to mind is Rara Business. It is a top-tier professional SEO-optimized theme for all kinds of businesses. Professional design, useful features, and SEO optimization make Rara Business stand out from the rest.
Design is an essential factor when choosing themes for your websites. Rara theme offers you a clean design and also features a built-in customizer, giving you the liberty to make changes and preview them in real time.
This theme is SEO optimized along with having Schema integration, which is essential for search engine rankings. Similarly, this theme is speed-optimized, which means that your website will load within a second.
For more accessibility, Rara Business is translation-ready and RTL scripts-ready. To add to that, it also allows social media integration so that you get increased traffic from various social platforms.
So, even if you're a complete newbie in website design, Rara Business helps set up a perfect website for you. You also get plenty of ready-made demo sites.
Recommended Rara Business's Templates:
1. Business
With the versatile starter template, Business, you can create a robust online presence. This template is a perfect blend of professional design and functionality, making it an ideal choice for businesses of all sizes.
The template features sections including all the information visitors require. From the About page to the information about the team, this template offers everything a visitor wants to know during the first visit to the site.
The Creative Business WordPress template is lively and visually appealing for creative professionals, freelancers, and creative enterprises.
The template lets you customize your website to match your creative ideas. The theme settings window makes changing colours, fonts, and layouts easier. This level of personalization enables you to develop a visually attractive and cohesive online presence that represents your artistic style and sets you apart from the competition.
Digital agencies and creative experts can customize their websites with this template. With its many features, this slick design highlights your agency's services, portfolio, and digital expertise.
This template offers a modern and elegant style. This style instantly attracts visitors and shows your agency's commitment to cutting-edge design and innovation. Thus, this template is ideal for digital branding.
Creative Agency WordPress template is designed for creative and digital marketing agencies.
The design comprises a portfolio, staff, case studies, services, and testimonial areas. These sections demonstrate your agency's expertise, creativity, and successes, improving credibility and clientele. In addition, the design supports popular plugins for contact forms, social media integration, and blog sections.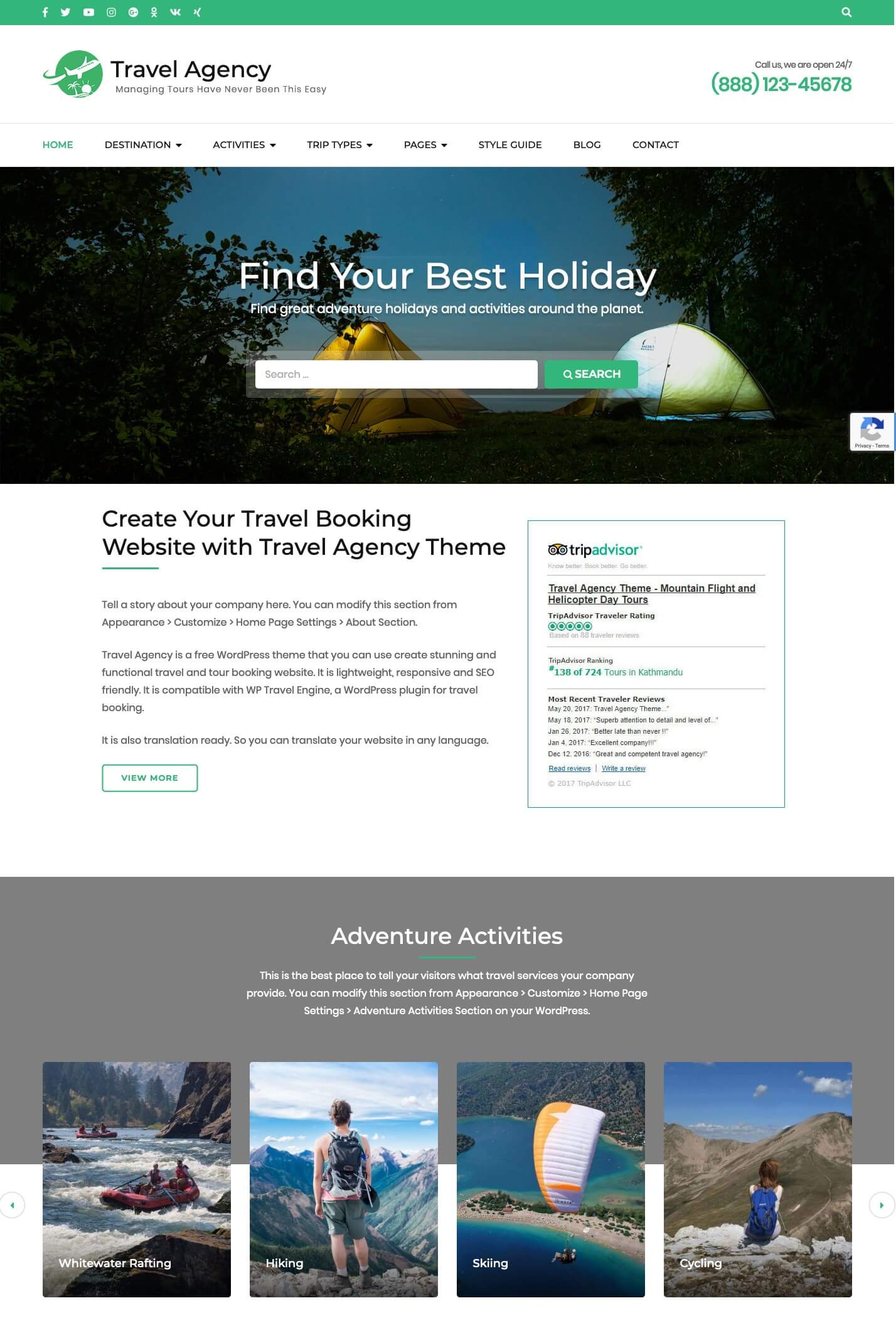 The Travel agency is among the best WordPress themes for businesses related to travel and tours. You can create and curate tailored trip packages while attracting potential customers with its remarkable design and features.
The striking design, along with modern CSS and effects help improve user engagement. Likewise, the self-adjusting responsive design makes sure the display is proportionate on various devices.
Travel agency also has social media integration that allows the business to expand its reach across multiple social platforms. For more accessibility, the theme is cross-browser compatible, meaning you can easily access the website from any browser.
Even a few seconds of delay in booking a trip or a flight can make a difference in sales. So, your website must be fast and optimized. The Travel agency theme ensures just that. It loads at a lightning-fast speed and helps your website rank high in search engines.
For better user experience, developers of this theme have created extensive documentation along with comprehensive video tutorials. If there's any trouble, you can get technical support online as well.
Recommended Travel Agency's Templates:
1. Trekking
The "Trekking" starter demo is a dynamic and visually captivating online platform designed to inspire and facilitate adventurous travel.
Embodying the spirit of exploration, its vibrant design and attractive layout effortlessly highlight trekking tours and packages.
The demo features user-friendly navigation and clear images, creating an immersive browsing experience.
The "Jungle Safari" starter demo is a thrilling digital gateway that brings the wild's adventure to your screens.
It features an engaging interface that guides visitors through various tours, creating an immersive user experience.
Jungle Safari is fully responsive and customizable, adapting to the unique needs of wildlife tour operators. With its ability to bring the thrill of a safari to a digital platform, this demo is a valuable asset for businesses aiming to attract adventurous travellers.
3. Vacations
This template is a digital haven devoted to creating exceptional trip experiences.
Its breezy, vibrant design and user-friendly interface expertly showcase various vacation packages.
This fully customizable and responsive template enables travel businesses to create a unique online presence that reflects their brand identity. This demo is a comprehensive digital solution for vacation planners seeking to expand their reach and conversions by seamlessly guiding visitors from browsing to booking.
4. Holidays
Holidays is a versatile starter template designed exclusively for your tour and travel companies.
With its captivating design, intuitive layout, and comprehensive features, the Holidays template empowers travel agencies to create a stunning online presence that captures the essence of wanderlust and adventure.
The Construction Landing Page is a free WordPress theme for construction companies and businesses.
It's ideal for constructors, builders, interior design companies, architects, plumbers, packers and movers, landscapers, and any construction-related industries.
The theme is highly customizable, with a built-in live customizer for real-time changes and previews. It also offers a free one-click demo import to kickstart your website with ready-made content and settings.
One of the standout features of the Construction Landing Page theme is its over-the-fold contact form. This feature is perfect for increasing email inquiries, as it's one of the first things visitors see when they land on your website.
The theme is also SEO-friendly and speed optimized, ensuring your website ranks well in search engine results and loads quickly for users. It's also compatible with the Contact Form 7 plugin, allowing for the easy addition of contact forms on your website.
Construction Landing Page has a free version, while the pro version starts from $59, offering a variety of free and premium website templates.
Recommended Construction Landing Page's Templates
The Construction Company starter template is a robust WordPress theme tailored for the construction industry.
It's user-friendly, SEO-optimized, and fully responsive, ensuring a seamless and effective online presence.
The template highlights essential services, showcases client testimonials, and features an over-the-fold contact form to boost inquiries. With a built-in live customizer and a one-click demo import, it offers a hassle-free setup experience.
The Epic Construction starter template is a professional WordPress theme designed specifically for the construction industry. This fully responsive, SEO-optimized template ensures a seamless user experience and improved rankings for search engines.
The template also highlights the company's experience and commitment to quality assurance.
3. Timberline
The Timberline WordPress starter template is a fully flexible and SEO-optimized theme so that users will have an easy time, and search engines will rank it higher.
It highlights the essential services and has a visible contact form encouraging people to ask questions.
It is easy to set up with a built-in live customizer and a one-click demo download. The template also shows the company's experience and dedication to quality assurance.
Apex Constructors is a stellar starter template designed for the construction industry. This template stands out with its professional and clean design, ensuring easy navigation and a user-friendly experience.
It features dedicated sections for services, team introductions, client testimonials, and a comprehensive blog. With its focus on showcasing expertise and quality of work, the Apex Constructors template is perfect for construction companies aiming to build a solid online presence. 
Blossom Coach is a free WordPress theme to create engaging websites for life coaches, health coaches, mentors, speakers, and therapists to enhance their coaching business.
The theme is mobile-friendly, SEO-optimized, and speed-optimized, ensuring a smooth user experience and better rankings in search results.
Blossom Coach also includes a blog section to share your knowledge and expertise, a call-to-action section to convert visitors into customers, and a product section to sell the products you use in your services.
Moreover, Blossom Coach is WooCommerce-ready, allowing you to gain effective site monetization through a powerful online store. It's also translation-ready and supports RTL scripts, making it accessible to a global audience.
Overall, Blossom Coach is a comprehensive solution for anyone looking to create a stunning and effective online presence in the coaching and wellness industry.
Blossom Coach Theme has a free version, while the pro version starts from $59, offering a variety of free and premium coaching website templates.
Recommended Blossom Coach's Templates:
1. Life Coach
The Life Coach template is a dynamic and engaging WordPress theme designed for life coaches, mentors, and speakers.
The template includes a call-to-action section to convert visitors into customers and a podcast section to share your audio or video files. It also offers a shop section, allowing you to sell your products directly from your website.
2. Health Coach
Blossom Coach Pro's "Health Coach" template is a dynamic WordPress theme for health coaches and wellness professionals. It's designed to help you create a compelling online presence and reach your goals.
Key features of this demo include a slider/banner for greetings or newsletter sign-ups, an about section for personal introductions, a services section, and a testimonial section for client feedback.
It also provides a blog for sharing expertise, a product section for selling your items, a call-to-action section for customer conversion, and a podcast section for audio or video content.
Blossom Coach Pro's "Wellness Coach" template is a sleek WordPress theme perfect for wellness professionals. It's designed to foster a healthier future for you and your clients.
Some key features include an engaging slider/banner for greetings or newsletter sign-ups, an About section for self-introduction, and a service section to display your offerings. 
The Blossom Coach Pro package, created especially for marriage coaches, relationship counsellors, and family therapists, includes the "Marriage Coach" template as a core component.
It strongly emphasizes user connection and incorporates newsletter capabilities to make it easier for users to stay in touch with customers and share resources.
Another important component is social media integration, which includes a special Instagram section for more in-depth visual communication.
Fitness Coach template of Blossom Coach Pro is a sleek WordPress template perfect for fitness professionals.
The template features a stunning slider/banner section where you can share a greeting message or improve your newsletter subscription.
6. Speaker
Speaker template is a user-friendly theme for coaches seeking to enhance their online presence and client interaction.
This template has a call-to-action section for customer engagement, a podcast section for motivational content, and a shop for direct product sales.
Blossom Spa is a beautiful, free WordPress theme for businesses in the wellness industry, such as spas, beauty salons, wellness centers, yoga studios, and more. Companies can revitalize their website or create a new one that is user-friendly, mobile-optimized, and SEO-ready using this theme.
Its responsive design ensures your website looks great on any device. It also passes Google's mobile-friendly test, which is crucial for SEO.
Moreover, Blossom Spa comes with 22 useful widgets, three blog page layouts, and four sidebar layouts. It is also cross-browser compatible, translation ready, and supports RTL scripts.
Blossom Spa is a comprehensive solution for anyone in the wellness industry looking to create a stunning and effective online presence. This theme also comes in the premium version, Blossom Spa Pro. 
Blossom Spa Theme has a free version, while the pro version starts from $59, offering a variety of free and premium website templates.
Recommended Blossom Spa's Templates:
1. Beauty Salon
The Beauty Salon template is a comprehensive, user-friendly solution for any beauty salon looking to enhance their online presence. It offers comprehensive sections to showcase your services, team, and customer testimonials.
The template's main highlight is its service section, where you can detail the services you offer and how customers can benefit from them. 
Massage Centers template offers a perfect blend of simplicity and elegance, making it an ideal choice for massage centers and wellness retreats.
With its soothing color scheme, clean layout, and easy-to-use features, Massage Center template is a great option for your spa business website.
3. Hair Salon
The Hair Salon template provides an aesthetically pleasing and practical arrangement that highlights the amenities and atmosphere of a hair salon. Hair salon owners committed to increasing their online clientele can rely on this template.
This theme's pricing section is one of its best features. Visitors and potential customers may readily grasp the pricing structure and make informed judgements using this section.
4. Yoga
Blossom Spa Pro's "Yoga" template is intended to help yoga studios, instructors, and lovers build beautiful websites.
The design provides several sections and customizability possibilities to highlight the distinctive features of your yoga business.
Besides these, the following are some other notable starter demos of the Blossom Spa Pro theme:
CoachPress Lite is a lead-generation WordPress theme strategically designed to create more opportunities for lead generation. With this free theme, you can create a unique and stunning website for coaches, mentors, therapists, speakers, and entrepreneurs.
CoachPress Lite comes with SEO-friendly features as well as Schema integration to help your website's search engine rankings. It has a fully responsive design that adapts to all screen sizes, offering a great user experience on all devices.
CoachPress Lite is also a translation-ready theme that you can set up in any local language. In addition, it is also compatible with WPML and Polylang plugins for setting up multi-language websites too.
CoachPress has a free version, while the pro version starts from $59, offering a variety of free and premium coaching website templates.
Recommended CoachPress's Templates
1. Life Coach
The Life Coach template is best for entrepreneurs, mentors, and life coaches.
With this theme, you can have total control over the style and structure of your website due to the robust Elementor page builder. Thanks to its simple drag-and-drop interface, you can customize every part of your site without any coding experience.
This theme facilitates a free "Wheel of Life'' assessment for visitors to analyze the life aspects that need improvement.
Without coding or technical knowledge, the Business Coach template enables business coaches to build beautiful, compelling websites.
Coaches can integrate contact forms to gather client queries, appointment management systems to handle bookings, and interactive components like sliders, galleries, and video backgrounds to make their websites more user-friendly.
3. Ikigai Coach
With its clean and intuitive design, the Ikigai Coach template by CoachPress Theme is perfect for life coaches to creates a welcoming and encouraging online website.
The template provides seamless navigation, allowing users to effortlessly explore various coaching services, testimonials, and special promotions.
The Confidence Coach template is designed for coaches to create stunning, impactful websites without coding or technical expertise.
It also offers a various layouts and features to enhance website functionality.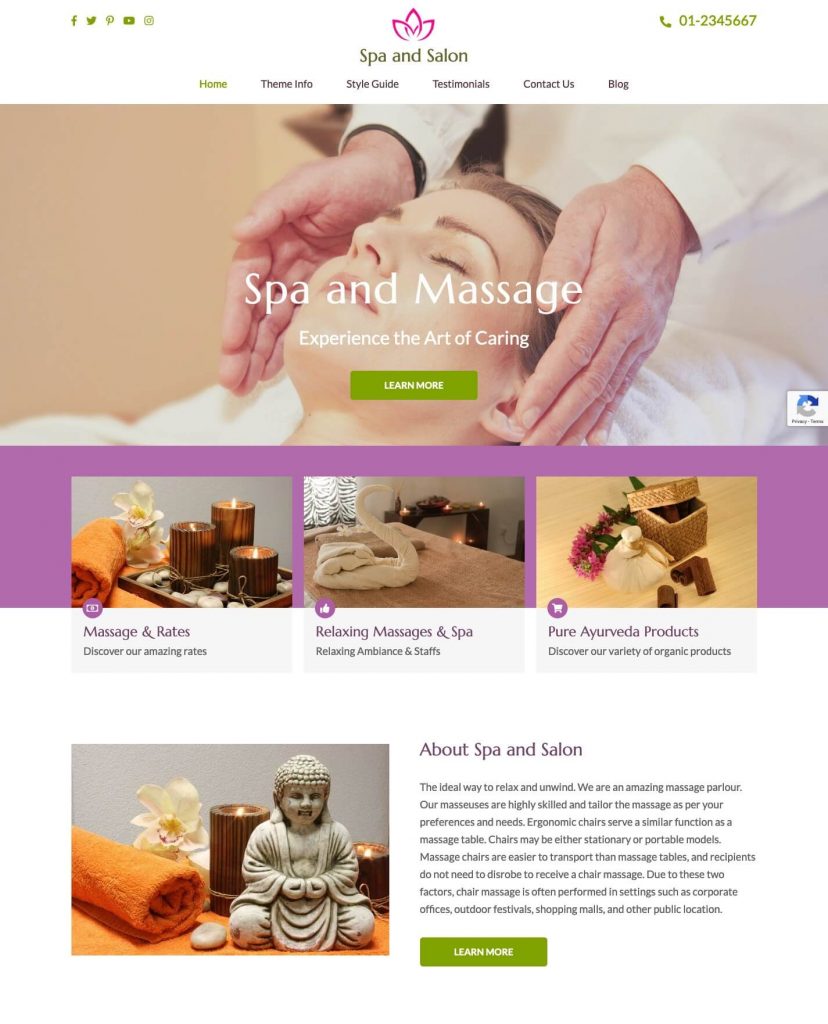 The Spa and Salon is an impeccable blend of aesthetics and functionality, specifically crafted for beauty, wellness, and healthcare industry websites.
This theme effortlessly creates an inviting digital environment, reflecting the relaxation and luxury of spas and salons.
The striking design has been thoughtfully developed to create an immediate impression on site visitors, leading to increased conversions and bookings.
What sets Spa and Salon apart is its ability to adapt seamlessly to various business needs. Whether you run a small local spa, a bustling city salon, or a global wellness brand, this theme will get you covered.
The Spa and Salon theme also understands the importance of mobile browsing, and it's fully responsive, ensuring a smooth viewing experience across all devices.
With the premium version of this theme, users can gain an even smoother experience setting up their website.
Spa and Salon theme has a free version, while the premium version starts from $59, offering various starter templates.
Recommended Spa and Salon's Templates
1. Beauty Spa
The Beauty Spa is a perfect fit for beauty spas and wellness centers, offering a visually appealing and easy-to-use platform to showcase your services and pamper your clients.
An impressive hero image includes a call to action button directing visitors to the booking page.
2. Beauty Salon
Beauty Salon, a starter demo of Spa and Salon Pro Theme, is a sleek digital platform designed to reflect the glamour and sophistication of modern beauty salons. 
Its clean, contemporary design and intuitive interface create an engaging user experience, enticing visitors to explore and book services. 
The demo's customization flexibility allows salons to infuse their unique brand identity, resulting in a distinctive online presence. Its responsive design ensures seamless browsing across devices. 
Benevolent is a WordPress theme crafted explicitly for organizations with their hands in charity. This theme is modern, clean, and highly customizable, making it a perfect fit for any organization looking to establish a robust online presence.
This theme is designed to be fully responsive, ensuring your website looks great and functions smoothly on all devices, from desktops to mobiles and tablets.
It is speed optimized, ensuring a smooth user experience, and SEO optimized, making it easier for your website to rank higher in search engine results.
Benevolent also includes social media integration, allowing you to connect with visitors across various platforms. In addition, the theme is translation ready, making it easy to use in any language.
The theme lets you post different kinds of content on your blog, such as images, galleries, videos, asides, links, quotes, and so on.
The Benevolent theme has a free version, while the premium version starts from $59, offering 9 various starter templates.
Recommended Benevolent's Templates:
1. Charity Care
Charity Care is a compelling starter template designed for non-profit organizations and charities. This template focuses on user engagement and conversion, featuring a clean design and intuitive navigation.
It includes dedicated sections for showcasing your causes, team members, testimonials, and a blog for sharing updates and stories.
The template also features a unique donation functionality, allowing visitors to contribute to your cause directly from the website. With its responsive design, Charity Care ensures a seamless browsing experience across all devices.
2. Fundraiser
Fundraiser is a vibrant and engaging starter template for non-profit organizations and charities.
Along with a blog for sharing news and updates, it has settings specifically designed to highlight your teams, programmes, and success stories.
This template is a blend of design, functionality, and ease of use, making it a top choice for non-profit organizations.
3. Giving Heart
Giving Heart is a colourful and engaging template for charities and non-profits.
Like other templates of Benevolent Pro, it offers specific areas for promoting your causes, presenting your team, sharing success tales, and running a blog for ongoing updates and stories.
Its seamless fusion of style, usability, and user-friendliness makes it a top option for non-profit organizations.
4. Empower
It is a great template to encourage visitors to contribute to different causes and charities. With the vibrant interface of this template, charity and non-profit organizations can grow the leads and clients of their websites.
The template includes a visually appealing stats counter, allowing you to display your achievements and reach. A banner section with visible call-to-action buttons to guide visitors to the desired page.
Besides these, the following are some other notable starter demos of the Benevolent Pro theme:
Perfect Portfolio is a free WordPress theme designed to display your work and achievements elegantly. This theme is ideal for freelancers, photographers, and agencies looking to showcase their creative work and attract more customers.
It has many valuable features, including mobile-friendly design, speed and SEO optimization for optimal performance.
One of the key features of Perfect Portfolio is its stunning mobile-friendly design. This template is designed to adapt to any screen size.
It also comes with a built-in live customizer, allowing you to fine-tune and customize your website's appearance and see the changes in real-time.
Perfect Portfolio also offers a free one-click demo content import. It means you can kickstart your website with ready-made content and settings, saving you hours of setup time.
Perfect Portfolio has a free version, while the premium version starts from $59, offering various starter templates.
Recommended Perfect Portfolio Pro's Templates:
This template is a chic WordPress theme created for experts who wish to present their work in an attractive and well-organized way.
The hamburger menu maintains the homepage simple while allowing users to locate what they're looking for quickly. Additionally, this template has a space for your Portfolio where you can show off current works to demonstrate your expertise and services.
Additionally, the template has sections for testimonials to display client comments, a blog to share your experiences, and a contact page for future clients to contact you.
This template is also available in a dark version called Elegant Dark.
Individuals and companies can present their profiles stylishly and contemporary with Sleek Portfolio.
The template has sections highlighting your most remarkable work, client feedback, blog articles, services you offer, and many other features. With all of these inclusions, visitors will learn why they should choose your company for their needs.
Additionally, this design is available in a dark variant for people tired of seeing white screens everywhere. The dark version is called Sleek Portfolio Dark.
Travel Monster is a free WordPress travel theme designed especially for anyone working in the travel sector, including hotels, tour companies, and travel blogs.
This theme has a variety of features and functionality to help you build a website that is interesting to look at and highlights various travel destinations, deals, and experiences.
Travel Monster theme is compatible with the WP Travel Engine plugin to create a fully functional travel booking website. With this plugin, you can easily add comprehensive itineraries, cost details, and booking forms and sell them with ease.
Additionally, Travel Monster theme is search engine optimised, and mobile-friendly. As a result, it aids in bringing in organic traffic and raising your internet presence, which ultimately results in more potential clients and reservations.
The theme is updated frequently to add new features and maintain compatibility with the most recent WordPress version.
Price: There are three rates available for the theme in the premium edition.
One site: $59
2-5 sites-$99
Unlimited-$149
Recommended Travel Monster Templates
1. Travel
It is a pre-made demo that only requires one click to install. You can quickly customise your travel and hotel website and create an appealing one with different layouts, 1000+ Google fonts, and endless colour possibilities.
The features in this mobile-friendly beginning template will enable you to generate more leads and convert site visitors into paying customers.
2. Funky
To draw in young and daring travellers, the Funky template offers a vibrant, aesthetically appealing layout with vivid colours, contemporary font, and enticing visuals.
Users can access detailed itineraries in a variety of ways, navigating effortlessly between daily activities, destinations, and landmarks.
3. Holidays
Holidays is a gorgeous starter demo for Travel Monster that aims to give your hotel and travel website a joyful and laid-back atmosphere. For travel companies, tour operators, and holiday planners wishing to highlight different holiday packages and festive travel experiences, it is the perfect option.
4. Wine Tour
Wine Tour is a sophisticated demo of Travel Monster Pro. It is intended exclusively for wine tour companies, vineyards, or tour operators that focus on food and wine.
Clear information about the vineyard visits, wine tastings, and other activities planned for each day is provided in the form of detailed itineraries for wine tours.
This template includes the fee schedules for the bundles the site visitors desire. The template thus makes it simpler for customers to find what they need from your company.
5. Trekking
This is another great template of Travel Monster Pro theme designed exclusively for tour and trekking agencies.
This demo's seamless integration with WP Travel Engine makes booking and managing trekking packages simple.
Which theme is the best for my business?
We have listed 40+ free business WordPress themes for you in the list above. Depending on the purpose of your business, and the features of the theme, you can find the right theme from the list above. However, if you'd like to know which theme we would recommend, it's Rara Business
Rara Business theme stands out from the rest in its design as well as performance. It is an SEO friendly theme with a responsive design. It is easy to use and can be accessed through any major browser. Thus, it has high accessibility and can lure in the audience easily. The landing page has an outstanding design that makes a remarkable impression among visitors.
With plenty of options for background colors, layouts, images, the Rara Business theme also offers built-in customizer giving you flexibility and control of your website unlike any other themes. There are specific sections for highlighting your content and providing special functionalities like service section, blog section, contact section, CTA section and many more.
FAQs
Conclusion:
If you're a yogi, trainer or a fitness expert looking to start out your business, this article is for you. Research on your niche for building a website. The more you engage your visitors, the higher the chances of leads converting to sales.
In the article above, we listed the best 40+ free business WordPress themes in 2023. Hopefully, you have found the one that meets your needs. If you haven't you can check out some premium business themes too.