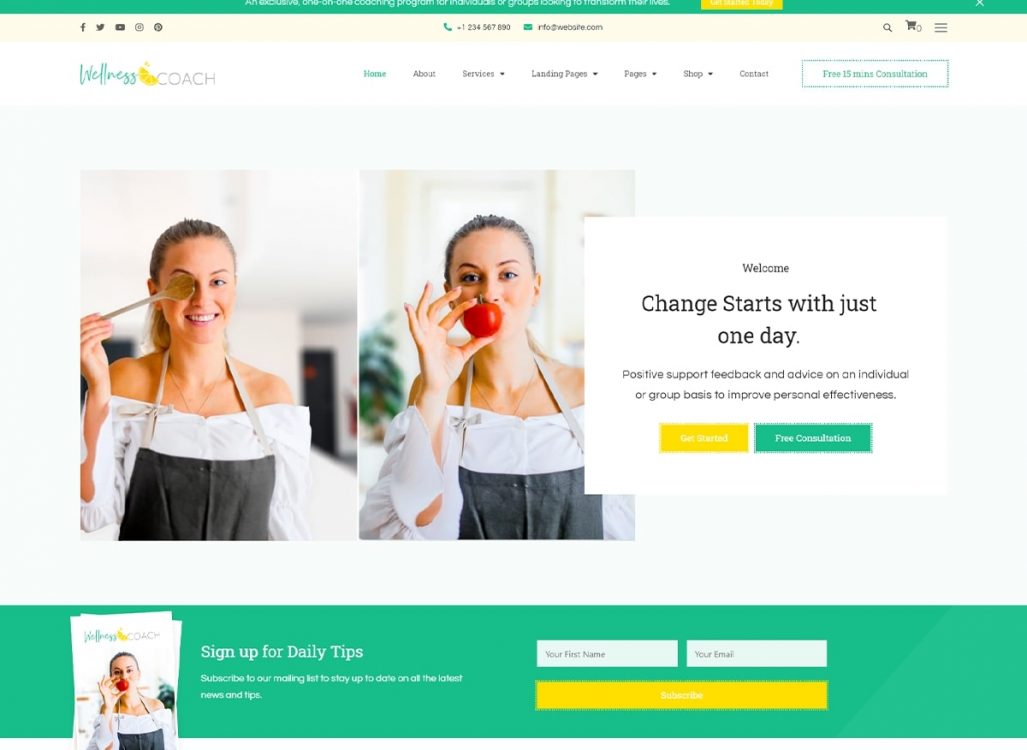 If you are a health coach, mentor, therapist, entrepreneur and even motivational speaker, you will love the Wellness Coach theme.
Wellness Coach theme helps coaches like you to build a complete website with just a few clicks.
It is a complete WordPress theme and includes all the features you will need to create a coaching website. Best speed, performance, SEO are all neatly covered to ensure your website ranks higher in search engines – providing you an edge over your competitors.
You can easily kickstart your website within minutes with one-click demo import. Also, the theme control panel is super-easy, intuitive and fit for all users, beginners and advanced alike.
Wellness Coach is a mobile-friendly WordPress theme that fits perfectly on all screen sizes without leaving any pixels or content behind.
You get effortless customization options with Elementor compatibility. In addition, it features over 1000+ Google fonts, multiple pre-made layouts, full typography control, and unlimited colors.
You can also easily create, manage, and track eLearning programs as the theme supports LMS plugins, such as LearnDash and Tutor LMS.
Similarly, you also get distinct sections, such as Services, About, Testimonials, Blog, Resources and Contacts. These sections help to best highlight your services and build credibility amongst your visitors.
If your priority is lead generation, Wellness Coach has your back. It comes with multiple strategically-placed newsletter sections with CTAs to grow your email list.
Further, this theme is WooCommerce compatible, allowing you to start an online store in an instant. You can translate your website into local languages with its translation-ready feature.
Other notable features of this theme are responsive design, easy legibility, floating headers, social media integration and user friendly.
Wellness Coach is for you if:
You want to build a website without any hassle or coding knowledge.
You want to build a website for coaching, mentoring, and consulting.
You want lead generating landing pages to engage your visitors and generate leads.
You want a super-flexible theme that easily adapts to your changing needs.
You want a fully customizable theme that you can shape to your will.
You want a mobile-friendly website that fits perfectly on all screen sizes without leaving any pixels or content behind.
You want to grow your subscriber using the strategically placed Newsletter Section.
You want to increase your Instagram followers using the built-in Instagram Section.
You want your site to be Schema-ready and SEO-friendly.
You require expert technical support.
Features of Wellness Coach
Wellness Coach is a powerful all-in-one theme. It offers top-notch features and limitless customization options while making you feel right at home. Let's look at those features in brief:
Pre-made Multiple Unique Layouts
The wellness Coach theme paves the way for your imagination with pre-designed templates and layouts for various segments of your site.
6 Header Layouts
Wellness Coach has 6 different layouts to go well with most of the designs. You can select the layout that best blends with your niche and needs.
4 Static Banner Call-to-Actions (CTA) Layouts
Want to focus on more conversions? Set your CTA in 4 gorgeous static banner layouts and gain your visitors' attention instantly.
2 Static Newsletter/ Appointment Banner Layouts
Want to increase your subscribers' list? Choose from the 2 stunning newsletter banner layouts and make it happen. You can also set up an appointment banner here.
5 Single Post Layouts
With 5 different options for single post layouts, you can set a unique look for your individual posts.
3 Slider Layouts
Slider is an eye-catching segment to display your blog post on your website. It is an intriguing yet effortless way to engage visitors. Wellness coach features 3 different slider layouts to choose from.
5 Blog Page Layouts
If you plan on blogging, you don't have to worry about how to showcase the blogs. There are 5 distinct blog page layouts in the theme to choose from. Your blog won't go unnoticed with these attractive layouts.
4 Pagination Styles
Select from 4 different pagination styles – Newer/Older, Numbered, Load More, and Auto Infinite Scroll. This will help your viewers navigate through your various blog posts quicker.
4 Customizable Banner Options
For a multipurpose theme, it only makes sense if it has banners that fit all needs. Well, Wellness Coach offers 4 customizable banners you can use to highlight essential elements.
Static Image/Video with Call-to-Action (CTA)
The more the CTA options in a theme, the better is the conversion rate. Our theme has a straightforward option that lets you add a static image or video to the banner. You can even add up to two CTA buttons and a few sentences briefly describing your business.
Static Image/Video with Newsletter
You can attach your newsletter next to a static image or video on the banner. It easily convinces your visitors to subscribe to your emails and promotions.
Static Image/Video with Appointment
Another effective way to customize the banner is by adding your appointment calendar adjacent to the image or video. This way, users can easily schedule an appointment from your site.
Smooth and Attractive Banners as Slider with Advanced Controls
Adding sliders to your banners is another compelling way to enroll visitors. You can add slides of your latest posts, upcoming sessions, desired page, and more. Further, the theme also adds advanced controls such as loop, animation, etc.
WP Custom Fonts (worth $29)
With this theme, we have bundled a premium WP Custom Fonts plugin. With this plugin, you can easily install any custom fonts on your website.
Gorgeous Responsive/ Mobile Friendly Design
Google prioritizes a mobile-friendly website and ranks it higher than others. Our experts know it well. That's why we provide a responsive and mobile-friendly design to Wellness Coach. Your site will look gorgeous on any screen, no matter the size.
One-Click Demo Import
Creating a dream site effortlessly is no more a dream using the Wellness Coach theme. There is a demo site with default content and settings in the box. You can download and install this content into your site with a single mouse click.
Easy-to-use Theme Settings Panel with Live Preview
Every small to large theme setting is compiled and organized in the theme settings panel. You can customize your entire site from one place and get a live preview of how your site would look in the front-end. Of course, these changes are significant only after you are happy with the changes.
Easily Change Theme Color
We know how important role colors play to the look and feel of a website. With Wellness Coach, you get unlimited options to customize your primary, secondary, background, and other element's colors with a few clicks. You can now select a color to match your brand.
Choose from 1000+ Google Fonts
There are more than 1000+ Google Fonts in Wellness Coach. You can get a wide range of fonts to choose from that matches your brand. Further, our developers keep updating the font library, so more options are still on the way.
Typography Control
There are several options to adjust the typography in Wellness Coach. Experiment with various options and bring out the best look for your site. Also, you can adjust your site's headings (H1, H2, H3, etc.) and font size.
Custom Site Logo with Size Control
We know your logo is your brand identity, and it must be well-presented. Moreover, it is probably the first thing your viewers notice on your site. That's why we have made it easier to upload your custom site logo and adjust its size to fit perfectly on the header.
Sell Courses with LearnDash and Tutor LMS
Do you offer courses or plan to create in the future? Well, the Wellness Coach theme is compatible with the popular LMS plugins such as LearnDash and Tutor LMS. This way, you can add and sell your courses to your audience.
WooCommerce Compatible
Use the powerful WooCommerce plugin and turn your website into a fully functioning online store. You can sell your courses, create your services packages, add merchandise products, and much more.
22 Elementor Landing Page Templates
About Page Template
About page template is where the details about your site go. You can add information about your website, your brand's story, add social links, display portfolio, and more.
Service Page Template
So, what services do you offer? Tell your visitors in detail about your services using the dedicated Service Page template. Also, you can add CTAs to let them book your services.
Testimonial Page Template
Proudly display the testimonials and positive reviews received over time from your customers. Apart from simple texts, you can even put up a video testimonial to make it more interesting. It will certainly build trust among your new visitors.
Newsletter Template
A newsletter template is an effective way to increase your mailing list without much effort. Add your newsletter subscription and also the steps to complete the subscription. This way, your visitors can complete the subscription process.
Event Page Template
Have any upcoming events that you want your visitors to know? Well, this theme has a dedicated Event Page Template for such purposes. You can add the date, time, venue, and other details about your upcoming events in a stylish fashion.
Courses Page Template
Wellness Coach has a page template solely for displaying your courses. You can list all of your courses with a brief description of each. This way, new visitors get a brief insight into what they can get from your site.
Freebies Page Template
Do you offer free services, courses, and sessions?
If yes, separately list them out with a brief introduction of each in the Freebies page template. This way, your audience can try out your free stuff before they commit to your paid content.
Podcast Page Template
If you have an audio clip of the sessions and courses, you can attach them to your site using the Podcast Page template. It only takes a few mouse clicks to attach the podcast to your site. This feature is handy to increase user retention on your site.
Press/Media Page Template
Add your media or press appearance in the Press/Media page template to boost your portfolio. It lets you know your visitors where you have been featured on.
Consulting Landing Page
Planning on offering consulting to your customers? Look no further. With Consulting Landing Page templates, you can easily create a proper landing page to grab their attention and turn your visitors into paid customers.
.
eBook Landing Template
The eBook landing template is perfect for sharing your eBook (as paid or free option). You can add a brief introduction and provide the download link as well.
Pricing Page Template
List out the pricing for each of your services and products on your site. You can also add CTAs to purchase those services.
Contact Page Template
The Contact Page template lets you add a contact form to allow your visitors to contact you. Additionally, you can display other necessary details such as phone numbers, contact addresses, and email.
Instagram Landing Template
You can link your Instagram profile to your site. This is an effective tool to increase your followers as well as gain more leads with minimal effort. Further, you can also add this to your Instagram bio.
Gutenberg Compatible
Wellness Coach offers the innovative Gutenberg editor to help you build your site efficiently. You can easily insert blocks and arrange them how you want. Plus, you can also delete them with a few clicks.
Elementor Compatible
This theme is compatible with Elementor – a popular WordPress builder. It is one of the leading platforms that helps users build a site out of scratch using the drag-and-drop interface.
Optimized for Speed and Performance
A laggy website is a no-no for a website. It not only delays your site but also repels a potential customer. That is why this theme is optimized for speed. Apart from the improved speed, the theme also ensures a smooth browsing experience.
Search Engine Optimized (SEO)
All website owners want more traffic. But, you get more traffic only if your site is visible. So, how do you make your site visible? By making it SEO-ready, that's how. Wellness Coach is crafted with the best SEO knowledge from our experts to make sure your site lands on top spots than your competitors.
Notification Bar to Grab Your Visitors' Attention
Notification Bar helps to get your visitors' attention without diverting them from the main content. Using the built-in notification bar feature, you can notify your viewers about upcoming events, offers, alerts, and more.
Strategically Placed Newsletter Section
The theme strategically places a newsletter section in the prominent spots of your homepage. As a result, your site is more likely to receive subscribers if your newsletter successfully grabs attention.
About Section to Display Your Bio
Let your audience know more about you in the About Section. Here, you can add details about your business, website, or even yourself. You can also add your bio and images with CTAs as well.
Client Logo Section
Using the carousel slider, you can showcase your previous clients' logos or websites where you've been featured. Your affiliation with multiple brands and customers is more likely to build trust amongst your new visitors.
Featured Area Section
The Feature Area Section is a noticeable segment on your site. You can use this section to add your services and product. You can also feature the content you want to highlight. It can be your latest posts, upcoming events, or more.
Services Section
Let your viewers know what kind of services you offer as a coach. You can add the details, pricing, and payment options to the section. You can also place a CTA button to guide your viewers into taking action.
Call-to-Action (CTA) Section
Encourage your customers to engage with your business and guide them on how they can do it using the CTA section. You can add multiple CTA buttons to sign up for your session, subscribe to your newsletter, and many other actions.
Testimonials Section
Have your customers provided positive reviews about your services? If yes, treasure it in the testimonials sections of the homepage. This will help build trust among the new visitors and also establish credibility for your services.
Blog Section
Blogging is an effective technique to express yourself and promote your business. Using the Blog Section, you can engage your viewers with your latest posts, events, stories, and more.
Resources Section
The Resources Section lets you list all your free and paid resources with an image and CTA buttons. Thus, it is easy for your readers to browse your content from one place without having to scroll all over your site.
Contact Section
Add your phone number, email, and location in the Contact section to let your visitors reach out to you.
Display Your Instagram Feed
Increase your social presence with a built-in Instagram feed in this theme. It allows you to integrate your Instagram profile on your site. This tool is effective in increasing your followers and generating additional revenue.
Sort Home Page Sections
Wellness Coach has multiple homepage sections built for various purposes. It also has the option to show/hide a particular section depending on your website needs. You can even sort and reorder the homepage sections.
One Page Navigation
You can set up a one-page website and provide specific information to your audience without any distractions. It keeps your content precise and makes it easier for viewers to browse your site. One-page navigation also helps in generating leads.
Portfolio Page Template
Arrange all your works to date in a neat Portfolio Page Template. You can add your work and arrange them based on categories and different topics.
Footer Menu
How do you offer more and keep your visitors engaged after they've finished browsing your homepage?
It's simple, by adding a Footer Menu Bar at the bottom of your homepage. With this feature, they don't have to scroll up to navigate other pages.
Customizer Search
Isn't it frustrating when you want to change a particular setting but cannot find the option?
Well, our Customizer Search solves this issue once and for all. Now, you can quickly search for and find the settings on the go.
Author Bio on Sidebar
Insert an elegant author bio at the sidebar of your page. You can add your business details, CTAs, a signature, social media links, and more.
Highlight Author Comment
Display the comments of the post's author in a distinctive style so that it never misses the attention. In addition, it makes it easier for your visitors to find the author's response.
Add Your Custom Signature
Being able to add your custom signature is another perk of Wellness Coach. The theme offers space at the end of the blog posts where you can attach your signature. Again, it helps in branding and marketing.
Smart Images Loading for SEO
A slow-loading image is a turnoff for your site's SEO. That is why we have added the smart image loading feature to boost your site's performance. This way, the images load only when the viewers reach that particular section.
Enable/Disable Automatic Image Crop
Do you need to crop some parts of your images before displaying them on your site?
The theme has a built-in feature that lets you enable or disable the automatic image crop with a single click. You can also turn this feature off for a full-size image.
Footer Copyright Editor
You also have an option to edit your site's footer. For example, you can add copyright text, credits, and mentions on your footer. Also, we have added the shortcodes to update the year automatically.
Built-in Google Analytics Settings
Another powerful feature in the Wellness Coach is the built-in Google Analytics setting. You can add it using the analytics tracking code in the theme customizer. This will give you crucial statistics of your site, such as the number of traffics, user demographics and more.
Social Media Integration
You can now integrate multiple social media platforms on your website for promoting your business. Apart from Instagram, you can connect Twitter, Facebook, Pinterest, and other social sites. You can also add links to Chinese and Russian social networking sites, such as Zing, VK, OK, and more.
Social Shares for Your Posts
Include sticky social sharing buttons on each of your posts to let your viewers share your content on their social profiles—a handy feature to promote your brand and gain more traffic.
Built-in SEO Settings
The theme is optimized for search engines to rank your site higher on Search Engine Results Pages (SERPs.) Plus, you can also tweak some additional SEO settings in the Wellness Coach.
Lightbox for Images
Make your site active and appealing by using the lightbox feature for images. Your images fill-up the entire browsing screen by enabling this feature when your viewers click on it. Also, this feature dims the rest of the screen to set viewers' entire focus on the image without any distraction.
Sticky/Floating Menu
You have the power to set your navigational menu either as sticky or floating. This feature promotes easy navigation for your visitors. They can instantly go to any page on your site without needing to scroll to the header area.
Sticky Widget
If you want any of the site elements to remain fixed on the post regardless of user scrolling, the sticky widget can be helpful. You can set the widget on your sidebar as sticky and even add CTA buttons to it.
Post Excerpt
You can display up to 100 words as a summary of a post to let your visitors know what it is about without even clicking on it. In addition, you can use compelling words to drive your visitors to read the topic.
Related Posts of the Category or Tags
Don't keep your viewers idle after they finish browsing through a post. You can display the related posts of the same tag or category at the end of each blog post. This helps increase user retention and engagement on your site without much effort.
Comment Section Toggle
You can toggle the comment section on your blog post. This feature promotes user engagement and even encourages them to provide their feedback.
Drop Cap
Drop Cap increases the size of the first letter in your article. The letter is almost as tall as two or three sentences combined. It catches users' attention instantly and triggers them to continue reading.
Back-to-Top button
A Back-to-Top button is another feature to encourage user experience on your site. By including this feature, your viewers can scroll up to the header section with a single click. They don't need to scroll manually. Thus, save a considerable amount of time.
Widget Ready
Wellness Coach offers several widget areas and widget types that you can add to your website. You can customize them as you need without ruining the aesthetics of your website.
22 Customizable Widgets
Wellness Coach boxes 22 customizable widgets to add functionality to your site. Here are each of them:
Blossom: Advertisement
Blossom: Author Bio
Blossom: Call To Action
Blossom: Client Logo Widget
Blossom: Contact Widget
Blossom: Custom Categories
Blossom: Email Newsletter Widget
Blossom: Facebook Page
Blossom: Featured Page Widget
Blossom: Icon Text
Blossom: Image Text
Blossom: Pinterest
Blossom: Popular Post
Blossom: Pricing Table
Blossom: Posts Category Slider
Blossom: Recent Post
Blossom: Snapchat
Blossom: Social Media
Blossom: Stat Counter Widget
Blossom: Team Member
Blossom: Testimonial
Blossom: Twitter Feed
Unlimited Sidebar Options
Add as many sidebars on your website as you want without any hurdle. You can create unique sidebars on each page to add user-convenient features. You can also add widgets to these sidebars.
Unlimited Background Options
Choose from unlimited background options to build a unique site. You can insert custom colors and images. Plus, you also get 63 built-in background patterns.
Performance Settings
Want more control over your site's performance? Wellness Coach lets you optimize the default settings for better performance. These features are:
Lazy loading of featured images
Lazy loading of content images
Lazy loading of gravatar images
Dever Javascript to improve page speed
Remove ver parameters
Host Google Fonts Locally
You can toggle these features to suit your technical needs. For a fast-loading website, enable all these features to gain maximum performance optimization.
Easily Reset Customizer Settings
Have you ever made changes and wanted to revert to default? Are you worried that you might wreck the customization settings with your experiment?
Wellness Coach lets you reset the customizer settings to default in case of any wrong edits.
Cross-Browser Compatible
Wellness Coach is cross-browser compatible. So, get ready to welcome your guests from any web browser – Chrome, Safari, Mozilla Firefox, Opera, and Microsoft Edge.
Easy Legibility
The theme promotes easy legibility with enhanced font size, font space, and other optimized readability factors. All these factors support clarity so that your visitors can read your content without straining their eyes.
Schema Friendly
Boost your chances to land higher than your competitors with this Schema-friendly theme. The Scheme.org markup helps search engines to understand your content better, thus resulting in better indexing. Ultimately, you can reserve a better ranking in the SERPs.
RTL Scripts Ready
To promote your site in the Middle East, where people use Right-to-Left (RTL) language, you need an RTL scripts ready theme. Luckily, we have integrated this feature to promote your content in RTL languages such as Hebrew, Persian, Arabic, and others.
Translation Ready
With the translation-ready Wellness Coach theme, you can translate your site into any language. So now, your site is a language maestro and the world your audience.
Polylang Compatible (Multi-language)
Want your coaching website in multiple languages? Good news for you. Wellness Coach is Polylang plugin compatible, meaning you can now translate your entire website or a part of it into various languages.
WPML Compatible (Multi-language)
Another multilingual benefit you get from Wellness Coach is the WPML plugin compatibility. This feature helps you target diverse communities with different languages. You can also optimize SEO on your site in multiple languages.
Regular Updates with Feature Enhancements
We push updates frequently so that you are always up-to-date. These updates make sure that your site runs optimally and keeps up with new WordPress versions. We also provide timely feature enhancement, bug fixes, and security upgrades.
Clean Codes
Even though our theme is a complete package, you can still code and design your site as per your preference. Wellness Coach offers well-organized clean codes such as CSS, HTML, PHP, and JavaScript. Thus, you can customize your site on your terms.
Extensive and Beginner Friendly Documentation
If you are a novice and have no idea about WordPress themes, our extensive documentation will help you. Our comprehensive and beginner-friendly documentation guides any level user step-by-step to build an elegant site without scratching their head.
Top-notch Quick and Friendly Support
Got any theme-related problems? Please feel free to reach out to our expert support team. We will be more than happy to help you anytime.