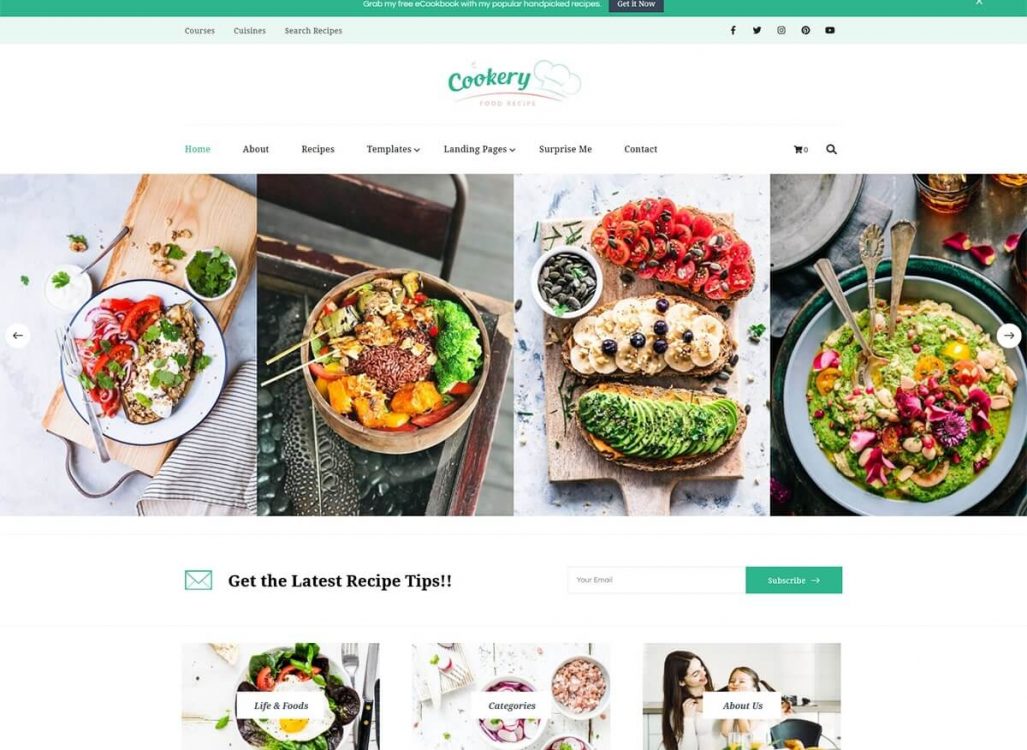 Cookery is a lead generating WordPress theme for food bloggers who want to share their recipes, effectively capture leads, and monetize their blogs. It is a highly customizable theme with tons of easy to use features to create successful food blogs.
Cookery is SEO-optimized, mobile-friendly, and speed-optimized to give you an advantage over your competitors.
This theme allows you to easily create recipes to share with your audience through the Delicious Recipes plugin. You can include step-by-step instructions and provide additional value to your readers with serving-based ingredients and other features.
Cookery is a powerful theme with expert design cues that help optimize your lead generation. Features such as strategically placed newsletter forms and Call-to-Actions (CTA) sections help you generate more leads.
You also get a collection of landing page templates tailor-built for your business ventures and promotional campaigns. There are landing pages for the press, book releases, consulting services, meal planning services, and much more. These inner page templates support you in every aspect of your business.
This theme helps you to build your online following with multiple newsletter forms and eye-catching social media feeds. You can even create a multi-language website with this theme as it is WPML and Polylang compatible.
Cookery WordPress Theme is for you if:
You want a gorgeous WordPress theme for your food and recipe blog.
You want a fully-fledged website without writing a single line of code.
You want an SEO-optimized, Schema-friendly food website to gain an edge over competitors.
You want to share your recipes with readers using simple and comprehensive tools.
You want a website that is optimized for lead generation to attract more subscribers and followers.
You want a mobile-friendly website that offers the best user experience on all devices.
You want to build your following with eye-catching newsletter forms, and social media feeds.
You want to customize your website with numerous layouts and font options easily.
You want timely support from a top-class technical team every step of the way.
Features of Cookery
Cookery is a highly customizable theme with powerful features for food bloggers. Its gorgeous design will set your website apart from the competition. At the same time, you get all the functionality you need for your blog to thrive.
Pre-made Multiple Unique Layouts
Cookery comes with a collection of unique layouts so that you can build your ideal food and recipe blog. There are layout options for all the key areas of the theme.
6 Header Layouts
There are 6 options for the header layouts. You can choose the one that works best for your site logo and prioritize the header elements according to your needs.
8 Slider Layouts
A collection of 8 unique slider layouts give you ample options to draw the visitors' attention. You can showcase your featured posts or set the right tone for your website with custom slides.
9 Homepage Layouts
You get flexible options on how to display your posts on the homepage with 9 attractive homepage layouts.
5 Single Recipe Layouts
Cookery ensures that you get to share your recipes in the best way possible. You get 5 different single recipe layouts to display your recipes in the best way.
2 Single Post Layouts
The theme also comes with 2 layouts for your posts.
3 Call-to-Action Banner Layouts
Call-to-Action prompts are the best way to boost engagement on your website and generate leads. The theme allows you to place Call-to-Action buttons in the header banner in three different ways to boost lead generation.
3 Newsletter Banner Layouts
The banner area is also a great location to place newsletter forms. You get 3 newsletter banner layouts to encourage visitors to subscribe to your newsletter.
2 Recipe Search Banner Layouts
The recipe search bar is a major feature of Cookery that improves user experience. You get 2 layouts for the recipe search banner with ajax search.
4 Pagination Styles
You can display your posts using 4 different pagination styles for diverse navigation looks. You can offer numbered (1, 2, 3) pagination, Next/Previous buttons, Load More button, or Infinite Scroll.
Optimized for Lead Generation
Cookery uses design elements and cues to help you generate more leads. The theme includes strategically placed newsletter forms, including 2 newsletters sections on the homepage, at the top of every single post, and below the author bio on every single post . There are also multiple Call-To-Actions (CTA) sections with a gorgeous design.
You also get powerful landing page templates to convert visitors to your products and services. We have anticipated the different business ventures of food bloggers and built specialized landing pages for each one.
Gorgeous Responsive/ Mobile Friendly Design
Cookery is a fully responsive WordPress theme that responds perfectly to all devices, including desktops, mobile phones, and laptops. This theme adjusts itself to the screen size so that all your visitors can experience your website as it was intended.
This theme also passes the Google Mobile-Friendly Test, which helps improve your site's search engine ranking.
One-Click Demo Import
Cookery allows you to build your website quickly and easily. You can import this theme's pre-built demo content with a single click and immediately start working on it.
Easy-to-use Theme Settings Panel with Live Preview
You can customize the appearance of this theme with a real-time preview of changes. The Theme Settings Panel comes with the Live Customizer through which you can view changes as they are made.
Easily Change Theme Color
Cookery comes with unlimited color options so you can personalize your site to meet your branding needs. You can set a custom color palette for your website by changing the primary, secondary, background, and other color options.
Choose from 900+ Google Fonts
Cookery comes with a massive collection of 900+ Google Fonts to stylize your text. Fonts make a major impact on the look and feel of your website. This theme offers you more than enough options to personalize your site's fonts right out of the box.
Fully Compatible with Delicious Recipes plugin
Cookery comes with the powerful Delicious Recipes plugin, which helps you create attractive, user-friendly, and informative recipes easily. It has numerous features such as recipe cards, nutrition facts, adjustable serving, Pinterest rich pins support, recipe keys, quick print button, advance search, recipe index, and so on that drastically improve the user experience.
Beautiful Recipe Card
The Delicious Recipes plugin comes with beautiful recipe card designs for displaying the cooking instructions to your yummy recipes. You can display the cooking instructions in an easy-to-understand way with valuable information such as difficulty and preparation time.
Step-by-Step Cooking Instructions
You can build step-by-step instructions for your recipes with this theme. This allows your readers to follow your recipes easily. They can even note the steps they have completed using a small checkbox that is available in each step.
Serving-based Ingredients
It is a hassle for readers to calculate the ingredient measurements for their serving size. Cookery makes it super easy for your readers to get the exact measurements simply by adjusting the serving size.
Nutritional Value Chart
This extra touch helps you provide valuable information to your health-conscious readers by providing nutritional value charts with each recipe.
Advanced Filters for Recipes Search
Cookery allows your readers to search for the perfect recipes with advanced search filters. You readers can sort through your content for specific recipes, like vegetarian recipes, high protein recipes, and much more.
6 Customizable Recipe Widgets
The theme also comes with 6 customizable recipe widgets to provide a richer experience to visitors. You can place a beautiful Recipe Categories widget, suggest popular recipes, and more.
5 Recipe Page Templates
There are 5 recipe page templates to display your recipes most attractively. Using these page templates, you can make your recipes easily accessible to your readers.
Suggest Recipes to Readers
With Delicious Recipes, you can add the Surprise Me feature in the menu. This handy feature suggests your recipes to your readers. Using this feature, you can create more engagement with your readers.
Gutenberg Blocks
Delicious Recipes also uses Gutenberg Blocks allowing you to create or add recipes within your post with ease. You can even preview your recipes before you publish them.
Blocks like Handpicked Recipes and Recipes by Taxonomy allow you to showcase specific recipes to your readers.
Print Recipe Option
Your readers can easily print your recipes for offline reference with a handy Print Recipe button available on all pages. The theme comes with a beautiful print page template so that your recipes are printed in an easy-to-read layout.
Instagram and Pinterest Share
Social media integration is easy with this theme. Your posts come with easy Instagram and Pinterest share buttons so that readers can share your recipes on their social media with the click of a button.
4 Customizable Banner Options
Cookery allows you to take advantage of your header banner section with useful functions to generate leads and boost user experience. There are 4 options to customize your header banner.
Static Image/Video with Call-to-Action (CTA)
You can place a Call-to-Action button in the banner to draw visitors to desired areas on your site. You can use a custom image or video as the banner background to engage the visitors.
Static Image/Video with Newsletter
The theme also allows you to place a newsletter form in the banner area with an image or video background. This encourages visitors to subscribe to your newsletter and helps boost your lead generation.
Static Image/Video with Recipe Search
You can also place a Recipe Search bar in the banner so that your visitors can get started by looking for their desired recipes right away.
Smooth and Attractive Banners as Slider with Advanced Controls
You can use the banner section as a slider to showcase your posts in different ways. You can display your latest recipes, various cuisine categories, a specific category from your recipe courses, cooking method categories, and your recipe keys. This allows you to showcase the content's diversity on your site and improve navigation across your website.
WP Custom Fonts (worth $29)
This theme comes bundled with the premium WP Custom Fonts plugin. This plugin allows you to install any custom fonts on your website easily.
Typography Control
The theme comes with detailed typography options to easily customize your website's text. You can customize the font family, type, styling, and other aspects of your text. There are separate settings for the different text types, such as body, H1, H2, H3, H4, H5, and H6.
Custom Site Logo with Size Control
You can easily adjust the size of your site logo with the built-in size controller. You can use a simple slider to control your logo size to fit the header design.
Landing Page Template
This theme also comes with multiple landing page templates that can be valuable for increasing your conversion. You get specifically designed landing page templates for different ventures such as consultations and ebook sales.
About Page Template
The About page template allows you to introduce yourself to new visitors with beautifully arranged text and photo areas. You can tell your story and background through this page and establish your brand.
Work With Me Template
The theme also includes a Work With Me page template to invite your visitors to take lessons from you. You can showcase different aspects of your coaching lessons to show what customers can learn from you.
The page also helps gain the visitors' trust by displaying testimonials from happy customers and a Featured On section that helps establish your credibility.
Newsletter Template
A newsletter campaign is essential if you want to develop an online following for your brand. It allows you to generate new leads and keep existing contacts updated about your latest posts and recipes. We have also created a Newsletter Confirmation Landing Page to guide your subscribers through the confirmation in three steps. Doing this increases the chances of subscriptions drastically.
Cookery helps you build your mailing list with the Newsletter template, which encourages visitors to subscribe to your newsletter.
Coaching Template
The Coaching page template helps you convert visitors to your coaching service.
You can give key explanations to your coaching program with multiple sections, like Team, Pricing Table, Testimonials, and a large CTA section.
Press Page Template
If you make regular media and television appearances, you want a space in your website to list future appearances and recent publications. The Press page template does just that by displaying dates of your scheduled appearances and your recent articles published in newspapers and magazines so that your followers can keep up with your work.
FAQ Page Template
You can give a dedicated space to answer common questions from visitors in the FAQ page template.
Book Page Template
Cookery comes with a prebuilt landing page template to sell your books. The Book page template comes with effective CTA sections, appealing information sections, and a section for blurbs.
Kitchen Page Template
The Kitchen page template is a great way to generate revenue through affiliate links. You can showcase your kitchen tools here with links to purchase them. This template allows you to recommend kitchen tools and generate affiliate revenue from them. You can also display your cookbooks on this page.
Resources Page Template
You can list out all the resources and books you offer using the Resources page template. You can display each item with a short promo text, a photo, and CTA links.
Meal Planning Template
The Meal Planning page template is a tailor-made landing page template for meal planning guides. This theme has a large CTA section at the top where you can put key selling points of your meal plan guide, along with multiple sections to describe your product, list out meals from your guide with photos, and more.
eBook Template
If you have ebooks that you want to share with your readers, you can use the ebook template to build an effective landing page with a text section, photos, and a CTA button. This template allows you to give a short summary of your ebook to visitors.
Contact Page Template
The Contact page template allows you to display your various contact information like phone number, address, and email. If you have different contact addresses for different types of businesses, you can place them with short descriptions.
Consultation Landing Page Template
If you provide consultation services, you can use this template to draw customers. This template has an information section to display your consultation service's distinct features and a stat counter where you can place appealing facts like your years in the industry or the number of successful customers.
Attractive CTA links are placed to increase the chances of conversion.
Portfolio Page Template
If you want to showcase your portfolio to attract customers' projects, Cookery comes with an attractive Portfolio page template for you. This template allows you to lay out your previous successes for potential clients to peruse easily.
Gutenberg Compatible
The Gutenberg plugin is a free page builder tool that allows you to customize your website using block units easily. Cookery is compatible with Gutenberg, so you can easily customize your layouts and add more functionality to your website simply by inserting and arranging the required Gutenberg blocks.
Elementor Compatible
This theme is also compatible with the Elementor plugin, one of the most popular page builder plugins for the WordPress platform.
This tool allows you to customize your website easily using simple drag-and-drop motions. You can create your desired layouts without writing a single line of code.
Optimized for Speed and Performance
A fast loading website is a necessity in the digital era. Internet users don't have the patience for slow loading websites. A Google study has discovered that your bounce rate can increase to 32% if your loading speed increases from one second to three seconds.
Thus, we have ensured that Cookery has a fast-loading design. Loading speed is also an important SEO ranking factor, so this helps your website with its SEO performance.
Search Engine Optimized (SEO)
Organic traffic accounts for a majority of traffic for most websites. If you want your food blog to become successful, then search engine visibility is a must. Cookery is an SEO-optimized theme that can help your site gain competitive search engine rankings.
Strategically Placed Newsletter Section
Newsletters are a standard tool for developing your online following. This theme comes with a strategically placed Newsletter section on the homepage to boost your subscriptions. This helps you generate more leads.
Notification Bar to Grab Your Visitors' Attention
The notification bar draws your visitors' attention without blocking out your main content. You can place alerts, special offers, and even a newsletter form in a notification bar to draw traffic.
About Section to Display Your Bio
This theme comes with a gorgeous About section on the homepage for you to introduce yourself to your new visitors. You can place your bio along with personal images and Call-to-Action buttons. This section can help establish your digital brand by building your familiarity among your audience.
Unlimited Featured Boxes
This theme has a prominent featured area on the homepage where you can place key links to draw more traffic. You can place links to your Instagram page, your About page, your categories pages, and so on. Cookery allows you to add unlimited featured boxes to highlight as many links as you need.
Call to Action Section (ebook section)
There is a Call-to-Action section with a custom design that allows you to draw visitors to the desired page. You can use this section to promote your ebooks and attract visitors to the purchase page.
Video Section
Multimedia content is a sure-shot way to engage the visitors' attention. So, Cookery includes a Video section where you can feature video content. You can place recipe videos, personal introduction, or videos of your food adventures in this section.
Featured Recipes Section
You can also showcase your top recipes in a Featured recipes section. This is a great way to kindle interest in specific recipes on your website.
Recipe Category Section
You can offer a smooth user experience to your visitors through the Recipe Category section. Visitors who want to explore the content on your website can use this section to explore category-wise avenues.
Recipe Index Section
The Recipe Index section allows you to display recipes from your major categories. You can add as many recipe categories to display their posts.
Featured On Section
As a serious blogger, you want to build your credibility among your visitors. The Featured On section allows you to display logos of your media featured by different media companies.
Display Your Instagram Feed
An Instagram feed can help you boost your online following. You can attract more visitors to your Instagram page by showcasing your Instagram posts. The Instagram feed also comes with a "Follow Me" button on the side.
Footer Menu
Cookery also includes a footer menu that offers navigation options at the bottom of the page. Your visitors don't have to scroll to the top of a page to explore other pages on your website with this feature.
Customizer Search
You might have a hard time finding the options you are looking for in the theme options. The customizer search feature allows you to find the right settings menu quickly. You can easily optimize your website according to your needs.
Author Bio on Sidebar
The Author Bio allows you to place a personalized introduction to yourself in the sidebar. You can place a short introduction along with your photo, social media links, your signature, and CTA buttons. This widget displays your introduction on the sidebar across the website.
Highlight Author Comment
You can highlight your interactions in the comment section of posts so that they draw more attention. This is also a helpful navigation feature as it allows readers to find the author's responses quickly.
Add Your Custom Signature
You can add a personal touch to your blog site by adding your signature to display at the bottom of posts.
Smart Images Loading for SEO
Lazy loading is a useful feature that can help boost your site speed. This feature prompts your site to load images only when visitors reach that section on the page. Since image load time is an SEO factor, this feature also helps improve your search engine performance.
Enable/Disable Automatic Image Crop
This feature helps you optimize your load time even further. When enabled, this feature automatically crops the images you upload, which decreases their size. You can disable this feature if you want images to be displayed as they are.
Footer Copyright Editor
You can easily update your copyright information in the footer from the Footer Copyright Editor. The theme also includes a shortcode that automatically updates the year in the copyright notice.
Built-in Google Analytics Settings
When running a blog, you need a tool to keep track of your performance metric to see how your website is doing. Cookery comes with a built-in Google Analytics setting. You can enable it by simply adding the analytics tracking code in the customizer.
Social Media Integration
Social media is an integral part of digital promotion, and you need a way to connect your social media profiles with your blog site. Cookery supports easy social media integration with major social networks like Facebook, Instagram, Twitter, and Pinterest.
The theme also supports Russian and Chinese social networks, like OK, VK, and Zing so that you can use this theme from any corner of the globe.
Social Shares for Your Posts
Sticky social sharing buttons encourage your readers to share your posts and recipes on their social media profiles. This helps you gain more followers.
Built-in SEO Settings
This theme comes with built-in SEO settings where you can toggle various features to optimize your SEO performance. You can enable features such as breadcrumbs and the last updated post date known as SEO factors.
Lightbox for Images
Images are an essential media form, especially for food blogs. The lightbox feature allows visitors to view images on your website without distraction in a slideshow-like format.
Sticky/Floating Menu
You can enable a sticky menu on your website to improve navigation for visitors. Your readers will find the navigational menu on screen at all times, making it easier for them to go to different areas on your site.
Sticky Widget
The theme also allows you to make the last widget on your sidebar sticky. This is a handy feature that allows you to emphasize important features. You can use this feature to display CTA buttons or the Newsletter widget to boost lead generation.
Post Excerpt
Displaying a short summary of each post in the preview box is a good idea for increasing the clicks. It gives your readers a basic idea of each post, improving the user experience. Cookery allows you to display a post excerpt of up to 100 words in the post preview box.
Related Posts of the Category or Tags
You can display similar posts whenever a visitor finishes reading a post to boost engagement on your website. You can display related posts of the same category or tags at the end of every single post to keep readers on your site.
Comment Section Toggle
You can enable the comment section so that it displays at the end of a post. This encourages readers to leave a comment and improves interaction on your website.
Drop Cap
The drop cap is a classic feature that highlights the very first letter in every article. It can help grab the visitors' attention and adds an extra touch of aesthetic to your website.
Back-to-Top Button
The back-to-top button drastically improves navigation across your website. It allows visitors to snap to the top of a page only by pressing a button.
Widget Ready
Cookery is a widget-ready WordPress theme, and you can safely integrate any widgets you need to your website. There are adequate widgeted areas, and you can place and arrange widgets to craft the ideal user experience.
22 Customizable Widgets
Cookery comes with a collection of 22 highly customizable widgets. They put valuable functions at your disposal. You can add them to any page on your site.
Blossom: Advertisement
Blossom: Author Bio
Blossom: Call To Action
Blossom: Client Logo Widget
Blossom: Contact Widget
Blossom: Custom Categories
Blossom: Email Newsletter Widget
Blossom: Facebook Page
Blossom: Featured Page Widget
Blossom: Icon Text
Blossom: Image Text
Blossom: Pinterest
Blossom: Popular Post
Blossom: Pricing Table
Blossom: Posts Category Slider
Blossom: Recent Post
Blossom: Snapchat
Blossom: Social Media
Blossom: Stat Counter Widget
Blossom: Team Member
Blossom: Testimonial
Blossom: Twitter Feed
Unlimited Sidebar Options
With Cookery, you can add as many sidebars as you need. You may build unique sidebars for specific pages with different sets of widgets. Add custom widgets for extended functionalities in your website.
Unlimited Background Options
A custom background is an easy way to give a unique touch to your website. You can choose from unlimited color options and upload any custom image to set as your background. The theme also comes with 63 distinct background patterns that you can use.
Performance Settings
The theme comes with various performance settings that allow you to optimize the user experience on your site. For example, you can enable lazy loading to improve your site loading speed.
Easily Reset Customizer Settings
This theme has the option to easily reset all your customizer settings so that you can start over your customization process in case anything goes wrong. So, you don't have to worry about making changes that permanently ruin your site.
Cross-Browser Compatible
Cookery has been tested on the latest versions of popular web browsers, like Chrome, Mozilla Firefox, Opera, Edge, and Safari, to ensure that your website loads perfectly on all.
Easy Legibility
Cookery features design elements from font size, font size, spacings, and other elements to ensure that it offers a highly readable experience. This theme is easy on the eyes and a joy to explore.
Schema Friendly
This theme comes with Schema integration, which is a crucial SEO feature. Schema.org markup helps search engines understand your content better and present your site in more relevant and attractive ways on search engine results.
RTL Scripts Ready
This theme is an excellent choice for using a language with a right-to-left (RTL) script, like Arabic and Hebrew. You can use Cookery to set up websites with right-to-left (RTL) scripts like Arabic.
Translation Ready
You can easily translate your blog site to any other language using this theme. Cookery is translation-ready, and you can set it up in any language simply by uploading the required .po file.
Polylang Compatible (Multi-language)
Cookery is compatible with the popular multi-language plugin called Polylang. You can use this plugin to set up all the content on your website in multiple languages.
WPML Compatible (Multi-language)
This theme also supports the WPML plugin for multi-language websites. You get your choice of tool for setting up your multi-language website. WPML also helps you optimize your SEO for multiple languages.
Regular Updates with Feature Enhancements
We regularly update our themes with the latest security patches, new features, and bug fixes. Your site is secured as per the latest WordPress standards. You can also stay assured about continued compatibility with the future versions of WordPress.
Clean Codes
If you are a developer who prefers to work directly with the programming codes, you will find Cookery a joy to work with. Our themes are built according to the best programming practices. We use clean, well-organized codes with adequate comments.
Extensive and Beginner Friendly Documentation
Are you a newbie trying to set up your first blog site? Cookery comes with detailed documentation that takes you through every step of the process so that you can set up your website yourself.
Top-notch Quick and Friendly Support
You are welcome to contact our friendly support team if you face any difficulties or have any queries. Our team of experts will provide you with prompt and detailed support on any matter.