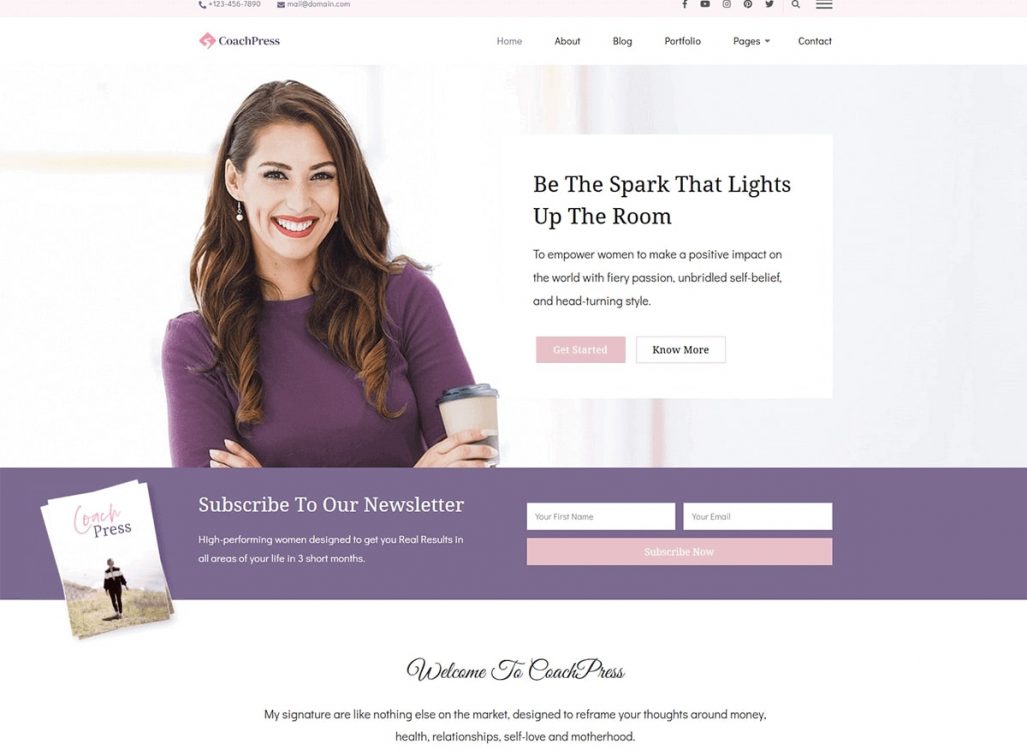 Are you ready to skyrocket your coaching venture with a professional website?
With CoachPress Lite, you can create a unique and stunning website for coaches, mentors, therapists, speakers, and entrepreneurs.
Its sleek, spacious design along with carefully designed elements allow you to build a stunning coaching website in a short time.
You can easily personalize this theme as you get unlimited color options and 900+ Google Fonts. Change the look and feel of your website with a few clicks.
CoachPress Lite comes with SEO-friendly features as well as Schema integration to help your website's search engine rankings. It has a fully responsive design that adapts to all screen sizes, offering a great user experience on all devices. This theme is also speed-optimized for fast loading. This improves your user experience while minimizing the bounce rate.
CoachPress Lite is a lead generation theme. It is strategically designed to create more opportunities for lead generation. A strategically placed Call-to-Action section and a newsletter section and key elements that help you generate more leads.
Carefully designed homepage sections allow you to build up your brand while informing visitors of the services you offer. You can also display testimonials on your homepage to gain the visitors' trust.
CoachPress Lite is also a translation-ready theme that you can set up in any local language. The theme is compatible with WPML and Polylang plugins for setting up multi-language websites too.
CoachPress Lite is for you if:
You are planning to design an excellent website without having to deal with programming codes.
You want a stunning website to sell coaching, consulting, or similar services.
You need an easily customizable theme to change your website's look and feel in a few clicks.
You want a website that is optimized for lead generation.
You are looking for a mobile-friendly website template that displays correctly on all devices.
Growing an email subscribers list using the strategically placed newsletter section is your priority.
You want to showcase your attractive posts in a built-in Instagram section and increase your Instagram followers.
You want an SEO and Schema friendly website to boost your search engine rankings.
You want a speed-optimized website with fast loading and provide a better user experience to visitors.
Getting one-on-one, technical support from an enthusiastic team of WordPress experts is your requirement.
Features of CoachPress Lite
CoachPress Lite includes a variety of top-notch features and customization options.
It eases your process of creating an elegant, easy-to-use website. Let us take a brief look at each of its features:
Gorgeous Responsive/ Mobile Friendly Design
A fully responsive/mobile-friendly design allows CoachPress Lite to adapt your website to your visitors' devices automatically. Whether your visitors are using a desktop, a tablet, or a mobile device, your website adapts perfectly to the screen size.
This gives a smooth user experience to your visitors. This theme passes the Google Mobile-Friendly test, which helps your search engine ranking.
2 Blog Page Layouts
You can choose from 2 Blog page layouts to engage the visitors. An active blog is a great way to develop your online following. You can select the format that provides a seamless user experience.
3 Customizable Banner Options
The banner section is an important area. You get 3 customizable banner options to highlight your services in the crucial first seconds.
Static Image/Video with Call-to-Action (CTA)
CoachPress Lite allows you to set up your banner with an image or a video background. You can add Call-to-Action (CTA) buttons to draw the visitor's attention and urge them to take the desired action.
Static Image/Video with Newsletter
The banner section is crucial in terms of conversion and lead generation. So, CoachPress Lite also offers the newsletter form option in the banner. A newsletter form in the banner increases the chances of lead generation and grows your e-mail list faster.
Smooth and Attractive Banners as Slider with Advanced Controls
You can also enable a banner slider to display multiple images, posts, or pages in the banner. The banner slider comes with advanced controls to help craft the perfect slider animation.
Unlimited Featured Boxes
CoachPress Lite comes with a featured area right below the banner. You can place as many featured boxes with links in this area to draw traffic to those areas. You can place links to inner pages like your Services page or simply link your Instagram page here.
Easy-to-use Theme Settings Panel with Live Preview
CoachPress Lite has an easy-to-use theme settings panel that provides a real-time preview of changes. You can easily change the appearance of your website by using the existing options. It is merely a matter of pressing a few buttons — no coding needed.
Choose from 900+ Google Fonts
Fonts make a major impact on the feel of your website. With CoachPress Lite, you can choose from more than 900 Google fonts to craft the perfect feel that suits your brand. The fonts library is updated regularly to ensure you get the full benefits of choosing from different fonts.
Typography Control
You can individually customize each text category using the pre-existing typography settings. Choose the perfect combination of fonts and font sizes for your website.
Custom Site Logo with Size Control
Uploading your brand logo is super easy with CoachPress Lite. You can use the size controller to adjust your logo size to fit the header easily.
Gutenberg Compatible
Gutenberg is an innovative, new way of editing WordPress sites. You can use block units to add and arrange your website sections and add endless functionalities. CoachPress Lite supports the Gutenberg Block Editor giving you full customization powers without writing a single line of code.
Elementor Compatible
Elementor is one of the most popular WordPress page builder plugins with drag-and-drop support. You can customize your CoachPress Lite website with this plugin to easily customize your website with drag-and-drop actions.
Optimized for Speed and Performance
Fast loading is essential for retaining your audience. CoachPress Lite comes with speed optimization features that help give you blazing-fast loading speeds. This results in a smooth user experience for your visitors.
Search Engine Optimized (SEO)
Search Engine Optimization (SEO) is your lifeline to healthy traffic. The majority of websites rely on organic or search engine traffic to drive new traffic. This theme comes with an SEO-optimized design to give you an edge in your SEO performance.
Strategically Placed Newsletter Section
A strategically placed Newsletter section draws the visitor's attention and helps you generate more leads.
About Section to Display Your Bio
There is a gorgeous About section on the homepage where you can introduce yourself to your audience. It is the perfect way to introduce your coaching brand with some great text, images, and Call-to-Action buttons.
Services Section to Display Your Expertise
You can perfectly outline the services you provide as a coach in the Services section.
Testimonials Section
Testimonials are a great way to gain your visitors' trust. Place recommendations from happy clients in the Testimonials section to build your brand's credibility.
Client Logo Section
Displaying your affiliations is another excellent way to boost your credibility in the visitors' eyes. CoachPress Lite provides a carousel slider where you can display logos of previous clients or media organizations that have featured you. It builds trust among your potential customers after knowing that you've worked with multiple brands.
Call-to-Action (CTA) Section
CoachPress Lite comes with a dedicated Call-to-Action (CTA) section to encourage visitors to take action. You can ask them to check your prices or sign up for a consultation through the CTA section. It can be a valuable tool to boost your conversion rate.
Blog Section
An active Blog section is a great way to add value to people's lives. It is a powerful promotional tool for coaches and therapists. You can use the Blog section of this theme to give valuable tips, suggestions and share your latest stories.
Display Your Instagram Feed
You can display posts from your Instagram profile on your website with CoachPress Lite. The Instagram feed comes with a "Follow Me" button that easily allows visitors to follow your Instagram from the same page.
Portfolio Page Template
Do you want to attract customers by displaying your past successes on your website? CoachPress Lite comes with the perfect Portfolio page template to do just that.
Footer Menu
You can also add a footer menu on your website to aid with navigation. This offers visitors more options to explore once they reach the bottom of a page.
Author Bio on Sidebar
CoachPress Lite has the Author Bio widget that can be placed on the sidebar. You can briefly introduce yourself with some personalized elements like your photo and even your signature. You can even place your social media links on the Author Bio and display it on every page to highlight your brand.
Highlight Author Comment
This handy feature displays the comments made by a post's author in a distinctive style, so that it gets the attention. It highlights the author's comment making easier for your readers to find the author's response.
Enable/Disable Automatic Image Crop
You can toggle automatic image crop to gain greater control over how you want your images to display on your website. If you don't need to show the full images on your website, you can enable automatic image crop for lower image sizes and faster loading.
Footer Copyright Editor
The footer copyright editor allows you to update your footer text without hassle. Update your copyright text and other mentions. You can also use a shortcode to update the current year displayed in the footer automatically.
Social Media Integration
Social media is a major channel for brand promotion. It is essential to integrate all your social media channels on your website to increase your social media following. So, CoachPress Lite supports major social networks like Facebook, Twitter, Instagram, Pinterest. You can also add links to Russian and Chinese social networks, such as OK, Zing, VK, and so on.
Built-in SEO Settings
The theme comes with built-in SEO settings so that you can toggle SEO-optimization features with a click. You can enable SEO-friendly features such as breadcrumbs and the last updated post date. Having these elements on your website can help improve your search engine performance.
Post Excerpt
You can give visitors a pretty good summary of your article. The theme allows you to show excerpts of your posts up to 100 words. It is a simple and effective way of boosting engagement on your website.
Related Posts of the Category
You can suggest visitors with related posts of a single category or topic when they are done reading one of your blog posts. This feature helps retain visitors on your site by suggesting to them content they might be interested in.
Comment Section Toggle
Do you want to encourage interaction on your blog post through the comment section? Maybe you have a reason not to want a comment section at all. CoachPress Lite supports both wishes as you can enable/disable the comment section depending on your needs.
Back-to-Top button
The Back-to-Top button provides a smooth user experience to your audiences. Visitors can move to the top of the page by clicking this navigation button just once. It saves time that would be required to scroll manually.
Widget Ready
You can add lots of widgets to your CoachPress Lite website in a seamless way. There are ample widgetized areas where you can add and arrange widgets to extend your website functionality and offer a great user experience.
22 Customizable Widgets
CoachPress Lite includes a library of 22 highly-customizable widgets. You can add them to any page of your website. Let us take a look at each of them in the below-given list:
Blossom: Advertisement
Blossom: Author Bio
Blossom: Call To Action
Blossom: Client Logo Widget
Blossom: Contact Widget
Blossom: Custom Categories
Blossom: Email Newsletter Widget
Blossom: Facebook Page
Blossom: Featured Page Widget
Blossom: Icon Text
Blossom: Image Text
Blossom: Pinterest
Blossom: Popular Post
Blossom: Pricing Table
Blossom: Posts Category Slider
Blossom: Recent Post
Blossom: Snapchat
Blossom: Social Media
Blossom: Stat Counter Widget
Blossom: Team Member
Blossom: Testimonial
Blossom: Twitter Feed
Cross-Browser Compatible
CoachPress Lite is compatible with a variety of web browsers. Your audience can view your website on any platform, like Google Chrome, Mozilla Firefox, Opera, Microsoft Edge, etc.
Easy Legibility
Design cues crafted by experts led to the perfect legibility of our theme. CoachPress lite has the best combination of fonts and other typography elements to offer your visitors the ideal reading experience.
Schema Friendly
CoachPress Lite is Schema-friendly. This feature allows search engines to offer your site results in much more relevant ways. It can help your search engine rankings in some significant ways.
RTL Scripts Ready
CoachPress Lite is compatible with any type of script, whether Left-to-Right or Right-to-Left. CoachPress Lite lets you add content in RTL languages like Hebrew, Persian, Arabic, Kurdish, and more.
Translation Ready
CoachPress Lite supports you in building your website in any local language. You can upload the .po file to translate your site into any local language.
Regular Updates with Feature Enhancements
We make sure your site is secured and maintain the WordPress standards. Our technical experts push updates adding necessary features, bug fixes, and fixing security loopholes. This way, your coaching website maintains compatibility with the latest versions of WordPress.
Clean Codes
If you are a developer and prefer to tweak websites from the code, you will find CoachPress Lite very easy to work with. The theme includes clean and well-organized codes with adequate comments.
Extensive and Beginner Friendly Documentation
We provide comprehensive documentation that walks you through every step of setting up your website. So, you set up CoachPress Lite for your coaching website without any technical expertise.
Top-notch Quick and Friendly Support
We encourage you to state your concern to our friendly support team with any website-related issues. Our WordPress team of experts is more than happy to address your queries or confusions and provide quick assistance.