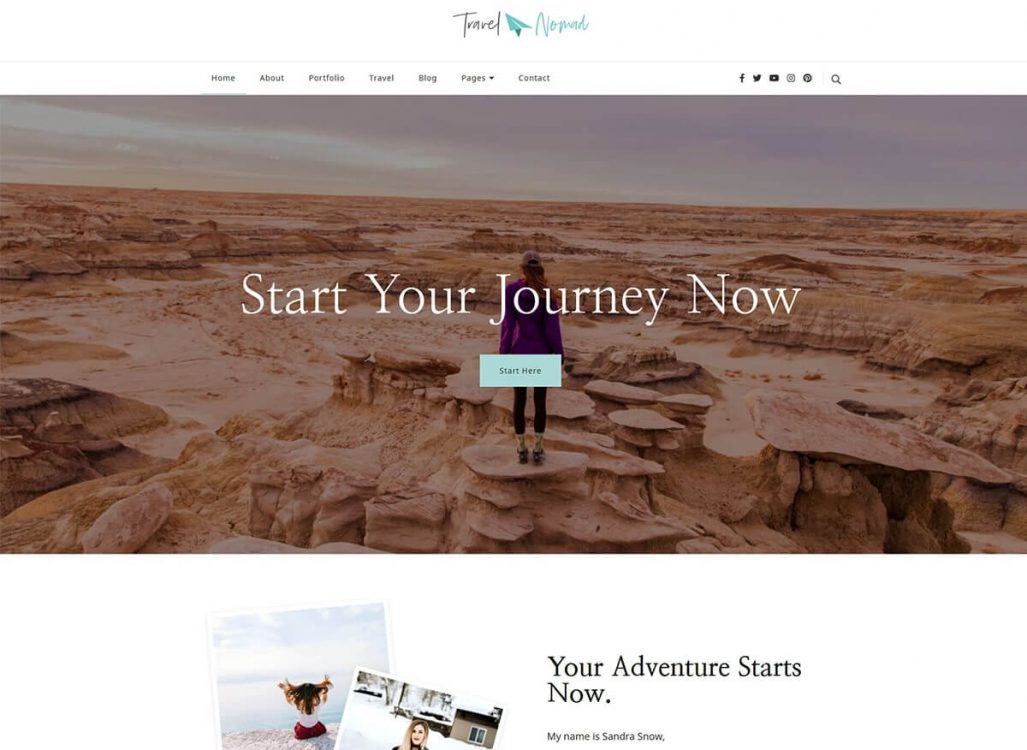 Travel Nomad is an elegant free WordPress theme ideal to create sleek and feminine travel blogs. This responsive, SEO integrated, and speed optimized theme caters to all sorts of travel bloggers willing to share their experiences with the world.
This theme comes with several predefined homepage sections to choose from. The built-in live customizer provides you control over the visual appeal of your site. You can change the color typography and fonts of your site to match your brand style.
With Woocommerce's support, you can easily create an online store and sell your merchandise. It also supports HTML 5 Maps, so marking the places you have visited is effortless.
This content-focused WordPress theme comes with an attractive banner section to keep your visitors engaged. Meanwhile, the dedicated Instagram section provides the required exposure and helps grow your followers.
Travel Nomad Free WordPress Theme is for you if:
You want a beautiful and attractive feminine WordPress travel blog theme for free!

You want to create an elegant travel blog without writing a single line of code.

You want a fully responsive WordPress theme for your travel blog.

You are a traveler and want to share your adventures with the world through an elegant looking blog.

You want to jumpstart your career as a travel blogger.

You want to be able to customize your website's appearance in a few clicks.

You wish to start a blog on beauty, travel, food, fashion, lifestyle, parenting, or other niches.

You want to create an eye-catching blog without hiring a developer.

You are looking for a speed and SEO optimized template for your travel blog.

Your client seeks a modern and creative template for their blog.
With Travel Nomad Theme, you can:
Create a unique and eye-catching feminine travel and lifestyle blog

Customize your blog and give it your desired look and feel without writing a single line of code

Get a fully responsive & mobile-friendly template that adjusts to all screen sizes

Start an online store and sell your products with WooCommerce plugin support

Grow your email subscriber and increase the website traffic with a strategically placed newsletter.

Grow your Instagram followers more effectively.

Enjoy an SEO-friendly, speed optimized, and Schema.org markup ready WordPress blog template.
Features of the Travel Nomad Free WordPress Theme
Let's dive in to learn some of the incredible, unique, and powerful features of the Travel Nomad free WordPress theme.
Stunning Mobile Friendly Design
Travel Nomad is optimized for desktop, tablets, and mobile devices. More than 50% of Google searches are carried out using mobile phones as of present. So, this theme is designed to adapt to any screen size.
Also, Travel Nomad theme successfully passes Google's mobile-friendly test. It means better ranking and enhanced user experience.
Unlimited Colors
Travel Nomad WordPress theme allows you to choose from unlimited primary, secondary, and background colors to truly customize your website according to your brand.
900+ Google Fonts
Travel Nomad theme panel lets you change the fonts of your site effortlessly. Pick from 900+ Google fonts as per your preference and brand style.
Two Header Layouts
Put attention to the smallest details with the header layout option from the Travel Nomad. You can select from 2 different header layouts and pick the header that works perfectly with your logo.
WooCommerce Compatible
Are you planning to create an e-commerce site? Travel Nomad is compatible with the popular e-commerce plugin WooCommerce. It allows you to set up an online store within your website and sell your products in no time.
Compatible with HTML5 Maps
Travel Nomad is compatible with HTML5 Maps. Using HTML 5, you can highlight the places you have visited and elegantly display them. This theme supports both free and premium versions of HTML5 maps.
SEO Optimized and Schema.org Friendly
Travel Nomad is an SEO-optimized WordPress theme. It ensures the Google search engines can easily crawl the content on your site. It further aids to boost your site rank and index on search engines, like Google, Bing, Yahoo, etc.
Next, this theme is Schema friendly. Schema is an essential element for higher ranking on search engines like Google. This way, search engines can reach and index your website faster.
Speed Optimized
Speed and performance play an essential role in keeping your potential customers. Travel Nomad is best optimized for speed to help you stand out from your competitors, which adds to the smooth user experience.
Banner Section
Travel Nomad homepage layout has a large full-width banner section. You can use this section to display a greeting message, share photos, or engage your visitors with a CTA button.
Video Banner
With Travel Nomad, you can add a video on the banner section to share your traveling experience and keep your audience engaged.
Affiliated Brands/Featured Websites Section
Display the brands you have worked with and the websites you are featured in the homepage's affiliate section. This section is dedicated to your affiliate websites and sponsors. It lets you add the logo of the brands with affiliate links.
About Section
Introduce your business to the visitors via the About Section of your website. You can use this section to tell the story of your journey to your website visitors.
Featured Area Section
Using this featured space, you can showcase your essential posts, photos, pages, or categories that can be of your visitor's interest.
Blog Section
Express your ideas, experiences, and stories to the world through the Blog section. Through this section, you can keep your visitors updated with the latest travel news, information, events, and more in your field through the section.
Map Section
You can use this section to locate and display the places traveled using the custom HTML map. Your website visitors can immediately find the places you have traveled through the map section.
Call-to-Action Section
Travel Nomad comes with strategically placed Call-to-Action sections to help your visitors take action so that you can turn them into customers.
Newsletter Section
With the Travel Nomad theme, you can add a subscription form on the homepage of your site. The subscription form on the newsletter helps to generate leads for your business. The newsletters promote your business and products via newsletter marketing.
Instagram Section
Travel Nomad has a distinct Instagram section to display your Instagram profile and increase your Instagram followers.
Social Media Integration
Travel Nomad allows you to easily link your social platforms, like Facebook, Pinterest, Twitter, Instagram, and more on your site. It further supports Chinese and Russian social media, such as Zing, OK, and VK.
Last Updated Post Date
Travel Nomad theme lets you display the last updated date on the single post page. This feature helps your website to rank better in Google as Google prefers to rank recently updated posts.
Twenty-two Custom Widgets
Travel Nomad WordPress theme comes with 22 useful widgets that you can use to customize your website. These widgets are:
Blossom: Advertisement

Blossom: Author Bio

Blossom: Call To Action

Blossom: Client Logo Widget

Blossom: Contact Widget

Blossom: Custom Categories

Blossom: Email Newsletter Widget

Blossom: Facebook Page

Blossom: Featured Page Widget

Blossom: Icon Text

Blossom: Image Text

Blossom: Pinterest

Blossom: Popular Post

Blossom: Pricing Table

Blossom: Posts Category Slider

Blossom: Recent Post

Blossom: Snapchat

Blossom: Social Media

Blossom: Stat Counter Widget

Blossom: Team Member

Blossom: Testimonial

Blossom: Twitter Feed
Posts Excerpt
Let your audience know the summary of your post using post excerpts. You can use this feature to attract viewers and keep them engaged. You can adjust the length of your post excerpts to up to 100 words.
Four Sidebar Layouts
You can display your posts and pages in four different layouts with the Travel Nomad theme– full width, full-width with centered, right-sidebar, or left-sidebar.
Background Image
You can display a custom image on your website's background with the Travel Nomad.
Built-in Live Customizer
Travel Nomad features an easy to use built-in live customizer that allows you to customize your website in a real-time. You can easily change your site's look and feel and preview the changes before making it live.
Social Media Widgets
Travel Nomad supports different social media widgets. You can add social media profiles and grow your influence on Instagram, Snapchat, Twitter, Facebook, and Pinterest.
Widget Ready
Travel Nomad features ample space for widgets. You can add and manage as many widgets without compromising the user experience and site's appearance.
Related Posts of the Category
With this feature, you can get more engagement on your site by displaying related posts of the same category or tags. You can display the related posts at the bottom of a single post.
Cross-Browser Compatible
Travel Nomad is cross-browser compatible, meaning the theme works smoothly on the latest versions of popular web browsers such as Chrome, Firefox, Edge, and Safari.
One-Click Update
Don't worry about future theme updates, as Travel Nomad comes with a one-click update button for stress-free updates.
Scroll-to-Top
Your website must be easy to navigate. Smooth navigation adds to the smooth user experience. The Scroll-to-Top button allows you to navigate quickly to the top without having to scroll back.
Easy Legibility
Travel Nomad makes sure that your content is easy on the eye and your visitors enjoy reading what you have to say with the font type, size, spaces, and contrast options.
Translation Ready
You don't need to worry about the language barrier coming between you and your website anymore. Travel Nomad theme supports localization. Thus, you can easily create a website in any local language.
RTL Scripts Ready
Suppose you often work with scripts that follow the Right to Left patterns, such as Hebrew and Arabic. In that case, Travel Nomad supports both LTR and RTL languages. So, you can confidently write content, even in RTL scripts.
Regular Updates
Our themes are consistently updated to the latest security and technical standards to keep your site secure from possible vulnerabilities.
Custom Site Logo
Travel Nomad allows you to upload your brand logo easily. It further comes with a built-in logo size control that lets you adjust the logo size.
Custom CSS
Travel Nomad allows you to add CSS effects right from the customizer easily.
Clean Code
Travel Nomad theme comes with clean, commented, and well- organized codes. You can easily edit codes and add new features.
Extensive Documentation
Travel Nomad WordPress theme comes with comprehensive and easy-to-follow step-by-step documentation to help you set up your website in no time.
Friendly and Quick Support
Travel Nomad comes with a top-notch support system from a team of WordPress experts. You can always contact our support team to address your confusion, queries, and ideas regarding the theme and get instant support.