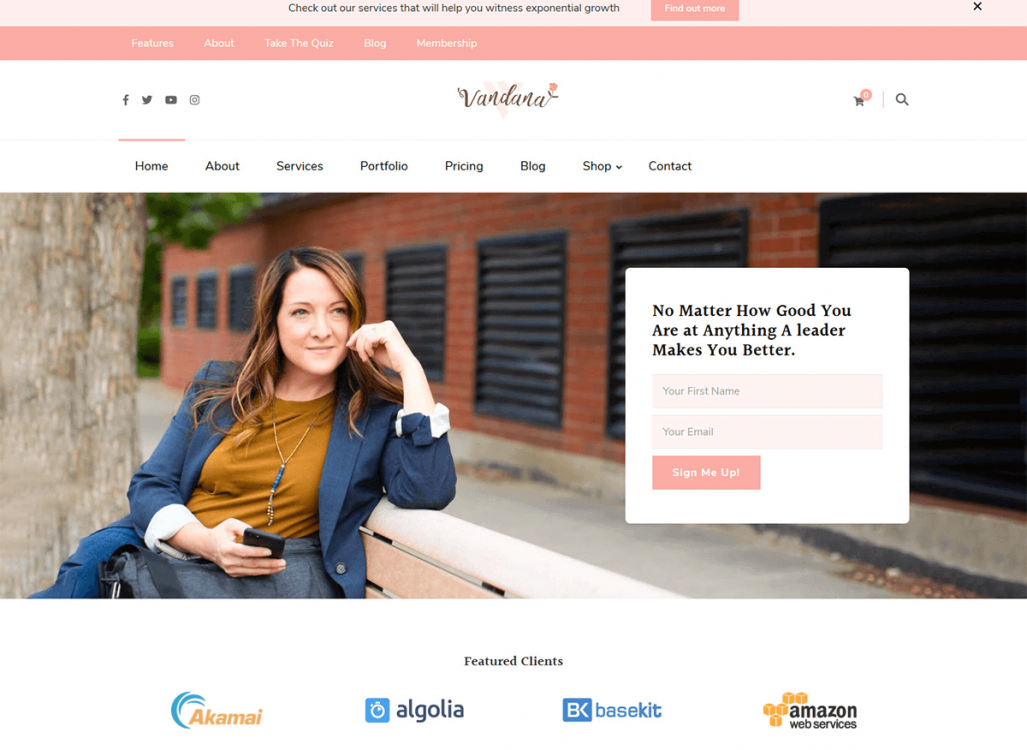 Take your coaching career to the next level with Vandana. Vandana is an exceptional feminine WordPress theme, catering to coaches, mentors, therapists, speakers and businesswomen looking to kickstart their website.
Furthermore, this theme's versatility makes it a perfect match for all corporate businesses, digital agencies, personal blogs, portfolios, and more.
If your primary concern is generating leads, then we have you covered. The defined newsletter section with CTAs helps increase the conversion rate and channel traffic to your site.
Vandana features comprehensive customization settings that provide full control over the visual appeal of your site.
With a focus on speed, usability, and best SEO practices, Vandana is the perfect theme for your website. Besides, the theme is mobile-friendly to provide a smooth experience across all devices.
Grow your social media followers and provide exposure to your site using the social media integration feature. Likewise, the sticky social media icons allow your users to share the posts to their social media accounts easily.
This theme comes with several predefined sections such as Services, Portfolio, About, Process, Testimonials and more to highlight you and your goals.
Similarly, addressing a broader reach of people is easy with its multilingual compatibility.
Vandana is for you if:
You want to create a fantastic WordPress blog

without writing a single line of code

.

You want to start coaching, consulting, or service selling website.

You want to easily customize your blog (

change the look and feel in a few clicks

) and have a unique online presence.

You want to get a

mobile-friendly and user-friendly website

template that's suitable for all screens.

Grow your email subscribers and build your list

with the strategically placed newsletter section.

Flaunt your Instagram collection

and increase followers with a built-in Instagram section.

Enjoy a

Schema-friendly, SEO-friendly, and speed-optimized

WordPress website.

You want world-class, one-on-one support from an enthusiastic team of developers and designers.
Features of Vandana
Vandana comes with easily customizable top-notch features making your website look equally elegant and easy to use. Here are the features of Vandana WordPress theme:
Easily Change Theme Color
With unlimited color options, the only limit is your creativity. You can choose from the infinite colors and adjust the look and feel of your website as desired. Easily pick the primary, secondary, background color, and notification bar color with just a click.
Choose from 900+ Google Fonts
Fonts play a crucial role in the appearance of your website. Choose from more than 900+ Google Fonts as per your preference, style, and brand.
Typography Control
With this theme, you are free to customize and pick your desired font and adjust its size. Along with the primary and secondary font and size control, Vandana also comes with settings for headings (H1, H2, H3, H4, H5, and H6).
Custom Site Logo with Size Control
You don't need to worry about your logo size. Easily upload your logo and adjust your logo size to fit the header using the built-in logo size control perfectly.
Gorgeous Responsive/ Mobile Friendly Design
Vandana is fully responsive and mobile-friendly. This way, it automatically adjusts to all the screen sizes. We've made sure your site looks equally appealing from every device.
One-Click Demo Import
Kickstart your website and get it running in no time. You can choose from the ready-made demo content and settings and import it with just a click.
Easy-to-use Theme Settings Panel with Live Preview
With the easy-to-use theme settings panel, easily fine-tune your website and customize your site's visual appeal. Also, you can easily preview the changes in real-time without saving it before making it live.
Pre-made Multiple Unique Layouts
Vandana includes multiple layouts for different sections to create a unique design. You can combine different layouts as per your requirement and create many unique designs.
8 Header Layouts
Vandana theme allows you to choose from 8 different header layouts. You get the flexibility to select the header that best matches your logo.
4 Single Post Layouts
There are 4 single post layouts to display your post attractively. With the ability to choose different layouts for each post, you can combine layouts to appeal to your post.
3 Slider Layouts
This theme features 3 different slider layouts to display your posts, which allows you to choose a suitable layout to keep your viewers engaged.
3 Static Banner Layouts
With Vandana, you can attract your potential customers by choosing from 3 different static banner layouts.
3 Blog Page Layouts
Vandana offers 3 different blog page layouts to choose from. Each layout is designed to display your blog posts elegantly.
3 Archive Layouts
Just like the blog page layouts, you get 3 similar Archive layouts for your archive pages. Choose the layout that works best for you.
4 Pagination Style
Add to your user experience and page appeal with 4 different pagination styles. You can choose between Older/Newer, Numbered (1,2,3…), Auto Post Load with Load More button or use Auto Infinite Scroll to automatically load your posts on scroll.
3 About Section Layouts
Vandana allows you to choose from 3 different section layouts to introduce yourself to the customers. Each layout is designed to keep you in focus and grab their attention.
2 Call To Action Layouts
With this theme, you get 2 different layouts for Call to Action. Play around with the layouts and use the one that works best for you.
5 Services Section Layouts
Service section is the most viewed section of your website. So, the right layout can immensely impact your customers. With Vandana, you get to choose from 5 different services section layout to showcase your services.
3 Portfolio Section Layouts
A portfolio covers a lot of bases. Equipped with 3 different portfolio section layouts, you can choose to display your work professionally.
4 Testimonials Section Layouts
With Vandana, you get 4 different testimonial section layouts to display your clients' testimonials. Share your client's valuable feedback and turn your visitors' into your customers.
4 Process Section Layouts
Elegantly showcase the behind-the-scenes work by choosing from 4 beautiful process section layouts.
4 Blog Section Layouts
Blogging is storytelling, and excellent blog design is integral for creating a lasting impression on your readers. You can creatively choose to display your blog section in 4 different styles with Vandana.
Gutenberg Compatible
Vandana is Gutenberg compatible. Simply use the default WordPress blocks and experiment to give a unique look for your post or pages.
Optimized for Speed and Performance
Speed and performance play an essential role in keeping your potential customers. To help you stand out from your competitors, Vandana is best optimized for speed, which adds to the smooth user experience.
Search Engine Optimized(SEO)
Vandana is SEO optimized. It makes sure that Google search engines easily crawl the content on your website. It further helps to boost your site rank and index on search engines like Google, Bing, Yahoo, etc.
Notification Bar to Grab Your Visitors' Attention
A notification bar is an effective way to garner your visitor's attention. It can quickly draw attention without drawing your visitors away from the primary content on a page.
4 Customizable Banner Options
Vandana provides you 4 different banner options to display your content and highlight your services.
Static Image/Video with Call-to-Action (CTA)
Add a static image or a video in the banner section along with a Call-to-Action button and redirect your viewers to your desired post or page.
Static Image/Video with Newsletter
Vandana comes with the flexibility to place a newsletter form in the banner section to make it easy for visitors to subscribe to your blog.
Static Image/Video with Appointment
Add a static image or a video alongside a Book an Appointment form on the banner section.
Smooth and Attractive Banners as Slider with Advanced Controls
With Vandana, you can display your latest posts, desired pages, select a specific category to view posts, or even create your custom sliders. Besides, the slider also includes advanced controls like slider loop, animation, and more.
Client Logo Section
This section allows you to display the logos of your affiliate companies or clients.
Unlimited Featured Boxes
In the featured space, you can add unlimited featured boxes. You can choose to feature relevant posts, photos, pages, or categories.
About Section to Display Your Bio
Introduce yourself to your clients and share your story through the well-defined About section. You can also display your stats and embed video.
Services Section to Display Your Expertise
Highlight your expertise through the well-defined service section. It lets you showcase all your services and projects to your potential customers.
Testimonial Section
Through the testimonial section, you can display your satisfied clients and their reviews. It helps to establish trust and credibility amongst potential customers.
Process Section to Display Steps
Display your working procedure and the process involved in a few steps. It helps in creating an effective display and making your customer familiar with how the process works.
Blog Section
Express yourself to the world through the Blog section. You can keep your visitors updated with the latest news, stories, events, and more in your field through the section.
Contact Section
The contact section for Vandana displays different essential contact details to reach you for business and queries.
Easily Sortable Home Page Sections
Vandana has several homepage sections that you can sort, reorder or hide as per your requirement.
One Page Navigation
You can create a one-page website with Vandana. With a one page website, you can provide the required information about your business, all on a single page.
Grow Your Subscribers with Newsletter Section
The strategically placed newsletter section helps you generate leads and bring in more traffic.
Display Your Instagram Feed
Vandana features a distinct Instagram section where you can flaunt your Instagram account and grow followers.
Customizer Search
Easily search the options with a customizer through a single search box. You can easily place your search and find it promptly without any hassle.
Author Bio on Sidebar
Introduce yourself to your visitors through an impressive Author Bio section on the sidebar. You can add your photo along with a short description of yourself. You can also upload your signature and link your social media profiles.
Add Your Custom Signature
Add a personal touch to your blog post with your signature. You can embed your signature at the end of every post along with your social media profiles.
Smart Images Loading for SEO
The lazy loading feature specifically boosts your site speed and improves user experience. The images load only when your visitors scroll down to a particular section.
Enable/Disable Automatic Image Crop
Are you concerned about the way your images display on your site? The built-in toggles allow you to display all your images exactly how you want them with or without cropping.
Footer Copyright Editor
This theme allows you to edit or add the footer credit on your website pages. It also includes a shortcode that immediately updates the current year in the footer.
About Page Template
In the About Page template, you can describe your company, how it started, and make your audiences familiar with your company.
Service Page Template
Show the services you offer so that the users can quickly identify with the type of services they are looking for using the stunningly designed service page template.
Pricing Page Template
Showcase your services and packages to your customers alongside the allotted price for it using a pricing page template.
Contact Page Template
Display all the essential contact details such as maps, addresses, phone numbers, and stay in touch with your visitors with a contact page template.
Portfolio Page Template
If you want to share your portfolios, you can easily do so with the built-in portfolio template.
Footer Menu
In the footer menu, you can include your privacy policy, disclaimer, terms and conditions, and more.
Built-in Google Analytics Settings
Vandana comes with a built-in Google analytics setting. Google Analytics helps you track your web traffic. You can directly add your Google Analytics code in the customizer and get rid of an extra plugin for this purpose.
Social Media Integration
Social media integration allows users to link and share posts via different social media apps. It helps in providing exposure to your site and creating a long term relationship with your customers. Vandana supports Facebook, Twitter, Instagram, Pinterest, and Russian and Chinese social media apps like OK, VK, Zing, and others.
Social Share for Your Posts
Vandana also features sticky social shares placed on your blog posts. It allows your visitors to quickly share your blog posts to their social media with just a click.
Built-in SEO Settings
This theme features some basic Search Engine Optimization (SEO) settings. You can enable Breadcrumbs and show the last updated date of your post. You may feel the last updated date is unnecessary, but it is essential for a higher ranking of your site on Google.
Lightbox for Images
The Lightbox feature for images helps to display the photos efficiently without putting much strain on the eye. It allows the user to open an image by filling the screen and dimming out the rest of the web page.
Sticky/Floating Menu
You can choose to set your main navigation menu, either to be sticky or floating. This ensures easy navigation, and your visitors can access it all the time.
Sticky Widget
You get a sticky widget option for the sidebar. The last widget of the sidebar can be made sticky. You can use this to display CTA(Call-to-Action) buttons and increase conversions.
Post Excerpt
Let your viewers know the summary of your post with post excerpts. Use this feature to attract viewers and keep them engaged. You get to display your post excerpts within 100 words.
Related Posts of the Category or Tags
Get more engagement on your site by displaying related posts of the same category or tags. You can view it as the post at the end of the single post.
Comment Section Toggle
Easily toggle the comment section to display at the end of your article with Vandana. It makes it easier for your readers to comment without any hassle.
Drop Cap
Drop Cap adds to the aesthetic of your blog. It allows you to capitalize the first letter of your every post.
Back to Top button
Easy navigation adds to the smooth user experience. The Back-to-Top button allows you to navigate quickly to the top without having to scroll back.
Widgets Ready
No need to compromise with the design of your theme while adding widgets. Vandana is optimized for widgets to design and customize your blog in a unique way easily.
22 Customizable Widgets
Vandana features 22 highly customizable useful widgets. The widgets available on the theme are:
Blossom: Advertisement

Blossom: Author Bio

Blossom: Custom Categories

Blossom: Facebook Page

Blossom: Image Text

Blossom: Pinterest

Blossom: Popular Post

Blossom: Posts Category Slider

Blossom: Recent Post

Blossom: Snapchat

Blossom: Social Media

Blossom: Twitter Feed
Unlimited Sidebar Options
An unlimited sidebar option lets you create unique sidebars for your posts and pages, include widgets, and add tons of features to your site.
Unlimited Background Options
Easily choose any image, pattern, or color and set it as the background for your website. The theme include 63 unique background patterns to choose from.
Performance Settings
With the built-in performance settings, you can choose to make your site faster and provide your visitor with the best user experience.
Landing Page Template
Vandana includes a landing page template. You can use this template to create attractive landing pages and channel the traffic to your site.
Easily Reset Customizer Settings
The theme has easy Customizer Reset functionality. If something goes wrong with the Customizer, reset it to start over.
Cross-Browser Compatible
With cross-browser compatibility, your website works equally well in all major browsers such as Firefox, Chrome, Microsoft Edge, and more.
Easy Legibility
Vandana features easy legibility, making it effortless for your audience to read your content easily.
Schema Friendly
Schema is essential for higher ranking on search engines like Google. Vandana comes with the best Schema integration practices. This way, search engines reach and index your website faster.
RTL Scripts Ready
Do you use Right-To-Left (RTL) scripts like Arabic and Hebrew? With Vandana, you can confidently write content, even in RTL scripts.
Translation Ready
Our theme supports localization. So, you can easily translate Vandana in any language using the .po file.
Polylang Compatible (Multi-language)
The theme is compatible with the popular multi-language WordPress plugin Polylang. It allows you to translate your site in different languages to create a multilingual website.
WPML Compatible (Multi-language)
Additionally, this theme also supports WPMLplugin that allows you to choose a multi-language plugin to create a multilingual blog and reach a broader range of audiences.
Regular Updates with Feature Enhancements
Our themes are regularly updated to WordPress's latest version to keep your site secure from the possible vulnerabilities.
Custom CSS
Using custom CSS, you can easily modify some sections as per your preference.
Clean Codes
Our theme comes with clean, commented, and well- organized codes. If you wish to edit codes and make changes, you can easily do that as well.
Extensive & Beginner Friendly Documentation
Our comprehensive and easy-to-follow step-by-step documentation will guide you by setting up your website in no time.
Top-notch Quick and Friendly Support
Our support team is always here to address your confusion, queries, and ideas. Contact our friendly support team and get quick assistance regarding the theme.