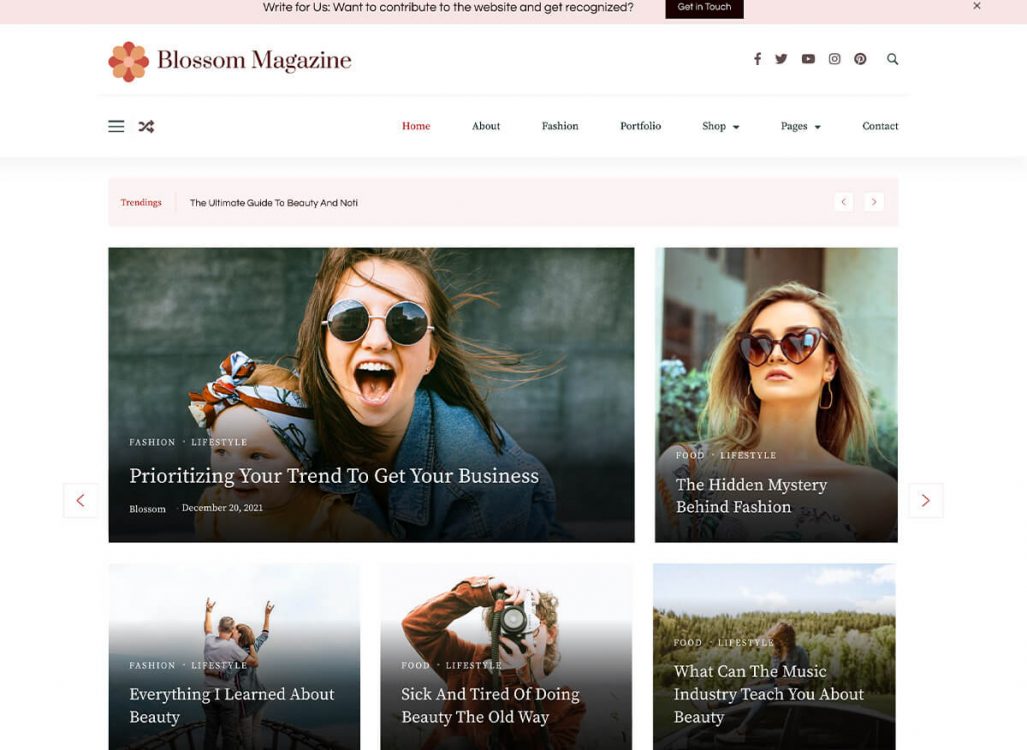 Blossom Magazine Pro is a flexible, multipurpose, versatile, and full-fledged WordPress theme that adapts to any kind of website niche. The theme is a perfect combination of contemporary features, advanced functionalities, stunning visuals, and a user-friendly interface. It is easily suitable to any business type such as magazines, fashion, lifestyle, food, fitness, travel, health, and many more.
Getting started with the Blossom Magazine Pro is super-easy given its prebuilt demo template. It will take only a few minutes to get your site up and ready. You can edit the theme as you prefer from the user-friendly theme customizer. It is very easy to use with the well-labeled settings. Plus, it gives a preview in real-time to facilitate accurate and easy customization.
The theme has several layout options for every element of your website. If you like getting creative, Elementor and Gutenberg compatibility lets you create your own layouts and design for a unique look and feel on your site.
You can further decorate your site with custom color, 1000+ Google Fonts, and multiple typography options. At the end of the day, your site will look gorgeous on any screen size and device, owing to the theme's responsive and mobile-friendly design.
You can also increase your revenue by using the dedicated Google Adsense Spots. Likewise, running an online shop gets much easier with the built-in WooCommerce compatibility.
Generating leads is equally easy and fun with Blossom Magazine Pro. It has CTA sections, Newsletter Subscription, Instagram Section, and social media integration to help you with it. Plus, you can showcase your content using several delightful layouts and sections of the theme. Your audience will surely have a fiesta on your site.
Blossom Magazine Pro is optimized for better performance and faster loading speed. This will considerably improve user convenience and browsing experience on your site. Also, you can translate your site into any language without any hassle with this translation-ready theme. For more functionalities, there are plenty of widgets readily available at your disposal.
Other notable features of Blossom Magazine Pro are easy legibility, performance settings, smart loading image, RTL scripts support, cross-browser compatibility, custom CSS, extensive documentation, and expert support.
Types of blogs you can create with Blossom Magazine Pro:
Fashion Blog – Showcase your fashion threads or give your insights on fashion trends using gorgeous layouts of the theme.
Lifestyle Blog – The stunning design of the theme makes it suitable for sharing life experiences.
Travel Blog – Add your travel experiences along with vivid media and take your audience on a wonderful journey.
Food Blog – Do you want to share your delectable recipes with the world? You can use this theme to reach out to all the food lovers out there.
Beauty Blog – Audience will love reading your beauty tips and tutorials.
Parenting Blog – Share your experience of being a parent along with the tips of good parenting on your blog.
Fitness Blog – You can share your exercise tips and fitness diet with others and inspire them to live a fit life.
Health Blog – People love reading health tips online. If you have some tips and techniques for being healthy, you can share them with the world.
Self-improvement Blog – Motivate people to develop important skills with your blogs.
Journal Blog – Share your life notions with other readers using multiple sections in theme.
Blossom Magazine Pro is for you if:
You want a stylish and flexible WordPress theme that fits magazine, fashion, travel, food, beauty, fitness, and various other niches.
You want to set up a professional site in no time without writing a single code.
You want to build your site on your own without hiring a developer.
You want to personalize your website with an easy-to-use interface.
You want a mobile-friendly and 100% responsive website that runs without any issue on any screen size.
You want to generate more leads and conversions on your site.
You want to generate revenue by displaying ads on your site.
You want a theme that is optimized for performance and speed.
You want the built-in SEO features and Schema integration in a theme out of the box.
You want multiple customization options on your site.
You want to display your content and products in elegant layouts and multiple sections.
You like using Elementor and Gutenberg to build custom layouts and designs for your site.
You want a gorgeous demo template to kickstart your site in a few minutes.
You want world-class WordPress support in case of any issues.
Features of Blossom Magazine Pro WordPress Theme
Blossom Magazine Pro takes blogging to a new level with its multiple customization options, modern features, and user-friendly interface.
Let's dive into what the package has to offer:
Pre-made Multiple Unique Layouts
The theme boxes several layout options for your homepage, header, slider, archive page, single post, and sidebar. You can redefine the site's appearance by combining various layouts for these elements.
10 Header Layouts
Choose from 10 unique header layouts to make the best first impression among your visitors. You can also add header search, posts, and ads to your header.
24 Home Page Layouts
The theme boasts a collection of 24 different home page layouts to help you create a blog of any niche. Try out the options and set the layout that suits your needs and style.
9 Slider Layouts
Select from 9 intuitive slider layouts to bring your site to life. You can set the number of slides to display, slider transition, slider speed, loop, and caption for your slider.
13 Single Post Layouts
There are 13 layout options for your single post to elegantly put on display. Further, you can experiment with left, right, full-width, or full-width center sidebar.
24 Archive Page Layouts
Set your archive page in any of the available 24 layout options and give a unique look to your homepage.
13 Unique Layouts for Each Category Sections
The theme has 13 new layouts for each of your category sections. This will add to a stunning visual appearance.
4 Pagination Styles
Set from either Numbered, Next/Previous, AJAX Infinite Scroll, or AJAX Load More pagination style to help your audience navigate through your website.
Advertisement Settings to Help You Make More Money
Make your site an income source by displaying ads on 4 different advertisements spots – Header, Front Page, Before Content, and After Content.
You can enable ads on these areas from the customizer and place the respective links. Further, you can even add an image to each of these spots to grab user attention. It will help to increase click rates, thus, adding more revenue to your pocket.
Easily Change Theme Color
Want control over your site's color? Blossom Magazine has the option to let you pick any color as primary, secondary, font, and background.
Choose desired Fonts from 1000+ Google Fonts.
Offering a collection of over 1000+ Google Fonts, the theme lets you get as creative as you want and try out various combinations to revamp your site's appearance.
Typography Control
You get full control over your site's typography. You can select individual primary and secondary fonts for the body and headings (H1, H2, H3, H4, H5, and H6) of your site. Further, you can change the font size using the slider option in the customizer.
Installed Pre-designed Demo with One-Click
The one-click installer gets a fully-functional site with stunning looks ready in only a few minutes. It loads all the demo content, settings, layouts, and functionalities to your site with a single mouse click. Now, you don't need to build a site out of scratch.
Gorgeous Responsive/Mobile-Friendly Design
Create a stunning website that is ready to render perfectly on any device and screen size ranging from tablets, desktops, and mobile phones.
Easy to use Theme Settings Panel with Live Preview
Gain full control over your website from the theme's settings panel. Here, you can find all the adjustment options well labeled and well-managed under a single roof. Plus, the theme gives a real-time preview of the changes to make personalization precise and fun.
Well Optimized for Speed Performance
Blossom Magazine is one of the fastest speed optimized themes out there. With this theme, your site will load much faster and help to reduce bounce rate significantly.
Search Engine Optimized (SEO)
Get ready to land higher on search engines with the built-in SEO of the Blossom Magazine Pro.
Google Adsense Optimized Advertisement Areas
The theme has Google Adsense Optimized spots where you can place your ads. You can add an image to the spots as well to increase the click-through rate and maximize your site earnings.
News Ticker Section
Instantly grab user attention with the News Ticket section on the homepage. This feature lets you highlight the latest or popular posts based on various categories. Further, the link in this section will take users to a specific page.
2 Customizable Banner Options
There are 2 banner options in the Blossom Magazine Pro that will add to your site's aesthetics while grabbing attention to your important and popular posts.
Static Image/Video with Call-to-Action (CTA)
Banner as Slider
Static Image/Video with Call-to-Action (CTA)
Make your posts noticeable by adding them to the static banner on your site. You can add a CTA link to those posts to take your audience to your desired page. Further, you can make this section more appealing by adding an image/video along with a short description.
Smooth, Attractive and Advanced Banner as Slider
You also have the option to add life to your site by setting a slider banner. You can set it based on the latest posts, categories, pages, or custom slides. Further, you can set the number of slides, slider loop, slider speed, and auto transition from the customizer.
Call to Action for Engagement
The dedicated CTA section allows you to add catchy phrases related to your business. You can add a CTA button, CTA link, and custom colors for CTA background and text. To give it a more personalized feel, you can even add and image or a FontAwesome Icon to this section.
Top Stories Section
Display your top posts based on various categories in the Top Stories Section. Users can easily find your content, which helps to increases user convenience. Further, you can set the section in any of the 13 different available layouts to match your taste.
Popular Category Section
The Popular Category Section makes sure to highlight your important and popular posts based on various categories. There are 13 layouts along with other post options to define the appearance.
Search Section
Help users find what they are looking for on your site easily by enabling the search section on your site. This improves users' convenience significantly. You can add custom text and set the category for this section as well.
Featured Category Section
The Featured Category Section focuses on lead generation by highlighting your content in an eye-catching fashion. You can set the layout from 13 options according to your preference.
Category Listing Section
List out your important categories in a distinct section to enable users to directly locate and browse those posts.
Popular Category Tab Section
This section focuses on helping readers instantly find your popular posts. This increases their browsing experience while increasing views on your posts.
Trending Category Section
Show users what's trending on your site using the dedicated Trending Category Section. This way, users will know what to look for on your site.
Video Section
Add a video to this section and effortlessly engage your visitors while also adding to the appeal of your site's look.
Popular Category Two Section
The eye-catching Popular Category Section manages to gain user attention and direct them to your important posts. You can set the category based on your preference.
Trending Category Two Section
Guide visitors to read your trending stories by putting them on the Trending Category Section display.
Featured Category Two Section
Feature your latest/popular/desired posts in a stunning layout using this section
Easily Sort/ Disable Home Page Sections
Not happy with the default home page sorting? You can easily arrange it according to your preference from the theme customizer.
Random Post Settings for Better Engagement
You can enable the Random Post option to show an icon in the header. Clicking on this icon will take your visitors to random posts, thus, resulting in better user engagement on your site.
Bottom Bar Settings
Enabling the bottom bar to your site with a short description will act as a CTA. You can add a button text and button link to the bar. Also, you can set a custom color for the bar background and text.
Grow Subscribers with Newsletter Subscription
Attach your subscription form shortcode to the Newsletter Section to grow your subscribers. Further, you can personalize the section with a custom primary and secondary background.
Appealing Instagram Section
Showcase your Instagram collection in the dedicated Instagram Section and improve your site's visual. This feature also helps in increasing traffic and followers.
Author Bio on Sidebar
Set a professional introduction of yourself and your business on the sidebar. You can top it up a notch with a custom image, short bio, social media links, and e-signature.
Highlight Author Comment
You can highlight the author's comment on every single post from the customizer. This makes it easier for readers to follow your comments without opening the post.
Notification Bar Settings
Easily generate leads by attaching a CTA link with a button label and your subscription form shortcode in this section.
Smart Loading Images for SEO
Enabling this feature will load only those images currently on the users' viewing screen. All the other images beyond this field of view remain unloaded. This considerably improves your site's loading speed and performance.
Enable/Disable Automatic Image Crop
Make all the images on your site appear well-managed and uniform by enabling the Automatic Image Crop feature. You can retain the original dimension of the image by turning this feature off in the customizer.
Custom Site Logo with Size Control
Professionalize your site by adding your brand logo to the header. You can adjust the logo size to fit it neatly place.
Footer Copyrights Editor
You can easily add, edit, and delete copyright text, mentions, and credits on your site's footer.
Built-in Google Analytics Settings
The theme lets you add your Google Analytics code directly in the customizer and get your site's statistics instantly. You don't need an extra plugin anymore.
Social Media Integration
With the built-in Social Media Integration, you can reach out to a larger audience. You can easily link social media profiles to your sites such as Facebook, Twitter, LinkedIn, Twitter, YouTube, and more.
Sticky Social Shares
Set sticky social sharing options on each post to let your visitors share your blog with a single click.
Built-in SEO Settings
Toggle on the breadcrumbs and the last updated date for your posts to gain added benefit on your site's SEO.
Lightbox for Images
Attract undivided users' attention to your posts by displaying them in the lightbox. This feature keeps the post in the centered overlay while dimming the rest of the page content.
Sticky/ Floating Menu
Set a sticky menu on your site to promote access to your visitors at all times, no matter where they are on your site.
Sticky Widget
You can set sidebar widgets on your site as a sticky segment to make them noticeable. You can place CTA buttons here to increase site conversion.
Post Excerpt
Display a few lines from your posts below the thumbnail to give users an idea about the post. A short glimpse motivates them to continue reading further while also improving your site's look.
Related Posts of the Category or Tags
Enabling this feature will automatically display the related posts at the end of every single post. This feature offers more options for the users to be involved in your site, thus, it increases user retention.
Comment Section Toggle
Increase user engagement by allowing them to post their comments and feedback on each of your single posts.
Back to Top Button
Give users instant access to the top of the page from anywhere they are on that page with a single click. This certainly improves user experience and convenience on your site.
Widgets Ready
Add as many widgets as you need and increase the functionalities of your site without compromising the design. In fact, widgets will only improve the visual appearance.
22 Custom Widgets
Blossom Magazine Pro packs 22 powerful widgets ready at your disposal. Here is the list:
Blossom: Advertisement
Blossom: Author Bio
Blossom: Call To Action
Blossom: Client Logo Widget
Blossom: Contact Widget
Blossom: Custom Categories
Blossom: Email Newsletter Widget
Blossom: Facebook Page
Blossom: Featured Page Widget
Blossom: Icon Text
Blossom: Image Text
Blossom: Pinterest
Blossom: Popular Post
Blossom: Pricing Table
Blossom: Posts Category Slider
Blossom: Recent Post
Blossom: Snapchat
Blossom: Social Media
Blossom: Stat Counter Widget
Blossom: Team Member
Blossom: Testimonial
Blossom: Twitter Feed
Unlimited Sidebar
Easily add as many sidebars as you need and populate your site with multiple features and widgets.
Unlimited Background Options
Set a unique look by selecting a color or pattern for your background. You can also add an image as background from the customizer.
Performance Settings
Apart from being performance-optimized, the theme also lets you tweak a few settings from the customizer to further improve your website's performance:
Lazy Load – Enabling this will load the featured images from the visible screen only. All the other images remain idle.
Lazy Load Content Images – It enables the site's content images that are currently on the viewing screen while other images remain unloaded.
Lazy Load Gravatar – It only loads those Gravatar images that are on the visible screen.
Defer JavaScript – It significantly improves the page download speed by adding the 'defer' attribute to scripts tags.
Remove ver parameters – Toggling this feature on will remove the "ver" parameter from the CSS and JS file calls. It results in improved site performance.
Locally Host Google Fonts – You can load the fonts from your server instead of Google CDN. It considerably improves your site's loading speed.
Quickly Reset Customizer Settings
Get super creative with the theme by tapping in various settings on the customizer. You don't need to worry if you've made some unnecessary changes. You can quickly reset the settings in a snap and start over again.
WooCommerce Compatible
Start a fabulous online shop and showcase your products and services in eye-catching layouts using the WooCommerce plugin. You can also make digital transactions easily.
Gutenberg Compatible
Enjoy the ease of customization by easily adding, sorting, managing, and deleting blocks on your site.
Elementor Compatible
The built-in Elementor compatibility of Blossom Magazine Pro opens up a possibility for unrestricted creativity. You can create your own layouts and design to personalize your site the way you want. Moreover, the drag-and-drop customization action will make the process much more fun.
Portfolio Page Template
Earning trust and credibility for your site gets easier by displaying your previous works on a dedicated Portfolio Page.
Cross-Browser Compatible
Rest assured that your website will run without any issue on any popular webs browser, including Google Chrome, Firefox, Safari, Opera, and others.
Easy Legibility
Using a decent combination of fonts, typography, colors, and other readability factors, Blossom Magazine Pro ensures an optimum browsing experience for your readers.
Schema Friendly
The theme is crafted with a built-in Schema-friendly design. This feature will help search engines understand your content for better indexing. This will give you a boost in ranking for relevant keywords.
RTL Scripts Ready
Change your content into RTL scripts like Arabic, Persian, and Hebrew without any hassle.
Translation Ready
Localize your website into any language of your choice and improve user convenience effortlessly.
Polylang Compatible (Multi-language)
The theme's built-in support for the Polylang allows you to translate your content into various languages with only a few clicks.
WPML Compatible (Multi-language)
Set up a multilingual website that is ready to extend your reach throughout the globe.
Regular Updates with Feature Enhancements
We frequently push theme updates to ensure feature optimization and security for your site. Further, our updates also ensure your site's compatibility with the latest WordPress version.
Custom CSS
For more features and customization options, you can add custom CSS directly to the theme customizer and enjoy the full flexibility you need.
Clean Codes
Built on clean and well-commented codes, our developers have made sure Blossom Magazine Pro lives up to the best security expectations.
Extensive Documentation
You can follow the step-by-step beginner-friendly documentation to begin using the theme like a pro.
Top-notch Quick and Friendly Support
Feel free to seek expert help from our support team using the support ticket. They will quickly attend to your needs and help you solve any query or issue.