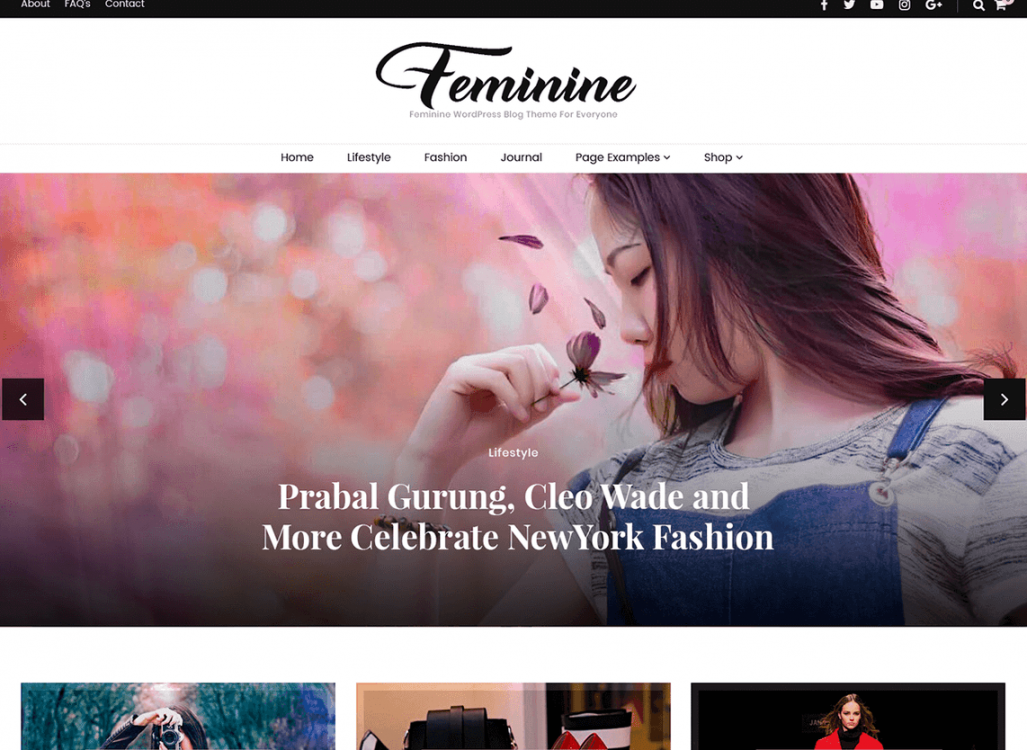 Blossom Feminine Pro is a premium version of Blossom Feminine free WordPress theme. With this premium version, you get to choose from multiple layouts of headers, sliders, featured areas, sticky post areas, home pages, and single post pages and get inbuilt Google Adsense optimized Advertisement areas, plus all the features of the free version. Like the free Blossom Feminine template, this chic girly WordPress theme is fully-responsive, super-fast, and SEO-friendly. All the magic of Blossom Feminine plus tons of customization options and extra layouts is what Blossom Feminine Pro theme is all about.
Types of blogs you can create with this Feminine WordPress theme:
Fashion Blog – Write about the latest fashion trends and share your tips with the world.
Lifestyle Blog – Share your experiences and give tips and advice to girls about living a successful life.
Journal Blog – Share your random musings with the world with this easy to use feminine blog
Travel Blog – Travel and write about your trips.
Beauty Blog – Write beauty and makeup tutorials and share them with the world
Mom Blog – Share the experience of being a mom with other moms.
Food Blog – Got an amazing cookery skill and recipes? Share them with other food lovers!
Blossom Feminine Pro WordPress Theme is for you if:
You want a pretty WordPress blog.
You don't want to write a single line of code to create a blog of your desire.
You want an easy-to-use theme for your beautiful blog.
You are a mom and want to share your ideas and experiences to the world.
You want to create a cute and pretty blog.
You want to start your career as a professional blogger.
You want to start a fashion, lifestyle, beauty, travel, food, or journal blog.
You want to create a beautiful feminine blog but hiring developer will break your bank.
Your client is a girl or a mom and wants a chic feminine template.
Features of Blossom Feminine Pro WordPress Theme
8 Header Layouts
You can choose from 8 different header layouts in Blossom Feminine Pro. This ensures that you have a completely unique website.
16 Home Page Layouts
Blossom Feminine Pro offers 16 unique design layout for your homepage. You can display full-width homepage or homepage with left or right sidebar. You can also choose from the grid layout, the list layout or the masonry layout.
4 Slider Layouts
Blossom Feminine Pro features 4 slider layouts. You can display your banner slider in 4 different ways– single slide at a time, masonry layout with 3 slides at a time, single slide with a glimpse of two other slides, or the grid of slides.
2 Featured Area Layouts
The featured area of Blossom Feminine Pro can be displayed in two styles– one with the caption inside the image and the other with the caption below the image.
2 Sticky Post Area Layouts
You can display the sticky post area of the home page with text within the image or below the image.
5 Single Post Page Distinct Layouts
Whether you like full-width posts or posts with sidebar, full-width featured image but sidebar on the content area, the title of the post on the image or below the image, Blossom Feminine Pro has got you covered with 5 different single posts page layouts.
4 Pagination Layouts
With Blossom Feminine Pro, you can display 4 different types of pagination. You can use Next/Previous, Numbered (1,2,3,..), Load More button, or Auto Infinite Scroll pagination style.
Easily Change Theme Color
Don't like the default theme color? You can change the color of the theme with a click. Change it to purple, blue, black, or any color that suits your style and brand.
Gorgeous Mobile Friendly Design
We love browsing on our smartphones! In fact, more than 50% of the Google searches are done on mobile phones. So, don't miss any audiences with this fully-responsive feminine WordPress theme. Blossom Feminine Pro will automatically adjust itself to any screen sizes so that your blog looks pretty in any form.
Blossom Feminine Pro WordPress theme passes Google mobile-friendly test. This means better rankings in search results and better user experience.
Choose your own font from 600+ Google fonts
The fonts in Blossom Feminine Pro was chosen for better readability but you might have other fonts on your mind. So, considering that, we have added a feature which allows you to easily change the font and font size as per your taste.
You can change the typography of body and headings (H1, H2, H3, H4, H5, and H6).
Appealing Instagram Section
Grow your influence with your Instagram posts! With Blossom Feminine Pro, you can easily integrate your Instagram to your website.
Author Bio on Sidebar
Show who's behind the blog with an author bio. You can easily add your photo along with a short description, your signature, and your social media profiles on the sidebar using Blossom: Author Bio widget.
Instagram, SnapChat, Twitter, Facebook, and Pinterest Widgets
Show them all! The theme comes with widgets for your favorite social media! Display your Instagram, SnapChat, Twitter, Facebook, and/or Pinterest profile on the sidebar!
Newsletter Section and Widget
Blossom Feminine Pro is fully compatible with BlossomThemes Email Newsletter plugin. You can easily add subscription form using the plugin. The theme's newsletter section combined with the newsletter plugin will help you grow your email subscribers.
12 Custom Widgets
Blossom Feminine Pro comes with 12 very useful custom widgets that you can use to customize your website. Widgets that are available on the theme are:
Blossom: Advertisement
Blossom: Author Bio
Blossom: Custom Categories
Blossom: Facebook Page
Blossom: Image Text
Blossom: Pinterest
Blossom: Popular Post
Blossom: Posts Category Slider
Blossom: Recent Post
Blossom: Snapchat
Blossom: Social Media
Blossom: Twitter Feed
Google AdSense Optimized Advertisement Areas
The theme comes with pre-built spots for advertisement so that you can easily monetize your blog. The ad spots are placed strategically so as to increase click-through rate which will help maximize your earnings.
Advertisement Widget To Help You Make More Money!
Blossom Feminine Pro comes with an Advertisement widget so that you can easily place ads on the sidebars and make more money from your blog. This widget lets you add an ad code or a custom image with a link.
SEO Optimized
Search engines love websites made using Blossom Feminine Pro theme.
We have put our expert SEO team's knowledge and expertise into the development of the theme in such a way that search engines can easily find your website and rank it above your competitors on search results page. The theme will give you an edge to help you outrank your competitors.
Last Updated Post Date
Blossom Feminine Pro has an option that allows you to show the last updated date on the single post page. This feature will help you rank better in Google as Google prefers to rank recently updated posts.
Speed Optimized
You risk losing your potential customer if you have a slow and laggy website because people don't like waiting, especially when there are other options available i.e. your competitors.
Blossom Feminine Pro WordPress theme is a speed optimized WordPress theme, which means your website will load faster and your visitors will have a smooth browsing experience. The theme, with its speed, will help you keep your customers and get new leads easily.
Smooth, Attractive and Advanced Slider
You can show a slider in the banner section of the homepage using latest posts, pages, category, or by creating custom slides. The above-the-fold slider will increase the user experience. You can display up to 20 recent posts, unlimited pages, unlimited slides, or unlimited posts from a category on the slider. Also, you can control the transition, loop, caption, image, and animation of the slider.
Featured Area Section
You can highlight your content below the banner slider using the featured area. You can add up to 3 featured pages or create your own custom featured content on this section. This section will help you increase user-engagement on your website.
Social Media Integration
Blossom Feminine Pro WordPress theme allows you to display your social media links on your website so that your visitors can find you on social media. Social media on your website will also help you boost your business' engagement. The theme also supports Russian and Chinese social media like OK, VK, qq, Zing, and others. You can add unlimited social media to your website.
Sticky Post Section
You can pin one of your favorite posts on the front page using the sticky post option! This homepage section will help you show your most important or most-read post in an attractive layout so that you can enthrall new visitors.
Related Posts of the Category or Tags
You can display related posts of the same category or tags as the post at the end of the single post page so that your blog gets more engagement.
Display Popular Posts
You can display the popular posts of your blog on the single post page. The posts with the most number of comments will be displayed. This feature will help you show new visitors that you are a popular blog and you can gain trust.
Sticky/ Floating Menu
With Blossom Feminine Pro, you can make your main navigation menu sticky so that visitors can access it at all time. This feature makes your website interactive.
Sticky Widget
You can make the last widget of the sidebar sticky. You can use this sticky widget to display call to action buttons to increase conversion.
Posts Excerpt
You can show the summary of the posts by enabling post excerpt. You can choose the length of the excerpt up to 100 words.
Full Footer Copyrights Editor
You can easily edit, add or remove any section from your Footer on Blossom Feminine Pro.
Extensive Documentation
Blossom Feminine Pro WordPress theme comes with an extensive theme documentation to help you setup your website. Just follow the step by step guidelines on the documentation and your website will be ready in no time.
Friendly and Quick Support
Confused? Got Questions or Ideas? We are here to help you. You can contact our friendly support team through our support ticket if you need any assistance regarding the theme.
WooCommerce Compatible
Blossom Feminine Pro theme is fully compatible with WooCommerce plugin. You can easily create a platform to sell merchandises on your website.
Widget Ready
Blossom Feminine Pro has ample space for widgets. You can add and manage the widgets you require without compromising the design of the theme. Widget ready design and code allow you to easily customize your website as you desire.
Cross Browser Compatible
Blossom Feminine Pro is cross-browser compatible, which means the theme will work seamlessly with the popular web browsers. The theme is tested on Chrome, Firefox, Edge, and Safari.
Breadcrumb
Blossom Feminine Pro has a breadcrumb option that can help your visitors to navigate easily on your website so that there is maximum engagement.
Unlimited Advanced Sidebar:
Choose from any number of sidebars and populate theme with widgets to add tons of features to your site with a few clicks.
Easy Legibility
With the perfect font type, size, spaces, and contrast, Blossom Feminine Pro makes sure that your content is easy on the eye and your visitors enjoy reading what you have to say.
Translation Ready
Don't let the language barrier come between you and your website. Blossom Feminine Pro theme supports localization so that you can use the theme in your local language.
RTL Scripts Ready
Do you use right-to-left (RTL) scripts like Arabic? Well, worry not! Blossom Feminine Pro supports both LTR and RTL languages. You can write content with confidence!
Polylang Compatible (Multi-language):
Easily translate your site into various languages and create a multilingual site as the theme is compatible with Polylang WordPress plugin.
WPML Compatible (Multi-language)
The theme is WPML Plugin compatible. So you can translate your site into multiple languages and easily create a multi-language website.
Regular Updates:
You will receive updates on a regular basis. We frequently update our themes for the latest security and technical standards. So, your website will be safe from vulnerabilities.
Custom Site Logo
You can easily add your own logo to your website using Blossom Feminine Pro theme.
Custom CSS
Want to modify some CSS effects or change color of a section? Blossom Feminine Pro allows you to easily add CSS effects right from the customizer.
Clean Code
Customization and editing the theme is very easy as the theme was built on clean, well organized, and commented code.