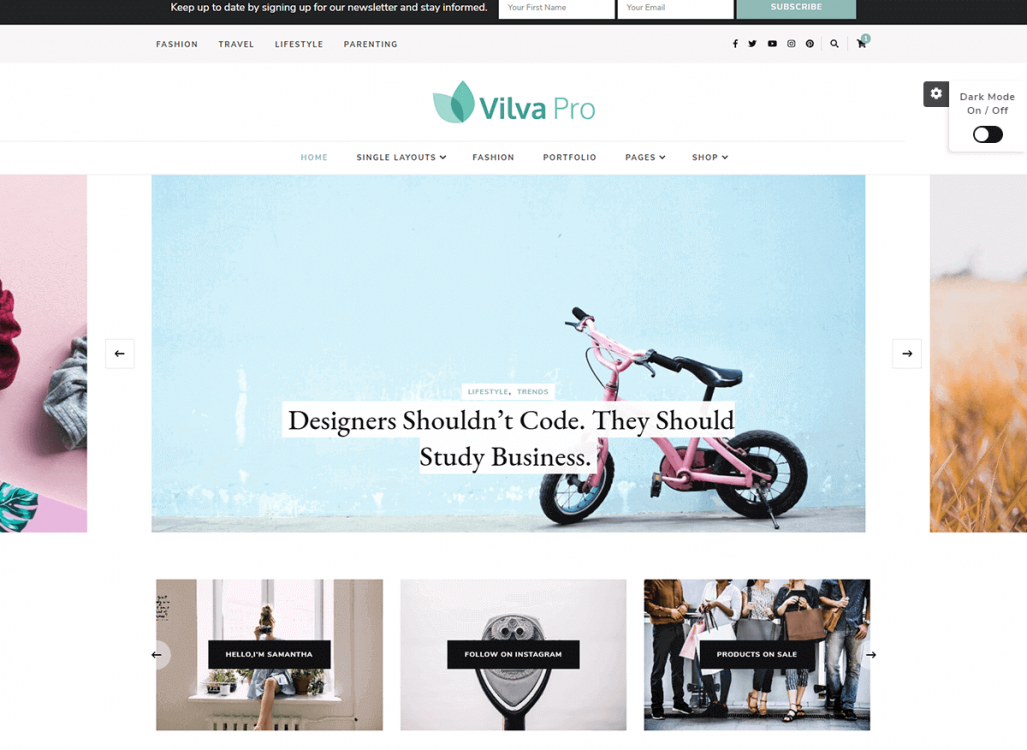 Vilva Pro is an easy to use multi-purpose blog theme designed to create beautiful and professional websites. The theme has multiple customization features and allows you to create a truly unique and stunning website in a short time without any knowledge of coding.
Vilva Pro is speed optimized to load fast. It is also mobile-friendly so that your website will display nicely on different screen sizes and provide excellent user experiences to your visitors. The theme is multi-language compatible, which ensures that you reach an international audience by breaking language barriers. SEO-friendly features help your website rank higher in search engines. The theme is Google Adsense optimized and allows you to place your advertisement in such a way that you can maximize your revenue.
Types of blogs you can create with Vilva Pro:
Fashion Blog – Share your fashion insights and the latest fashion trends to engage your visitors. You can showcase your personal style and fashion collection to the entire world.
Lifestyle Blog – Want to share your life experiences and give tips and advice? Vilva Pro helps you achieve it.
Travel Blog – Traveling is fun and sharing your Travel insights with the world is even more interesting. Write and share your travel tips and experiences.
Food Blog – Do you love cooking and want to share your awesome recipe with others? Write about your favorite recipe, dishes to showcase your recipes and food-adventures.
Beauty Blog – Write about beauty and makeup tutorials to share them with the world. Vilva Pro elegantly lets you share your makeup tips and tutorials.
Parenting Blog – Share your experiences of being a parent with the world. Write about the parenting tips, struggles you face and happiness you have achieved to inspire other parents.
Fitness Blog – Share your fitness insights and tips to motivate others to stay fit in their busy schedule. Inspire your readers to love their bodies and live a healthy lifestyle.
Health Blog – Shares your healthy, easy and fun recipes on your blog. Encourage your readers to live their best lives and become the best versions of themselves.
Self-improvement Blog – Encourage your readers to compete with their struggles and every day responsibilities to find peace and happiness.
Journal Blog – Share your random musings with the world.
Vilva Pro is for you if:
You want a stylish and eye-catching WordPress blog without writing a single line of code.
You want to start a fashion, lifestyle, beauty, travel, food or parenting blog.
Easily customize your blog (change the look and feel in a few clicks) and have a unique and stylish presence.
Get a mobile-friendly and fully responsive website template suitable for all screens.
Grow your email subscribers and build your list with strategically placed newsletter section.
Flaunt your Instagram collection and increase followers with a built-in Instagram section.
Enjoy a Schema-friendly, SEO-friendly and speed-optimized WordPress blog template.
Engage your visitors with your popular and featured posts.
Get the world-class, one-on-one support and an enthusiastic team of developers and designers ready to help.
Features of Vilva Pro WordPress Theme
Pre-made Multiple Unique Layouts
Each section on the homepage has multiple layouts which can be configured according to your preference. Mix them to create many unique designs.
19 Header Layouts
You can choose from 19 different header layout in Vilva Pro. This ensures that you have a completely unique website and stand out from the rest of your competitors.
48 Home Page Layouts
With 48 Home Page layouts to choose from, you can create any kind of blog and select the layout of your choice. You can display home page with left or right sidebar, full-width or full-width centered without sidebar.
With plenty of options available, you can switch to different layouts to change the look and feel of your site and make your site truly stand out.
11 Slider Layouts
There are 11 different slider layouts to display your posts in an elegant way to your readers. You can select a single slider at a time or display multiple posts at the same time. The unique combination of slider layouts offers you the flexibility to display your posts as per your preferences.
7 Single Post Layouts
The theme includes 7 different layouts for a single post with an option to select a different layout for each post. In addition, you can combine the layouts to make your post full-width, full-width center or post with right or left sidebar. The total combination is 28 different layouts.
2 Featured Area Layouts
The featured area of Vilva Pro can be displayed in two styles – square and rectangle. Create unlimited feature boxes to link your important pages, category or links.
4 Featured Posts Layouts
You can list and display your posts in four different layouts.
4 Popular Post Layouts
You can engage your visitors to read your most popular posts. This section offers four different layouts to choose from.
48 Archive Layouts
There are 48 different layouts available for archive pages. You can select any layout you like to make your archive pages different than the homepage.
4 Pagination Layouts
WIth Vilva Pro, you can display 4 different types of pagination. You can use Older/Newer, Numbered(1,2,3..), Ajax with Load More Button or Auto Infinite Scroll Pagination Style.
Easily Change Theme Color
Why settle for the default theme color? Reflect your brand on your site with the right color combination. You have the power to change the primary and background color with a single click.
Choose desired Fonts from 900+ Google Fonts
The right combination of fonts can make a difference to your site's look and feel. Choose from more than 900+ Google Fonts to fully customize your site as per your preference, your style, and brand.
Typography Control
You can customize and choose your typography as per your wish. You can fully change the font and size of the Heading ( H1, H2, H3, H4, H5, and H6) and body.
Installed Pre-designed Demo with One-Click
We have got everything ready for you to get started. Kickstart your website with our demo content in a single click so that you don't have to spend hours making your website from scratch!
Gorgeous Responsive/Mobile-Friendly Design
With Vilva Pro, you can create a website that looks great on any screen from desktop to mobile hand-held devices with responsive design.
Easy to use Theme Settings Panel with Live Preview
Vilva Pro comes with easy to use built-in Live Customizer to help you fine-tune and customize your website with a live preview before making the changes live.
Well Optimized for Speed Performance
Everyone loves a high-speed website and the search engine loves it even more. The built-in performance parameters combined with the caching plugin will ensure that your website loads fast, and runs smoothly.
Search Engine Optimized (SEO)
Built with the best SEO practices in mind, Vilva Pro includes the features that you need to achieve higher ranking in search engines like Google.
Google Adsense Optimized Advertisement Areas
The theme comes with pre-built spots for the advertisement to help you monetize your blog. The Ad spots are placed strategically to increase click-through rate which will help maximize your earnings.
Advertisement Widget to Help You Make More Money!
Placing advertisements in your blog is extremely easy as Vilva Pro comes with an Advertisement widget. You can easily place ads on the sidebar and make more money from your blog. This widget lets you add an Ad code or a custom image with a link.
WooCommerce Compatible
Want to use your blog to sell products online? We have you covered as Vilva Pro is compatible with the WooCommerce plugin. You can easily create an eCommerce store to sell your merchandise on your website.
3 Customizable Banner Options
Static Image/Video with Call-to-Action (CTA)
Static Image/Video with Newsletter
Banner as Slider
Static Image/Video with Call-to-Action (CTA)
Vilva Pro allows you to add a static image or video in the banner section along with the Call-to-Action button to redirect your readers to your desired page or post.
Static Image/Video with Newsletter
You can place a newsletter in the banner to make your visitor easily subscribe to your blog. Grow your subscriber's list to send them emails with your recently published posts and promotional offers.
Smooth, Attractive and Advanced Banner as Slider
You can display your latest posts, pages, category or create your own custom sliders. You can control the slider loop, caption, auto transition, and speed.
Unlimited Featured Boxes
You can feature your most important pages or category of your website that interest your visitors. You can create unlimited boxes to get more engagement on your content.
Featured and Popular Posts Section
You can select the posts you want to display or choose a category to display that category posts. You can also display popular posts based on post views, number of comments or from a particular category.
Grow Subscribers with Newsletter Subscription
You can grow your email subscribers' list with strategically placed Newsletter section on the homepage. You can also place the newsletter on the sidebar and footer.
Appealing Instagram Section
Grow your follower's list and influence your reader with your Instagram posts. With Vilva Pro, you can easily integrate Instagram into your site.
Author Bio on Sidebar
Introduce yourself to your visitors in style with an impressive Author Bio. You can add your photo along with a short bio, signature and link your social media profiles.
Notification Bar Settings
The Notification Bar settings include a feature to add a Call-to-Action(CTA) button and Newsletter to increase interaction on your site.
Enrich Visitors Experience with Dark Mode
You can enable your users to switch your website between Dark Mode and normal style smoothly to improve the readability of text, images, and videos. Dark mode is helpful when reading at night.
Smart Loading Images for SEO
The built-in lazy load images settings will boost your site speed and improve user experience. The images will load when your visitor scrolls down to that particular section.
Enable/Disable Automatic Image Crop
Worried about your featured images not showing properly? The built-in toggles allow you to display all your images exactly as you upload without any cropping.
Custom Site Logo with Size Control
You can upload your custom logo without worrying about its size. The built-in logo size control will allow you to easily adjust the logo size.
Footer Copyrights Editor
You can easily edit, add or remove any section from your Footer in Vilva Pro.
Built-in Google Analytics Settings
You can directly add your Google Analytics code in the Customizer. No need for an extra plugin.
Social Media Integration
Social media on your site helps you boost your engagement. The theme support major social media like Facebook, Twitter, Instagram, Pinterest, including Russian and Chinese social media like OK, VK, Zing, and others.
Sticky Social Shares
The built-in sticky social share allows your visitors to easily share your blog on their social media accounts with just a single click.
Built-in SEO Settings
Search Engine Optimization(SEO) is crucial for your site and we take care of it. The theme allows you to show the last updated date and breadcrumbs.
Shop Page Settings
You can upload your desired image for the Shop page background and add your own description. You can enable the cart icon in the header to make your visitor easily purchase your products.
Lightbox for Images
Lightbox feature in the theme helps to efficiently display an image by allowing the user to open an image in a centered overlay and dims the rest of the page.
Sticky/ Floating Menu
You can make your main navigation menu sticky to ensure easy navigation so that your visitors can access it all the time.
Sticky Widget
Vilva Pro includes a feature to make the last widget of the sidebar sticky. You can use this feature to display a Call-to-Action button or place your ads.to increase conversion.
Post Excerpt
You can show a summary of the posts by enabling post excerpts. You can choose the length of the excerpt up to 100 words.
Related Posts of the Category or Tags
You can display related posts of the same category or tags as the post at the end of the single post to get more engagement on your site.
Comment Section Toggle
In Vilva Pro, you can toggle the comment section to display at the end of your article. It makes easier for your readers to comment without any hassle to scroll till the bottom.
Drop Cap
Drop Cap is a great way to add to the aesthetic style of your blog. Drop Cap allows you to capitalize the first letter of every post.
Back to Top Button
Easy navigation is the key to a good user experience. The back to top button adds up to a better user experience.
Widgets Ready
Vilva Pro has ample space for widgets. You can add and manage the widgets you require to add tons of features without compromising the design of the theme.
22 Custom Widgets
Vilva Pro comes with 22 highly customizable and useful widgets. These widgets are:
Blossom: Advertisement
Blossom: Author Bio
Blossom: Call To Action
Blossom: Client Logo Widget
Blossom: Contact Widget
Blossom: Custom Categories
Blossom: Email Newsletter Widget
Blossom: Facebook Page
Blossom: Featured Page Widget
Blossom: Icon Text
Blossom: Image Text
Blossom: Pinterest
Blossom: Popular Post
Blossom: Pricing Table
Blossom: Posts Category Slider
Blossom: Recent Post
Blossom: Snapchat
Blossom: Social Media
Blossom: Stat Counter Widget
Blossom: Team Member
Blossom: Testimonial
Blossom: Twitter Feed
Unlimited Sidebar
Choose from any number of sidebars and populate theme with widgets to add tons of features to your site with a few clicks.
Unlimited Background Options
Take any image, pattern or color and set it as the background for the website to customize as per your own liking.
Performance Settings
You can make your site faster and provide your visitors with the best user experience with the built-in performance settings.
Portfolio Page Template
Do you have a case study or portfolio to showcase to your visitors? The built-in easy to add portfolio feature will help to achieve that.
Cross-Browser Compatible
Vilva Pro is cross-browser compatible which means your site will work seamlessly with the popular web browsers. The theme is tested on latest version of Chrome, Firefox, Edge, and Safari.
Easy Legibility
With the perfect combination of font type, size, spaces, and contrast, Vilva Pro ensures that your content is easy on the eye and your visitors enjoy reading your articles.
Schema Friendly
Schema is an important ranking factor according to Google's recent announcement. Thus, we have added schema integration to Vilva Pro which will boost your website's search engine ranking and help you have an edge over your competitors.
RTL Scripts Ready
Do you use right-to-left(RTL) scripts like Arabic? Write your content with confidence as Vilva Pro support both LTR and RTL languages.
Translation Ready
Do you want your visitors to read in your local language? Don't worry, Vilva Pro support localization so that you can use the theme in your local language.
Polylang Compatible (Multi-language)
The theme is compatible with Polylang WordPress plugin, which allows you to translate your site into various languages and help you create a multilingual blog.
WPML Compatible (Multi-language)
The theme is WPML plugin compatible offering you the flexibility to choose your favorite translation plugin and easily create a multi-language site to reach a mass audience.
Regular Updates with Feature Enhancements
Keep your site ` with our regular updates. We ensure your site is updated with the latest security patches and adds the essentials feature to enrich your experience.
Custom CSS
Want to modify some sections as per your preference? Write your own custom CSS and include them to override the theme's default styling.
Clean Codes
Our team of expert developers has put the effort into writing clean, well-organized and commented code to allow you easily customize and edit your site.
Extensive Documentation
Making a website should be hassle-free. Our easy to follow step by step documentation will guide you to set up your website in a couple of hours.
Video Tutorials
Over 15 video tutorials are available on our YouTube channel that will guide you to make your site quickly.
Top-notch Quick and Friendly Support
Our support team is friendly and ready to help you. So don't be shy and reach out to us for any questions or confusion you have.