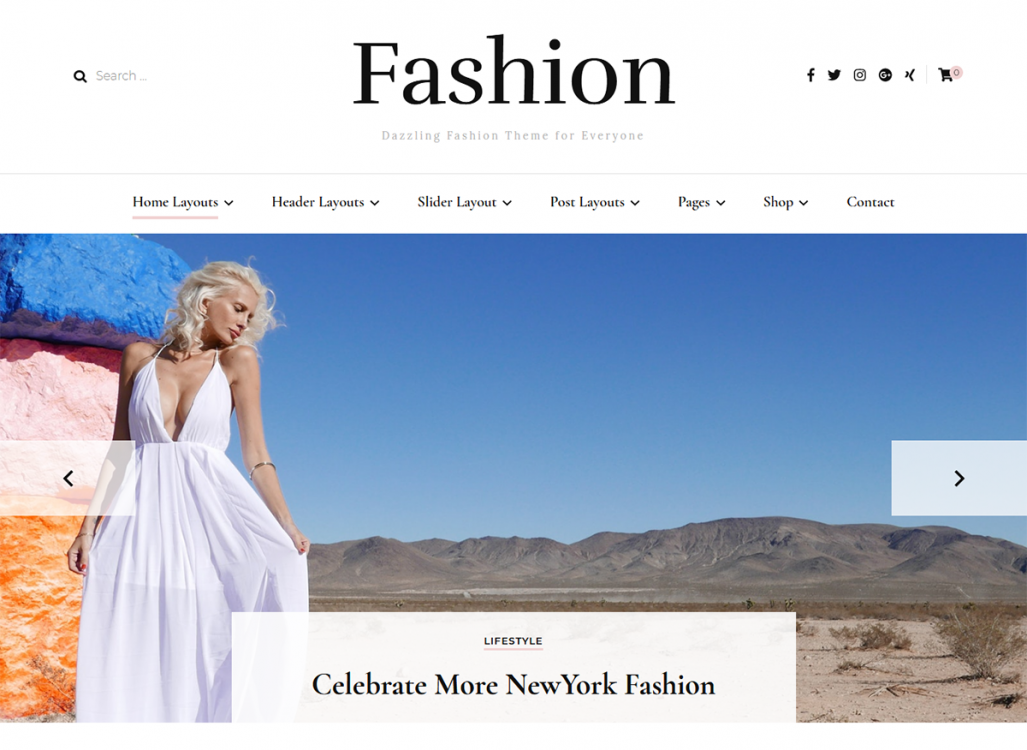 Blossom Fashion Free WordPress Theme: a stylish, trendy, and chic free theme for the fashion bloggers who want to make serious money!
Blossom Fashion Free is a feminine and chic WordPress blog theme designed for you to create your own gorgeous and eye-catching lifestyle fashion blogs, without spending a single penny.
If you are looking to sell your fashion products online by showcasing them or writing about them in your blog, this theme provides you the best platform.
So, go ahead, start your own money-making fashion blog with this highly responsive fashion website template – for FREE at that!
With Blossom Fashion Free you can:
Get a stylish and fashionable blog without writing a single line of code, and for FREE!
Easily customize your blog (change the look and feel in a few clicks) and have a unique and stylish presence.
Get a mobile friendly and fully responsive website template suitable for all screens.
Easily monetize your blog with WooCommerce plugin support that helps you set up your online shop to promote your products.
Grow your email subscribers and build your list with strategically placed newsletter section.
Get the world-class, one-on-one support, and an enthusiastic team of developers and designers ready to help.
Flaunt your Instagram collection and increase followers with a built-in Instagram section.
Enjoy a Schema-friendly, SEO-friendly, and speed-optimized WordPress blog template.
Get a fashion-theme-optimized blog that supports RTL and is translation-ready.
Types of blogs you can create with Blossom Fashion Free WordPress theme:
Fashion Blog – Looking to share your expertise in fashion and style? Want to showcase your personal style and fashion collection to the world? Then this fashion template is for you!
Lifestyle Blog – Share your life experiences, or offer tips and pieces of advice about living the life to the fullest. This stunning and easily customizable WordPress blog theme will give you a perfect platform.
Travel Blog – Love traveling? Why not journal your experiences and share them with the travel enthusiasts all over the world? Blossom Fashion Free's responsive and trendy website template can give your travel stories a stunning visual appeal.
Food Blog – Crazy about food? Write about your favorite dishes, share recipes, or review eateries around the town, country, or even the world! This stylish website template will allow you to showcase your recipes and food-adventures elegantly.
Beauty Blog – Write about beauty tips, give makeup tutorials, or talk about living a beautiful life. The world is waiting to hear from you, and Blossom Fashion Free's stunningly designed template is here for to help you achieve that.
Coaching Blog – Got some valuable skill or expertise? Share your knowledge and start your own tribe of value-seeking learners. This speed-optimized WordPress blog theme will help you provide your learners a great browsing experience.
Wedding Blog – Showcase your expertise in setting up or styling beautiful weddings, or share your collection of great wedding moments… Blossom Fashion Free's stunning template and layout options will help your website stand out.
Portfolio Blog – Want to build up a strong portfolio to show off your skills and talents? This stunning WordPress blog theme will help you create your unique and stylish portfolio.
Features of Blossom Fashion Free WordPress Theme
Easily Change Theme Color
Why settle when you can try out your own set of colors as per the style and brand of your blog! With just one click, you can select from a whole range of colors and change the look and feel of your website.
Stunning Mobile Friendly Design
Blossom Fashion Free is optimized for our smartphones. With more than 50% of Google searches being done on mobile phones, this fully-responsive feminine WordPress theme is designed to adapt to any screen sizes.
Blossom Fashion Free WordPress theme passes Google mobile-friendly test. This means better rankings in search results and better user experience.
Select Your Favorite Font from 600+ Google Fonts
You don't have to simply go with our choice. Select your fonts as per your preference, and your style and brand. You can change the typography of body and headings (H1, H2, H3, H4, H5, and H6).
Create an Online Shop
The theme is WooCommerce compatible which helps you to easily create an online shop. Earn good money by promoting your own fashion line through Blossom Fashion Free's online shop section. You can place your Fashion Products in the theme's online shop section on the homepage as well as in the footer. You can also create a separate shop page to showcase and promote your products.
Advertisement Widget to Help You Make More Money!
Easily place ads on the sidebars and start earning more money from your blog. The theme's optimized advertisement widget allows you more flexibility on your ad revenues. To place an ad, you can simply add an ad code or a custom image with a link.
Appealing Instagram Section
Have a fabulous Instagram page to showcase? Now easily integrate your Instagram to your website with Blossom Fashion Free.
Author Bio on Sidebar
Introduce yourself to your visitors in style with an impressive author bio. You can add your photo along with a short intro, your signature, and your social media profiles on the sidebar using Blossom: Author Bio widget.
Instagram, SnapChat, Twitter, Facebook, and Pinterest Widgets
Flaunt your social presence! Blossom Fashion Free theme has widgets for all your favorite social media accounts. You can place your favorite accounts Instagram, SnapChat, Twitter, Facebook, and/or Pinterest profile on the sidebar!
Newsletter Section and Widget
Grow your email subscribers with the perfect combination of Blossom Fashion Free theme's newsletter section and the BlossomThemes Email Newsletter plugin, which will allow you to easily add subscribers and engage with them.
12 Custom Widgets
Customize your website with 12 incredibly useful custom widgets of Blossom Fashion Free. The widgets available on the theme are:
Blossom: Advertisement
Blossom: Author Bio
Blossom: Custom Categories
Blossom: Facebook Page
Blossom: Image Text
Blossom: Pinterest
Blossom: Popular Post
Blossom: Posts Category Slider
Blossom: Recent Post
Blossom: Snapchat
Blossom: Social Media
Blossom: Twitter Feed
SEO Optimized and Schema.org Friendly
Our SEO experts have put in their knowledge and experience into ensuring that search engines can easily find and rank your blog above the others on a search results page.
It is also Schema friendly, which is an important ranking factor as per Google's recent announcement. With Blossom Fashion Free, you will always have an edge over your competitors.
Last Updated Post Date
Impress search engines even further by showing your last updated date on the single post page. Google just loves this as it prefers to rank recently updated posts.
Speed Optimized
Let your visitors enjoy a smooth browsing experience. Blossom Fashion Free is a speed optimized WordPress theme, which will load faster to ensure that you don't risk losing your potential customer or new leads.
Smooth, Attractive and Advanced Slider
Use the slider in your banner section to enhance your visitor's experience. Display up to 20 recent posts, or unlimited posts from a category on the slider. You can also control the animation of the slider.
Featured Area Section
Increase user-engagement on your website with an interactive featured pages section that allows you to highlight your content by adding up to 3 featured pages.
Social Media Integration
Let your visitors find you on social media and boost your business' engagement. Blossom Fashion Free WordPress blog theme allows you to display your social media links on your website and also supports Russian and Chinese social media like OK, VK, qq, Zing, and others. Add unlimited social media to your blog!
Related Posts of the Category or Tags
Increase the engagement on your blog by displaying related posts of the similar category or tags as the post at the end of the single post page. This further helps you in internal link building and improves your on-page SEO, resulting in better Google ranking.
Display Popular Posts
Promote and generate more leads for your top posts by displaying them on the single post page. As you show the posts with the most number of comments or engagement, you can let your new visitors know just how popular your blog is!
Posts Excerpt
Enable post excerpts to let your readers quickly get the gist of your post. Use this feature smartly to pique their interest and generate more engagement for the post. You can choose up to 100 words for the length of the excerpt.
Extensive Documentation
Get your website ready with an extensive but simple and easy-to-follow theme documentation that comes with Blossom Fashion Free WordPress theme. Your blog can be set up in no time!
Friendly and Quick Support
We're here to address your confusions, questions, or ideas. Contact our friendly and enthusiastic support team through our support ticket and get quick assistance regarding the theme.
Widget Ready
Add and manage your widgets without compromising the design of your theme. Blossom Fashion Free is optimized for widgets so that you can design, and customize your blog in a truly unique way.
Cross Browser Compatible
Tried and tested, Blossom Fashion Free works seamlessly on the latest version of all the major web browsers including Chrome, Firefox, Safari, Internet Explorer, and Edge.
Breadcrumb
Get maximum engagement from your visitors with Blossom Fashion Free's breadcrumb option, which enables people to navigate easily all across your website.
Easy Legibility
Make sure that your visitors are treated to an awesome font type that is of legible size, spaces, and contrast. Blossom Fashion Free optimizes the visual appeal of your content so that visitors enjoy what they are reading on the screen.
Translation Ready
Let there be no language barriers! Blossom Fashion Free theme supports localization so you can translate the theme in your local language.
RTL Scripts Ready
Write your content the way you want! Blossom Fashion Free WordPress blog theme supports right-to-left (RTL) scripts like Arabic along with LTR languages.
Regular Updates
Keep your website safe from vulnerabilities with our regular updates that keep your site up to date with the latest security and technical standards.
Custom Site Logo
Give your site its own unique identity. Blossom Fashion Free allows you to easily add your own logo to the website.
Custom CSS
Modify CSS effects or change the color of a section easily. With Blossom Fashion Free theme, you can add CSS effects right from the customizer.
Clean Code
The theme's clean, well-organized, and commented code allows you to easily customize and edit your website.
Blossom Fashion free WordPress theme is for you if:
You want a stylish and trendy WordPress blog template for FREE!
You have no interest in writing codes to create your blog.
You want a stunning fashion and style portfolio blog that has an easy-to-use theme.
You want to wow and delight your visitors with your blog's visual appeal.
You want to let your visitors know that you are a professional blogger.
You want to start a fashion, lifestyle, beauty, portfolio, travel, food, or a journal blog.
You want a chic, feminine blog, but hiring a developer is not within your budget at the moment.
If you are looking for more fashion WordPress themes, you will find our list of 15+ best free fashion WordPress themes helpful.