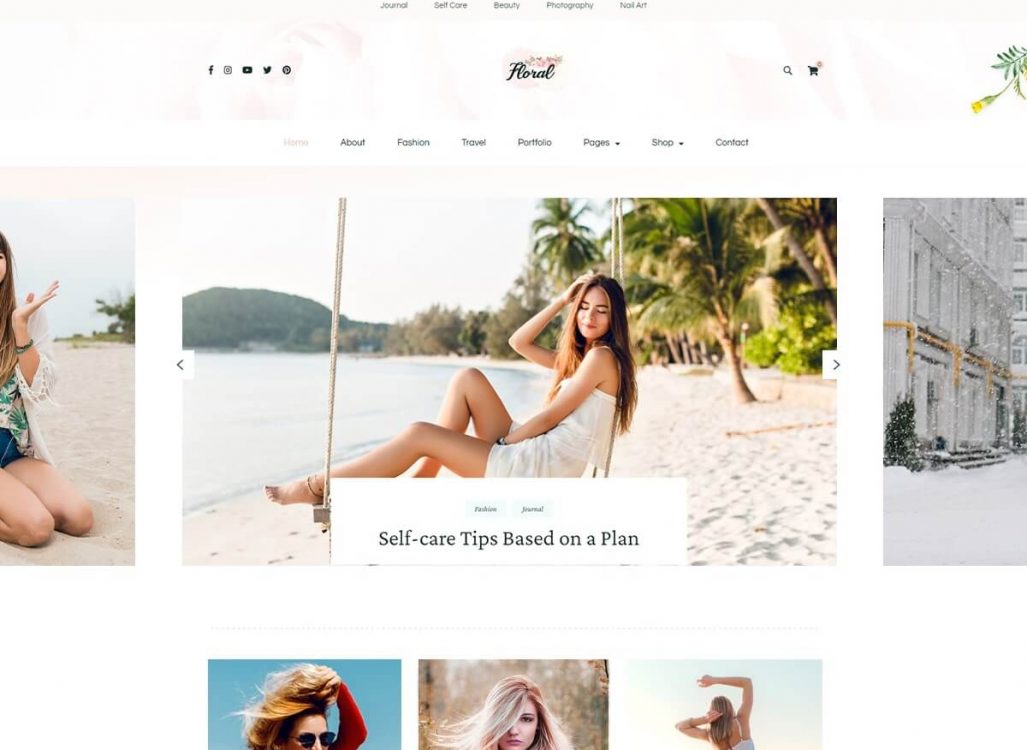 Blossom Floral is a multipurpose and flexible theme that tends to the needs of any website. The theme blends a perfect combination of contemporary features with ease of use to help any level of users build a website in no time. Owing to such flexibility, the theme is perfect for any blogging niche, such as travel, lifestyle, fashion, food, fitness, journal, health, and several other business types.
The theme is mobile-friendly and responsive across any screen size. This makes your site look flawless on every device. Also, the cross-browser compatibility will adjust your site to run trouble-free on any popular web browser.
The theme has several customization options so that you can knit your site to your needs. You can easily change the theme color as you prefer and choose from over 1000+ Google Fonts. Combining these with custom typography will change the look and feel of your website.
You will find all the theme-related settings under one roof so that you can't get right into customization without looking for the options. The live preview improves user experience while personalizing the site as well.
Blossom Floral also focuses on lead generation with the Shop Section, Newsletter section, social media integration, and dedicated Instagram section. You can display your latest and popular posts here to draw attention towards them.
There are several ways to monetize your website as well. The dedicated advertisement widget and Google AdSense optimized spots let you place advertisements and earn per click. Further, the theme is also WooCommerce compatible. You can start an online shop on the go and make digital transactions easily.
The built-in SEO-ready design and Schema integration makes sure to place your site on a higher rank than your competitors. Likewise, speed optimization assures a smooth and improved user experience on your site.
Other notable features of the Blossom Floral are RTL-scripts ready, translation ready, widgets ready, easy legibility, and top-notch expert support.
Types of blogs you can create using Blossom Floral:
Blossom Floral has a flexible design that lets you start a blog of any niche. Here are a few examples:
Fashion Blog – Show the latest fashion trends and add your insights in the gorgeous layouts.
Lifestyle Blog – Tell your life experiences to your readers in a captivating style.
Travel Blog – If you love traveling and have some interesting travel stories, why not share them with others using this theme.
Food Blog – Do you often cook or want to share your food experience and recipes? If so, you can use various sections of Blossom Floral and present them to the world.
Beauty Blog – Easily share your beauty tutorials and additional tips online. Users love reading such blogs.
Parenting Blog – Parenting comes with a mixture of experiences. Help other parents by sharing important parenting tips and experiences.
Fitness Blog – Share your diet and exercise tips in eye-catching layouts.
Health Blog – Share interesting health facts along with tips and help others lead a healthy life.
Self-improvement Blog – Motivate others and encourage them to become a better version of themselves with your self-improvement techniques.
Journal Blog – There are multiple sections in the theme where you can share your life thoughts and journal.
Blossom Floral Pro is for you if:
You want to build a blogging website in no time.
You want a professional website without hiring a web developer or writing a single code.
You want to start a blog for travel, lifestyle, fashion, fitness, beauty, food, or other niches.
You want gorgeous templates and layouts that instantly catch user attention.
You want more conversion on your website.
You want to increase your social media following on Instagram and other platforms.
You want a responsive theme that looks pixel-perfect on any screen and device.
You want a performance-optimized WordPress theme that assures a better user experience.
You want a built-in SEO-ready theme that will help you reach the top search engine spot without breaking a sweat.
You want to personalize your website to your needs.
You want to earn from your site with the strategically-placed Google Adsense spots and Advertisement widget.
You want to open an online store with the WooCommerce-ready WordPress theme.
You want to grow your subscriber's list without much effort.
You want a translation-ready website that you can localize.
You want friendly and expert support from WordPress experts in case of theme-related issues and queries.
Features of Blossom Floral Free WordPress Theme
Here are the features that make Blossom Floral a unique and multipurpose theme:
Easily Change Theme Color
Don't like the default color for your website? Blossom Floral lets you pick any color as the primary and secondary colors. Further, you can set vibrant colors for the body font as well as the background.
Choose desired Fonts from 1000+ Google Fonts.
The theme offers over 1000+ Google Fonts to decorate any element of your site. You can mix and match various combinations and finalize the look that best suits your brand.
Typography Control
Adjust your typography and personalize your site to be unique and eye-catching. You can select the font family, font size, and also font spacing from the theme customizer.
Gorgeous Responsive/Mobile-Friendly Design
Build a website that looks flawless on any device and screen size.
Easy to use Theme Settings Panel with Live Preview
We have managed all the theme settings in the theme settings panel. You can easily find the settings you want to adjust and get a live preview of the changes while personalizing your site.
Well Optimized for Speed Performance
The theme prioritizes speed and performance so that your site looks super fast and provides better user convenience.
Search Engine Optimized (SEO)
The built-in SEO optimization gives you an edge over your competitors when it comes to higher ranking in search engines.
Google Adsense Optimized Advertisement Areas
Easily place ads in the Google Adsense optimized advertisements areas and start earning from your website.
Advertisement Widget to Help You Make More Money
There is an advertisement widget in the theme that enables you to add your advertisements to your blogs in the sidebar and footer areas.
WooCommerce Compatible
Blossom Floral seamlessly supports the popular WooCommerce plugin using which you can instantly set up an online store and make digital transactions.
Smooth, Attractive and Advanced Banner as Slider
Elegantly showcase your latest posts, pages, category, or create custom sliders in the website's banner. You can further set the number of slides in the banner, add a caption, slider loop, transition effect, and speed to make it more appealing.
Unlimited Featured Boxes
Gain undivided attention to your important posts and pages by showcasing them in the unlimited featured boxes. To make it appealing, you can also add images and links.
Sell Your Products with Shop Section
Easily set up a shop and display your popular, latest, and sale items using the Shop Section of the theme. Plus, you can also add a custom background and links to the particular pages for increased conversion.
Grow Subscribers with Newsletter Subscription
Grow your subscribers' list without breaking a sweat. The theme has a dedicated strategically-placed newsletter section where you can add your newsletter shortcode. You can make it attractive by using a custom primary and secondary background for the section.
Appealing Instagram Section
It is easier to grow your reach across Instagram by using the dedicated Instagram section. You also have the option to show the Instagram section on the site's header and footer.
Author Bio on Sidebar
Introduce yourself in a professional way using the Author Bio section on the sidebar. You can add a short description, your e-signature, contact number, and links to your social media profile.
Highlight Author Comment
There is an option to show the author's comment in each of the posts. This makes it convenient for users to see the author's response to the comments without opening the post.
Enable/Disable Automatic Image Crop
If you want all your images to look even and well-managed, you can enable the automatic image crop feature from the customizer. However, you can toggle the settings off if you want the images to retain their original size.
Custom Site Logo with Size Control
Easily add your brand's logo to the site's header and control the size to fit in well using the slider controller.
Footer Copyrights Editor
Blossom Floral lets you add and edit your footer copyright with the custom footer text, credits, and mentions.
Social Media Integration
Built-in social media integration helps you reach across huge masses with minimal effort. You can link your website with Facebook, Instagram, Twitter, Pinterest, and other popular social media sites. Also, you can extend your reach using Chinese and Russian social media platforms, such as Zing, OK, VK, and more.
Built-in SEO Settings
Apart from the built-in SEO design, there are additional settings in the theme that will give a further boost to your site's ranking, such as breadcrumb and the last post update feature, from the customizer.
Shop Page Settings
Showcase all of your products and services using the elegant shop page. You can add a few descriptions for each product to give information about them to the readers.
Post Excerpt
You can set upto a 100-words summary for each of your posts by enabling the post excerpt to feature on the customizer. It gives a glimpse to the visitors about your content without clicking on it. It further motivates them to dive deeper and continue reading the post.
Related Posts of the Category
Get to increase the user retention with the help of Related Posts features. This feature automatically displays the related posts based on tags and categories for every single post.
Comment Section Toggle
Increase user engagement on your site by toggling on the Comment Section feature. It allows visitors to leave their comments and feedback without the hassle of scrolling all the way to the bottom.
Back to Top Button
The Back-to-top button swiftly brings your visitors to the top of the page from wherever they are on that particular page with a single click. It improves users' experience and convenience.
Widgets Ready
The theme lets you add unlimited widgets to the widget area to increase functionalities on your website.
22 Custom Widgets
The theme offers 22 highly-customizable widgets that bring loads of new features to your website. Here is the list:
Blossom: Advertisement
Blossom: Author Bio
Blossom: Call To Action
Blossom: Client Logo Widget
Blossom: Contact Widget
Blossom: Custom Categories
Blossom: Email Newsletter Widget
Blossom: Facebook Page
Blossom: Featured Page Widget
Blossom: Icon Text
Blossom: Image Text
Blossom: Pinterest
Blossom: Popular Post
Blossom: Pricing Table
Blossom: Posts Category Slider
Blossom: Recent Post
Blossom: Snapchat
Blossom: Social Media
Blossom: Stat Counter Widget
Blossom: Team Member
Blossom: Testimonial
Blossom: Twitter Feed
Portfolio Page Template
Proudly showcase all your past works and case studies using the portfolio page template and earn the trust of potential new visitors.
Cross-Browser Compatible
We have tested the theme on all the major browsers, and the results showcased uninterrupted performance every time. Now, visitors can browse your website on any popular browser, including Chrome, Opera, Firefox, and Safari and get the best website experience.
Easy Legibility
Blossom Floral uses a smart combination of colors, fonts, contrast, font size, font spacing, and various other readability factors so that your visitors can enjoy your content without straining their eyes.
Schema-Friendly
The built-in Schema.org integration helps search engines to understand your website better. This results in better indexing and, thus, higher ranking for the relevant keywords.
RTL Scripts Ready
It is now possible to translate your site into Arabic, Persian, Hebrew, and other RTL languages, as Blossom Floral has built-in support for RTL scripts.
Translation Ready
Language is no longer a barrier after using the Blossom Floral. You can easily localize your site into any language with a few clicks.
Regular Updates with Feature Enhancements
The theme receives regular updates for security, feature optimization, and compatibility with the latest WordPress versions.
Custom CSS
You can add your custom CSS straight to the customizer and add features and optimization as you need.
Clean Codes
Our developing team has written clean and well-organized codes for this theme to ensure better security and easy customization.
Extensive Documentation
If you are new to WordPress, you can use our documentation which is easy to follow and beginner-friendly. It will guide you step-by-step to set up the theme and build a website.
Top-notch Quick and Friendly Support
You can reach out to our support team using the support ticket in case of any query or issue regarding the theme.