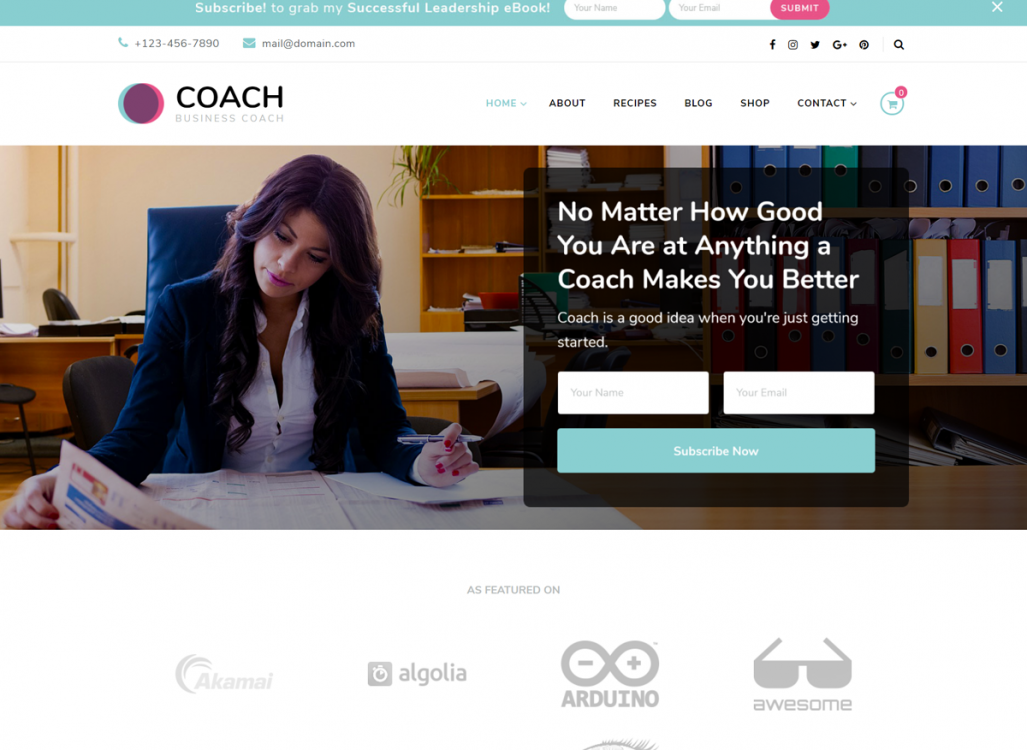 Video Tutorial
Are you ready to launch your coaching services with broader audiences with a professional website? If so, the Blossom Coach Pro is what you need. It is a premium theme designed to help health coaches, life coaches, mentors, therapists, and speakers set up an elegant website within minutes. The best thing is, you don't need to know coding. Everything in the theme is ready to kickstart your website in a flash.
Blossom Coach Pro delivers the best performance and is optimized for both SEO and speed. Moreover, the theme is super-responsive on all devices, so your site is ready for anyone everywhere.
The theme has multiple premade layouts to help you set up your website from the ground up without breaking a sweat. You could also use the one-click importer to use the default content and settings and get your site up and ready within minutes.
Blossom Coach Pro is beginner-friendly and offers an easy-to-use settings panel to control every element from one place. Plus, the Gutenberg and Elementor compatibility allows an effortless customization experience with no restrictions whatsoever.
The predefined sections make it much easier to promote your brand, services, and blogs. For any new visitors, your testimonials and contact sections can help earn their trust and also build credibility.
Talking about customization, you get various page templates, 22 customizable widgets, customizable banner options, unlimited colors, 1000+ Google Fonts, multiple typography tweaks, and many more. With these options, your site can stand out from the rest.
Talking about lead generation, Blossom Coach Pro leaves no stone unturned. It compiles various features such as customizable banners with CTA buttons and appointment form, a strategically-placed newsletter section, eBook landing page, multiple CTA sections, and social media integration.
Blossom Coach doesn't stop here. The theme is compatible with LearnDash and Tutor LMS plugins to enable you to create, track, manage, and sell your courses online. Also, it is WooCommerce compatible so that selling your products and services is conveniently easy.
Other noteworthy features of Blossom Coach Pro are RTL-script-ready, translation-ready, widget-ready, easy navigation, and top-notch 24/7 customer support.
So, if you want to set new limits to your creativity, generate more leads, want a super-fast website, and want every website setting under your radar, Blossom Coach Pro is for you.
Blossom Coach Pro is for you if:
You want to build a professional-looking website

without any hassle.

You want to build a

website for mentoring, coaching, and consulting

.

You want

exciting landing pages

to engage your visitors.

You want a

super-flexible and responsive theme

that seamlessly adapts to your changing needs.

You want a

fully customizable

theme with all the settings at your reach.

You want to grow your subscriber using the

strategically placed Newsletter Section

.

You want more

lead generation

from your site.

You want a

Scheme-ready and SEO-friendly

website.

You want to

sell your courses

online.

You need

expert technical support

.
Features of Blossom Coach Pro
Blossom Coach Pro is a power-packed theme with every feature a coach would need to set up a professional website in no time. Plus, the theme is beginner-friendly, with no need for coding knowledge. So, sit back, relax, and enjoy the following features in your website:
Pre-made Multiple Unique Layouts
The Blossom Coach Pro WordPress theme features multiple premade templates and layouts for various segments of your website. You can use these features to set up an elegant page without going through any trouble.
6 Call to Action Banner Layouts
Want to motivate more users to engage with your business? Blossom Coach Pro offers 6 elegant CTA banner layouts that will help you gain more leads.
3 Banner Newsletter and Appointment Layouts
Do you want to increase your subscribers' list? If so, Blossom Coach Pro lines up 3 stunning newsletters and appointment layouts to help you out. Your visitors can easily subscribe to your newsletter or book an appointment. Either way, you gain leads.
10 Header layouts
Blossom Coach Pro has 10 gorgeous header layouts that will grab your visitors' attention right away. You can place your main product, popular courses, or essential updates regarding your business here. This way, you can always make a striking impression among your visitors.
2 Single Post layouts
With 2 different layout options for your single posts, you can set a unique look for your posts.
3 Blog layout
If you like blogging, Blossom Coach Pro has 3 blog layouts to help you showcase your blogs in a neat and organized way. Now, your blogs no longer remain unnoticed
4 Pagination Styles
There are 4 different pagination styles – Newer/Older, Numbered, Load More, and Auto Infinite Scroll. Use any of these styles to help your viewers easily navigate through your website pages.
4 Customizable Banner Options
Your site's banner is a crucial element of your website. No eyes pass by without noticing sidebars. Blossom Coach Pro knows it and thus it offers 4 customizable banner options to help you make a stronger statement among your visitors.
Static Image/Video with Call-to-Action (CTA)
Blossom Coach Pro makes it easy to generate leads. Simply, add CTA buttons along with a static image or video to your banner. You can also add a few sentences briefly describing your service or business you've highlighted here.
Static Image/Video with Newsletter
You can attach a newsletter on your banner and top it up a notch with a static image or video on the banner by the side. Such a feature engages visitors and swiftly convinces them to become your subscriber.
Static Image/Video with Appointment
Another effective way to gain leads is by attaching an appointment calendar next to an image or a video. You viewers can quickly schedule an appointment for your session, course, or event.
Smooth and Attractive Banners as Slider with Advanced Controls
Adding sliders to your banners is another effective way to enroll your visitors. You can use this feature to guide them into diving deeper into your website. We recommend adding slides of your latest posts, popular courses, upcoming sessions, desired landing page, or other important pages to your banner. Further, the theme also adds advanced controls such as loop, animation, etc.
Stunning Mobile Friendly Design
Blossom Coach Pro is optimized for smartphones. With more than 50% of Google searches being done on mobile phones, this fully-responsive feminine WordPress theme is designed to adapt to any screen sizes.
Blossom Coach Pro passes Google mobile-friendly test. This means better rankings in search results and better user experience.
One-Click Demo Content Import
We have got everything ready for you. So, kickstart your website with ready-made content and settings so that you don't have to spend hours making your website from scratch!
You can import all the images, text, and settings from the live demo of the Blossom Coach Pro theme with a click because we believe you should spend more time on your venture than on setting up your website.
Easy-to-use Theme Settings Panel with Live Preview
Blossom Coach Pro comes with an easy-to-use Theme Settings Panel with detailed options. So, you can easily configure your website by going through the options. You can also get a live preview of any visual changes you make to your site and you can make it live only after approving all the changes.
Easily Change Theme Color
Our default theme color doesn't match your brand color? No problem. With our advanced color options panel, you can easily choose from unlimited colors and change your website color to match your taste and branding.
Typography Control
There are several options in Blossom Coach Pro to adjust your typography to match your brand. Gain full control over each element of the page and experiment with various options to bring out the best look for your website. You can adjust your site's headings, font size, spacing, and a lot more.
Select Your Favorite Font from 1000+ Google Fonts
You don't have to go with our choice. Select your fonts as per your preference and your style and brand. Google fonts make it easy for the users to choose from diverse fonts that are fast-loading since Google supports them. You can also change the typography of the body and headings (H1, H2, H3, H4, H5, and H6).
Custom Site Logo with Size Control
Your site logo is your brand, and it must be well-presented on your website. Moreover, it is the first thing your visitors notice when they land on your site. That is why we have added a feature to upload your custom website logo and adjust its size using a slider control.
Sell Courses with LearnDash and TutorLMS Compatible
If you are looking to sell your courses online, you will be fond of Blossom Coach Pro. The theme is compatible with LMS plugins such as LearnDash and TutorLMS plugins. Now, you can easily create, manage, sell, and track your courses.
WooCommerce Ready (Online Shop)
Blossom Coach Pro is WooCommerce Plugin ready. Thanks to this, you can install the free WooCommerce plugin and then start selling products and services for sale directly from your website.
Gutenberg Compatible
This theme is fully compatible with the Gutenberg Block Editor. It lets you add unlimited blocks as you need. You can arrange and also remove the blocks as you prefer. Now, you can edit your site with better convenience.
Elementor Compatible
Are you a fan of Elementor Page Builder? Well, Blossom Coach Pro is seamlessly compatible with Elementor. This means editing gets easier and more fun with the drag-and-drop gesture.
16 Elementor Page Templates
Blossom Coach Pro is as generous as a theme can get. It offers 16 different Elementor Landing Page Templates to help you set up a site in a finger snap. These templates are aesthetically sound to improve the look and feel of your website.
About Page
The About page template lets you provide details of your site in a clean layout. You can add information about your website, add social links, your brand's story, display portfolio, and others.
Services Page
List your services and add details about them using the Services page template. You can also add CTA buttons that will help users book your services with a click.
Freebies Page
Do you offer free courses, sessions, events, or courses? If you do, you can display them on the Freebies page. This lets your visitors try out your free stuff before engaging with you further. It helps build trust and credibility.
Press Page
You can add your media files such as audio and video to your site using the Press page template. Now, your site will look more interesting, organized, and engaging.
Pricing Page
List out the pricings of all your services on a dedicated Pricing page. You can even add CTAs to generate leads.
Testimonials Page
Displaying the testimonials and positive reviews of your previous customers can help build trust among the new visitors. Apart from plain texts, you can also put up a video testimonial to make it interesting.
Consultation Page
Offer to share your expertise, knowledge, sessions, or educational content using the dedicated Consultation Page template.
Courses Page
We have dedicated an entire page to showcasing all your courses. You can also add a short description of each of those courses along with CTA buttons. This way, you can introduce your courses better among your new visitors.
eBook Landing Page
The eBook landing page templates are perfect for sharing your eBooks as paid or free options. You can also add a brief description and also provide download links.
Newsletter Landing Page
By using the Newsletter landing page, you can efficiently grow your mailing list without much effort. You can add your newsletter subscription and steps to complete the subscription.
Instagram Landing page
Blossom Coach Pro lets you easily link your Instagram profile to your website. It helps to gain more followers and leads with minimal effort.
8 Pre-defined Page Templates
Blossom Coach Pro offers 8 powerful predefined page templates to help you build credibility.
About Page
Provide information about your business and website on the About Page.
Services Page
You can list out all your services with CTAs using the Services Page.
Testimonials Page
Showcase the positive feedback and reviews of your previous customers in the separate Testimonials Page.
Success Stories Page
Have you got any successful events, sessions, or courses that you want to share with your visitors? If so, use the Success Stories Page to create a bundle of joy.
Podcasts Page
Blossom Coach Pro has a dedicated Podcasts Page to help motivators and coaches like you to attach podcasts of your popular session, courses, and events.
Contact Page
The Contact Page lets you add a contact form using which your visitors can contact you. You can additionally add other details such as phone numbers, contact addresses, and email.
Events Page
Make an announcement of your upcoming events using the Events Page template. You can add the event date, time, venue, and a brief introduction of what it is going to be about in a neat style.
SEO Optimized and Schema.org Friendly
We have a team of SEO experts who have put their expertise into developing this SEO-friendly WordPress theme that will help you rank above your competitors on the SERPs.
It is also Schema friendly, which is an important ranking factor as per Google's recent announcement. With Blossom Coach Pro, you will always have an edge over your competitors.
Optimized for Speed and Performance
Let your visitors enjoy a smooth browsing experience. Blossom Coach Pro is a speed-optimized WordPress theme, which will load faster to ensure that you don't risk losing your potential customer or new leads.
Notification Bar to Grab Your Visitors' Attention
The Notification Bar feature helps gain your visitors' undivided attention. You can use this built-in feature to notify your viewers about your upcoming events, sessions, offers, alerts, or even add CTA.
Strategically Placed Newsletter Section
Blossom Coach Pro is fully compatible with the BlossomThemes Email Newsletter plugin. You can easily add a subscription form using the plugin. The theme's newsletter section combined with the newsletter plugin will help you grow your email subscribers.
One Page Website
You can easily create a professional-looking One Page website using the Blossom Coach Pro theme. Your visitors can easily access everything they need right from the homepage.
Home Page Section Re-order/Sorting
Sort the order of the fifteen sections in the Homepage as you wish by drag and drop and customize your website as per your need.
About Section
Introduce yourself in a fashion that will resonate with your viewers with this beautifully designed About Section.
Client Logo Section
Using the Client Logo section, you can showcase your previous clients' logos or websites where you've been featured. Seeing that you've worked with multiple brands and customers, your new visitors begin trusting your services.
Testimonial Section
Showcase the testimonials from your satisfied customers to build trust in your business.
Service Section
This beautifully arranged service section on the homepage lets the visitor know about all the services your business offers.
Blog Section
You can keep your visitors updated with the latest news stories in your field with the blog feed section. This way, your website will never look stale.
Pricing Section
The pricing section on the homepage is a great way to display different packages your business has to offer.
Events Section
Inform your customer about your upcoming events with the event section on the homepage.
Success Stories Section
Appreciate your past projects and celebrate your achievements with an amazing achievement section which is perfect for showing before and after images.
Multiple Call to Action (CTA) Sections
Inform and get your viewers converting to your customers with this beautifully designed Call to Action (CTA) section.
Podcasts Section
This podcast section is great for listing your podcast sessions and making them more accessible to your site visitors.
Shop Section
Shop section on the homepage is a great way to sell the products which complement your services.
Contact section
Be more approachable to your website visitors by including the contact section on your homepage.
Display Your Instagram Feed
The built-in Instagram Feed feature helps to increase your social presence. You can integrate your Instagram profile on your website with a few clicks. Such a feature is effective in gaining more followers and increasing conversions.
Customizer Search
It gets annoying when you want to adjust something on your website but cannot find the settings, doesn't it? Well, the theme has the built-in Customizer Search feature that puts rest to this inconvenience. Now, you can quickly search and find the settings you want on the go.
Author Bio in Sidebar
The stylish author box is added to every post page layout to help readers connect with the authors. This helps to improve visitors' engagement and social media followings.
Highlight Author Comment
You can display the comments of the post's author in a distinct style. This helps your visitors find the author's response.
Add Your Custom Signature
Adding your custom signature is another professional feature of Blossom Coach Pro. This theme offers enough space at the end of each blog post to attach your signature. It helps in the marketing of your brand.
Smart Images Loading for SEO
Isn't it frustrating to browse a website with slow-loading images? You may have the patience and time, but your visitors don't. That's why we have added the smart images loading feature in Blossom Coach Pro to increase your site's loading speed. Now, your images load only when viewers browse that particular section. Other images beyond that browsing visibility remain idle.
Enable/Disable Automatic Image Crop
Our theme makes sure to render all the images in a uniform layout and size so that your website looks neat and professional. It has a built-in feature to crop the image when you upload it. Of course, you have the option to turn this feature off when you need to upload the actual size.
Footer Copyright Editor
Gain full control of your website's footer and edit it as you want to match your brand. You can add your copyright texts, credits or mention them on your footer. We have also added the shortcodes to update the year automatically.
Built-in Google Analytics Settings
Another perk of using the Blossom Coach Pro is its built-in Google Analytics settings. It lets you add your analytics tracking code to your theme customizer. You can receive crucial statistics about your site with this feature.
Social Media Integration
Promote your business and website across various social media platforms using our built-in social media integration feature. You can connect your website with Facebook, Pinterest, and Twitter. You could also add links to other Russian and Chinese social sites such as OK, VK, Zing, and many more.
Back to top button
Good user experience is the best way to hold on to your website visitors and convert them to potential customers. Our Back to Top button will improve your website's user experience with easy navigation.
Social Shares for Your Posts
Attach a sticky social sharing button on each of your blog posts to let your visitors easily share your content on their social media profiles. It is an effective way to promote your brand and also increase traffic to your website.
Built-in SEO Settings
Along with optimizing your website for search engines, you can also tweak some SEO settings. For instance, you can enable the Breadcrumbs feature that lets you display the last updated post date.
Lightbox for Images
You can highlight the images on your website using the lightbox feature. With this setting, an image fills up almost the entire screen when someone clicks on it. Also, it dims the rest of the screen to avoid any distraction while observing the picture.
Floating/Sticky Menu
Let the menu follow the user as they scroll down the page. The floating menu makes a more efficient user experience as a user no longer has to scroll all the way back to choose an item on the menu.
Sticky Widget
Use the theme's sticky widget to fix your website elements on the post regardless of the scrolling action. You can set your sidebar or even CTA buttons as a sticky option.
Post Excerpt
Let your visitors know what your post is about using up to 100 words as a summary. They don't even need to click the post for it. You can add compelling words to motivate them to enter and read your post.
Related Posts of the Category or Tags
Once your visitors finish browsing through your post, offer them more options with the related post of the same tag or category. This helps increase user retention on your website without much effort.
Comment Section Toggle
Toggle on the comment section on your blog post to promote user engagement. Visitors can provide their feedback as well.
Drop Cap
Drop Cap adjusts the first letter of your post to a size almost as tall as two to three sentences combined. It catches users' attention instantly and also adds to a stylish appearance.
Widget Ready
Add and manage your widgets without compromising the design of your theme. Blossom Coach Pro is optimized for widgets so that you can design and customize your website in a truly unique way.
22 Customizable Widgets
We have added 22 highly customizable widgets inside the Blossom Coach Pro theme. You can add them to your website to add more functionalities.
Blossom: Advertisement

Blossom: Author Bio

Blossom: Call To Action

Blossom: Client Logo Widget

Blossom: Contact Widget

Blossom: Custom Categories

Blossom: Email Newsletter Widget

Blossom: Facebook Page

Blossom: Featured Page Widget

Blossom: Icon Text

Blossom: Image Text

Blossom: Pinterest

Blossom: Popular Post

Blossom: Pricing Table

Blossom: Posts Category Slider

Blossom: Recent Post

Blossom: Snapchat

Blossom: Social Media

Blossom: Stat Counter Widget

Blossom: Team Member

Blossom: Testimonial

Blossom: Twitter Feed
Unlimited Sidebar Options
Add as many sidebars as you need on your website without any restriction. You can create unique sidebars on each of your website pages. You can also add widgets here, along with your latest/popular courses and CTAs.
Unlimited Background Options
Blossom Coach Pro comes with an unlimited background option that allows customizing your theme as per your taste.
Performance Settings
If you want more performance optimization for your site, Blossom Coach Pro has multiple options to help you do that. These are the features:
Lazy loading of featured images

Lazy loading of content images

Lazy loading of gravatar images

Dever Javascript to improve page speed

Remove ver parameters

Host Google Fonts Locally
You can enable these features depending on your needs. But we recommend enabling all these features to gain maximum performance optimization.
Easily Reset Customizer Settings
You can easily reset the theme customizer settings in case you have made any error or unwanted changes while editing your website. This will give you a fresh start instantly.
Cross-Browser Compatible
Tried and tested, Blossom Coach Pro works seamlessly on the latest version of all the major web browsers, including Chrome, Firefox, Safari, and Edge.
Easy Legibility
Make sure that your visitors are treated with an awesome font type that is of legible size, spaces, and contrast. Blossom Coach Pro optimizes the visual appeal of your content so that visitors enjoy what they are reading on the screen.
RTL Scripts Ready
Write your content the way you want! Blossom Coach Pro supports right-to-left (RTL) scripts like Arabic along with LTR languages.
Translation Ready
Don't let the language barrier stop you from creating an awesome website. Blossom Coach Pro theme supports localization, so you can translate the theme into your local language.
Polylang Compatible (Multi-language)
Easily translate your site into various languages and create a multilingual site as the theme is compatible with the Polylang WordPress plugin.
WPML Compatible (Multi-language)
The theme is WPML Plugin compatible. So you can translate your site into multiple languages and easily create a multi-language website.
One-Click Update
You don't have to worry about any future theme updates, as Blossom Coach Pro comes with a one-click update button for stress-free updates.
Clean Code
Blossom Coach Pro is professionally written by experts to ensure that it is clean and lightweight. This makes it very easy for developers to read comments and customize if necessary.
Extensive Documentation and Video Tutorials
We have developed Blossom Coach Pro to be beginner-friendly. Our extensive documentation will help you out step by step to build an elegant website without writing a single code.
Regular Updates with Feature Enhancements
We push regular updates on Blossom Coach Pro. This ensures that your website is up-to-date with all the WordPress updates, security, and features.
Friendly and Quick Support
We're here to address your confusion, questions, or ideas. Contact our friendly and enthusiastic support team through our support ticket and get quick assistance regarding the theme.