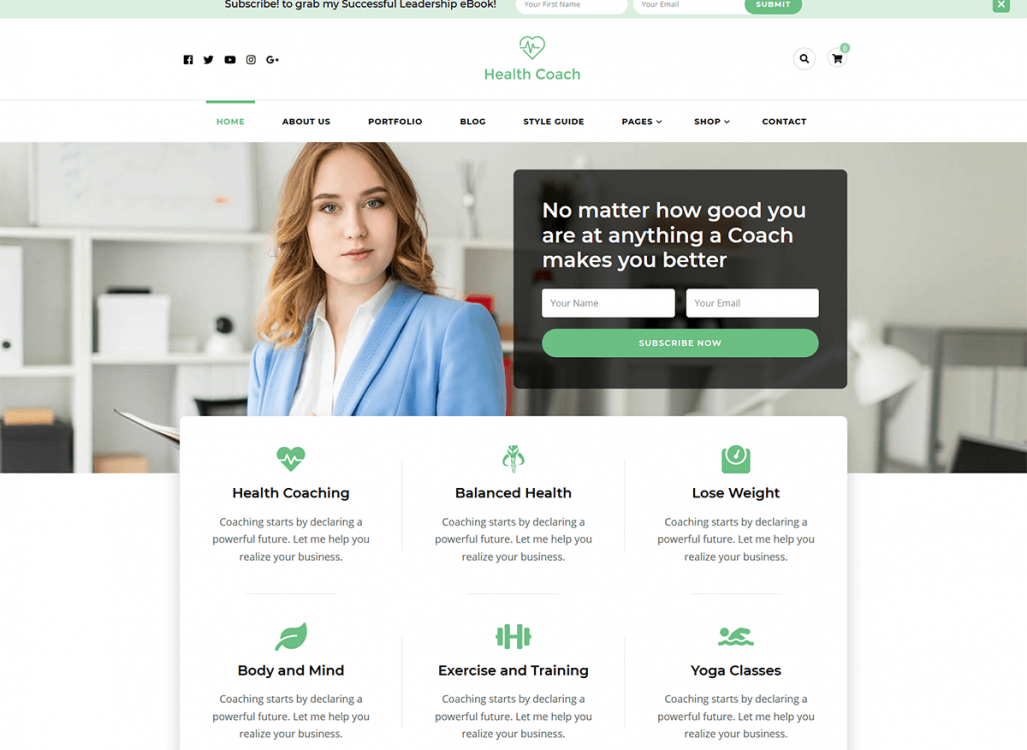 Blossom Health Coach is a child theme of Blossom Coach, our popular coaching WordPress theme, dedicated to health coaches, mentors, life coaches, and influencers.

Blossom Health Coach is a fully responsive, and easy-to-use theme that helps you create a highly converting website. This theme features a strategically placed contact form, call to action button, and newsletter form to prompt the user to take action. It is speed optimized theme that provides a great user experience to your visitors. Furthermore, it is SEO friendly and Schema.org ready that helps your website rank higher in the search engine results.
Blossom Health Free WordPress Theme is for you if:
You are a health coach, medical practitioner, mentor, speaker, and influencer.

You want to create a conversion-focused website without writing a single line of code.

You want a fully responsive, SEO friendly, and speed optimized WordPress theme for free.

You are limited with a budget and don't want to hire a developer to create a website for you.

You don't want to spend hours of work designing and creating a website and want to start your website asap.

You run a web development agency, and your client wants a health coach website in less time.
Features of Blossom Health Coach WordPress Theme
Beautiful Mobile-Friendly Design
With more than 50% of web searches occurring from mobile devices, Google has made mobile-friendliness an essential factor for ranking a website. Hence, it's very important for a website to be fully responsive.

Blossom Health Coach is a fully responsive WordPress theme that displays your website smoothly on any screen sizes. Also, this theme passes Google mobile-friendly test. It provides your visitors with excellent user experience and helps in converting them to customers.
Speed Optimized
Blossom Health Coach is speed optimized theme for better performance. This theme helps your website load within a blink of an eye giving the visitors smooth browsing experience.

Additionally, Speed is a significant factor for ranking of the website as per Google. Hence, with an optimized speed of this theme, your website will rank higher in the search engine results.
Ultra SEO with Schema.org ready code
Outdated SEO optimization can lead your website rank lower than your competitor's website. This is why we have made Blossom Health Coach SEO friendly to help your website rank higher than your competitor's website.

Furthermore, this theme is Schema.org ready which helps the search engine understand your website better and rank higher in the search results.
Custom Site Logo
Give your site a unique identity with the custom logo feature of Blossom Health Coach. This theme easily allows you to add your own custom site logo to your website.
Banner with Slider/Image/Video
Blossom Health Coach features an attractive banner section on top of the website. You can keep an image, video or multiple images to create a slider on the banner section.
Newsletter Form on Banner
You can place an attractive newsletter over the banner section. The over-the-fold subscription form helps you get more leads for your business in a short span of time.
Floating Newsletter on Header
You can grow your email lists with a noticeable subscription form on the top of your homepage. You can add a sticky header newsletter on the top of your website with Blossom Health Coach.
Service Section
List out all the services offered by to your clients beautifully in the service section to attract more customers to your business.
About Section
Create a fantastic introduction about yourself to showcase your brand name in about section. Let your visitors know who you are and why should they take your service with attractive information about yourself.
2 – Call to Action Sections
Make your visitors take action on your website with an attractive call to action section. The beautifully designed and strategically placed call to action sections prompts the user to take action and turn them into customers.
Testimonial Section
People love to read what others have to say about your business. Put up your client's testimonials in the testimonial section and let your visitors know how effective your services are.
Blog Section
Keep your visitors updated with the latest news and stories with the blog section. It will help your visitors come back to your website again and again.
Three Blog Layouts
Blossom Health Coach gives you three blog layout options to make your blog page unique and different. It will be easier to keep the visitors engaged on your website with an attractive blog layout.
Back to Top Button
Blossom Health Coach helps your audience easily navigate to the top of the website with its Back to Top Button. This simple feature enables you to enhance your visitor's user experience and keep them engaged on your website.
Social Media Integration
This theme allows you to integrate and display your social media links on your website. It helps your visitors connect with you on different social media and boost your business engagement. This theme also supports Russian and Chinese social media like OK, VK, qq, and Zing and others.
Last Updated Post Date
Blossom Health Coach allows you to show the last updated post date on the single post pages. It helps your website rank higher in Google as Google prefers to rank newly updated posts in search results.
22 Custom Widgets
Blossom Health Coach comes with 21 useful custom widgets that helps you customize your website. The widgets included in this theme are:
Blossom: Advertisement

Blossom: Author Bio

Blossom: Call To Action

Blossom: Client Logo Widget

Blossom: Contact Widget

Blossom: Custom Categories

Blossom: Facebook Page

Blossom: Featured Page Widget

Blossom: Icon Text

Blossom: Image Text

Blossom: Instagram

Blossom: Pinterest

Blossom: Popular Post

Blossom: Posts Category Slider

Blossom: Recent Post

Blossom: Snapchat

Blossom: Social Media

Blossom: Stat Counter Widget

Blossom: Team Member

Blossom: Testimonial

Blossom: Twitter Feed
4 Post/Page Sidebar layouts
This theme comes with 4 Page/Post sidebar layouts to choose from. You can display a sidebar on your post/page on the right side, left side, full-width or centered content.
WooCommerce Compatible
Blossom Health Coach is fully compatible with the popular WooCommerce plugin. It allows you to sell your products and services via your website creating an online shop. Furthermore, it even helps you accept the payments from your clients via your website.
Widget Ready
This theme comes with ample space for widgets. You can add and manage widgets on your website pages without compromising the design of the theme. You can customize your website as per your wish with the widget ready design.
Typography Option
You can change the primary and secondary fonts of your website with the easy to use typography option of this theme.
Translation Ready
Let the language not create any barriers. Blossom Health Coach is translation ready to help you translate the theme into your regional language.
Easy Legibility
The perfect font type, size, spaces, and contrast of this theme make sure that the content is easy on the eye of your visitors. Blossom Health Coach optimizes the visual appeal of your website to allow your visitors to enjoy your content.
Cross Browser Compatible
Blossom Health Coach is tested on all major browsers. It works seamlessly on the latest version of all popular browsers such as Chrome, Firefox, Safari, IE, and Edge.
RTL Scripts Ready
Write the content in the way you want! Blossom Health Coach supports Right-To-Left (RTL) scripts like Arabic along with other LTR languages.
Easy to Use Customizer
Blossom Health Coach is built over an easy to use customizer. You can customize your website as per your desire with a live preview with the built-in customizer.
Extensive Documentation
Create your coaching WordPress website yourself from scratch with our extensive documentation. We have made an extensive documentation guide about how to create your website with Blossom Health Coach theme without any prior coding knowledge or experience.
Clean Code
This theme is developed with clean, well-organized and commented code following the best coding practices. You can easily edit and customize your website.
Custom CSS
You can easily change and modify the color of a section of your website with this theme. Blossom Health Coach allows you to add custom CSS in its customizer to change or add the CSS effects.
Regular Updates
We update our themes regularly to keep your website safe from vulnerabilities. Also, our updates will keep your site updated with the latest security and technical standards.
Friendly and Quick Support Team
Our friendly and quick support team is always ready to help you solve your issue or answer your questions related to our theme. Contact our support team through our Support Ticket for any queries or questions regarding the theme.
Looking for more coaching themes? Check out our list of top WordPress templates for coaches.