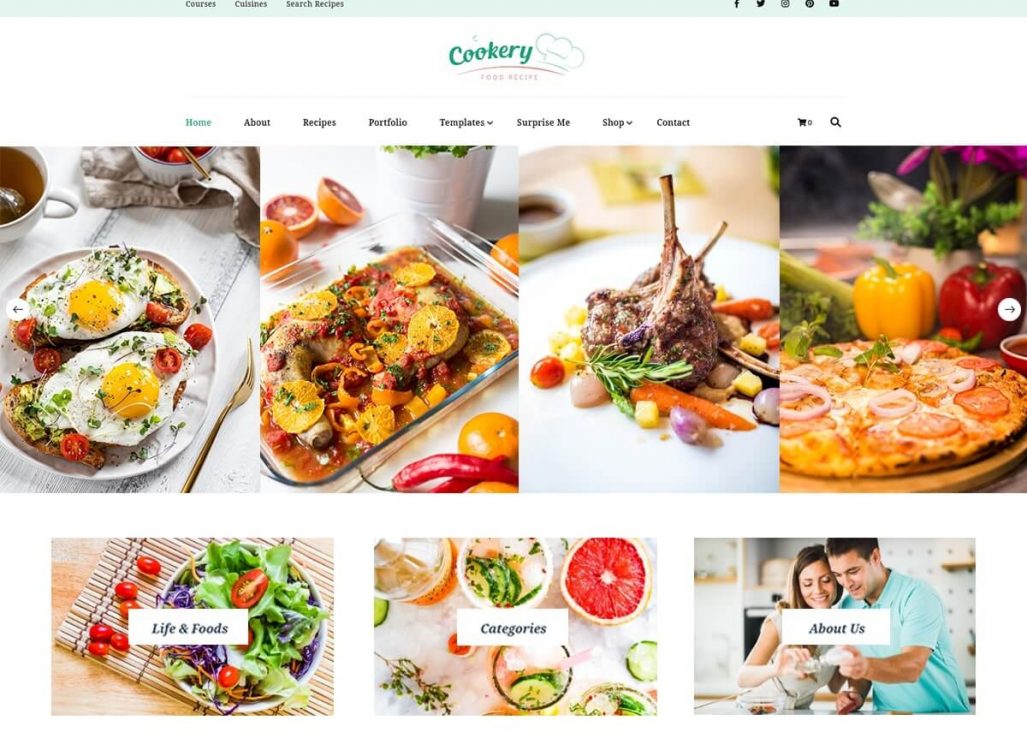 Cookery Lite is a tasteful food WordPress theme with an expert design to boost your lead generation. This free theme is perfect for food bloggers looking to up their blog from alright to appetizing. It has an elaborate set of features that give you everything you need to excel as a food blogger.
This theme is easy to use and boasts a smooth user experience. It has a yummy, elegant design that is mobile-friendly and speed-optimized.
Cookery Lite works together with the powerful Delicious Recipes plugin. This plugin allows you to build your recipes easily with step-by-step instructions. It comes with various features to boost the user experience on your website.
You readers can automatically adjust the ingredient measurements by putting a custom serving size. They can also mark each step as they follow through with your recipes while cooking. This plugin also comes with a quick print button with a gorgeous print template so that your readers can keep a copy of your recipes for later.
The theme helps you gather more followers in a short amount of time. Its SEO-optimized design helps increase your visibility on search engines. Furthermore, it includes strategically placed newsletter forms and gorgeous Call-to-Action sections to optimize your lead generation.
This theme is translation-ready, which means you can easily set it up in your local language.
Cookery Lite WordPress Theme is for you if:
You want a free WordPress theme for your food and recipe blog with a delicate, gorgeous design.
You want a powerful website template for your professional food and recipe blog without writing a single line of code.
You are on a budget and don't want the hassle of getting a developer.
You want to build and share your yummy recipes with your audience in an easy way.
You want a mobile-friendly website that displays correctly on all types of devices.
You want an SEO-optimized, Schema-friendly WordPress theme that can help you get a head start against your customers.
You want to increase your followers quickly with a website that is optimized for lead generation.
You want to personalize your theme with easy customization options easily.
You want quick support from an expert team to solve your WordPress issues.
You want regular updates for future-proofing your WordPress website.
Features of Cookery Lite
Cookery Lite is a free WordPress theme for food bloggers with an eye-catching design. This theme has powerful features that cover all the bases so that you can get a head start on your blogging journey.
Optimized for Lead Generation
Cookery Lite comes with powerful features that can help you generate more leads and quickly build a following. This theme has a spacious design that emphasizes key elements pleasingly.
The theme comes with multiple newsletter sections and CTA sections in key areas. This helps increase the effectiveness of lead generation forms. You also get gorgeous social media feeds to draw visitors to your social media profiles and grow your social media following.
Gorgeous Responsive/ Mobile Friendly Design
About half of the entire global internet traffic originates from mobile devices. So, it is more important than ever to ensure that your website responds appropriately on mobile devices. Cookery Lite comes with a fully responsive device so that users on all types of devices experience your website as it was intended.
The theme also passes the Google Mobile-Friendly Test, which prioritizes your website in Google's search results.
Easy-to-use Theme Settings Panel with Live Preview
This is an easy-to-use theme with a detailed Theme Settings Panel. You can easily make optimizations by going to the right section and changing a few options. The theme comes with a Live Customizer that gives you a real-time preview of changes you make to your website's visuals. It makes customizations super easy as you can preview each change before applying them.
Easily Change Theme Color
Cookery Lite has unlimited color options to personalize your site and match your branding. Create your custom color palette by changing the primary, secondary, background, and other color options.
Choose from 900+ Google Fonts
This free theme comes with a collection of 900+ Google Fonts. You can choose a desired combination of fonts to change the look and feel of your website instantly.
Fully Compatible with Delicious Recipes plugin
Cookery Lite is fully compatible with the Delicious Recipes plugin. You can use this plugin to create your recipes with step-by-step instructions easily. This plugin comes with a host of functions that can boost your readers' user experience. You can showcase your recipes in an easy-to-read format and offer additional details with features such as recipe keys, adjustable servings, nutrition facts box, advanced search, and more.
Beautiful Recipe Card
Use the Delicious Recipes plugin to display cooking instructions in comprehensive recipe cards. These recipe cards are quite handy for showing instructions and valuable information such as cooking time and difficulty.
Step-by-Step Cooking Instructions
The Delicious Recipes plugin allows you to display step-by-step instructions to your recipes. Readers can also find a small checkbox beside every step, which they can mark to track their progress.
Serving-based Ingredients
One of the hassles of following written instructions is adjusting the ingredient measurements to meet your serving size needs. Cookery Lite does this calculation for the readers. They have to enter the serving size, and the measurements are adjusted automatically.
Nutritional Value Chart
As a food blogger, you also want to cater to your health-conscious audience who want to know what they're eating. You can place a nutritional value chart along with your recipes so that your readers can make a conscious choice.
Advanced Filters for Recipes Search
The theme also comes with an advanced search function. Visitors can search through your catalog of recipes using advanced filters based on your labels. They can look for vegetarian recipes, protein-rich recipes, cuisine-specific recipes, and more.
6 Customizable Recipe Widgets
There are six customizable recipe widgets that help you provide a more diverse experience to your visitors. Widgets such as Recipe Categories and Popular Recipes offer varied opportunities to explore your site and find the perfect item.
5 Recipe Page Templates
Cookery Lite offers you 5 Recipe page templates, giving you a choice in how you present your recipes. You can choose the best layout to showcase your recipes and bring a balance between text and media items.
Suggest Recipes to Readers
The Delicious Recipes plugin allows you to place a Surprise Me button. This is a nifty feature that offers a randomized recipe suggestion to your visitors. It is an excellent feature for engagement and showcases the diversity of content you offer to your audience.
Gutenberg Blocks
Delicious Recipes uses Gutenberg Blocks to enable some useful layout elements. Blocks such as Handpicked Recipes and Recipes by Taxonomy help you showcase specific recipes and draw more traffic to those pages.
Print Recipe Option
Your readers may also want to keep a copy of your recipes for future reference. You can make it easier for them to keep an offline reference through the handy Print Recipe button. Cookery Lite comes with an easy-to-read print template allowing your readers to get a print copy of your recipes with a single click of a button.
Instagram and Pinterest Share
Your visitors can also share your recipes on their social media. The theme comes with easy Instagram and Pinterest share buttons allowing your visitors to share the recipes they like easily.
2 Customizable Banner Options
This theme comes with a gorgeous header banner design that can help you make the perfect first impression. You get two banner options to make the most of this valuable area on your website.
Static Image/Video with Call-to-Action (CTA)
Would you attract as many visitors as possible to a particular area on your website? Maybe you have a cookbook that you want to sell or want your readers to visit your About page. Well, you place a Call-to-Action button in the banner section against an eye-catching photo or video background.
Smooth and Attractive Banners as Slider
The banner section is also a great place to showcase your recipes. You can place a smooth slider in the banner section to showcase your latest posts and recipes.
Custom Site Logo with Size Control
The theme provides you with an easy slider to control your logo size. This way, you can easily adjust the size of your logo to fit your header design.
Portfolio Page Template
Cookery Lite also comes with a Portfolio page template to showcase your past projects. Visitors can easily sort through different categories of your portfolio using category tabs at the top of the page. You can use this template to attract clients.
Gutenberg Compatible
Cookery Lite is compatible with the Gutenberg Block Editor. This is a free page builder plugin that allows you to make customizations using block units easily. You can use this plugin to easily customize your site layout and add more functionality by using the right blocks.
Elementor Compatible
You can also customize this theme using the Elementor page builder plugin if you want extended customization features. Elementor gives you easy drag-and-drop functionality allowing you to customize your site completely from the front-end.
Optimized for Speed and Performance
The modern internet audience doesn't have the patience for slow loading speeds. Every second that your website takes to load costs you an increase in your bounce rate. Knowing this, we have designed Cookery Lite to have exceptional speed and performance.
The speed-optimized design of this theme also gives you valuable points in your SEO performance.
Search Engine Optimized (SEO)
As a food blogger, you have the opportunity to draw unique visitors every day through search engines. However, to gain success in your organic traffic, you need to have good search engine visibility. This theme has an SEO-optimized design to help you get a head start on your SEO journey.
Strategically Placed Newsletter Section
This theme comes with strategically-placed newsletter sections that draw the visitors' attention and boost your lead generation. You can increase your following and keep your readers up-to-date about your latest posts and recipes.
About Section to Display Your Bio
There is a gorgeous About section on the homepage that you can use to introduce yourself to new visitors. You can also place a photo of yourself in this full-page section. As a blogger, your branding is based mainly on your personality, and this section design can help visitors get familiar with you.
Unlimited Featured Boxes
The featured section is placed right underneath the homepage banner. This section is useful to draw traffic to key links such as your About page, your Portfolio page, or even your Instagram profile. Cookery Lite supports placing unlimited featured boxes so that you can highlight as many pages as you need.
Featured Recipes Section
The theme also includes a Featured Recipes section where you can showcase select recipes. You can highlight the diversity of content or showcase your specialties this way.
Featured On Section
Gaining the trust of your visitors is an essential aspect of making it as a blogger. You can display your association with established media houses by displaying their logos in the Featured On section. It helps you build your credibility instantly, especially among new visitors.
Display Your Instagram Feed
Visuals are also a key part of being a food blogger. Cookery Lite comes with an Instagram Feed section to display posts from your Instagram profile. You can attract visitors to your Instagram page through the beautiful Instagram feed and increase your social media followers.
Footer Menu
You can also enable a footer menu that shows the same options as the main header menu. This is a useful navigation feature that saves having to scroll up to the top of the page after finishing one article. Visitors can explore other pages directly through the footer menu.
Author Bio on Sidebar
You can display a short bio along with your photo on each page through the Author's Bio widget. The Author Bio widget can be placed on the sidebar so that it displays on every page. It is a great way to boost your brand recognition among new visitors.
Highlight Author Comment
The theme allows you to highlight your interactions in the comment section of each post. It is a helpful navigation feature for those looking for your afterthoughts and answers to readers' queries.
Enable/Disable Automatic Image Crop
You can enable automatic image crop to decrease the size of the images on your site. This is a handy feature that helps to keep your page size low and boost your loading speed. If you want to show the full effect of every image you upload, then you can easily disable this feature to upload photos as they are.
Footer Copyright Editor
The theme also includes an easy Footer Copyright Editor to update your copyright information without hassle. You can also enable the dynamic footer year feature to ensure that the copyright year updates itself automatically.
Social Media Integration
A social media presence is essential for branding and business growth these days. Thankfully, Cookery Lite allows you to integrate your social media profiles across different platforms onto your website.
There is support for Russian and Chinese social media sites, like OK, VK, and Zing.
Built-in SEO Settings
Numerous WordPress elements are favored by search engines when ranking websites. Cookery Lite comes with a handy SEO settings option to enable or disable some of these features to improve your SEO performance. You can add features, such as breadcrumbs and the last updated post date, known SEO factors.
Post Excerpt
Your readers want to know what a post is about before they click on it and start reading. Besides the headline, post excerpts are a great way to summarize posts in the preview box. The theme allows you to show excerpts of up to 100 words in the preview box.
Related Posts of the Category
This feature is quite effective in increasing visitors' stay time on your website. The Related Posts section is displayed on single-post pages to suggest articles similar to the one visitors are reading. You can display related posts based on the same category or tags to keep readers exploring your site's content.
Comment Section Toggle
You can place the comment section right at the end of a post to encourage interaction on your website.
Back-to-Top Button
The back-to-top button is a very useful navigation feature. It is displayed at the bottom of a page and allows visitors to snap to the page's top with a single click.
Widget Ready
You can add any widgets you need to this theme to add the necessary functionality to your website. There are multiple widgeted areas where you can place these widgets to offer a varied experience to users.
22 Customizable Widgets
Cookery Lite comes bundled with a collection of 22 custom widgets that you can use as you please. They support your blogging venture with some valuable functions.
Blossom: Advertisement
Blossom: Author Bio
Blossom: Call To Action
Blossom: Client Logo Widget
Blossom: Contact Widget
Blossom: Custom Categories
Blossom: Email Newsletter Widget
Blossom: Facebook Page
Blossom: Featured Page Widget
Blossom: Icon Text
Blossom: Image Text
Blossom: Pinterest
Blossom: Popular Post
Blossom: Pricing Table
Blossom: Posts Category Slider
Blossom: Recent Post
Blossom: Snapchat
Blossom: Social Media
Blossom: Stat Counter Widget
Blossom: Team Member
Blossom: Testimonial
Blossom: Twitter Feed
Cross-Browser Compatible
Cookery Lite operates correctly on all the popular web browsers like Chrome, Mozilla Firefox, Opera, Edge, and Safari. The theme has been tested on the latest versions of web browsers to ensure full compatibility.
Easy Legibility
This theme uses the perfect combination of fonts, spacing, and other elements to ensure that your site is easily readable and easy to explore.
Schema Friendly
Cookery Lite is a theme with Schema.org integration. It is a valuable SEO feature that lets search engines understand your content better and present it to users in more exciting ways.
RTL Scripts Ready
This theme can easily integrate with right-to-left scripts like Arabic and Hebrew, making it quite versatile and useful for any user.
Translation Ready
You can easily localize this theme and translate it into your local language. Simply upload the required .po file to use it in your relevant language.
Regular Updates with Feature Enhancements
This theme is guaranteed to stay relevant to the feature as we regularly update our themes with the latest features and security patches. Your site will continue to be compatible with the newest WordPress version and support future versions of any plugins and extensions you may use.
Clean Codes
This theme is also designed with developers in mind. We adhere to the best programming practices, making sure to use clean, well-commented codes. You will find it easy to make your way through this theme's coding.
Extensive and Beginner Friendly Documentation
Our themes come with detailed documentation that walks and gives you step-by-step instructions on setting up your site. You can easily install our themes with little to no prior experience with WordPress.
Top-notch Quick and Friendly Support
Our expert support team is always ready to take any query from you. We will offer you prompt support if you ever face any difficulties.