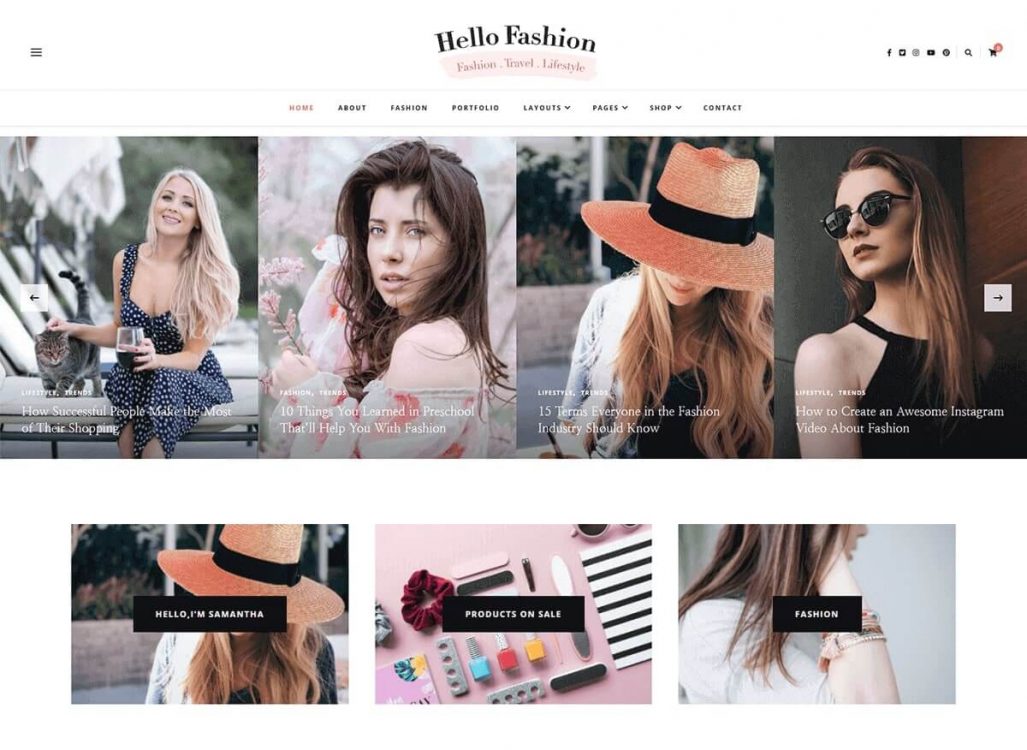 Hello Fashion is a stylish WordPress theme with a captivating design. You can create lively and professional blogs for lifestyle, travel, food, beauty, makeup, coaching, and more. Hello Fashion is also an excellent choice for creating websites to share your pro fashion tips, favorite recipes, and others.
With this blog theme, you can modify your website color and typography to provide your website with your website's unique identity. Additionally, it provides an excellent user experience with its speed-optimization feature.
You also get a mobile-friendly interface with the Hello Fashion child theme. This feature helps your website display with correct dimensions on all screen sizes.
Hello Fashion is SEO-friendly, which helps you rank your website on the top result of search engines without any hassle. It is translation-ready and supports Right-to-Left (RTL) languages. You can also install the WooCommerce plugin to sell products online.
Moreover, Hello Fashion is Google Adsense optimized. It lets you strategically place your advertisements so that you can generate maximum possible revenue.
Types of Blogs You Can Create With Hello Fashion:
Fashion Blog

– Present the latest fashion trends and express your ideas with a gorgeous fashion blog. Showcase your fashion collection to the entire world and encourage your audience to share their style.

Lifestyle Blog

:




Do you enjoy sharing life experiences and giving life-changing tips and advice? Hello Fashion helps you achieve it by helping you design a captivating website. It engages your audiences and makes them want to learn more.

Travel Blog

:




Traveling is an exhilarating experience. You will even find it exciting to share your travel stories and insights with the world. Allow Hello Fashion to design a travel blog so that you can illustrate your travel adventures.

Food Blog

:




Cooking is a versatile form of art. If you love to share your recipes with the world, then Hello Fashion is the one for you. You can create a food blog to write your experiences on diverse cuisines around the world.

Beauty Blog

:




Hello Fashion provides you a platform to share your makeup tips, tutorials, and inspirations. You can create a beauty blog and also promote your merchandise.

Parenting Blog

:




If you want to help other parents with parenting tips, mistakes to avoid, and more, then install Hello Fashion right away. You can share your experiences of being a parent when you create a lovely parenting blog.

Fitness Blog:


Start a fitness blog and inspire your audience to get in the best shape. You can provide fitness tips, weight loss guides, healthy recipe ideas, and other insights. The website visitors will love to hear pro fitness tips from you.

Health Blog

:




Encourage your readers to become their best versions. Hello Fashion helps you provide health tips on your blog. With these insights, your audience will stop letting their busy schedule take over their life.

Self-improvement Blog:
Be the voice of your generation, and guide your readers to upgrade their skills. Uplift your audience to compete with their struggles and get stronger with every step of their life.
Journal Blog:


Writing journals allow us to dive deep into our thought process. These personal entries are exciting, and soon enough, people will want more. Hello Fashion works excellent for starting a journal blog.
Hello Fashion is for you if:
You're aiming to create a striking WordPress blog

without any knowledge of programming.

You desire to start a blog on beauty, travel, food, fashion, lifestyle, parenting, or other areas.

You want to customize your blog quickly (

modify the website appearance in a few clicks

) to get a unique design.

You plan on creating a

fully responsive/mobile-friendly

website that renders on all screens correctly.

You're aiming to include a strategically placed newsletter section to

grow your email subscribers

' list.

You have a collection of eye-catching Instagram posts and want to increase followers with a

built-in Instagram section.

You're searching for a

Schema-friendly

,

SEO-friendly

, and

speed-optimized

WordPress theme.

You want to improve your website visitors' engagement with an attractive

carousel slider.

You seek a world-class and enthusiastic team of WordPress experts ready to help with

one-on-one support.
Features of Vilva WordPress Theme
Let's dive in to see what Vilva has in store for you. Below is a list of Vilva's features that are all you ever need in a WordPress theme.
Easily Change Theme Color
Hello Fashion comes with an appealing color combination. But, you don't want to settle with the default color, do you? That is why it allows you to adjust the theme color to reflect your brand color. You can even change the primary and background colors with a single click.
Gorgeous Responsive/Mobile-Friendly Design
Your website needs to render with correct dimensions on all display devices. Hello Fashion is responsive/mobile friendly that provides the best user experience on all screen sizes.
900+ Google Fonts Library
Get a collection of 900+ Google Fonts with Hello Fashion. Choose the fonts you want or complement your brand. With a perfect combination of fonts, you can attract your readers' attention for a long duration.
Typography Control
Hello Fashion allows you to customize and choose your website's typography as per your preference. You can modify the entire fonts of your site. Picking a perfect font will take your site to an entirely new level.
2 Header Layouts
How do you want to design the header area of your website? With Hello Fashion, you get two header layout options. You can choose the perfect one, which gives a prominent first impression to your audience.
2 Slider Layouts
Hello Fashion provides two layout options for sliders. Having an eye-catching carousel slider on the front page encourages your visitors to interact with your website. Pick the right one that showcases your posts in the most impressive way.
2 Home page Layouts
Do you want to select an ideal template for your front page? If yes, Hello Fashion lets you choose between two homepage layouts. You can go with the one that gives the best appearance to your website.
Convenient Theme Settings Panel with Live Preview
Hello Fashion makes it easy to make changes on your website. It provides a built-in Live Customizer. With this feature, you can modify various elements and get a live preview of your site before making the updates go live.
Well Optimized for Speed Performance
A high-speed website always gives an impressive user experience. Along with excellent user engagement, your site can also rank higher on search engine results. With that in mind, Hello Fashion is well-optimized for a faster page loading.
Search Engine Optimized (SEO)
Search Engine Optimization is clearly the best way to bring more traffic to your website. Hello Fashion includes all the features that you need to rank on the top results on search engines like Google, Bing, and more.
Google Adsense Optimized Advertisement Widget
Hello Fashion comes with a pre-built advertisement widget. This Google Adsense optimized area lets you place ads and monetize your website. You can place your ads in the sidebar or footer area which stays in focus to your reader..
WooCommerce Compatible
Are you planning to run an e-commerce site? If yes, say hello to Hello Fashion. It has a way that helps you set up an online store within your website. This theme supports the WooCommerce plugin that enables you to create and manage an e-commerce store.
2 Customizable Banner Options
Static Image/Video with Call-to-Action (CTA)

Banner as Slider
Static Image/Video with Call-to-Action (CTA)
You get to add a static image with a Call-to-Action button on the banner section. To spice things up, Hello Fashion includes the feature to upload a video as well. Your audience can learn everything about your brand after watching your introductory video.
Smooth, Attractive, and Advanced Banner as Slider
Another option to include in the banner section of your site is to display a carousel slider. It encourages your audience to interact and browse all the latest and popular posts. You can even control the loop, caption, and auto transition features of the slider.
3 Featured Boxes
The front page of this theme includes three featured boxes right below the Banner section. These boxes let you display the crucial pages or categories of your site. It embellishes your homepage and also increases your visitors' interest.
Grow Subscribers with Newsletter Subscription
Are you planning to implement email marketing tactics to grow your audience? If yes, Hello Fashion provides a Newsletter section for this purpose. You can include it on the sidebar, footer, and other areas to increase your email subscribers' list.
Appealing Instagram Section
Instagram is a must-have platform to broaden your audience. Hello Fashion makes it easy to grow your followers with its appealing Instagram section.
Author Bio on Sidebar
Your visitors are always in a rush. So, to introduce yourself sophisticatedly within a matter of seconds, an impressive Author Bio is a must. With Hello Fashion, you can upload your picture, add a short bio, signature, and even link to your social profile.
Enable/Disable Single Post Image Crop
Sometimes your single post images appear cropped to adjust the dimensions. Therefore, Hello Fashion provides a built-in toggle to enable/disable the display of your uploaded images precisely as its original size.
Custom Site Logo
Uploading a custom site logo is the first step to display your brand's identity. This theme lets you upload a custom logo without worrying about its size. It has a built-in logo size control that will allow you to adjust the logo size.
Footer Copyrights Editor
Another way of giving your brand's identity on your website is to edit the footer copyright text. Hello Fashion lets you edit this element to add a personalized text instead of a generic caption.
Social Media Integration
Link your social platforms, like Facebook, Pinterest, Twitter, Instagram, and more with Hello Fashion. It even supports Chinese and Russian social media, such as Zing, OK, and VK.
Built-in SEO Settings
Hello Fashion is not only SEO-optimized but also provides built-in SEO settings. For instance, it displays the last updated date of any post. You can even turn on the breadcrumbs settings, which helps your audience to navigate your website quickly.
Shop Page Settings
An essential setting that Hello Fashion provides is to adjust the Shop Page settings of your site. You can upload a custom image for its background and also include a creative description. It also lets you enable the cart icon in the header area.
Post Excerpt
Do you want to display a summary of your post in the blog feed? Hello Fashion provides the post excerpt feature that displays the summary text before you read the full content. You can even adjust the length of that passage to up to 100 words.
Related Posts of the Category
With this theme, you can show the related posts at the bottom of a single post. With this feature, your audience can continue reading other blogs within the same category. So, it helps you increase engagement on your website.
Back to Top Button
Your website should be as easy as it can be for your audience to navigate. So, whenever visitors want to go back to the top immediately, Hello Fashion provides a Back-to-Top button.
Widgets Ready
Hello Fashion provides an ample of space to include widgets on your website. You can add both the custom and default widgets from WordPress. These widgets add tons of features without compromising your site's appearance.
22 Custom Widgets
Hello Fashion provides 22 custom widgets to include on your website. All of these elements are fully-customizable, easy to add and provide tons of features. Here is the list of all custom widgets:
Blossom: Advertisement

Blossom: Author Bio

Blossom: Call To Action

Blossom: Client Logo Widget

Blossom: Contact Widget

Blossom: Custom Categories

Blossom: Email Newsletter Widget

Blossom: Facebook Page

Blossom: Featured Page Widget

Blossom: Icon Text

Blossom: Image Text

Blossom: Pinterest

Blossom: Popular Post

Blossom: Pricing Table

Blossom: Posts Category Slider

Blossom: Recent Post

Blossom: Snapchat

Blossom: Social Media

Blossom: Stat Counter Widget

Blossom: Team Member

Blossom: Testimonial

Blossom: Twitter Feed
Portfolio Page Template
Are you building a website solely to showcase your creative work? Hello Fashion provides a pre-designed page template for this purpose. The Portfolio page template is perfect since it comes with unique sections and layout to build a strong online presence.
Cross-Browser Compatible
Hello Fashion is compatible with the latest versions of all browsers, like Google Chrome, Firefox, Microsoft Edge, Safari, and more.
Easy Legibility
Hello Fashion provides a perfect combination of font size, type, spaces, and other settings. With these features, your website is more aesthetically pleasing and easy to read.
Schema Friendly
Schema integration helps search engines to understand your website content with ease. With this schema friendly theme, you can improve your chances of ranking high on Google and other search engines.
RTL Scripts Ready
You need an RTL compatible theme if you're targeting a diverse audience. Thankfully, Hello Fashion supports both LTR and RTL languages.
Translation Ready
If your target audience does not speak English, then you have to translate your website. Since Hello Fashion is translation ready, you can create a website in any local language.
Regular Updates with Feature Enhancements
You don't want to get stuck with a single set of features for years. With Hello Fashion, you don't have to. We publish regular updates every once in a while. You also get the latest security patches and essential features for your website.
Custom CSS
Why limit your imagination with finite customization settings of your theme? With Hello Fashion, you can include custom CSS to modify sections with unlimited features. You can even override the default styling of your web template.
Clean Codes
Hello Fashion lets you manually edit the codes to customize your website. Our team of WordPress experts has carefully crafted clean and well-organized codes with proper comments.
Extensive Documentation
The extensive documentation of Hello Fashion makes it easy to set up your website without any hassle. You get step-by-step instructions with screenshots for illustration. With its help, you can build your site in a mere couple of hours.
Video Tutorials
If you think text documentation is not enough, don't worry. Hello Fashion also provides more than seven video tutorials to install and customize your website. Videos make learning much more comfortable and quicker than written files.
Top-notch Quick and Friendly Support
You get a top-notch support system from a team of WordPress experts with Hello Fashion. You can reach out to them with any queries and confusions and get friendly and instant support.