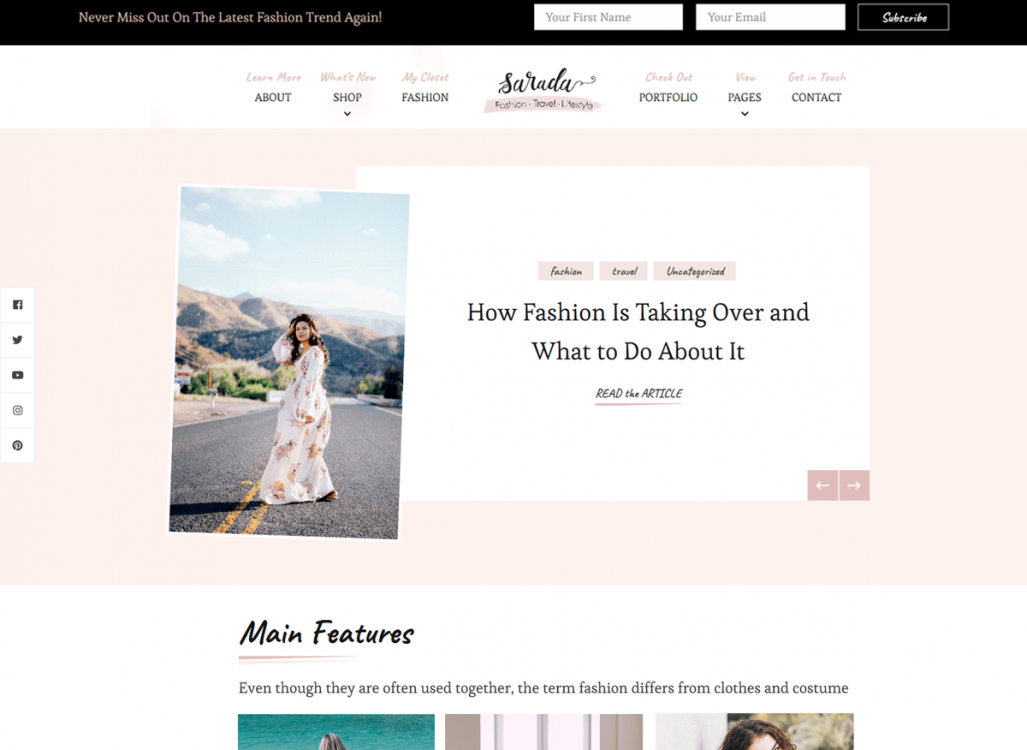 Are you a blogger looking for a professional WordPress theme? If yes, Sarada Lite is the best solution for creating and crafting beautiful professional websites.
Whether you are a Fashion, Travel, Food, Beauty or Lifestyle blogger, Sarada Lite will help your website stand out among your peers.
The best part is Sarada Lite allows you to create a unique and gorgeous website even without any knowledge of coding.
This theme offers easy to use built-in Live Customizer for previewing changes in real-time. With unlimited color options and 900+ Google Fonts, you can style your site that truly reflects your brand and personality.
The strategically placed newsletter section at the top and near the footer will help you grow your subscribers' list. This way, you can build your email list and stay in touch with your visitors.
For the fastest loading of your website, Sarada Lite is speed-optimized.
The mobile-friendly design ensures good readability and smooth user experience even when users are browsing from their phones.
The SEO and Schema friendly features make sure your website ranks higher on search engines.
If you want to reap the benefits of Google Adsense optimization on your website, this theme allows you to place advertisements across your blog. Besides these, the theme is Translation Ready so you can create your website in your native language without any barriers.
Blogs You Can Create With Sarada Lite:
Fashion Blog

–

Share your latest Fashion tips, hacks, recommendations, and connect with thousands of fashion fanatics from around the world. This theme also allows you to be creative and make beautiful sponsored posts.

Lifestyle Blog

– Share your life experiences, rants, tips, and advice with your visitors.

Travel Blog

–

Sarada Lite lets you be the voice for travel role models. Feel free to share your travel tips, experiences, and gorgeous photos/videos from your adventures.

Food Blog

–

Explore and review new eateries or share your favorite recipes through Sarada Lite. Get ready to engage with food lovers!
Beauty Blog

– With Sarada Lite, you can elegantly share your makeup tutorials, tips, and skincare advice. You can also review endorsed products to generate revenue.

Parenting Blog

– Share your parenting tips, experiences, and advice. Be an inspiration to thousands of parents or soon-to-be parents with Sarada.

Fitness Blog

– Share your fitness advice to motivate people to love their bodies and stay fit in a healthy way with Sarada Lite.

Health Blog

– Share your healthy, easy and fun recipes on your blog. Encourage your readers to live their best lives and become the best versions of themselves.

Self-Help Blog

– In this modern era, people aren't aware of mental health. Be a unique voice and encourage your readers to find joy in life. Start this journey with Sarada Lite.

Journal Blog

– Share your random ideas, thoughts, and funny rants. Stand out from the rest with Sarada Lite.
Sarada Lite Is For You If:
You want an attractive WordPress blog

without writing a single line of code

.

You want to start a fashion, lifestyle, beauty, travel, food, or a parenting blog.

You want to easily customize your blog (

change the look and feel in a few clicks

) and have a unique and stylish presence.

You want to get a mobile-friendly and user-friendly website template suitable for all device screens.

Grow your email subscribers

and build your list with strategically placed newsletter section.

Flaunt your Instagram collection

and increase followers with a built-in Instagram section.

Enjoy a

Schema-friendly

,

SEO-friendly

and

speed-optimized

WordPress blog template.

You want world-class, one-on-one support from an enthusiastic team of developers and designers.
Features of Sarada Lite
Easily Change Theme Color
Sarada Lite offers unlimited color options for primary, secondary, and background color. You can choose the color that perfectly reflects your brand and matches your personality.

Choose Fonts from 900+ Google Fonts Library
This theme offers 900+ Google Fonts to choose for your website. Feel free to choose the fonts that match your brand and style to make the best impression on your visitors.
Typography Control
Customize the typography as per your preference. You can choose your favorite font and adjust the font size.
Custom Site Logo with Size Control
The built-in logo size control will allow you to easily adjust your logo size to fit perfectly in the header. No more headache for uploading the perfectly sized logo for your site.
Gorgeous Responsive/ Mobile-Friendly Design
Since Google implemented the Mobile First Indexing approach, it is crucial that your website loads smoothly on all screen sizes. Sarada Lite is fully responsive and mobile-friendly that automatically adjusts as per the screen size.
As more than 50% of the searches are from smartphones, we've made sure your site looks good from every device.
Easy to use Theme Settings Panel with Live Preview
Sarada Lite comes with a built-in Live Customizer that allows you to configure your site settings and preview the changes in real-time. You can get a glimpse of your customizations and make necessary adjustments before publishing it.
Gutenberg Compatible
Sarada Lite is Gutenberg compatible. Use the default WordPress blocks and experiment with them to create a truly unique appearance for your post or pages.
Well Optimized for Speed and Performance
Sarada Lite is optimized for faster loading and better performance. A boost in speed will directly boost your search engine rankings.
Search Engine Optimized (SEO)
With the help of our SEO experts, Sarada Lite is developed with the best SEO practices. The SEO friendly feature will help you achieve a higher ranking in search engines like Google, Bing, Yandex, and more.
Google Adsense Optimized
To help you monetize your blog fast, Sarada Lite is optimized for Google Adsense. You can place your ads using the Advertisement widget to maximize your revenue.
Compatible with WooCommerce
Do you want to build your own store to sell your merch? Sarada Lite will help you achieve it as it is compatible with WooCommerce. Sell and deliver products right from your website without any extra costs.
Notification Bar to Engage Your Visitors
The theme reserves a special spot at the top to display the Newsletter. It catches your visitors attention and helps you generate good leads.
Customizable Banner Options
Smooth and Attractive Banner as Slider
Sarada Lite features an attractive banner slider to display your latest posts or posts from any specific category. It also includes the option to increase the number of slides, slider animation and slider loop control.
2. Static Image/Video with Call-to-Action (CTA)
The static image or a video feature lets you add an image or video with two Call to Action (CTA) buttons in the banner.
Three Featured Boxes
The featured area is located just below the slider with three boxes. You can feature your most important posts, photos, pages or categories that might interest your visitors.
About Section to Display Your Bio
The beautifully designed About section lets you display your bio. Share your short bio to let them know more about you or a welcome message to acknowledge their presence.
Shop Section to Sell or Promote Affiliate Products
If you want to sell your merch or promote any affiliate products, you can easily do it from the shop section on the homepage. This ensures your visitors don't miss out on your recommendations and make a hassle-free purchase.
Grow Your Subscribers with Newsletter Section
Sarada Lite includes a predefined space for placing your newsletter form on the homepage to capture the leads. This grabs your visitors' attention and makes it easier for them to subscribe.
Flaunt Your Instagram Posts
The Instagram section is placed just above the footer. You can easily sync your Instagram posts into your site to grow your follower's list and influence your readers.
Author Bio on Sidebar
With Author Bio widget, you can place your short introduction to display in the sidebar. You can add your photo along with your short bio, signature and link your social media profiles.
Footer Copyright Editor
You can add your personalized copyright message for your website footer.
Footer Menu
The theme also includes a footer menu where you can include Privacy Policy, Disclaimer, Terms and Conditions, and more.
Social Media Integration
Adding social media profiles to your site increases user engagement that's likely to last a long time. You can place such profiles in the header and footer area. Sarada Lite supports Facebook, Twitter, Instagram, Pinterest. Along with those, Russian and Chinese social media apps like OK, VK, Zing, and others, are also supported.
Built-in SEO Settings
Sarada Lite comes with some basic Search Engine Optimization (SEO) settings. You can enable Breadcrumbs and show the last updated date of your post. You may feel it's unnecessary, but it's best for helping your site rank higher on Google.
Post Excerpt
With the post excerpt feature, you can display a summary of your posts. Feel free to choose the length of the excerpt of up to 100 words.
Related Posts Based on Category or Tags
You can display related posts from the same category or tags at the end of every post to keep visitors engaged with your articles.
Comment Section Toggle
By default, the comment section displays at the end of every post, just above the footer. But, in Sarada Lite, you can change the comment section's position and present it at the end of your articles. It encourages your readers to share their opinions easily.
Back to Top Button
Easy navigation adds to a better user experience. Viewers can save their time and easily browse through other posts using The Back To Top button.
Widgets Ready
Sarada Lite has adequate space for placing widgets. You can add and manage as many widgets as you prefer without compromising user experience and design.
22 Custom Widgets
Sarada Lite comes with 22 highly customizable and useful widgets. You can place these widgets in the sidebar and footer areas. The available widgets are:
Blossom: Advertisement

Blossom: Author Bio

Blossom: Call To Action

Blossom: Client Logo Widget

Blossom: Contact Widget

Blossom: Custom Categories

Blossom: Email Newsletter Widget

Blossom: Facebook Page

Blossom: Featured Page Widget

Blossom: Icon Text

Blossom: Image Text

Blossom: Pinterest

Blossom: Popular Post

Blossom: Pricing Table

Blossom: Posts Category Slider

Blossom: Recent Post

Blossom: Snapchat

Blossom: Social Media

Blossom: Stat Counter Widget

Blossom: Team Member

Blossom: Testimonial

Blossom: Twitter Feed
Portfolio Page Template
If you want to share a case study or a portfolio, you can showcase them with the built-in portfolio page.
Cross-Browser Compatible
Sarada Lite is Cross-Browser compatible, which means your site will look great and work seamlessly on all popular web browsers. We have even tested the theme on the latest version of Chrome, Firefox, Edge, and Safari.
Easy Legibility
Sarada Lite is the perfect combination of font type, size, space, and contrast. It ensures your content has excellent readability.
Schema Friendly
Schema is an important ranking factor for higher ranking on search engines like Google. Sarada Lite comes with the best Schema integration practices so that your site index faster by search engines.
RTL Scripts Ready
Sarada Lite is not limited to a few language options. For instance, you can even use right-to-left (RTL) or LTR scripts like Arabic, thus, helping you reach your targeted audience.
Translation Ready
Sarada Lite supports localization so that you can use it in your local language to connect with your local audience.
Regular Updates with Feature Enhancements
Our team of expert developers ensures your site is safe and sound from vulnerabilities with our timely updates. We always make sure our theme:
Is updated with the latest security patches
Meets WordPress standards
Adds essential features to enrich your experience.
Custom CSS
You can write custom CSS to modify some sections as per your preference. It will override the theme's default styling.
Clean Codes
Our developers follow the best practices to write clean, well-organized, and commented codes. If you want to edit codes to make some changes, you can easily do that as well.
Extensive & Beginner Friendly Documentation
Sarada Lite comes with clear and crisp documentation that's easy to follow through. Our team is excellent at listening to users' feedback and incorporating them into writing the best documentation possible.
Top-notch Quick and Friendly Support
Our support team is friendly and always ready to help you. If you run into any inconvenience or have pre-sales queries, please feel free to reach out to us anytime.