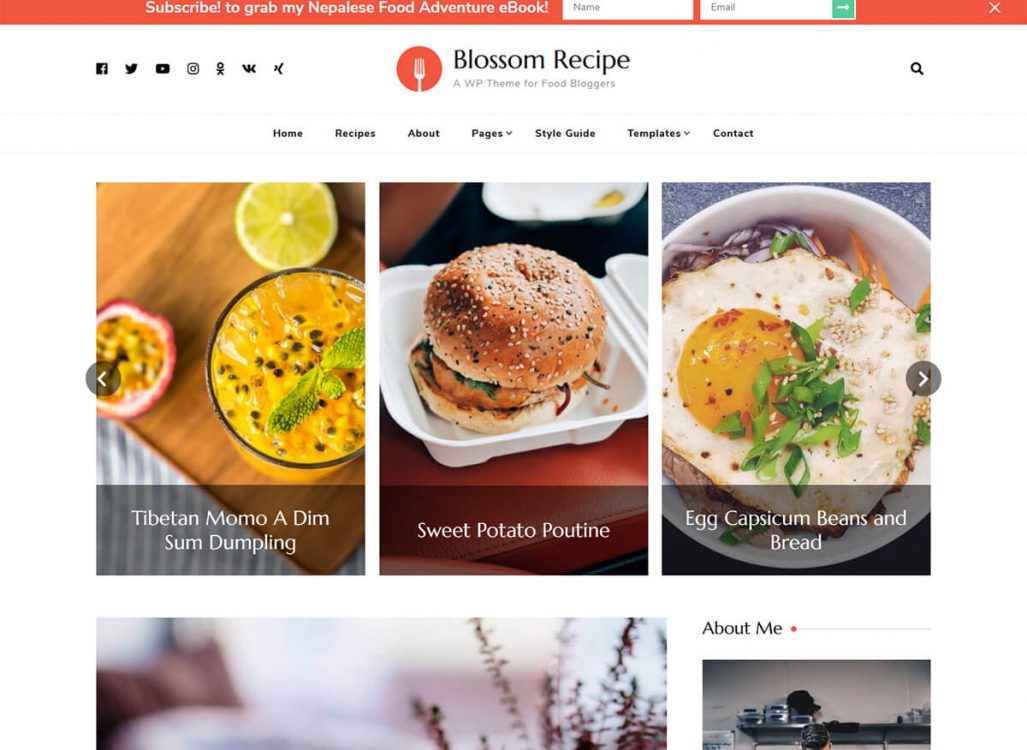 Are you an aspiring food blogger looking to showcase your unique recipes on the perfect website? Are you looking for a gorgeous WordPress theme to revamp your food blog on a budget?
Blossom Recipe is a free WordPress theme for food blogs with an elegant design and powerful features.
This theme is tailored for food blogs. It works with the Delicious Recipes plugin, allowing you to build your recipes with step-by-step instructions easily.
This is a fully customizable theme with easy color options and 900+ Google Fonts to give your food blog a unique look.
Blossom Recipe is an SEO-optimized theme that helps you gain better visibility on search engines. It is also translation-ready, which can help you reach an international audience.
You can provide a smooth user experience to your visitors as this theme is also speed-optimized.
Blossom Recipe WordPress Theme is for you if:
You are an aspiring food blogger looking for the perfect food WordPress theme to support you.

You want a perfect looking WordPress theme to complement your recipes blog.

You want to set up your food blog without writing a single line of code.

You want to set up a website for your blog without the hassle of hiring a developer.

You want a recipe theme that helps you build your recipes easily.

You want a budget-friendly option for setting up your website without compromising on quality.

You want an SEO-optimized blog to quickly rise among the ranks.

You want to provide a seamless user experience to your blog readers with a speed-optimized, mobile-friendly website.

You need quick technical support in the case of any issues with your website.
Features of Blossom Recipe WordPress Theme
Blossom Recipe is equipped with a collection of powerful features that can give you a head start on your food blogging journey. Here is a complete list of its features:
Mobile-Friendly/Responsive Design
Modern websites need to load properly on mobile devices, as around half of all global internet traffic originates from mobile phones. Blossom Recipe has a fully responsive design that adapts to the device's screen size to give the intended effect on all devices.
900+ Google fonts
Most free WordPress themes do not offer many customization options. Blossom Recipe offers you a collection of 900+ Google fonts so that you can instantly change the look and feel of your website.
Built-in Live Customizer
This theme comes with a built-in Live Customizer which gives you real-time feedback on the changes you are making to your website. You can switch up different elements and publish the combination that works best for you.
Fully Compatible with Delicious Recipes plugin
This theme works in tandem with the Delicious Recipes plugin for easily building your recipes step-by-step. The Delicious Recipes plugin has an easy-to-read layout and includes many features that make for an excellent user interface, such as a Quick Print button, serving-based measurements, etc.
Beautiful Recipe Card
There are beautiful recipe card templates that can be used to display cooking instructions in an easy-to-read way. The recipe cards also allow you to add valuable information such as cooking difficulty and preparation time to help your readers find the perfect recipe.
Step-by-Step Cooking Instructions
The Delicious Recipes plugin allows you to build your recipes easily with step-by-step instructions. This is not only an easy way to set up your recipes on your website, but it is also relatively easy for your readers to follow. A small checkbox on the side of each step allows readers to keep track of the instructions they have completed as they cook their way through your recipes.
Serving-based Ingredients
This theme completely avoids the hassle of adjusting the ingredient measurements to fit the readers' serving needs. They can simply choose the desired serving size, and the measurements will automatically be adjusted to fit that requirement.
Nutritional Value Chart
Many of your food blog readers are bound to be health-conscious, and you can support their recipe hunt with a nutritional value chart with each recipe.
Advanced Filters for Recipes Search
A recipes search function with advanced filters allows your readers to search through your entire catalog of recipes using specific filter categories like cooking difficulty, cuisine type, and cooking time. They can also search for specific types of recipes such as vegetarian recipes, protein-rich recipes, and so on. The advanced filters allow your readers to find the perfect recipe that meets their needs.
6 Customizable Recipe Widgets
There are 6 choice recipe widgets that you can add to your recipes that add greater functionality to your food and recipes blog. They help give out additional information and keep your visitors engaged on your page.
5 Recipe Page Templates
You can showcase your recipes most appealingly by choosing from a collection of 5 different recipe page templates.
Print Recipe Option
Readers can print your recipes with the click of a button using the handy quick print button. An elegant print page template is included with the theme to ensure that your recipes are automatically printed in an easy-to-read layout.
Instagram and Pinterest Share
Readers who enjoy your recipes get the opportunity to share them with their friends. Visitors can share your recipes on their social media profiles, including Instagram and Pinterest.
Author Bio on Sidebar
An attractive intro on your blog is essential to build your blog brand. A cool way to do that is through the Author Bio widget. This widget can be placed on the sidebar to display on almost all pages. Alongside a photo and a short introduction, you can also add your signature for a personal touch as well as links to your social media profiles.
Grow your Subscribers with Newsletter
Newsletters are one of the essential ways of generating new leads. Blossom Recipe comes with the custom Blossom Themes Email Newsletter plugin to help build your email subscribers.
Appealing Instagram Section
You can build your following on Instagram by showcasing your yummy Instagram posts directly on your website. Blossom Recipe comes with an appealing Instagram section where you can directly display posts from Instagram and draw visitors to your Instagram page.
SEO Optimized
This theme follows the best SEO practices, which helps you gain a boost in search engine visibility. The theme also has Schema integration, which allows search engines to understand your content better and present them in more relevant results.
Speed Optimized
The bounce rate for any website increases with each second longer than it takes to load. Blossom Recipe has a speed-optimized design to offer a smooth user experience to your visitors and retain a good viewership.
Last Updated Post Date
This theme also allows you to display the last updated date on your blog posts. This shows that your posts are more timely and can boost SEO as search engines prefer the latest articles.
Widget Ready
Blossom Recipe is also a widget-ready theme. There are many widget areas where you can place any number of widgets according to your needs. You can build a rich user experience where visitors get ample choices to explore.
Twenty-six Custom Widgets
Blossom Recipe comes with a plethora of 26 custom widgets to help support your food blogging venture. These range from monetization features to those that help increase your following.
Blossom: Advertisement

Blossom: Author Bio

Blossom: Call To Action

Blossom: Client Logo Widget

Blossom: Contact Widget

Blossom: Custom Categories

Blossom: Facebook Page

Blossom: Featured Page Widget

Blossom: Icon Text

Blossom: Image Text

Blossom: Pinterest

Blossom: Popular Post

Blossom: Posts Category Slider

Blossom: Recent Post

Blossom: Snapchat

Blossom: Social Media

Blossom: Stat Counter Widget

Blossom: Team Member

Blossom: Testimonial

Blossom: Twitter Feed

Delicious: Featured Recipes

Delicious: Popular Recipes

Delicious: Popular Tags

Delicious: Recent Recipes

Delicious: Recipe Categories

Delicious: Recipe Keys
Smooth and Attractive Slider
The homepage includes a gorgeous banner with a slider. You can highlight your latest posts or posts from any specific category. Blossom Recipe allows you to showcase up to 20 different pages from your website in the slider.
You also get detailed control over the slider dynamics such as transition, loop, and caption to craft the perfect banner slider.
Video Banner
You can immediately engage the visitors and immerse them into your food blog experience using a video in the homepage banner background.
Social Media Integration
Social media integration helps you to display our social media links on your website. It is an essential feature for websites and allows visitors to stay updated with your content through their social media. You can also integrate Russian and Chinese social media platforms, such as OK, VK, and QQ.
Sticky Widget
You can enable this feature to make the last sidebar widget sticky. This simple feature can be of great use as you can add lead-generation elements here to increase your conversion, showcase your social media feed to increase your social media followers, and so on.
Posts Excerpt
The theme allows you to display excerpts of upto 100 words in the post preview boxes. This gives readers a better idea of the content in each post and drastically increases user experience and navigation.
Cross-Browser Compatible
Blossom Recipe is tested with the latest versions of all popular web browsers to ensure full compatibility. It is a cross-browser compatible theme tested with the latest versions of Microsoft Edge, Mozilla Firefox, Google Chrome, and Safari.
One-Click Update
You can get hassle-free updates of the latest features and security patches with this theme. It includes a one-click update feature that installs the theme updates within moments.
Footer Credit Options
The theme comes with a Footer Credit Editor, allowing you to update your copyright information in your blog footer easily. There is also a dynamic year function that updates the copyright year automatically, so you have one less thing to worry about.
Scroll-to-Top Button
The Scroll-to-Top button is a handy navigation feature. It takes visitors straight to the top of the page without having to scroll up.
Easy Legibility
Blossom Recipe uses the perfect combination of font types, size, spacing, and contrast to ensure a pleasant reading experience and enhanced readability.
Translation Ready
This theme is ready for localization and can easily be set up in your local language. Simply update the suitable .po files to set them up in your relevant language.
RTL Scripts Ready
This theme works well with right-to-left (RTL) scripts such as Arabic and Hebrew. So, Blossom Recipe is essentially an international theme that can be used in any language.
Regular Updates
All our themes receive regular updates with the latest WordPress features and security patches. Your website is essentially future-proof when you use Blossom Recipe as it continues to be compatible with the latest versions of WordPress and any other plugins you may use.
Clean Code
Blossom Recipe is also perfect for developers who are building a food blog for their clients. We use standard coding practices, which means that our codes are clean and well-commented. You can easily find your way through our codes to customize it according to your needs.
Extensive Documentation
Are you looking forward to setting up your very first WordPress website with the Blossom Recipe theme? We provide detailed documentation with all our themes that walk you through the step-by-step process of installing a theme.
Friendly and Quick Support
If you have any queries or confusion, do not hesitate to contact our friendly support team. Our team of WordPress experts will get in touch with you promptly to solve your issues.