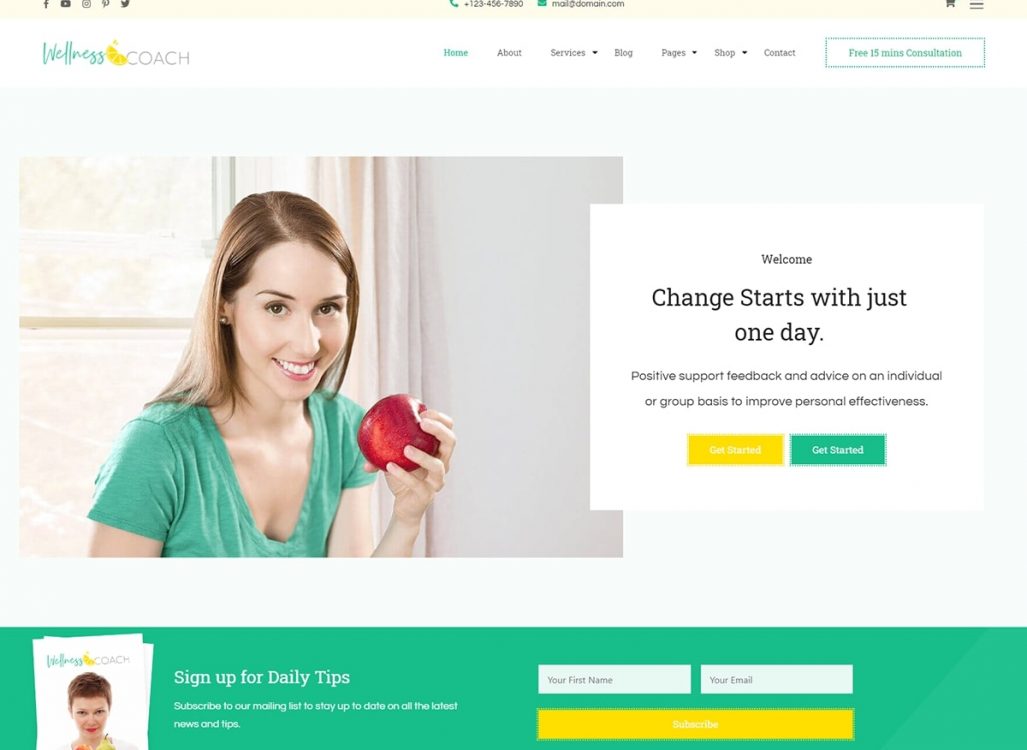 Are you a health coach, therapist, mentor, motivational speaker, or entrepreneur looking to expand your reach?
If so, you will love our Wellness Coach Lite theme!
Wellness Coach Lite theme helps coaches like you create a fully functional website and generate more leads and conversion.
A comprehensive theme with all the features you will need to create your ideal coaching website. Best performance, faster speed, and better SEO are what best define the Wellness Coach lite theme. In addition, the theme ensures a higher ranking of your site on the SERPs, providing you an edge over your competitors.
Wellness Coach Lite is well-designed to fit on any screen without leaving any site pixels behind. You can adjust the theme from its super-easy and intuitive control panel.
Elementor compatibility adds to user convenience while customizing your site. Plus, there are 1000+ Google fonts to choose from. So, you can shape your site as you can imagine.
The theme supports the LMS plugins such as Tutor LMS and LearnDash. Now, you can easily create, manage, sell, and track your eLearning programs on your site.
Similarly, there are distinct sections such as About, Services, Blog, Testimonials, and Contacts. You can use these sections to build credibility amongst your visitors.
If you want more lead generation, Wellness Coach Lite offers strategically-placed newsletter sections with CTAs to grow your email list. Further, this theme is WooCommerce compatible to help you set up an online store.
You can also translate your site's content into various languages with its translation-ready feature.
Other notable features are responsive design, easy legibility, and social media integration.
Wellness Coach Lite is for you if:
You want a hassle-free experience of building a website.
You want to build a professional website for coaching, mentoring, or consulting.
You want lead-generating landing pages to engage your visitors and generate leads.
You want a versatile theme that easily adapts to your changing needs.
You want a fully customizable theme that you can adjust as you want.
You want a mobile-friendly website that renders perfectly on all screen sizes.
You want to grow your subscriber's list using the strategically placed Newsletter Section.
You want to increase your Instagram followers using the Instagram Section.
You want your site to be SEO-friendly and Schema-ready.
You want expert technical support at your rescue when you need it.
Features of Wellness Coach Lite
Wellness Coach Lite is a powerful theme with everything a coach could need to build a decent site. It offers multiple customization options and top-notch features that make you feel right at home without writing even a single code. Let's look at those features of Wellness Coach Lite:
2 Customizable Banner Options
Wellness Coach Lite offers two unique customizable banners that you can use to highlight important elements.
Static Image/Video with Call-to-Action (CTA)
The more CTA options a theme has, the better it is to increase the conversion rate. Wellness Coach Lite has a straightforward option that lets you add a static image or video to your banner. You can also attach two CTA buttons and add a few sentences briefly describing your business.
Smooth and Attractive Banners as Slider
Adding sliders to your banners is an effortless way to enroll visitors. You can add slides of your latest posts and categories on these sliders. Further, you can experiment with advanced controls such as loop, animation, and more.
Gorgeous Responsive/ Mobile Friendly Design
Google loves mobile-friendly websites and ranks them higher than those which are not. Our experts have considered this fact and designed Wellness Coach Lite to be responsive and mobile-friendly. The theme has passed the Google Mobile-Friendly test, meaning your site will look radiant on any screen, no matter the size.
Easy-to-use Theme Settings Panel with Live Preview
You can gain access to every small to large setting from the theme settings panel. You can now personalize your entire website from one place. The theme gives you a live preview of how your site would look in the front-end so that you don't have to go back and forth from the control panel.
Choose from 1000+ Google fonts.
If you like having more options on the site's looks, how about the option of over 1000 Google fonts? Does that sound interesting? Wellness Coach Lite lets you choose from a wide range of fonts so that you can match your site with your brand. Also, our developers update the font library frequently, so the options keep on increasing.
Typography Control
You can adjust the primary and secondary font styles and their sizes to bring out the best look for your site.
Custom Site Logo with Size Control
Upload a custom logo for your site and elegantly display it on your site. You can also adjust its size to fit perfectly on your header. This way, your site's logo is the first thing your viewers will notice.
Sell Courses with LearnDash and Tutor LMS
If you want to sell your courses on your site, Wellness Coach Lite makes it possible. It is fully compatible with the popular LMS plugins such as Tutor LMS and LearnDash. Now, you can create, sell, manage, and also track your courses from your site.
WooCommerce Compatible
WooCommerce compatibility lets you sell your courses, add merchandise products, create services packages, and much more. Plus, you could add various payment getaways. Your site becomes a fully functioning online shop with such a feature.
Gutenberg Compatible
The innovative Gutenberg editor lets you easily add blocks to your site and arrange them however you want. If you are not happy, simply delete the blocks with a few clicks.
Elementor Compatible
Elementor is a popular WordPress Builder that makes building websites a cheesecake that you will enjoy thoroughly. Our theme offers full compatibility with the Elementor. Now, you can easily build your site from the ground up using the user-friendly drag-and-drop interface.
Optimized for Speed and Performance
A laggy website is not only an instant turn-off for your visitors but also for the search engines. That is why we have optimized Wellness Coach Lite for speed and performance. Your visitors can enjoy a smooth browsing experience increasing the chance for conversions.
Search Engine Optimized (SEO)
All website owners want more traffic on their sites. But, how do you get more traffic? By making it SEO-ready, that's how. Wellness Coach Lite practices the best SEO to make sure your site lands on top spots than your competitors, thus increasing the traffic.
Strategically Placed Newsletter Section
Gain more subscribers on your site with the help of strategically placed newsletter sections. This theme places your newsletter in the prominent spots of your homepage to gain attention and make your viewers more likely to subscribe.
About Section to Display Your Bio
Let your audience know more about you and your business using the About section. Here, you can add details about yourself, your website, and your business. You can also add your bio and images with CTAs.
Client Logo Section
Use the carousel slider to showcase your previous clients' logos or sites where you've been featured. Showing your affiliation with multiple brands and customers helps build trust amongst your new visitors.
Featured Area Section
The Featured Area Section is a noticeable segment on your site. Use this section to add your products and services. You can also feature important content that you want to highlight. It can be your upcoming events, latest posts, and more.
Services Section
Introduce your services and add details about them in the dedicated Service Section. You can add as many services as you want and link them to a detailed page to provide more information.
Call-to-Action (CTA) Section
Encourage and guide your visitors to engage with your services/business using the CTA section. You can add multiple CTA buttons here, such as signing up for your session, subscribing to your newsletter, purchasing your courses, and many other actions.
Testimonials Section
Treasure the positive reviews of your previous customers in the Testimonials section of the homepage. This helps build trust among your new visitors and also establishes credibility for your site and services.
Blog Section
Blogging is an effective way to promote your business. Using the Blog Section, you can engage your visitors with your latest events, posts, stories, and more.
Contact Section
Add your business phone number, email, and physical location in the Contact section to let your visitors easily reach out to you.
Display Your Instagram Feed
The built-in Instagram feed helps increase your social presence. You can easily integrate your Instagram profile on your website. This is also effective in increasing your followers both on Instagram and your site.
Portfolio Page Template
Arrange all your projects to date in the neat Portfolio Page Template. You can add your work and arrange them based on different categories and topics.
Footer Menu
The Footer Menu adds to the users' convenience when browsing your site. This way, when the visitors finish browsing your homepage till the end, they can navigate to other pages using the footer menu. This puts an end to the need to scroll all the way up, thus saving time and increasing browsing convenience.
Author Bio on Sidebar
Inserting an author bio on the sidebar helps make your site more professional. You can add your business details, signature, social media links, CTAs, and more.
Highlight Author Comment
Make your posts more engaging by highlighting the author's comment. It instantly grabs attention, and your visitors can know the author's response without even entering the post.
Enable/Disable Automatic Image Crop
Neat Image and structuring are a signature of a professional and well-managed website. With our automatic image crop feature, your images are automatically adjusted before displaying them on your site.
You enable or disable this feature with a single click. If you need a full-sized image, there is an option to turn this feature off as well.
Footer Copyright Editor
Own your site and edit its footer to match your brand. For example, you can add copyright text, credits, and mentions on your footer.
Social Media Integration
Integrate multiple social media platforms on your site and promote your business. Apart from Instagram, you can also link your site with Facebook, Twitter, Pinterest, and other social sites. Moreover, you can also add links to Russian and Chinese social networking sites, such as VK, OK, Zing, and more.
Built-in SEO Settings
Wellness Coach Lite prioritizes advanced SEO practices to help you secure a higher rank on SERPs (Search Engine Results Pages). Plus, you can also tweak some additional SEO settings in the Wellness Coach Lite.
Post Excerpt
Build anticipation among your visitors by displaying up to 100 words summary about each of your posts. This post excerpt lets your visitors know what the post is about without even clicking on it. It drives them to read the topic in detail, thus increasing visitors retention and engagement.
Related Posts of the Category
After your visitor finishes browsing through a post, display other posts of a similar category at the end. This helps increase user retention on your site without much effort.
Comment Section Toggle
Toggle on the comment section on your blog post and encourage visitors to provide their feedback. A sleek way to increase their engagement on your site.
Back-to-Top button
Another way to improve the browsing experience on your site is by adding a back-to-top button. It takes your visitors straight up to the header section with a single click. They don't have to manually scroll all the way up and thus, save time.
Widget Ready
There are several widget areas in this theme. You can add widgets to add functionality to your website without disturbing your site's aesthetics.
22 Customizable Widgets
You get 22 customizable widgets in this theme that add functionality to your site. Here are each of them:
Blossom: Advertisement
Blossom: Author Bio
Blossom: Call To Action
Blossom: Client Logo Widget
Blossom: Contact Widget
Blossom: Custom Categories
Blossom: Email Newsletter Widget
Blossom: Facebook Page
Blossom: Featured Page Widget
Blossom: Icon Text
Blossom: Image Text
Blossom: Pinterest
Blossom: Popular Post
Blossom: Pricing Table
Blossom: Posts Category Slider
Blossom: Recent Post
Blossom: Snapchat
Blossom: Social Media
Blossom: Stat Counter Widget
Blossom: Team Member
Blossom: Testimonial
Blossom: Twitter Feed
Cross-Browser Compatible
Wellness Coach Lite is designed to be compatible with any web browser. Thus, your site is ready for guests from any web browser – Safari, Chrome, Opera, and Mozilla Firefox.
Easy Legibility
This theme makes sure to optimize your site with enhanced font size, font space, and other readability factors. It promotes site clarity so that your viewers can read your content without any difficulty to their eyes.
Schema Friendly
Our schema-friendly theme increases your chances to land higher than your competitors. The Scheme.org markup assists search engines in understanding your site better, thus making the indexing much precise and better. As a result, your site snatches a top spot on the SERPs.
RTL Scripts Ready
Looking to engage Middle East audiences who use Right-to-Left (RTL) language? Wellness Coach Lite is RTL scripts ready so that you can promote your content in RTL languages such as Arabic, Persian, Hebrew, and others.
Translation Ready
No language is a barrier with our translation-ready Wellness Coach Lite theme. You can translate your site's content into any language and entertain users from any language and region.
Regular Updates with Feature Enhancements
Our developers are constantly working to push updates frequently so that your site is always up-to-date. These updates help your site run optimally and keep up with new WordPress versions. We also ensure bug fixes, timely features enhancements, additional features, and security upgrades.
Clean Codes
Our theme is a complete package with everything you could need to build a coaching site. However, you can also add your codes and design your website as you need. This theme offers well-organized clean codes such as HTML, CSS, PHP, and JavaScript so that anyone with coding knowledge can customize their site on their own terms.
Extensive and Beginner Friendly Documentation
Are you new to WordPress themes? Don't worry. Our extensive documentation will help any level user get acquainted with the theme and guide you step-wise on building an elegant site. This documentation is 100% beginner-friendly, so you don't have to scratch your head.
Top-notch Quick and Friendly Support
If you have any theme-related problems or queries, our expert support team will make you feel right at home. Feel free to reach out to them. They will help you out regarding any issue with the Wellness Coach Lite. With us, you are always in good hands.