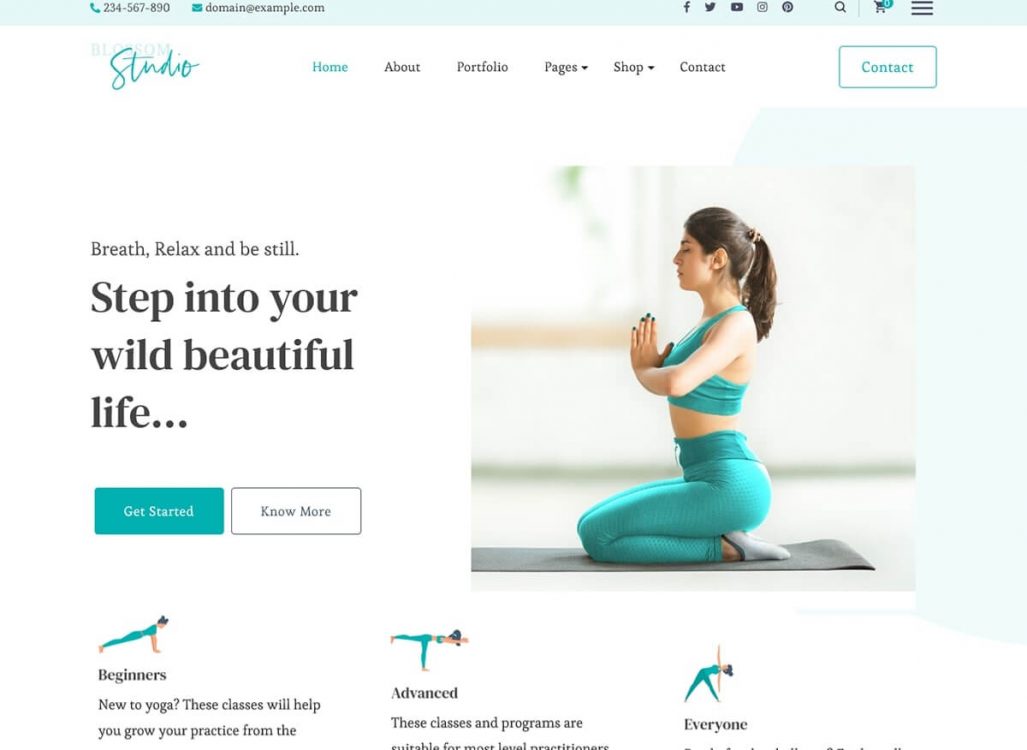 Blossom Studio is a lead-generating WordPress theme to showcase your yoga, dance, and meditation studio. This is a free theme with a premium feel and great customization features. This theme allows you to perfectly sell and showcase the services offered by your yoga studio, meditation center, dance studio, wellness retreat, and other businesses.
Blossom Studio is the perfect tool to boost your business in the digital world because its distinct look makes you stand out. Also, there's a spacious homepage design with numerous information sections to build your brand. This theme is SEO-optimized and Schema friendly which helps improve your search engine visibility.
This is a fully mobile-friendly theme that adapts itself to the visitors' screen size, offering the perfect user experience to visitors on all kinds of devices.
Blossom Studio also comes with powerful lead-generation features, including multiple Call-to-Action sections that draw visitors to key areas and bring you more business.
This free theme comes with great customization options at no extra cost. There are 1000+ Google fonts to change the look and feel of your website instantly. You can also use page builder plugins, including the Gutenberg Block Editor and Elementor, to customize your layouts with easy drag-and-drop motions.
Blossom Studio is for you if:
You want a feature-packed WordPress theme for your yoga, dance, or meditation studio.
You want a complete website for your business without writing a single line of code.
You want to set up a business website with a premium feel without breaking the bank.
You want an SEO-optimized theme that helps you improve your search engine visibility.
You want a website that attracts new leads and increases your business.
You want an easily customizable theme that can be easily configured to meet your brand needs.
You want a mobile-friendly website that translates perfectly to mobile devices and offers a seamless user experience to visitors.
Fast loading speed is essential to you, and you want engaging design without sacrificing the user experience.
The confidence of a dedicated support team made of WordPress experts is essential to you.
Features of Blossom Studio
Blossom Studio is a free WordPress theme with a spacious design. This theme comes with a robust set of features to support you in succeeding in your goals. This theme allows for a great user experience, easy customization, and effective lead generation. Here are all the features of Blossom Studio to help you achieve your goals:
Pre-Made Multiple Unique Layouts
Blossom Studio comes with multiple layout options that can help you drastically change your visitors' user experience. There are different layout options for key areas, including the header and the blog section.
2 Header Layouts
Two different header layouts affect the arrangement of your header elements. You can emphasize the header layout that complements your business logo and meets your needs.
2 Customizable Banner Options
Blossom Studio also comes with two different banner options to draw the visitors' attention. The banner area is a valuable part of your homepage where you can place catchy media items and other elements to make a first impression and engage the visitors.
Static Image/Video with Call-to-Action (CTA)
The theme comes with the option to place a Call-to-Action (CTA) button in the header banner. The CTA button is a key tool for boosting your website's engagement and generating new leads. You can place an attractive CTA button on top of an image or video background, making things even more exciting.
Smooth and Attractive Banners as Slider
You can also set up a slider in the banner area. This is a great way to boost the visibility of your posts. Blossom Studio allows you to display new banners automatically based on your latest posts. If you want, you can choose a specific category from which to display the slides.
Some basic slider controls help you craft the perfect slider animation.
Gorgeous Responsive/ Mobile Friendly Design
These days, a mobile-friendly website is a must to cater to half of the internet population that visits the internet from smartphones. You do not want to lose any prospective clients who visit your website from their phones just because your website is not fully responsive. This theme has a responsive, mobile-friendly design that translates perfectly to all screen sizes.
This theme also passes the Google Mobile-Friendly Test, which gives your website a boost in search engine rankings.
Easy-to-use Theme Settings Panel with Live Preview
Blossom Studio is easy to customize and configure. It comes with an easy-to-use Theme Settings Panel which includes options to control any function without writing a single line of code. The Live Customizer included in the Theme Settings Panel allows you to preview any visual changes you make before making it live.
Choose from 1000+ Google fonts
This free theme also comes with a massive collection of 1000+ Google Fonts that allow you to set a distinct look for your website immediately. The font library is also regularly updated with new fonts to get more choices over time to experiment.
Choose the perfect combination of fonts for an easy read.
Custom Site Logo with Size Control
This theme gives you a simple and easy fix to get a logo that fits the header design. There is a nifty size controller for your site logo. Once you upload your logo, you can simply use the size controller with a slider to fit the size of the logo to the header design.
Gutenberg Compatible
The Gutenberg Block Editor is a versatile new page builder tool from WordPress. This theme uses block elements to add new functionality to websites. It can also be used for customizing your layouts quite easily. You can customize your Blossom Studio website using the Gutenberg plugin.
Elementor Compatible
Blossom Studio is also compatible with the popular Elementor page builder plugin. This is another excellent option for meaning any drastic changes to your website. What's more, this plugin is amazingly intuitive, and you can easily move theme elements around using simple drag-and-drop motions.
LearnDash and Tutor LMS Compatibility
With Blossom Studio, you can easily create courses and sell them to your visitors. The theme is compatible with popular LMS plugins like LearnDash and TutorLMS. You can launch your courses with ease and build your audience.
Optimized for Speed and Performance
This is a speed-optimized WordPress theme packed with many different features that help give your visitors a lightning-fast user experience. Various tools such as lazy loading are included in this theme to help boost your loading speeds.
Search Engine Optimized (SEO)
Research has shown that 93% of all online experiences start with a search engine. Organic traffic, which is the traffic that originates in search engines, is one of the major sources of income for digital brands. Blossom Studio is an SEO-optimized theme that helps you get a boost in your search engine rankings.
The theme also includes Schema integration, which allows search engines to understand your content better. Schema allows search engines to display your site in more relevant results, helping boost the chances of visitors.
Display Course Levels
The Course Levels is a unique and quite effective information section on your homepage. This section displays the various levels of programs you offer, which appeals to both the newbie and the expert. You can use icons and hyperlinks to attract the visitors' attention and help them choose the best course for their needs.
About Section to Display Your Bio
Branding is a big part of maintaining an online presence. You can tell a little bit about yourself and your story in the About section of the homepage. You can place text, some photos of you, and even a personalized section. This helps build new visitors' familiarity with your brand.
Unlimited Featured Boxes
The featured area is another key homepage section, right under the banner area. This section draws the visitors' attention, and the featured area is typically reserved for key links — you can place links to your About page, your online store, or your Instagram page. Blossom Studio allows you to place unlimited featured boxes to highlight any number of key pages or links.
Multiple Call-to-Action Sections
Blossom Studio is a lead generation theme. This theme is crafted with specific features to help you generate new leads and increase your business. So, there are multiple Call-to-Action sections with catchy designs included with this theme. This helps draw the visitors' attention and divert them to key areas of your website like your online store or your studio programs page if you have one.
You can use the multiple CTA sections as opportunities to convert curious visitors into customers.
Testimonials Section
Of course, trust is another major factor in building a successful business and crafting a successful online presence. There is no other way to do that as reliable as through testimonials. The theme comes with a Testimonials section where you can display happy reviews from clients.
Featured On Section
Another way of establishing your credibility is to display your association with reputed organizations and showcasing your media appearances. The Featured On section is built just for that. You can place logos of organizations you have worked with or reputed media houses that have featured your business.
Blog Section
Content marketing is a highly suitable marketing tool for fitness and meditation studios to establish their online presence. By giving many helpful tips related to your business niche, you can gain a dedicated online following, leading to new business. This theme comes with a Blog included as a standard to get started with your blog immediately.
Sell Your Merchandise with Shop Section
Blossom Studio even comes with a Shop page template. You can use the WooCommerce plugin to set up an online store on your website and start selling products. The Shop page template included with this website allows you to get started immediately.
Strategically Placed Newsletter Section
There are multiple newsletter subscription forms placed in different areas in dedicated sections. The theme has placed newsletter sections strategically to boost their visibility and draw visitors' attention to the forms. This feature helps increase your mailing list quicker.
Display Your Instagram Feed
The social media platform Instagram is a visual medium and is particularly suited for fitness and meditation studios. This theme allows you to display posts from your Instagram page directly onto your website. This adds some variety to the content on your website and also attracts visitors to your Instagram page.
The Instagram feed also includes a Follow button on the side so that interested visitors can follow you on the platform with the click of a button.
Portfolio Page Template
You may also launch other business products or packages as part of your studio health/mediation studio business. The Portfolio page template can be helpful at that point to showcase any significant projects related to your services. Potential clients can peruse your Portfolio page and get assured about the quality of your work.
Footer Menu
The footer menu is a nifty navigation feature that allows visitors to move to other pages of your website directly from the bottom of a page. The footer menu displays your main navigation menu in the footer as well so that visitors don't have to scroll to the top of a page to find it.
Author Bio on Sidebar
The Author Bio widget is another valuable tool for branding. This widget occupies a small area in the sidebar yet allows you to display a catchy introduction to yourself using some text, images, social media links, CTA buttons, and even a personalized signature.
This element can be displayed on most pages since this is a sidebar widget, which helps boost your brand recognition.
Highlight Author Comment
You can also highlight the author's comment on any blog post. This is useful for readers who are perusing the comments section for any additional comments or suggestions made by the post's author.
Enable/Disable Automatic Image Crop
You can enable the automatic image crop function to reduce the size of your pages without much manual work. This feature automatically crops all images you upload to your website to perfectly suit the need. This way, your images stay at a small size, reducing the load on your server and helping your pages load faster.
Footer Copyright Editor
The Footer Copyright Editor is an easy-to-use tool that allows you to edit your copyright information easily. The theme also comes with a dynamic footer year shortcode that automatically updates your copyright year.
Social Media Integration
You need to have social media profiles for your brand on all major social media platforms for developing a good digital presence. Blossom Studio supports social media integration, allowing you to add links to your social media profiles to your website. This helps draw your website visitors to your social media pages and increases your social media following.
This theme is also compatible with Russian and Chinese social media networks, including OK, Zing, and QQ.
Built-in SEO Settings
Blossom Studio has an SEO Settings section in the options panel that allows you to toggle various WordPress features known to improve SEO performance. These features include breadcrumbs, which improves navigation across your website, as well as the Last Updated Post Date, which makes your posts appear more recent and thus more prioritized by search engines.
Post Excerpt
You need to display post excerpts in the post preview box to give visitors an idea of what each post is about. Blossom Studio allows you to choose the excerpt length of up to 100 words. This makes it more likely for visitors to click on a post.
Related Posts of the Category
The Related Posts section in the Single Post page allows you to suggest readers with other posts that may be related to the current one. This is a great way to increase visitors' stay time on your website. You can automatically set up the Related Posts section to display custom suggestions based on the same category.
Comment Section Toggle
You can enable the comments section to display at the end of a blog post to encourage your readers' interaction. The comments section is also a great way to gain feedback from your readers and give suggestions back to them.
Back-to-Top button
The Back-to-Top button is displayed at the bottom right of the screen when visitors start to scroll down any page on this theme. It is an essential navigation feature that snaps visitors directly to the top of the page. It avoids having to scroll endlessly to reach back to the top of the page.
Widget Ready
Blossom Studio is also a widget-ready theme that supports any third-party widgets. You can add any widgets you need to your website based on your needs. Integrate them into the many widgeted areas on the theme and set them up in any desired order.
22 Customizable Widgets
Blossom Studio is bundled with 22 highly customizable widgets that support your business with numerous essential functions. You can use these widgets to monetize your website, generate leads, and present key information to potential customers in various ways.
Blossom: Advertisement
Blossom: Author Bio
Blossom: Call To Action
Blossom: Client Logo Widget
Blossom: Contact Widget
Blossom: Custom Categories
Blossom: Email Newsletter Widget
Blossom: Facebook Page
Blossom: Featured Page Widget
Blossom: Icon Text
Blossom: Image Text
Blossom: Pinterest
Blossom: Popular Post
Blossom: Pricing Table
Blossom: Posts Category Slider
Blossom: Recent Post
Blossom: Snapchat
Blossom: Social Media
Blossom: Stat Counter Widget
Blossom: Team Member
Blossom: Testimonial
Blossom: Twitter Feed
Cross-Browser Compatible
Blossom Studio is a cross-browser-compatible theme that is tested on the latest versions of all major web browsers. This theme is fully compatible with Edge, Mozilla Firefox, Google Chrome, Safari, etc.
Easy Legibility
Blossom Studio uses expert design cues that combine the perfect combination of fonts, font styles, and spacing to give visitors an easy, seamless reading experience. Your visitors will effortlessly skim through the information presented through this theme in an eye-catching way.
Schema Friendly
Blossom Studio is a Schema-friendly WordPress theme. Schema integration helps search engines understand your website's content better and display them in more relevant searches. Schema.org markup also allows search engines to display your content in more exciting ways, such as information snippets.
RTL Scripts Ready
Blossom Studio is the perfect choice for you if your business region uses a language with Right-to-Left (RTL) scripts. This theme supports RTL scripts such as Hebrew and Arabic. The theme supports RTL scripts while keeping the layouts as they are.
Translation Ready
Blossom Studio is also a translation-ready theme that you can easily set up in your local language. You can simply upload the right .po file to translate your website into your local language.
Regular Updates with Feature Enhancements
All our themes are updated regularly with the latest feature trends as well as security patches. Your website is essentially future-proof when you use our themes. The regular updates ensure that your website is safe from the latest security threats and stay compatible with future versions of WordPress and any other WordPress tools you may use.
Clean Codes
If you are a developer and prefer to work directly with code, Blossom Studio is the right theme for you. We use the best coding practices while designing our products. So, you will find only clean and well-commented codes that are easy to work around.
Extensive and Beginner Friendly Documentation
Our themes are also beginner-friendly. All our themes include detailed documentation that walks you through the step-by-step process of setting up your website. You can understand the instructions provided in the documentation without experience with WordPress. You can set up your very first WordPress website on your own by simply following the instructions.
Top-notch Quick and Friendly Support
If you come across any issue or confusion, we encourage you to reach out to us. Our support team of WordPress experts will reply to you promptly to solve your problems.