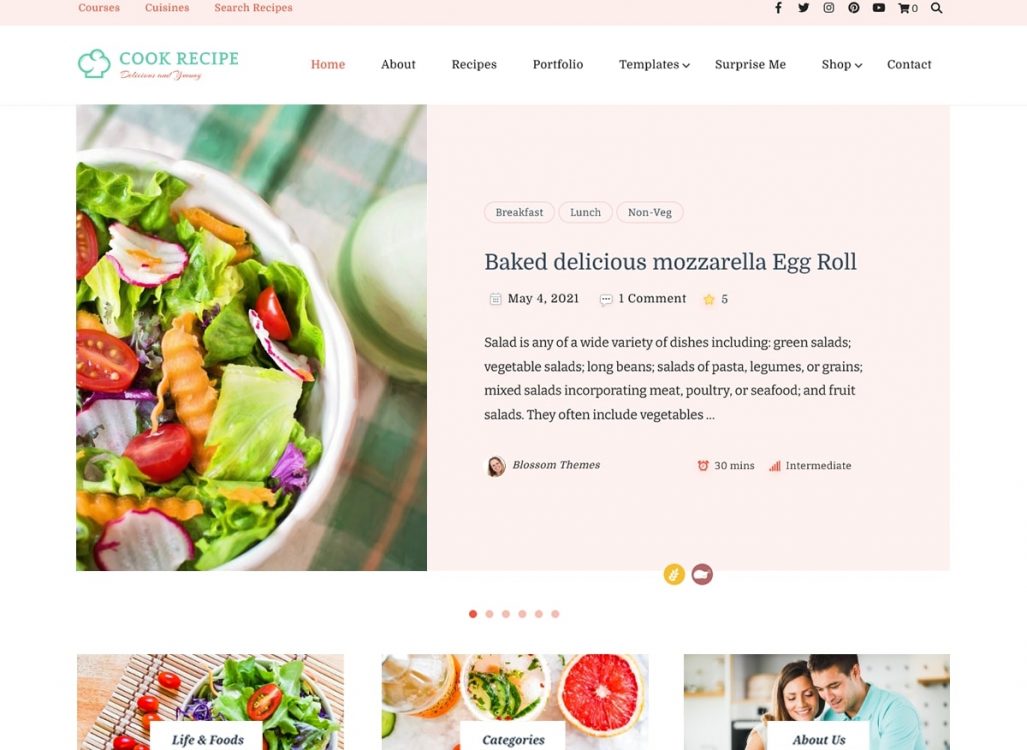 Cook Recipe is an elegant WordPress theme for food and recipe blogs. This theme is a perfect choice for aspiring bloggers. Its sleek design will give a professional impression and give an excellent user experience to your readers.
You can use this theme for different types of blogs like fashion, lifestyle, parenting, beauty, and travel.
Cook Recipe comes equipped with the essential tools you need to make it as a blogger. It includes effective lead generation elements like strategically placed newsletter sections.
This theme works together with the Delicious Recipes plugin making it easy for you to build your recipes. You can create step-by-step instructions for your recipes with amazing features such as serving-wise measurements, an advanced search bar, and more.
Cook Recipe is optimized for the best performance. It helps you achieve great loading speeds and gives you an SEO boost with its SEO optimization features. This theme is fully mobile-friendly as well, which makes it compatible with all screen sizes.
This theme also supports localization to any language, including Right-to-Left (RTL) scripts like Arabic.
Cook Recipe WordPress Theme is for you if:
You want a gorgeous WordPress theme to build your food and recipe on a budget.
You want to build an amazing website without writing a single line of code.
You are serious about making it as a blogger.
You are looking for an eye-catching website template for feminine style blogs like lifestyle, travel, parenting, and beauty blogs.
You need an SEO and speed-optimized website that can perform great out of the box.
You want an easily customizable WordPress theme to meet your branding needs.
You need lead generation elements to build your online following quickly.
Quick technical support is important for you.
You want a future-proof WordPress website that receives regular updates.
Features of Cook Recipe
Cook Recipe is a free WordPress theme with an amazing look and great features. This theme is the perfect choice to start your food blogging journey as it is easy to read and comes with a polished design that attracts the readers.
Here are all the features that come with this free theme.
Optimized for Lead Generation
Cook Recipe is designed for the blogger looking to get serious. This theme comes with powerful lead generation elements to quickly increase your followers and bring more attention to your products and services.
This theme is packed with gorgeous newsletter subscription forms that catch the reader's attention. You can also increase your social media following with dedicated social media feeds that attract visitors to your social media profiles.
Gorgeous Responsive/ Mobile Friendly Design
This theme can easily adapt itself to all screen sizes. So, you can give an amazing user experience to your visitors, regardless of the kind of device they are using — from laptops and tablets to smartphones. Your website will display in just the way it is intended.
The theme also passes the Google Mobile-Friendly Test, making Google favor your website more in its search results.
Easy-to-use Theme Settings Panel with Live Preview
The theme comes with a detailed Theme Settings Panel with a comprehensive list of theme options. You can easily configure this theme according to your requirements from the easy-to-use Settings Panel.
The theme also includes a Live Customizer which gives you a real-time preview of any changes you make to your website. So, you can check the effects of any visual changes before publishing them.
2 Header Layouts
This free theme also comes with two different header layouts. You can choose the one that best matches your brand logo, and prioritizes the header elements that are important to you.
2 Slider Layouts
You can set up a sleek slider in the banner section of your website. Use the slider to showcase some of your top recipes or key pages on your website in an interactive space. Cook Recipe offers you two slider layouts to choose from.
Easily Change Theme Color
The theme color is an essential way in which you can customize your website. Cook Recipe allows you to choose between unlimited color options to meet your branding needs. You can change the appearance of your website by customizing the primary, secondary, and background color options.
Choose from 900+ Google Fonts
Instantly change the look and feel of your website by choosing the best font. Cook Recipe gives you a library of 900+ Google Fonts to choose from, so you have no shortage of choices. These fonts are also updated regularly so you get new choices over time if you want to revamp your website.
Fully Compatible with Delicious Recipes plugin
Use Cook Recipe with the Delicious Recipes plugin to create your recipes in an easy and intuitive manner. This plugin gives you a distinct edge over your competitors with features that improve your readers' user experience. Delicious Recipes allows you to adjust measurements according to servings and add elements such as Recipe Keys, Nutrition Box, and more.
Beautiful Recipe Card
The Delicious Recipes plugin includes an elegant, easy-to-read recipe card design. You can display the key information about any recipe in the recipe cards in an easy-to-understand way.
Step-by-Step Cooking Instructions
Use the Delicious Recipes plugin to build your recipes easily with step-by-step instructions. The plugin also displays a checkbox besides each step that readers can tick off as they go, which helps them keep track of the steps.
Serving-based Ingredients
The plugin will automatically adjust the measurements of the ingredients according to the serving size, which eliminates a major hassle for your readers. This feature alone should be enough to make you dear to your readers.
Nutritional Value Chart
You will cater to a wide variety of readers through your food blog. You can add a nutritional value chart to all your recipes to cater to your health-conscious readers.
Advanced Filters for Recipes Search
The theme comes equipped with an advanced recipe search function. There are some detailed filters that your readers can use to find the perfect recipe to meet their needs. You can create micro criteria, such as protein-rich recipes or vegetarian recipes and sort your recipes into various cuisines.
Your readers will later be able to sort through your recipes using the search filters and find the perfect recipe.
6 Customizable Recipe Widgets
You also get 6 customizable recipe widgets that allow you to provide some important features for your readers. These widgets include Recipe Categories and Popular Recipes, among others. These widgets help you create more opportunities to explore your website and content.
5 Recipe Page Templates
The way you display your recipe is an important factor that defines your readers' user experience. So, Cook Recipe theme comes with 5 different recipe page plugins that offer various layouts in which to display your recipes.
Suggest Recipes to Readers
You can also automatically suggest other recipes to your readers once they are done going through one recipe. This is a very useful feature that can drastically increase your readers' stay time on your website.
Gutenberg Blocks
The Delicious Recipes plugin uses customizable Gutenberg Blocks to offer some important features. Blocks such as Handpicked Recipes allow you to showcase some specific recipes and drive traffic to certain content.
Print Recipe Option
The recipe page includes a nifty Quick Print button that allows your readers to print your recipes for later reference with just a single click. An attractive print page template is included with the theme to ensure that the printed recipes have an intuitive layout.
Instagram and Pinterest Share
Cook Recipe also allows your readers to share your recipes on their social media directly. Your recipes are displayed with share buttons to Instagram and Pinterest, making sharing your recipes quite easy.
2 Customizable Banner Options
You can make a great first impression by choosing one of two customizable banners. You can set up the banner section with a custom image and text to personalize it for your brand.
Static Image/Video with Call-to-Action (CTA)
The banner section also supports video background, making for an even more engaging first impression for new visitors. You can place a Call-to-Action (CTA) button in the banner section to draw visitors to desired areas, such as your Recipes page.
Smooth and Attractive Banners as Slider
You can also set up a slider in the banner section and highlight multiple images from your blog or showcase multiple posts or recipes from your blog.
Custom Site Logo with Size Control
It is very simple to adjust your site logo to fit the header design. The theme includes a simple slider option to change the size of your site logo in the header.
Portfolio Page Template
Are you looking to impress some potential clients to other business ventures? Maybe you just want to establish your credibility for new visitors. Whichever it is, Cook Recipe comes included with a gorgeous Portfolio page template where you can display your best works and past projects.
Gutenberg Compatible
Do you wish to customize this theme to add in some more customizations? Well, Cook Recipe supports the Gutenberg Block Editor, which allows you to customize WordPress websites easily using block units.
Elementor Compatible
This theme is also compatible with the Elementor page builder. This plugin is really easy to use and allows you to make front-end customizations using simple drag-and-drop motions.
Optimized for Speed and Performance
You lose a great amount of traffic for every second more that your website takes to load. Load speed is a very important factor in maintaining a low bounce rate. This theme is designed with speedy performance in mind and can help you provide a speedy user experience to your visitors.
Search Engine Optimized (SEO)
Cook Recipe is also a search engine optimized theme. You can get a head start on your SEO journey by using this theme.
Strategically Placed Newsletter Section
Strategically placed newsletter sections attract the visitors' attention and increase your newsletter sign-up rate. The newsletter section design of this theme helps you generate more leads.
About Section to Display Your Bio
Branding is essential for you to make it as a blogger. The About section is a big part of the homepage where you can introduce yourself, your brand and build a connection with the reader.
Unlimited Featured Boxes
You can place important links such as your Instagram page or your cookbook sales pages in the featured area. This area is quite prominent and can draw a lot of traffic. With Cook Recipe, you can highlight as many links or pages as you want in the featured area with unlimited featured boxes.
Featured Recipes Section
You also get a Featured Recipes section to showcase the top recipes on your website. You can use this section to showcase the variety of recipes you have on offer or simply showcase your most popular recipes.
Featured On Section
As a content creator, you need to establish your credibility and gain the trust of your readers to build your following. Showcasing your collaborations with established brands and media houses is a great way to do that.
The Featured On section provides the opportunity for you to display the logos of media organizations that have featured you in their reporting.
Display Your Instagram Feed
Cook Recipe also comes with a gorgeous full-width Instagram section to showcase your Instagram posts. This is a sure-fire way to increase your Instagram followers as you can attract your website readers with your beautiful Instagram photos.
Footer Menu
This theme allows you to display your main navigation menu in the footer section. This is a nifty feature that improves navigation on your website, as visitors don't need to scroll up to the top to find the menu.
Author Bio on Sidebar
The Author Bio widget is a great tool to boost your brand recognition. You can display a short introduction to you in the sidebar of your website, visible on most pages. You can personalize this widget by placing your photo, your signature, as well as your social media links.
Highlight Author Comment
You can also highlight comments by the author of a post on your website. This is a good navigation feature that is useful for readers who want to see any additional remarks made by you in the comments section.
Enable/Disable Automatic Image Crop
This theme includes the option to crop the images that are displayed on your website automatically. It reduces the size of the image and increases load speed across your website. If displaying the images in their original look is essential to you, you can easily disable this feature from the Theme Settings Panel.
Footer Copyright Editor
You can easily update the copyright information provided in the footer section with the simple Footer Copyright Editor. There is also the option to enable dynamic copyright year, which updates the copyright year automatically.
Social Media Integration
An active social media presence is essential for any brand to thrive in the digital space. You can build your social media following by directly placing links to your social media profiles on your website.
Cook Recipe integrates with most of your social media profiles, including Facebook, Twitter, and Instagram. This theme also supports Chinese and Russian social media sites like Zing, VK, and QQ.
Built-in SEO Settings
You get control over several WordPress features that can help improve your SEO performance. The Theme Settings Panel comes with an easy SEO tab where you can toggle WordPress features such as breadcrumbs and the last updated post date. These features are known SEO factors and can help you boost your visibility on search engine results.
Post Excerpt
Readers are more likely to click on a post if they know what it is about. Post excerpt gives readers a preview of the article. Cook Recipe allows you to display post excerpts of up to 100 words in the preview box to improve the user experience.
Related Posts of the Category
You can suggest other posts to readers that are similar to the one they are browsing right now. This is a great feature that can increase your visitors' stay time on your website. You can suggest similar posts by displaying other posts of the same category or using the same tags.
Comment Section Toggle
You can enable or disable the comment section to appear at the end of every post, depending upon your preferences.
Back-to-Top Button
The Back-to-Top button is a single button that instantly snaps visitors to the top of the page without having to scroll.
Widget Ready
Cook Recipe is a widget-friendly theme with ample widgeted areas to add more functionality. This theme supports most widgets out there, so you can add more functions to your website according to your needs.
22 Customizable Widgets
This free theme supports your blog with a collection of 22 powerful widgets. These widgets help you in critical areas such as monetization, branding, and lead generation, among others.
Blossom: Advertisement
Blossom: Author Bio
Blossom: Call To Action
Blossom: Client Logo Widget
Blossom: Contact Widget
Blossom: Custom Categories
Blossom: Email Newsletter Widget
Blossom: Facebook Page
Blossom: Featured Page Widget
Blossom: Icon Text
Blossom: Image Text
Blossom: Pinterest
Blossom: Popular Post
Blossom: Pricing Table
Blossom: Posts Category Slider
Blossom: Recent Post
Blossom: Snapchat
Blossom: Social Media
Blossom: Stat Counter Widget
Blossom: Team Member
Blossom: Testimonial
Blossom: Twitter Feed
Cross-Browser Compatible
Our themes are all tested with popular browsers to ensure that they run smoothly on all platforms. Cook Recipe has been tested on browsers such as Chrome, Mozilla Firefox, Opera, Edge, and Safari to ensure full compatibility.
Easy Legibility
Perfect choice of typography styles, spacing, and other visual elements have been used to create a design that is easy to read and fun to explore.
Schema Friendly
This theme comes with Schema.org integration, which helps search engines display your website in more relevant results and more exciting ways.
RTL Scripts Ready
You can comfortably use this theme with Right-to-Left scripts such as Arabic and Hebrew.
Translation Ready
Cook Recipe is a translation-ready theme that you can easily localize to your language. You just need to upload the right .po files to translate this theme to your local language.
Regular Updates with Feature Enhancements
We update all our themes regularly with feature updates and security patches. This ensures that your website stays compatible with the future versions of WordPress and all the other tools that you may use.
Clean Codes
Cook Recipe is a developer-friendly theme built using clean codes. We adhere to the best programming practices, so all of our themes have clean, well-organized codes that developers can easily understand.
Extensive and Beginner Friendly Documentation
Newbies can easily use this theme without extensive training. All our themes come with detailed documentation that give step-by-step instructions on how to install and configure them. You can set up and start using this theme with no prior experience in WordPress.
Top-notch Quick and Friendly Support
Got any queries or confusion? We encourage you to reach out to us. Our team of WordPress experts is ready to answer all your queries promptly.