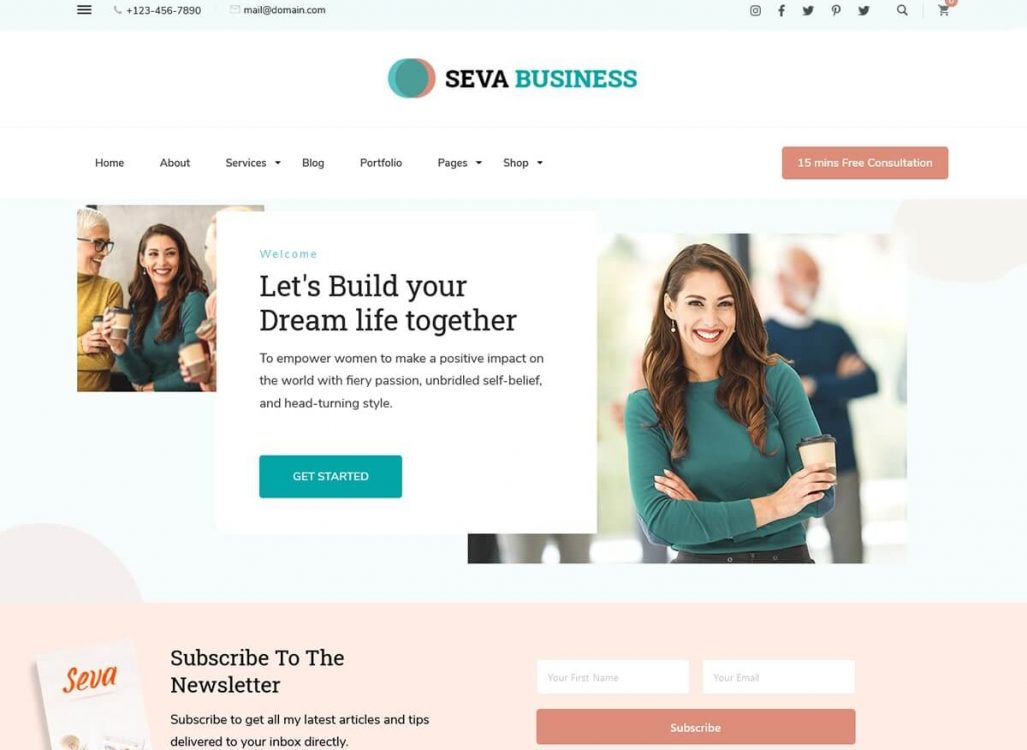 Are you a business owner, entrepreneur, coach, consultant, or therapist passionate about growing your business, generating more leads, and boosting your revenue? If yes, we have just the right theme that will help you out.
Your business can grow to new heights using the Seva Business theme that's easy-to-use, powerful, and super-customizable. All without the need to code!
Seva Business is fully responsive across, meaning all your site elements display appropriately on any screen size. Modernized with built-in SEO and speed optimization, your site lands well above your competitors.
The theme supports LMS plugins, such as LearnDash and Tutor LMS. For tutors, coaches, and motivators, it's good news as they can now create, track, manage, and sell their courses online.
Promoting your brand, products, services, and blogs is much easier with Seva Business, thanks to the several predefined sections. The testimonials and contact sections are especially helpful to earn trust and credibility among your visitors.
Seva Business makes customization a breeze for users of any level. The Elementor and Gutenberg compatibility allows you to adjust your site and its elements with a simple drag-and-drop interface. Plus, the live customizer offers a live preview, so you know what you are doing.
There are 1000+ Google fonts and several typography options to change the look and feel of your site. Also, 22 different customizable widgets improve the functionality of your site. Rest assured your visitors will have a great time on your site.
Coming to the lead generation, Seva Business features Customizable Banners with CTA buttons, a strategically-placed newsletter section, two CTA banner layouts, a CTA section, and social media integration. Likewise, the WooCommerce compatibility comes in handy to create an online store easily.
Other noteworthy features of Seva Business are translation-ready, RTL-script ready, widget-ready, easy navigation and top-notch 24/7 customer support.
Seva Business is for you if:
You want a flexible and efficient website to boost your business.
You want to save the cost of hiring a professional to set up your site.
You want to display your products and services in captivating layouts.
You want a fun and effortless customization experience.
You want a mobile-friendly website that is ready to provide a smooth browsing experience.
You want to sell your coaching programs and courses on your website.
You want to generate more leads on your website.
You want a fast-loading website that provides a better user experience to visitors.
You want professional one-to-one support from our WordPress experts.
Features of Seva Business
Seva Business is a top-notch theme to uplift your business in no time. It packs several customization options and user-friendly features for you to experiment with and bring out the best look for your site. Let's dive deep into what this theme has to offer:
2 Customizable Banner Options
Your site's banner is probably the first thing that visitors notice. Seva Business takes that gesture into account and offers two customizable banner options to set up a striking first impression among your visitors.
Static Image/Video with Call-to-Action (CTA)
Generating leads is much easier with the Seva Business theme. Simply add your Call-to-Action (CTA) buttons to your banner and leave the rest to the theme. Also, you could top it up a notch and add an image or a video to the CTA banner.
Smooth and Attractive Banners as Slider with Advanced Controls
Highlight your blogs and important website sections using attractive banner sliders. You can adjust the slider as you need using its smooth and advanced control.
2 Header Layouts
Seva Business has two gorgeous header layouts that grab your visitors' attention right away. It is a perfect spot to add your main product, service, or important updates regarding your business. This way, you never miss giving a striking introduction to your new visitors.
2 Banner CTA Banner Layouts
Want your visitors to engage with your business easily? Seva Business has two attractive CTA banner layouts for you to add your CTA and gain leads without breaking a sweat.
Gorgeous Responsive/ Mobile Friendly Design
Seva Business makes sure to render your website pixel-perfect on any screen size and device. Be it mobile phones, tablets, or desktops; this theme is ready for them all. It has passed the Google Mobile-Friendly test as a guarantee of a smooth user experience.
Easy-to-use Theme Settings Panel with Live Preview
Every theme tweak is available right on the theme's settings panel. The settings are easy to use and straightforward. Moreover, the live preview gives you a peek at how your site looks on the front end without leaving the settings panel.
Configuring your site has never been this fun and easy.
Choose from 1000+ Google Fonts
Decorate your site elements with any font you want. There are over 1000+ Google Fonts in the package, and the list keeps on growing with our new updates.
Typography Control
Do you want to make your site as different and eye-catching as possible? Well, tune in to the typography control and adjust the primary and secondary font to match your brand and style. You can also adjust the sizes as you want.
Custom Site Logo with Size Control
Take pride in displaying your custom site logo on the header. You can control the logo size using simple slider control.
Sell Courses with LearnDash and Tutor LMS
Are you a motivator, coach, or consultant? If so, you can sell your courses on your site using the LearnDash and Tutor LMS plugins.
Gutenberg Compatible
Seva Business is fully compatible with the Gutenberg Block Editor. This means editing your site just got easier and more fun. You can add as many blocks as you need, arrange the elements, and remove the blocks as you prefer.
Elementor Compatible
Do you want more freedom when customizing your page elements? If so, Seva Business offers seamless compatibility with the Elementor Page Builder. Now, you can adjust your site with the drag-and-drop interface.
Optimized for Speed and Performance
With optimum speed and performance, Seva Business offers the best user experience on your site. If you admire fast-loading websites, you will love Seva Business.
Search Engine Optimized (SEO)
Our developers are some of the best minds when it comes to SEO. They have portrayed their expertise in crafting Seva Business to boost your website's ranking on all of the major search engines.
Strategically Placed Newsletter Section
Want to grow your subscriber's list? Seva Business has a strategically placed Newsletter section so that you gain more subscribers without putting in hard effort.
About Section to Display Your Bio
Add a few lines of introduction about yourself and your business in the About Section of the homepage. This way, new visitors can help you know you and your business better. Moreover, it makes your site seem professional.
Client Logo Section
You can show your connection and affiliation with other established brands in the Client Logo Section. This helps increase your credibility and gain your visitors' trust.
Services Section
Showcase all your services in one place using the dedicated Services Section. You can include a short description of your services along with featured images to grab attention. You could also add CTA buttons for your visitors to engage with your services.
Call-to-Action (CTA) Section
An easier way to gain leads and conversions is by adding multiple CTA buttons. In Seva Business, you get a dedicated CTA section on your homepage where you can add CTA buttons. You can use this section to direct your visitors to your products and services page.
Testimonials Section
How about adding some of your happy clients' statements to your websites? You can add them in the testimonials section to earn the trust of your new visitors.
Blog Section
Seva Business features a dedicated Blog Section to accommodate your top blogs or the important ones. It is an effortless way to engage your visitors with minimal effort.
Contact Section
You can use the Contact section to add your contact number, email, location, and social media links of your business to your website. It helps visitors get in touch with you.
Display Your Instagram Feed
Want to display your Instagram feed on your website? Seva Business takes care of it with its dedicated Instagram Section. You can link your site with your business's Instagram profile.
Moreover, adding a Follow Me button helps increase the follower's list on your Instagram as well as your website.
Portfolio Page Template
Make your site seem professional by adding your successful projects and ventures in the Portfolio Page Template. You can add your portfolio with the grid layout and also arrange separate pages for each venture.
Footer Menu
You can add your website's menus to the footer as well. This way, your visitors don't need to scroll all the way up. It improves the navigation experience for your visitors, thus, proves to be a user-friendly feature.
Author Bio on Sidebar
Don't shy away from personalizing and displaying your bio on the sidebar. You can improve it by adding a custom image, signature, and link to your social media profiles.
Highlight Author Comment
You can set your site to display the author's comment below each post. It makes it easier for your visitors to read your response to previous queries on your website.
Enable/Disable Automatic Image Crop
The Automatic Image Crop is an efficient feature that adjusts your images and makes it all even. This adds to a well-organized and visually appealing website look. In Seva Business, you have the option to enable and disable this feature based on your needs.
Footer Copyright Editor
We have added a simple yet noticeable Footer Copyright Editor to the theme. With this feature, you can add and edit your website's copyright information. It adds a professional touch to your site.
Social Media Integration
Seva Business makes sure to increase your online presence with Social Media Integration. You can link your site with various social media sites such as Facebook, Twitter, Instagram, Tumbler, and more. You can also expect to gain more followers and visitors to your site with this feature.
Built-in SEO Settings
Another built-in feature to boost your site's SEO is the breadcrumbs and the last update dates. You can toggle on these features to help your site perform better on search engines.
Post Excerpt
Post Excerpt is an excellent feature to give a peek at your content to your visitors. You can show excerpts of up to 100 words to give them an idea about the content inside. A smooth way to build anticipation and motivate visitors to click on the content to view more.
Related Posts of the Category
Promote more user engagement by feeding more related posts to your visitors after they finish going through one. This feature automatically suggests posts and content related to the same categories to your viewers.
Comment Section Toggle
Allow your viewers to leave their comments on your posts. Such a feature promotes user engagement on your site. You can adjust the comment section position as you want. It lets your readers share their opinions quickly.
Back-to-Top button
Your visitors no longer need to scroll all the way up to the top. We have added a back-to-top button that offers effortless navigation aid to your visitors. Now, they can quickly get to the top of the page with a click and save their browsing time.
Widget Ready
Seva business is a widget-ready theme with tons of areas to add functional widgets. By adding widgets, you can improve the functionality of your website and even assure a better browsing experience for your visitors.
22 Customizable Widgets
We have packed 22 customizable widgets in Seva Business. These widgets add tons of user-friendly features and functionalities to your website on command.
Blossom: Advertisement
Blossom: Author Bio
Blossom: Call To Action
Blossom: Client Logo Widget
Blossom: Contact Widget
Blossom: Custom Categories
Blossom: Email Newsletter Widget
Blossom: Facebook Page
Blossom: Featured Page Widget
Blossom: Icon Text
Blossom: Image Text
Blossom: Pinterest
Blossom: Popular Post
Blossom: Pricing Table
Blossom: Posts Category Slider
Blossom: Recent Post
Blossom: Snapchat
Blossom: Social Media
Blossom: Stat Counter Widget
Blossom: Team Member
Blossom: Testimonial
Blossom: Twitter Feed
Cross-Browser Compatible
We have designed Seva Business to run smoothly on any popular web browsers, such as Google Chrome, Safari, and Firefox. So no matter which browsers your visitors are coming from, Seva Business is ready for them all.
Easy Legibility
We have designed Seva Business with a special focus on visual elements to promote excellent readability. We have made sure to use the perfect combination of fonts, typography settings, spacing, and page layout to keep it easy on your reader's eyes.
Schema Friendly
We have made sure to design Seva Business so that search engines love your site from every possible angle. With the built-in integration of Schema.org, search engines can easily and quickly crawl through your site's content. This improves the indexing and results in a better ranking of your site for more relevant keywords.
RTL Scripts Ready
Want your site to be ready for right-to-left scripts? Well, we've arranged for Seva Business to be RTL scripts ready so that your site now supports Arabic, Persian, and other languages that use RTL scripts.
Translation Ready
Being 100% translation-ready, Seva Business supports localization without any effort. You can now translate your site into any language depending on the region with only a few mouse clicks.
Regular Updates with Feature Enhancements
Seva Business makes sure to update its functions regularly with feature enhancements to ensure its optimum performance. Our updates are pumped with better security patches, improved features, and seamless compatibility with new WordPress updates.
Rest assured, your site remains future-proof and lives up to your expectations.
Clean Codes
We are a team of WordPress professionals with expert coding skills. We have made sure to reflect our expertise in writing clean codes for Seva Business. You can also find your way around our codes easily and customize them as you need.
Extensive and Beginner Friendly Documentation
Need help with the installation process for the Seva Business theme? We have added detailed documentation to help you with it. You can easily find your way with this theme, even if you are completely new to WordPress.
Top-notch Quick and Friendly Support
If you face any issues regarding the theme and its performance, be it big or small, you can reach out to our team. Our team will quickly tend to your queries and issues.