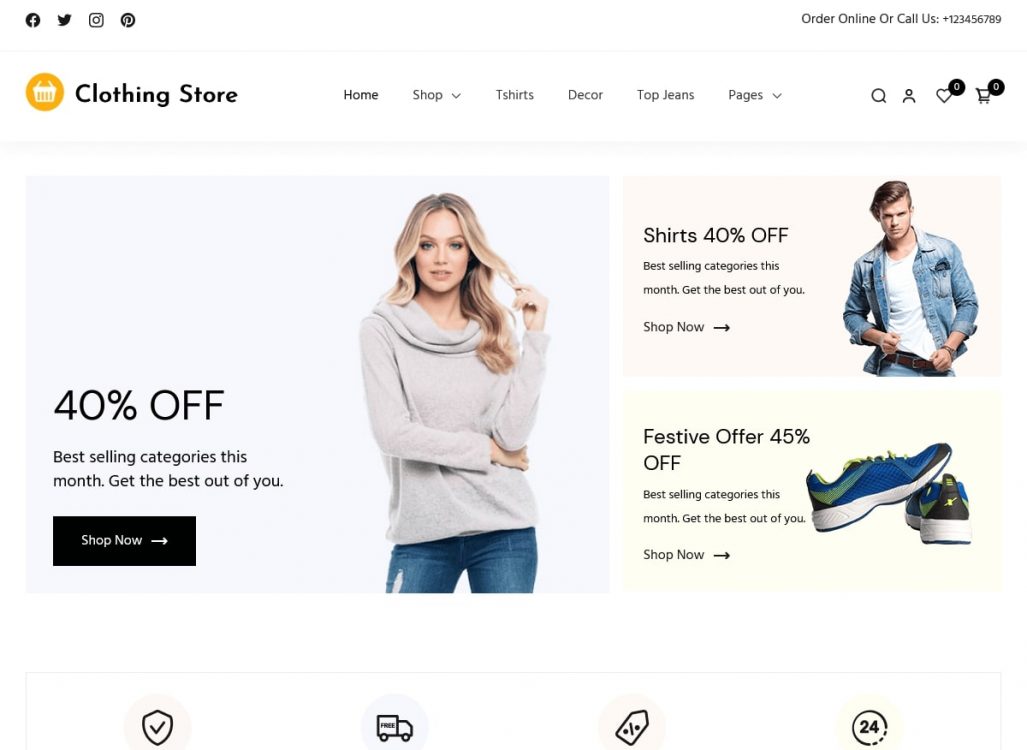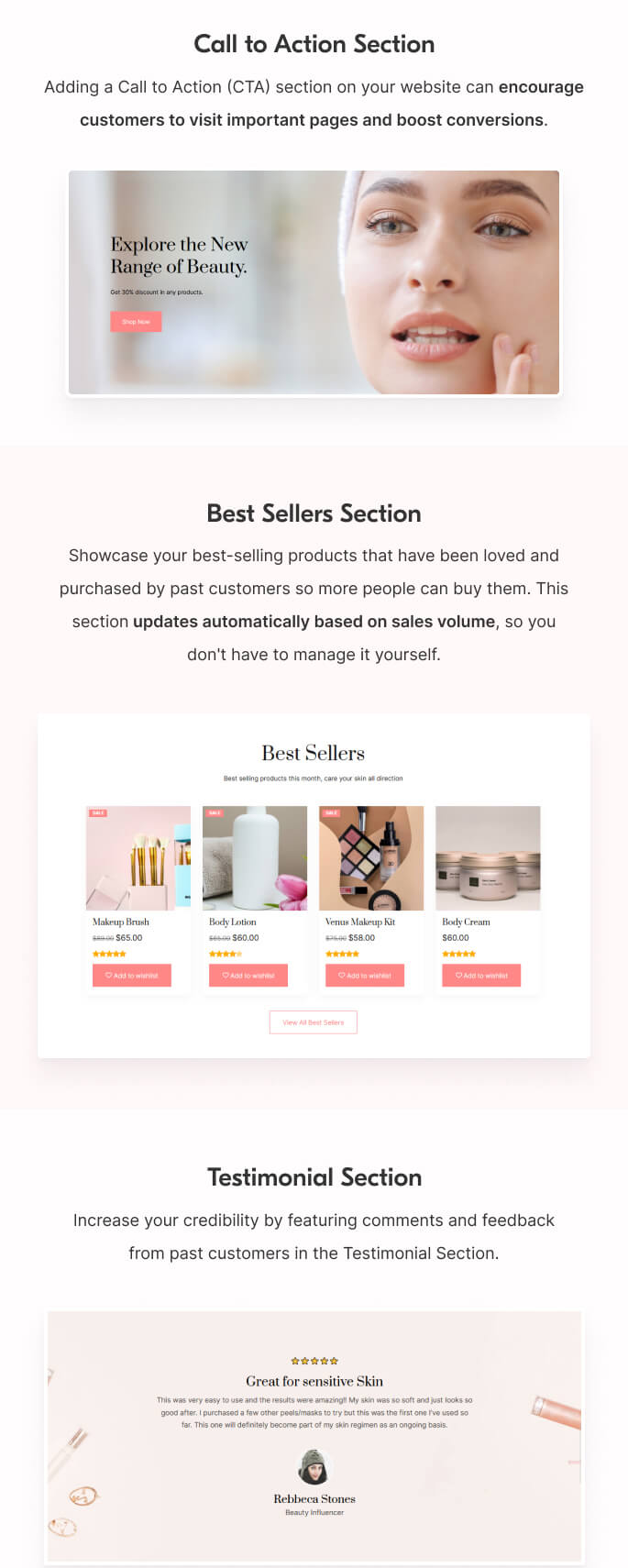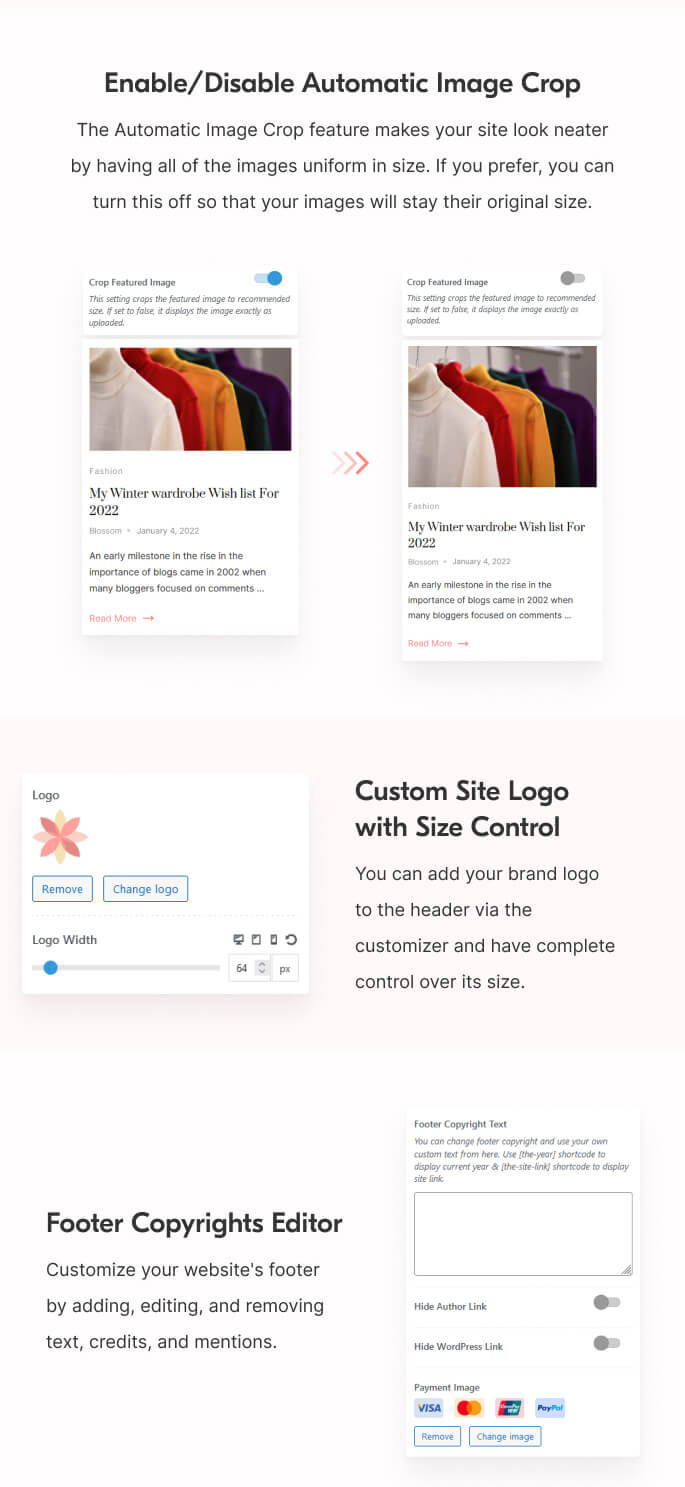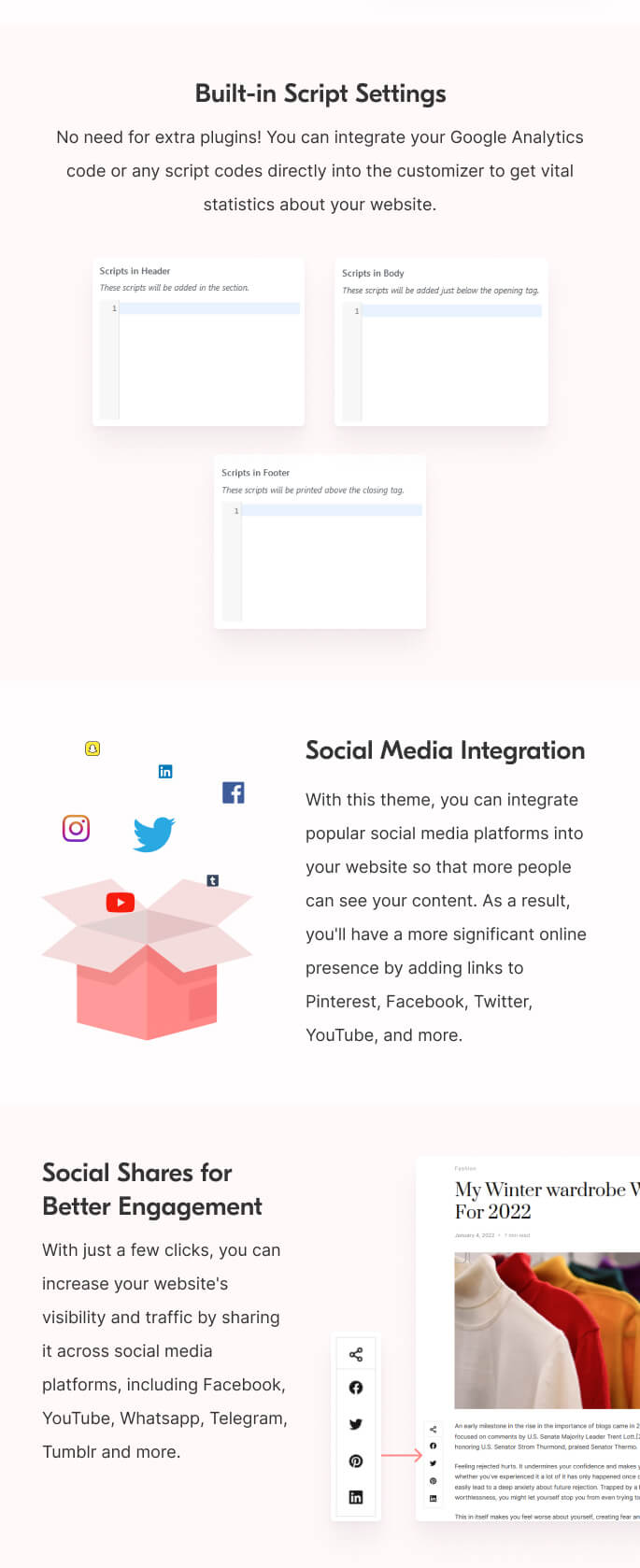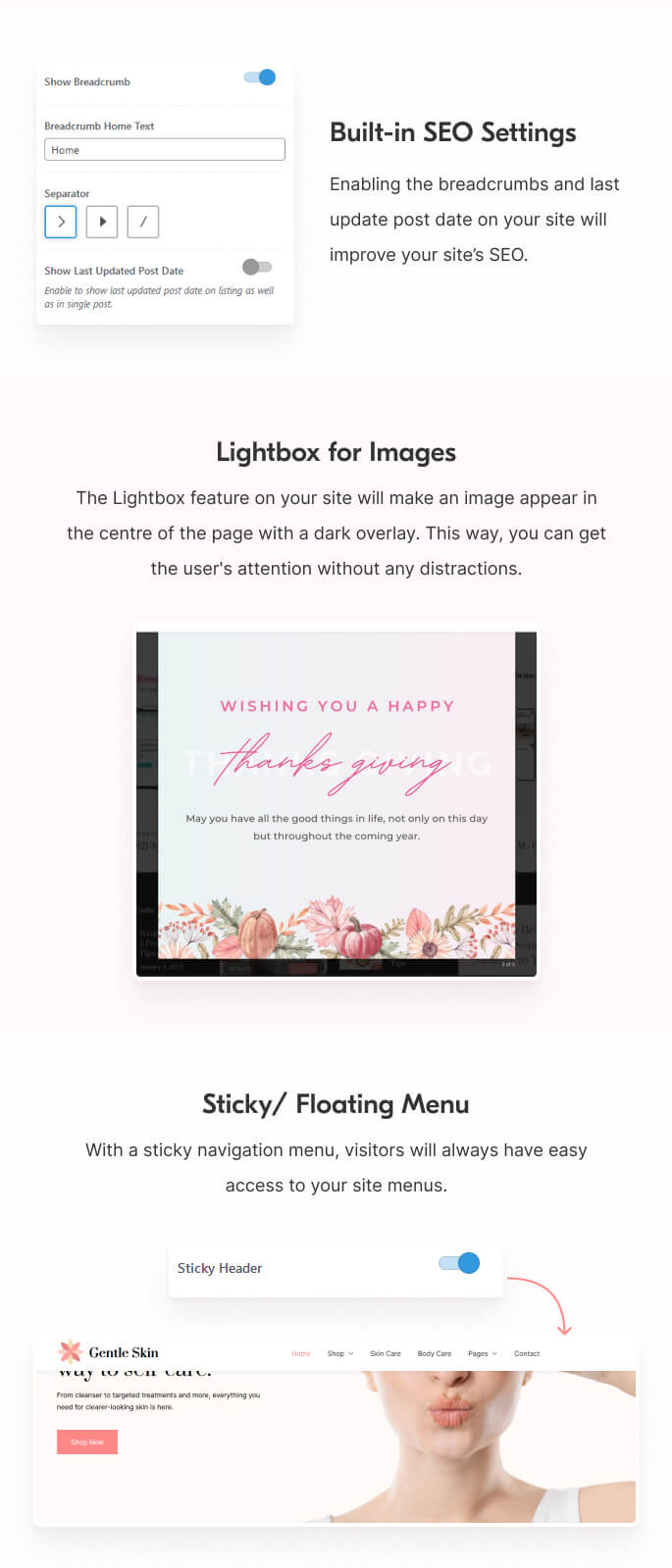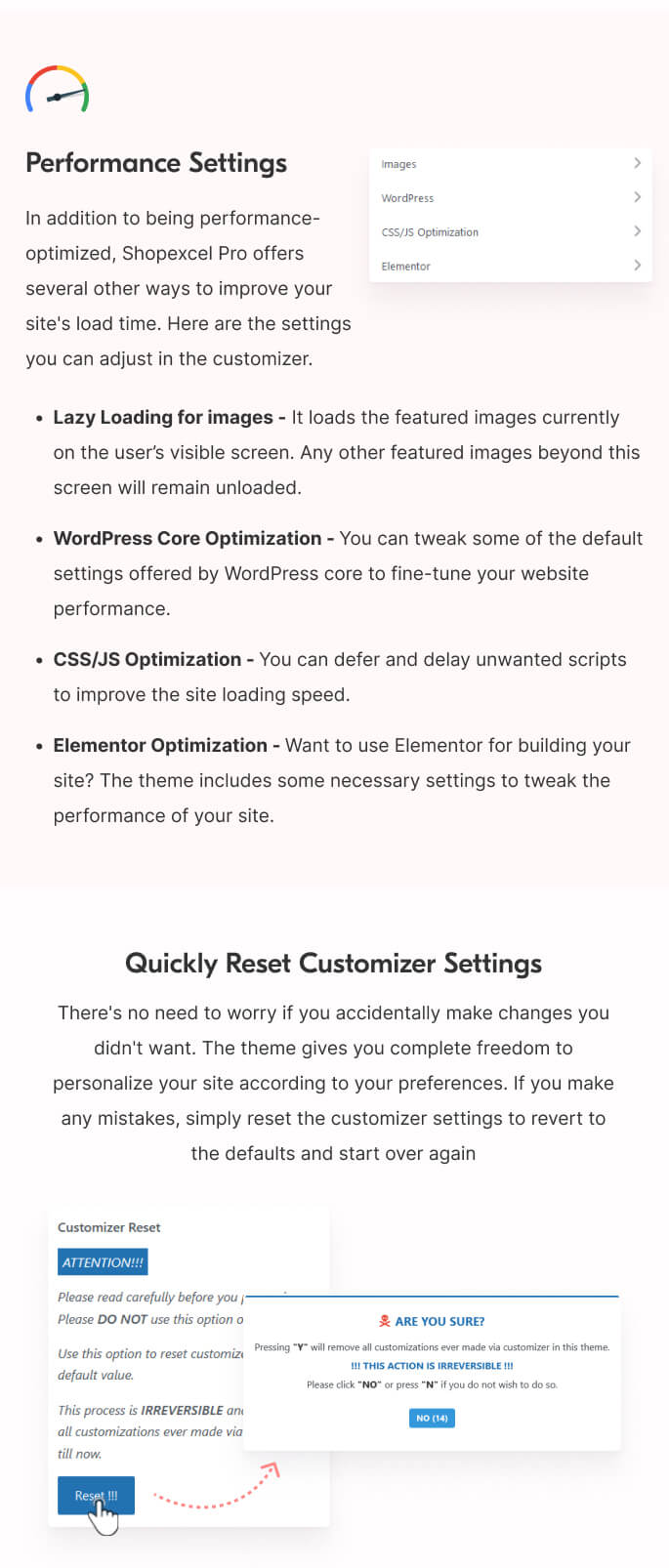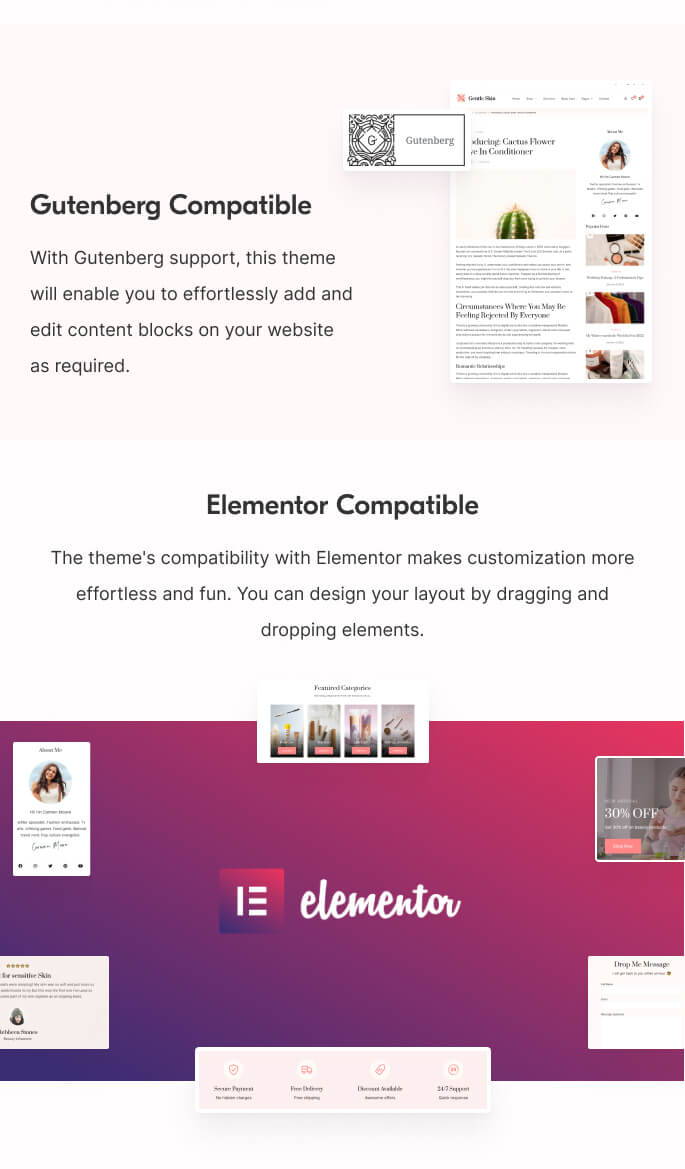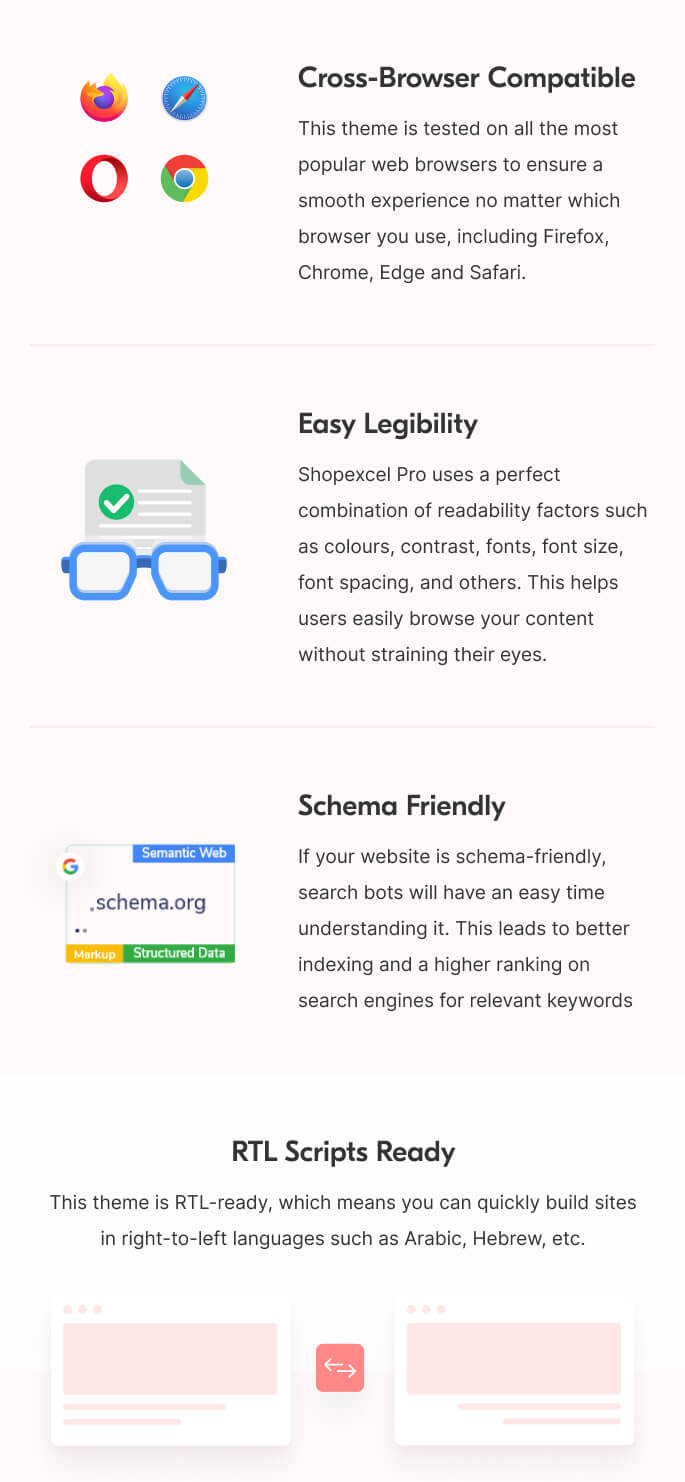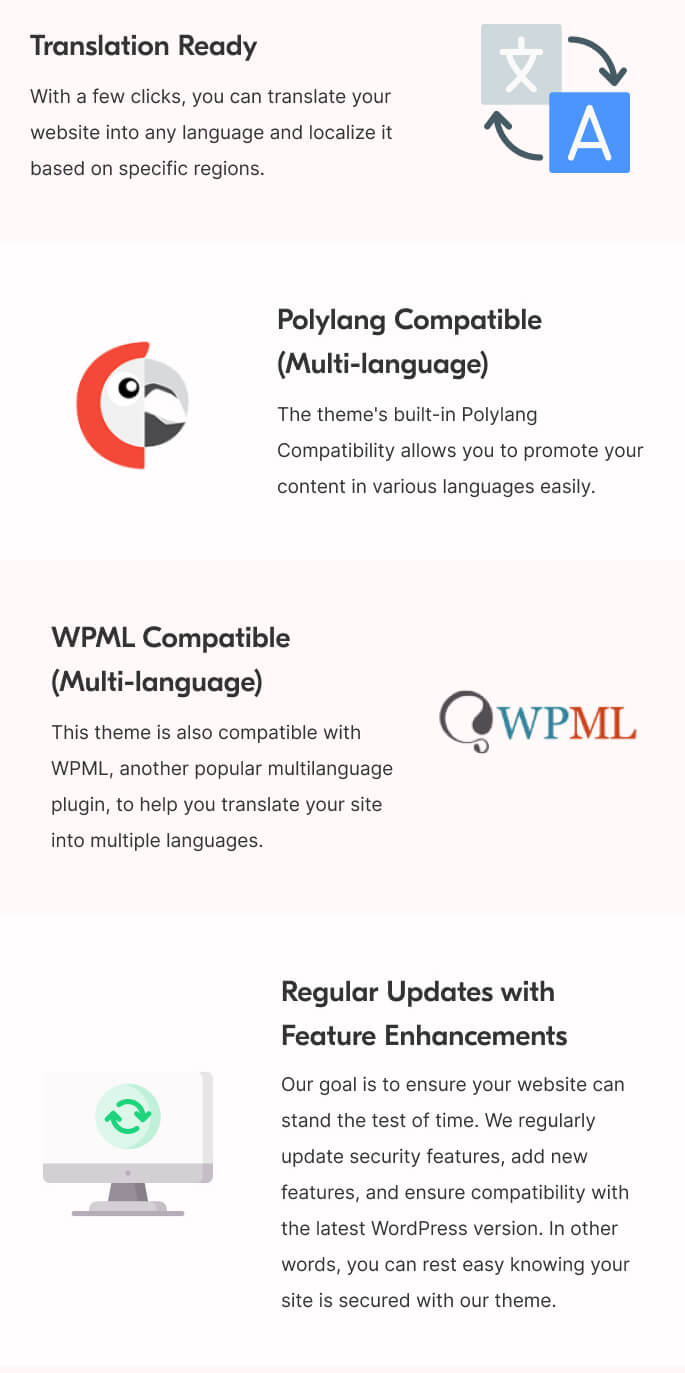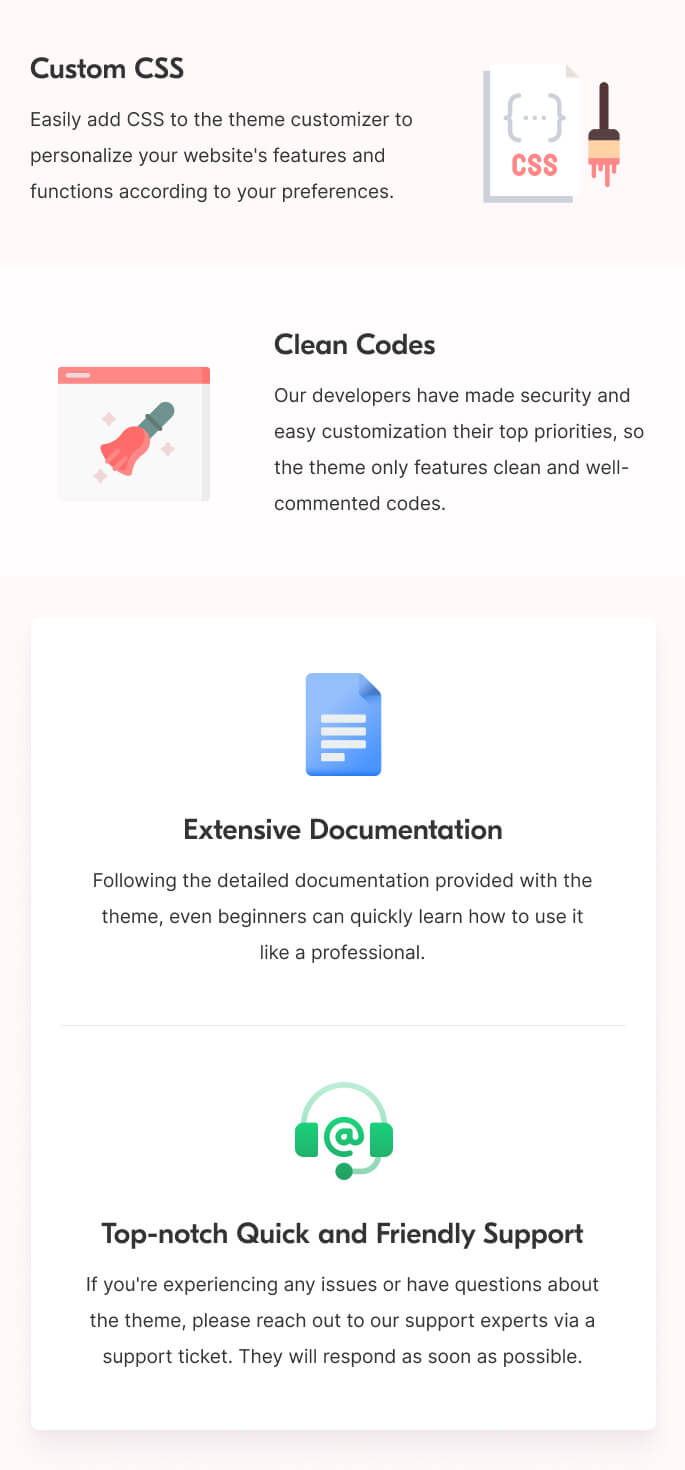 Are you planning to build an online eCommerce store but don't know where to begin? If so, the Shopexcel Pro theme is perfect for launching your online store quickly.
Shopexcel Pro theme is built with tons of features and user convenience in mind. With this theme, you can build an eCommerce store for any niche, such as clothing, skincare, electronics, grocery, beauty products, jewellery, pharmacy, and more. In addition, this theme allows you to create a fully-functional online shop without writing a single line of code.
The theme offers multiple starter sites you can import with a single click. It includes all the demo settings, layouts, contents and design to help you create a site in no time. You can rapidly start making the required changes without starting from scratch. Our starter sites offer a wide range of options to choose from.
This theme is Gutenberg-compatible and includes patterns that you can use across your website with a click. Choose the pattern you like, embed it on your posts or pages and modify it as per your preference within minutes.
The theme neatly organizes the settings in the customizer for a better user experience. You can find many settings to customize your website that offers the flexibility you need. The theme offers different layouts, unlimited colours and 1400+ Google fonts to give a personalized feel to your site. In addition, the built-in live preview feature lets you see the changes in real-time before hitting the publish button.
This theme is mobile-friendly, SEO optimised, and loads fast to rank your website better on search engines. In addition, it also incorporates Schema-friendly markup to help search engines understand your content better for higher ranking.
Shopexcel Pro is compatible with WooCommerce to help you set up and run a functional online shop. You can use all the advanced features of WooCommerce without any hassle.
Some other notable features are cross-browser compatibility, translation-ready, RTL scripts support, widget-ready, easy legibility, beginner-friendly documentation, and expert support.
Types of Online Stores You Can Create Using Shopexcel Pro
Shopexcel Pro is an excellent theme for anyone looking to create a website due to its wide range of features and layouts. This theme works exceptionally well for the following types of websites:
Clothing Store – Build an online clothing store or merch store to boost sales.
Electronics Store – Want to build an electronics store? This theme offers suitable layouts to display different gadgets to grab your customer's attention elegantly.
Jewellery Store – Showcase your jewellery items and make it easier to purchase from your site.
Beauty and Makeup Store – Use your site to sell beauty and makeup products and share your beauty tips. Your audience will love it!
Furniture Store – By displaying furniture in an appealing way, you'll increase sales and revenue.
Grocery Store – This theme is suitable for building an online store to sell groceries quickly.
Organic Store – Display your organic food and other products in a gorgeous website design.
Shopexcel Pro is for you if:
You want to build a fully-functional and professional online store with modern functionalities.
You want to create a website without taking any developer's help or writing a single code.
You want more conversions on your site using the dedicated sections in the theme.
You want gorgeous layouts to display your products and services.
You want a full-fledged website up and ready in no time.
You want a responsive site that looks great on any device and web browser.
With minimal effort, you want more user retention and user engagement on your site.
You want a performance-optimized theme that loads your site much more quickly.
You want an SEO-ready theme with built-in Schema integration to help your site rank better on search engines.
You want a smooth and restriction-free customization experience.
You like using Elementor and Gutenberg to personalize your website.
You want expert support when facing any issue or query regarding the theme.
Features of Shopexcel Pro WordPress Theme
Shopexcel Pro is a feature-rich eCommerce theme that bundles many customization options, the latest features, user-friendly functionalities, an easy-to-use interface, and a beginner-friendly design. With Shopexcel Pro, you get:
Pre-made Multiple Unique Layouts
With multiple layout options for various site elements, you are ready to give your site a unique and fresh look.
5 Header Layouts
Choose from 5 unique header layouts to set the best first impression among your visitors. You can add a phone number and social media profiles. In addition, you can also add icons of account, wishlist and cart for a better user experience.
3 Blog Page Layouts
Display your insightful articles in any of the 3 different Blog Page Layout options.
3 Archive Page Layouts
Choose from 3 different layout options to display your posts on the archive pages, such as category, search and author.
4 Sidebar Layouts
The theme offers 4 different sidebar options: Left Sidebar, Right Sidebar, Fullwidth Centered and Fullwidth.
4 Pagination Styles
Choose the desired pagination from 4 different types – Next/Previous, Numbered, AJAX Load More Button and AJAX Infinite Scroll to help visitors navigate your website's pages.
Compatible with WooCommerce
The theme is WooCommerce compatible, which allows you to build an online shop with different layouts that display your products and services.
Wishlist for Better Conversion
With this feature, your visitors can add and manage products added to their wishlists.
Easily Change Theme Color
The theme offers many colour options to fully customize the look and feel of your site to match your preference and branding.
Choose desired Fonts from 1400+ Google Fonts.
With over 1400+ Google Font options, you can try various combinations of fonts to give a personalized look to your website.
Typography Control
With this theme, you have complete control over the font and appearance. You can choose a different font family for every heading (H1 through H6) and body text. If you want to get more specific, there is also a slider that allows you to change the font size.
Locally Host Google Fonts
You can load the fonts from your server instead of Google CDN to speed up the loading time and to make your site GDPR compatible.
Installed Pre-designed Demo with One-Click
The one-click demo import feature is perfect for busy people who want a website but don't have the time to design everything from scratch. You can import all the settings with a single click and start customizing them.
Gorgeous Responsive/Mobile-Friendly Design
We understand how important it is to have a mobile-friendly responsive website to provide an excellent experience to your visitors. Shopexcel Pro is fully responsive to ensure your site looks great on any screen size and device.
It also passes Google Mobile-Friendly Test, which ensures your site gets a ranking boost and is loved by the search engines.
Easy to use Theme Settings Panel with Live Preview
You can easily configure your theme from the customizer settings panel. All settings are available in one place, making customization easy. Additionally, you get a live preview of the adjustments so that you can make precise changes.
Well Optimized for Speed Performance
Shopexcel Pro is designed for a faster loading speed and optimum performance, meaning your customers will have a better browsing experience on your site.
Search Engine Optimized (SEO)
The theme is coded with modern SEO practices to help you achieve higher SERP rankings with little effort.
Banner with Call-to-Action (CTA)
Put your CTA in this noticeable spot to promote more conversions on your site. You can add an image here with a call to action to encourage your potential customers to take action.
Featured Categories
If you want to increase engagement and conversions on your website, consider promoting some of your best-selling categories in this section.
Latest Arrival Section
Our easy-to-use product display makes staying up-to-date on your latest inventory a breeze. New products are automatically added to this section of the site as soon as they're available, so customers never miss out.
Call to Action Section
Adding a Call to Action (CTA) section on your website can encourage customers to visit important pages and boost conversions.
Best Sellers Section
Showcase your best-selling products that have been loved and purchased by past customers so more people can buy them. This section updates automatically based on sales volume, so you don't have to manage it yourself.
Testimonial Section
Increase your credibility by featuring comments and feedback from past customers in the Testimonial Section.
Popular Products Section
This section will show your customers your most popular items based on reviews or views, so they can see what other people are buying and how often those products sell.
Blog Section
One proven way to keep visitors returning to your site is through blogging. Adding blogs about your products in an engaging and visually appealing layout can encourage people to stick around longer.
Easily Sort/ Disable Home Page Sections
If you don't like how the Home Page is arranged by default, don't worry! The theme makes it easy to rearrange the sections however you'd like.
Notification Bar Settings
You can increase the number of leads by enabling the Notification Bar on your site. You can add a CTA link to it, along with specifying the button label.
Smart Loading Images for SEO
The Smart Loading Images feature loads images on the visible screen while leaving the others unloaded, thereby decreasing your site's loading time and improving the user experience.
Enable/Disable Automatic Image Crop
The Automatic Image Crop feature makes your site look neater by having all of the images uniform in size. If you prefer, you can turn this off so that your images will stay their original size.
Custom Site Logo with Size Control
You can add your brand logo to the header via the customizer and have complete control over its size.
Footer Copyrights Editor
Customize your website's footer by adding, editing, and removing text, credits, and mentions.
Built-in Script Settings
No need for extra plugins! You can integrate your Google Analytics code or any script codes directly into the customizer to get vital statistics about your website.
Social Media Integration
With this theme, you can integrate popular social media platforms into your website so that more people can see your content. As a result, you'll have a more significant online presence by adding links to Pinterest, Facebook, Twitter, YouTube, and more.
Social Shares for Better Engagement
With just a few clicks, you can increase your website's visibility and traffic by sharing it across social media platforms, including Facebook, YouTube, Whatsapp, Telegram, Tumblr and more.
Built-in SEO Settings
Enabling the breadcrumbs and last update post date on your site will improve your site's SEO.
Lightbox for Images
The Lightbox feature on your site will make an image appear in the centre of the page with a dark overlay. This way, you can get the user's attention without any distractions.
Sticky/ Floating Menu
With a sticky navigation menu, visitors will always have easy access to your site menus.
Sticky Widget
To engage your website visitors, add sticky widgets to your sidebar and place popular or trending products on display. You can also include blog posts and CTA buttons to encourage users to return to your site or convert into customers.
Post Excerpt
Getting potential readers to click on your post by displaying an excerpt will motivate them to read further. You can set the maximum length for the excerpts as you prefer, but it cannot exceed 100 words.
Related Posts of the Category or Tags
The Related Posts feature in the customizer allows you to automatically show related posts from similar categories and tags below each post, increasing reader engagement on your website.
Back to Top Button
The Back to Top button makes it easy for visitors to return to the top of your page no matter where they are on the site.
Widgets Ready
To make your website more attractive, add as many useful widgets as possible. Shopexcel Pro provides users with an unlimited amount of space to add widgets.
22 Custom Widgets
With the options of 22 customizable widgets, you can add several functionalities to your site ranging from CTA to lead generation and appearance.
Blossom: Advertisement
Blossom: Author Bio
Blossom: Call To Action
Blossom: Client Logo Widget
Blossom: Contact Widget
Blossom: Custom Categories
Blossom: Email Newsletter Widget
Blossom: Facebook Page
Blossom: Featured Page Widget
Blossom: Icon Text
Blossom: Image Text
Blossom: Pinterest
Blossom: Popular Post
Blossom: Pricing Table
Blossom: Posts Category Slider
Blossom: Recent Post
Blossom: Snapchat
Blossom: Social Media
Blossom: Stat Counter Widget
Blossom: Team Member
Blossom: Testimonial
Blossom: Twitter Feed
Performance Settings
In addition to being performance-optimized, Shopexcel Pro offers several other ways to improve your site's load time. Here are the settings you can adjust in the customizer.
Lazy Loading for images – It loads the featured images currently on the user's visible screen. Any other featured images beyond this screen will remain unloaded.
WordPress Core Optimization – You can tweak some of the default settings offered by WordPress core to fine-tune your website performance.
CSS/JS Optimization – You can defer and delay unwanted scripts to improve the site loading speed.
Elementor Optimization – Want to use Elementor for building your site? The theme includes some necessary settings to tweak the performance of your site.
Quickly Reset Customizer Settings
There's no need to worry if you accidentally make changes you didn't want. The theme gives you complete freedom to personalize your site according to your preferences. If you make any mistakes, simply reset the customizer settings to revert to the defaults and start over again.
Gutenberg Compatible
With Gutenberg support, this theme will enable you to effortlessly add and edit content blocks on your website as required.
Elementor Compatible
The theme's compatibility with Elementor makes customization more effortless and fun. You can design your layout by dragging and dropping elements.
Cross-Browser Compatible
This theme is tested on all the most popular web browsers to ensure a smooth experience no matter which browser you use, including Firefox, Chrome, Edge and Safari.
Easy Legibility
Shopexcel Pro uses a perfect combination of readability factors such as colours, contrast, fonts, font size, font spacing, and others. This helps users easily browse your content without straining their eyes.
Schema Friendly
If your website is schema-friendly, search bots will have an easy time understanding it. This leads to better indexing and a higher ranking on search engines for relevant keywords.
RTL Scripts Ready
This theme is RTL-ready, which means you can quickly build sites in right-to-left languages such as Arabic, Hebrew, etc.
Translation Ready
With a few clicks, you can translate your website into any language and localize it based on specific regions.
Polylang Compatible (Multi-language)
The theme's built-in Polylang Compatibility allows you to promote your content in various languages easily.
WPML Compatible (Multi-language)
This theme is also compatible with WPML, another popular multilanguage plugin, to help you translate your site into multiple languages.
Regular Updates with Feature Enhancements
Our goal is to ensure your website can stand the test of time. We regularly update security features, add new features, and ensure compatibility with the latest WordPress version. In other words, you can rest easy knowing your site is secured with our theme.
Custom CSS
Easily add CSS to the theme customizer to personalize your website's features and functions according to your preferences.
Clean Codes
Our developers have made security and easy customization their top priorities, so the theme only features clean and well-commented codes.
Extensive Documentation
Following the detailed documentation provided with the theme, even beginners can quickly learn how to use it like a professional.
Top-notch Quick and Friendly Support
If you're experiencing any issues or have questions about the theme, please reach out to our support experts via a support ticket. They will respond as soon as possible.