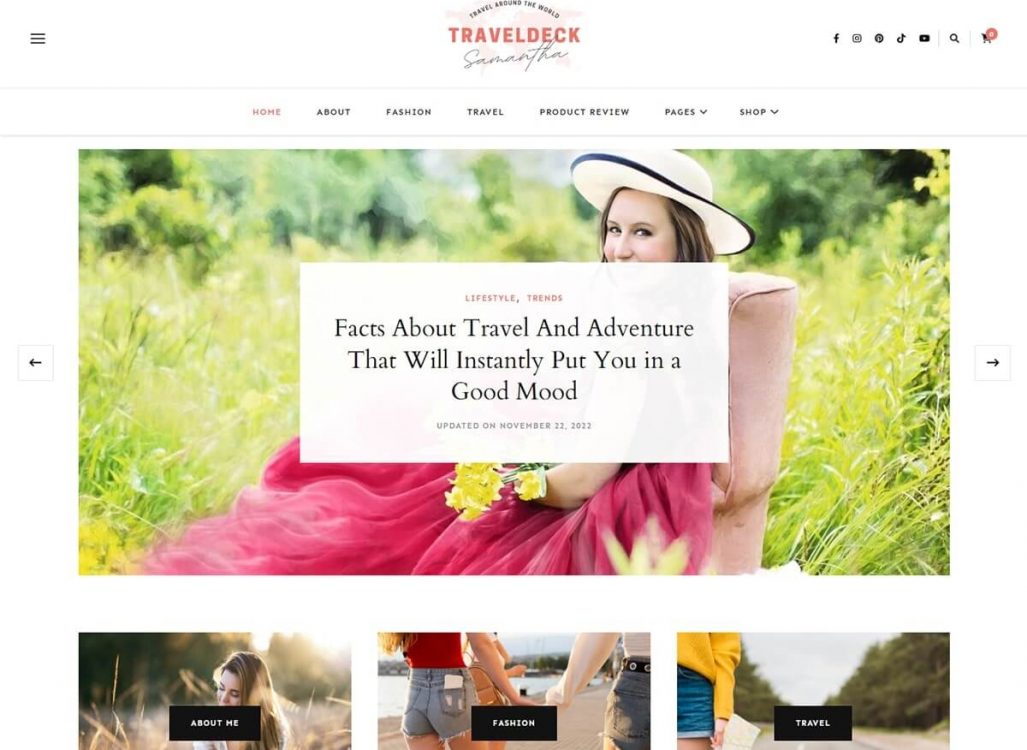 If you're looking for a professional WordPress theme for your blog, then look no further than Traveldeck. This theme has all the features you need to create an amazing website, whether it's for fashion, beauty, lifestyle, food, travel or coaching.
With Traveldeck, you have complete control over the color and typography of your website. You can experiment with various combinations to create a subtle yet striking look for your site. You also have access to over 1000+ Google Fonts options to customize the look and feel of your website.
This theme offers various layouts to choose from. Choose the desired header, slider or blog page layout to make your website stand out. You can change colors, font styles, and more with a single click to add flair to your site while still keeping it functional.
The theme also includes a built-in live customizer that shows a live preview while making changes. With this feature, you can fine-tune your site before making it live for your readers. Furthermore, the vast array of settings available makes customization precise and fun.
To give you the best and fastest browsing experience, Traveldeck is fully optimized for speed. In addition, it is SEO-friendly and Schema-ready to improve your ranking on search engines to attract more visitors.
Further, the Instagram and Newsletter section allows you to increase your followers and grow your subscribers.
The theme is compatible with WooCommerce to help you set up an online store and sell merchandise. The Google Adsense optimized spots also let you place advertisements that help you generate revenue from your website.
With Traveldeck, you don't have to worry about your website looking good on different devices or browsers – it's responsive and cross-browser compatible. Plus, it comes with translation-ready features, RTL scripts support, widget-ready functionality, easy legibility, and expert support from top professionals.
Types of Blogs You Can Create With Traveldeck Theme:
The Traveldeck theme provides you with multiple possibilities for blogging. You can create blogs that are both beautiful and versatile like these, or try your hand at some niche content!
Fashion Blog – Showcase the latest fashion trends using gorgeous layouts in the Traveldeck theme and motivate visitors to buy the products on display.
Lifestyle Blog: Share your life experiences and life-changing tips and advice to visitors via the website. Traveldeck sets up a gorgeous website that engages your visitors and keeps them wanting more.
Travel Blog: Traveling is surely a fun and sometimes life-changing experience. If you have any such experience, why not share it with the world.
Food Blog: Cooking is a versatile art. If you love cooking and sharing your recipes with others, Traveldeck is a perfect way to go.
Beauty Blog: Traveldeck serves you a perfect platform to share your beauty tips and tutorials. You can also promote your merchandise using this theme.
Parenting Blog: Parenting is a mix of happiness and responsibilities, right? How about sharing your experience of being a parent and parenting tips and mistakes to avoid as a parent through your blog.
Fitness Blog: Motivate others to lead a fit and healthy life through your blog. You can share fitness tips, diet, and workout regimes.
Health Blog: Share your insights on a healthy lifestyle and health tips on your blog. You can motivate the audience to be healthy and also encourage healthy behavior to lead a quality life.
Self-improvement Blog: Uplift your readers' spirit and help them become a better version of themselves through your motivating blogs and self-help techniques.
Journal Blog: Share your thoughts and your entries on your blog. People will surely enjoy it.
Traveldeck Theme is for you if:
You want to create a professional website for blogging without any programming knowledge.
You want to create a stunning and engaging blog on fashion, beauty, travel, lifestyle, parenting, or other niches.
You want a flexible WordPress theme that easily adapts to your needs.
You want several customization options to adjust your website as you prefer.
You want your website to be responsive that render perfectly on all screen sizes.
You want to grow your subscriber's list without much effort.
You want to increase your online reach using the built-in Instagram section and social media integration.
You want your site to be SEO-friendly and Schema ready so that you can land higher on search engine results.
You want a fast-loading website that delivers optimum performance and decreases bounce rate.
You want a WooCommerce-ready theme with Google Adsense spots so that you can earn from your website.
You want to increase your visitors' engagement on your website with an attractive carousel slider.
You want world-class support from WordPress experts in case of any issue with the theme.
Features of Traveldeck WordPress Theme
Traveldeck is an eye-catching theme that can make your articles stand out from the crowd. It's designed with modern features to give you a competitive edge over other companies in this industry!
Here are each of the features in Traveldeck.
Easily Change Theme Color
Traveldeck lets you easily set the theme color from the customizer and adjust your site's appearance to match your brand. It only takes a few clicks.
Gorgeous Responsive/Mobile-Friendly Design
Build a site that looks great on any screen size and device. Thanks to the responsive design of Traveldeck, your site will look great on any device!
It also passes Google's Mobile-Friendly Test, which is a requirement for better search engine rankings.
1000+ Google Fonts Library
Traveldeck boasts a huge library of over 1000+ Google Fonts. You can select from this massive collection and try out various combinations for your site elements to bring out a perfect look.
Typography Control
Easily modify the fonts, font size, and other typography settings to make your content set up a unique vibe among users.
2 Header Layouts
There are 2 unique header layouts in the theme. You can select the one that best compliments and blends with your brand logo.
2 Home page Layouts
Are you confused about how to decorate your front page? Worry not! Traveldeck offers 2 homepage layouts that give the best appearance to your site. Your visitors will surely be impressed.
2 Slider Layouts
Sliders are an effective way to display more content without cluttering your website. Traveldeck has two slider layouts carefully crafted while prioritizing the user experience.
Convenient Theme Settings Panel with Live Preview
Theme customizer is a great place to explore all of your options and make changes on the fly. You'll be able see how each change will affect both design elements as well as content layout with live preview before you commit, so there's no need for trial-and error!
Optimized for Speed Performance
If you are concerned about better performance, Traveldeck has got your back. The lightweight build of this theme prioritizes fast performance and loads quickly to minimize the bounce rate.
Search Engine Optimized (SEO)
Want a higher rank on search engines? Traveldeck makes it possible and a lot easier. The theme is optimized for SEO to help you climb up the rank on various search engines, including Google, Bing, and others. You will leave your competitors far behind in the ranking race.
Google Adsense Optimized Advertisement Widget
Monetizing your website is possible with Traveldeck. The theme has a built-in Google Adsense optimized widget that lets you place ads on your website. As the visitors open the ads, you will be filling your pockets.
WooCommerce Compatible
You can now set up an online store and showcase your merchandise in attractive layouts using Traveldeck. With WooCommerce compatibility, you can even add pricing and create purchase links!
2 Customizable Banner Options
Showcase your blogs in 2 eye-catching banner layouts and increase user retention.
Static Image/Video with Call-to-Action (CTA)
Add a banner to your website with a CTA button and links to your desired pages. You can make it more interesting by adding a static image or video in the background.
Banner as Slider
Another way to showcase your banner is by using the carousel slider look. You can add your popular posts in the slider and set the transition effect. Further, you can set the caption, loop, and the number of posts in the slider.
3 Featured Boxes
You can add three featured boxes on the homepage below the banner section. Featured boxes effectively draw visitors' attention and are perfect spots to add your popular or newest posts. You can also add CTA links and buttons to increase conversion and retention.
Grow Subscribers with Newsletter Subscription
Want to grow your email subscribers list? Look no further. Traveldeck has a dedicated Newsletter section where you can easily add the shortcode for adding newsletters in various areas of our site.
Appealing Instagram Section
With the standout Instagram Section, you can link your site to Instagram and increase your followers. This is also an effective way to gain more visitors to your site.
Author Bio on Sidebar
Introduce yourself elegantly using the Author Bio on the sidebar. You can add your picture, a short bio, signature, and even social media links. This allows your visitors to know you better.
Enable/Disable Single Post Image Crop
Enable the Single Post Image Crop feature to make all the images of the same dimensions. This makes your site look neat and well-managed. However, if you want to keep the images to the original size, feel free to toggle this feature off on the customizer.
Custom Site Logo
The custom site logo in the header is a great way to promote your brand's identity. You can adjust its size from the slider controller!
Footer Copyrights Editor
Personalize your website by adding your footer copyright text, links, and even social button links.
Social Media Integration
Easily link social media platforms to your website, including Facebook, Instagram, Pinterest, Twitter, Linked In, and others. The theme even lets you integrate Chinese and Russian social media websites such as OK, VK, and Zing.
Built-in SEO Settings
Apart from being SEO-friendly, the Traveldeck theme also has additional settings to benefit your site in terms of SEO. You can toggle on the breadcrumb and last updated date for single posts from the customizer.
Shop Page Settings
Traveldeck focuses on conversion and lead generation. Its Shop Page settings let you add your products and merchandise in beautiful layouts.
With the ability to customize descriptions and images in the background, Traveldeck is sure tempting! In addition you can enable your cart icon as well so that customers will know exactly what they are purchasing.
Post Excerpt
Displaying a short summary of up to 100 words below the single post makes your content more exciting. It gives a glimpse of what the post is about without going inside the content. Further, it motivates users to dive into the content and read the full content.
Related Posts of the Category
Increase user retention on your site by displaying related posts of the same category/tag at the bottom of every single post. This gives options to your readers to consume similar content on your site.
Back to Top Button
The back-to-top button is a subtle feature that significantly increases users' convenience while browsing your site. They can quickly get to the top of the page without scrolling all the way up. It saves time and adds to a pleasant browsing experience.
Widgets Ready
There are ample spaces to add widgets to the Traveldeck theme. You can add both default and custom widgets to increase the functionality of your site without compromising the site's appearance.
22 Custom Widgets
Traveldeck offers 22 useful widgets to add to your website. All of these widgets are fully customizable, easy to add and add tons of new features. You can also arrange these widgets on your site as you prefer.
Blossom: Advertisement
Blossom: Author Bio
Blossom: Call To Action
Blossom: Client Logo Widget
Blossom: Contact Widget
Blossom: Custom Categories
Blossom: Email Newsletter Widget
Blossom: Facebook Page
Blossom: Featured Page Widget
Blossom: Icon Text
Blossom: Image Text
Blossom: Pinterest
Blossom: Popular Post
Blossom: Pricing Table
Blossom: Posts Category Slider
Blossom: Recent Post
Blossom: Snapchat
Blossom: Social Media
Blossom: Stat Counter Widget
Blossom: Team Member
Blossom: Testimonial
Blossom: Twitter Feed
Portfolio Page Template
Your work will be on display for the world to see with this theme's portfolio page! You can impress them by showcasing your best efforts, and those who trust you most will love what they've seen.
Cross-Browser Compatible
We have tested Traveldeck on all the major browsers such as Google, Firefox, Safari, and others. Rest assured your site will run without any issue.
Easy Legibility
The theme uses a perfect combination of colors, contrast, font type, size, spacing, and other readability factors. This improves your site's aesthetics and makes it easy to read your content.
Schema Friendly
With the built-in integration of Schema.org, Traveldeck helps search engines discover your site and its content more easily. This improves your chances of ranking higher on search engines for relevant keywords.
RTL Scripts Ready
The theme also supports RTL scripts so that you can translate your site into languages that use RTL scripts, such as Arabic, Urdu, Hebrew, and Persian.
Translation Ready
Easily translate your website into any language and promote localization. This improves users' convenience.
Regular Updates with Feature Enhancements
With Traveldeck, you don't get stuck with the same version for years. We push regular updates to make sure the theme is up-to-date with feature enhancements, security patches, and WordPress versions.
Custom CSS
If you want to bypass the default theme settings, you can add your custom CSS straight on the customizer to modify or add features and functionality to your website.
Clean Codes
Our developers have put their effort into writing clean and well-organized codes for this theme. It ensures better security.
Extensive Documentation
You can go through our extensive documentation to know in detail about the theme. It has a beginner-friendly step-by-step guide that helps any level user create a professional website without any issue.
Video Tutorials
We realize that not everyone has the time to read through our lengthy documentation. We've also made videos available on YouTube for those who are too busy or simply don't know where else they should start.
Top-notch, Quick, and Friendly Support
Taking care of your feedback is one way we make sure you have a great experience with us. We're always available to help, so if anything pops into your mind or comes up while using our service, feel free to get in touch!