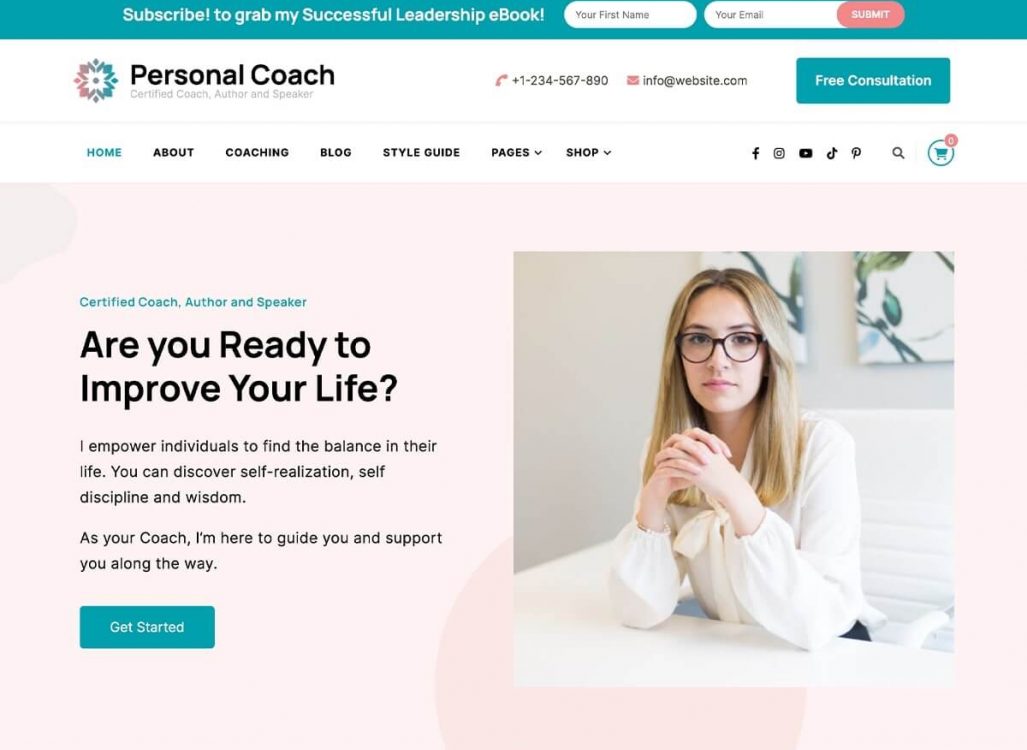 Personal Coach is a lead-generating WordPress theme for coaches, mentors, therapists, and speakers who want to set up a professional coaching website with all the modern features. The theme is super-easy to use and comes with numerous customization options for uniqueness and style.
Personal Coach is SEO-ready and speed-optimized. Furthermore, its mobile-friendly build renders your content with sharp pixels across all devices and screen sizes.
You can edit your website from the easy-to-use theme customizer, where you will find all theme settings under one place. Plus, you get a live preview of the changes you make using the customizer.
Additionally, the theme is Gutenberg and Elementor compatible, meaning customization is easier and more fun. There are several pre-built layouts for all website elements. You can use the predefined sections to add blogs, services, and information about your business.
While the theme prioritizes built-in legibility, you can customize the theme with 1000+ Google Fonts and multiple typographies. In addition, you can add sidebars, banners, and widgets for added functionalities to your website.
Personal Coach theme is compatible with LMS plugins such as LearnDash and TutorLMS plugins. These features are handy for coaches who want to create, manage, sell, and track their courses with less effort. Also, the WooCommerce compatibility widens the scope of selling your courses and services on your website.
There's more: social media integration, translation-ready, RTL scripts support, and expert support are other notable features of Personal Coach.
Personal Coach is for you if:
You want to build a professional coaching website without any hassle.
You want a fully functional website for mentoring, consulting, and coaching.
You want built-in templates with gorgeous designs to begin quickly.
You want to land higher than your competitors on all the major search engines.
You want a responsive theme with super flexibility that effortlessly adapts to your changing needs.
You want a fully customizable WordPress theme with every setting under one roof.
You want to increase your subscribers' list using the strategically placed Newsletter Section.
You want more conversions and lead generation on your site.
You want to sell your courses online.
You need expert technical support.
Features of Personal Coach
All in all, personal Coach is a comprehensive package with all the features you need to build a professional website as a coach. The theme is easy to use and requires no coding knowledge. No matter what your understanding of WordPress is, you can easily build a top-notch website. Here is a detailed dive into the theme features:
2 Header layouts
Personal Coach offers 2 gorgeous header layouts that attract attention. You can place your popular courses, main product, latest blogs, and other essential updates here.
3 Blog Layouts
If you are a blogging enthusiast, the theme offers 3 blog layouts to neatly display your blogs.
3 Customizable Banner Options
Decorate your site's banner with 3 customizable layout options and demand the attention you deserve.
Static Image/Video with Call-to-Action (CTA)
Personal Coach facilitates easy lead generation using the CTA banner. Here, you can also add static images and video to make the banner appealing to the visitors.
Static Image/Video with Newsletter
Newsletters build relationships with your customers and clients by fostering two-way communication. Grow your subscribers' list using the newsletter banner of the Personal Coach theme. You can then top it up a notch by adding a static image or video to it.
Smooth and Attractive Banner as Slider
Personal Coach also has the option to display sliders in your banner for a stronger visual impression. You can adjust the number of slides, animation type, and loop from the theme customizer.
Stunning Mobile Friendly Design
With Google prioritizing responsiveness, Personal Coach effortlessly passes the Google mobile-friendly test and comes with a mobile-friendly and responsive design. Now, you can build a website that looks great on any device and screen size.
Easy-to-use Theme Settings Panel with Live Preview
Personal Coach comes with clearly organized theme settings in the theme settings panel. You can easily customize the theme on your terms and get a live preview while you make your changes.
Typography Control
Turn your site from passive to stylish in minutes by adjusting the typography. You can choose from various font options. You can then tune in your adjustment to bring out the best look for your site.
Select Your Favorite Font from 1000+ Google Fonts
Personal Coach is very generous with font choices: it offers over 1000+ Google Fonts in the library to match your style.
Custom Site Logo with Size Control
Represent your brand in the best way possible by adding a custom site logo to your header. You can also adjust the size using the slider control to fit it nicely on the header.
Sell Courses with LearnDash and TutorLMS
LMS plugin compatibility is the best feature for coaches who want to sell their courses online. Personal Coach supports LearnDash and TutorLMS plugins that will help you easily create, add, sell, manage, and track your courses.
WooCommerce Ready (Online Shop)
Want to set up an online store? Personal Coach makes it possible with its built-in WooCommerce compatibility. This also allows you to enable online transactions on your site.
Gutenberg Compatible
Easily add any number of blocks for your website using the Gutenberg Block Editor. You can also arrange, edit, and remove the block as you need.
Elementor Compatible
Elementor compatibility makes it very easy for any level user to edit their website using the drag-and-drop gesture. Editing does not get easier than this.
SEO Optimized and Schema.org Friendly
Do you want to land higher on search engines? Personal Coach is SEO optimized and schema.org integrated so that your site ranks higher for relevant keywords. This immediately creates a competitive edge over your competitors.
Optimized for Speed and Performance
The theme assures better performance and loading speed than ever. Such an enhancement ensures a better and smooth browsing experience for visitors.
Strategically Placed Newsletter Section
Personal Coach theme is seamlessly compatible with the Blossom Themes Email Newsletter plugin. Using this plugin, you can add a subscription form to your newsletter section on the go.
About Section
The beautifully designed About section of the theme lets you add a short description of your business. This is where you tell your best story and showcase how you can add value to their lives.
Client Logo Section
Showcase your work and affiliation with previous clients or websites. This builds credibility and helps you earn trust. Trust is the lifeline of an online business.
Testimonial Section
Another proven technique of gaining new visitors' trust is by adding satisfied customers' testimonials to your site's testimonial section.
Service Section
List out all your services, products, and courses in the service section. You can also add CTA button links to each of those services and increase conversion.
Blog Section
Blogs are great value providers. They inform, educate, and positively impact user retention. This is why the Personal Coach theme has a passionately crafted blog section.
Multiple Call to Action (CTA) Sections
There are multiple CTA sections in the Personal Coach theme for optimum lead generation and conversions.
Contact Section
The theme lets you add your email address, physical address, and contact number, by which your visitors can easily reach you. Furthermore, you can also place your newsletter link here and gain more subscribers.
Display Your Instagram Feed
Reaching more audiences is a lot easier with the Instagram Feed feature of the Personal Coach theme. It lets you integrate Instagram into your website and nurture a loyal following.
Author Bio in Sidebar
We have added a stylish author box in the sidebar to add your experiences as a coach. This will help visitors to know you better as a professional.
Highlight Author Comment
You can showcase the author's comment below each post in a distinct style. This helps the visitors to know about the author's response easily.
Footer Copyright Editor
Personalize your site's footer by adding your custom copyright texts.
Social Media Integration
Integrate social media on your site to quickly reach a large audience. You can connect your site with popular social media platforms such as Facebook, Instagram, Pinterest, Twitter, and more. In addition, you can even extend your reach across Russian and Chinese social sites such as VK, OK, Zing, and more.
Back to Top button
The back-to-top button feature may seem like a minor feature but it makes browsing a lot easier. Your visitors don't need to scroll up manually to the top. Instead, they can simply click a button to navigate to the top of the page.
Built-in SEO Settings
The Personal Coach theme is built to be loved by search engines. Furthermore, the settings in the theme enhance your site's SEO even more, such as enabling Breadcrumbs and displaying the last updated post date.
Post Excerpt
Personal Coach lets you set up a 100 word summary of your posts and display it below the featured image. This will serve as a quick glimpse of your post and entice visitors to read more.
Related Posts of the Category
Increase user retention on your site by displaying related posts of the same category after each post.
Comment Section Toggle
Allow visitors to leave their comments and feedback on your site through the comment section. Such a feature will promote user engagement on your site.
Widget Ready
We have made sure the theme is widget-ready so you can add functionality to your site without any compromise on design.
22 Customizable Widgets
There are 22 highly customizable widgets inside the Personal Coach theme. You can easily add them to your website with a few clicks to add more functionalities.
Blossom: Advertisement
Blossom: Author Bio
Blossom: Call To Action
Blossom: Client Logo Widget
Blossom: Contact Widget
Blossom: Custom Categories
Blossom: Email Newsletter Widget
Blossom: Facebook Page
Blossom: Featured Page Widget
Blossom: Icon Text
Blossom: Image Text
Blossom: Pinterest
Blossom: Popular Post
Blossom: Pricing Table
Blossom: Posts Category Slider
Blossom: Recent Post
Blossom: Snapchat
Blossom: Social Media
Blossom: Stat Counter Widget
Blossom: Team Member
Blossom: Testimonial
Blossom: Twitter Feed
Cross-Browser Compatible
Build a website that runs smoothly on any popular browser such as Chrome, Safari, Firefox, etc.
Easy Legibility
Personal Coach theme uses an optimum combination of colors, text, font size, font spacing, and contrast to display your content in the most visually appealing way. This minimizes eye strain for your visitors and maximizes user time spent for you.
RTL Scripts Ready
Set up your content in the RTL scripts and make it ready to serve the Arabic regions that use RTL scripts.
Translation Ready
Easily translate and localize your site's content into any language. Translated websites feel more intimate for end-users and garner trust and credibility.
One-Click Update
We are constantly releasing new features, fixes, and updates. Stay up-to-date with our latest feature releases and theme updates with a single click.
Clean Code
Our developers have written clean and well-managed codes while crafting this theme. If you have coding knowledge, feel free to make tweaks to the core files and personalize Personal Coach as you like.
Extensive Documentation and Video Tutorials
Personal Coach's documentation is extensive but beginner-friendly. It will help you get along with the theme step by step. Personal Coach has dozens of video tutorials on the YouTube channel, which further makes managing everything a lot faster.
Regular Updates with Feature Enhancements
We regularly push updates to enhance features on your site and keep it aligned with the latest WordPress version and security.
Friendly and Quick Support
If you have any confusion, queries, or suggestions, you can reach out to our expert support team using a support ticket. They will be prompt to get back to you.